DOT over the counter? Osprey Funds set to launch Polkadot investment trust
In a market once dominated by a handful of BTC vehicles, there are now a growing number of products offering investors access to gains from popular altcoins like Polkadot.
Yesterday, Osprey Funds announced the launch of the Osprey Polkadot Trust. The fund, which will be available to accredited investors with a $25,000 minimum, is set to be listed on the OTCQX market "as soon as possible," per a press release from the company. Coinbase will serve as the fund's custodian.
The fund will give investors access to one of the largest layer one smart contract chains via familiar rails, and joins a growing list of digital assets equity investors can now gain exposure to.
"The appetite for next generation crypto investment vehicles is only increasing," said Osprey CEO Greg King. "Osprey is just getting started on a series of compelling investment funds that will provide access to some of the most exciting coins and tokens."
Osprey has positioned itself as a competitor to investment giant Greyscale, which currently offers 14 digital asset investment trusts, per the Greyscale website. Osprey's OBTC fund boasts a .49% management fee, which they claim makes it the "lowest-cost publicly traded bitcoin fund in the U.S."
The choice to offer a Polkadot fund may be in an effort to gain an edge on Greyscale. DOT is not among the assets Greyscale offers funds for, and it isn't part of the "Large Cap" trust despite being the fourth-largest layer one smart contract token by marketcap, meaning Osprey may be catering to a market demand that isn't presently serviced.
King told Cointelegraph that the decision to offer a DOT fund was part a vote of confidence in the growing ecosystem, as well as an effort to offer a wider range of digital asset investment vehicles.
"Our decision to launch a Polkadot trust next is both a vote of confidence and also addresses the market's need for access vehicles. We believe Polkadot shows significant promise and is still in the very early stages. Every product we launch will be something the Osprey team has researched and believes is a sustainable crypto project with significant investment potential," he said.
Polkadot is among the growing number of non-Ethereum chains that have been seeing a spike in organic developer activity. Earlier this month six top ecosystem projects joined together to create an index token, PINT, and Clover Finance made DeFi migration easier with an Ethereum-to-Polkadot bridge.
Polkadot (DOT) Price Ready To Ignite, Aims 67% Upswing By End Of October 2021
The crypto space is slowly on the verge to become the fastest growing and flourishing space as the market cap is heading towards $3 trillion at lighting speed. Bitcoin price and Ethereum price are heading towards their respective highs yet again gearing up other altcoins. And hence Polkadot (DOT) price following the trend may also gear up substantially. 
The price since the start of October 2021, maintained a considerable uptrend within a pattern. The asset was maintaining a silent trend with small dumps yet considerable large pumps until huge liquidity propelled the price from $34 to $42 a couple of days before. Since then DOT price repeated the same pattern in order to march towards its ATH.
As mentioned before, the price repeatedly formed a bull flag a couple of times and successfully ranged high. The asset has formed a similar pattern yet another time and could range above $50 with a successful breakout. Interestingly, the asset discovered a new support zone around $40 and bounced each time it visited these zones.
However, the Polkadot price is on the verge to form yet another bull flag pattern for the third time in a row. And a breakout from these levels may lead the DOT price to trade within the discovery phase soon
Polkadot price bound for 50% breakout if DOT bulls can overcome this hurdle
Polkadot price is consolidating between two vital levels at $47.96 and $38.69.
A decisive close above either of these levels will kick-start a new rally.
DOT is likely to embark on a 50% ascent if it surpasses $47.96 due to the market's bullishness.
Polkadot price is currently facing a decisive moment as it trades between two significantly troublesome barriers. While overcoming these hurdles will be trying, doing so will lead to a volatile move.
Polkadot price at make or break point
Polkadot price has risen roughly 75% over the past 24 days and is currently sitting between $47.96 and $38.69, two barriers that will determine the direction in which DOT will go next. The former barrier is sitting just under DOT's all-time high at $49.78, therefore, investors already in the trade could choose that point to book profits, making it a challenging level to crack.
In a scenario where buyers manage to overcome the selling pressure and produce a decisive close above this barrier, it will open the path to a new uptrend. The 100% trend-based Fibonacci extension level at $53.90 is where the Polkadot price may make a new high.
Clearing this blockade will eventually push the DeFi token to the next barrier at $71.45, coinciding with the 161.8% trend-based Fibonacci extension level.
The ascent from the $47.96 to this record-high would constitute a 50% gain.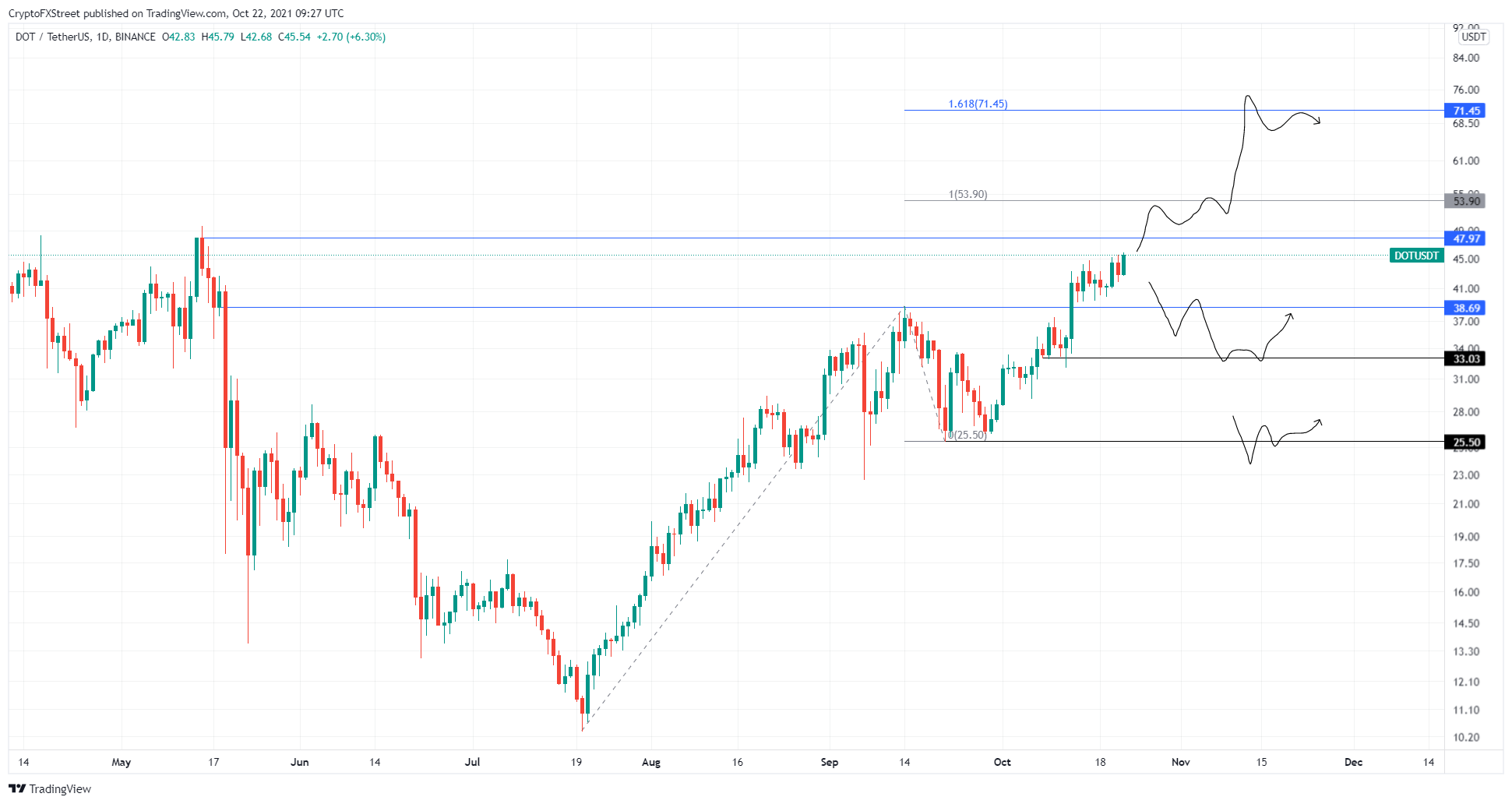 DOT/USDT 1-day chart
On the other hand, if the Polkadot price fails to slice through $47.96, it will indicate that buying pressure is waning. In this situation, DOT might revisit the $38.69 support floor, where the bulls can make a comeback.
If the Polkadot price flips this support level into resistance, it will trigger a 15% crash to $33.03. A breakdown of this level will lead to DOT retesting the $25.50 barrier, constituting a 33% descent from $38.69.
Cardano, Polkadot and Four Additional Altcoins Are Set To Explode in 2022, According to Crypto Trader Austin Arnold
Crypto trader and Altcoin Daily host Austin Arnold thinks six major altcoins are gearing up for massive rallies in the next year.
In a recent crypto update, the YouTube star tells his 1,040,000 subscribers that Ethereum layer-2 (L2) scaling solution Polygon (MATIC) is gaining momentum after landing a partnership with the $20 billion gambling company DraftKings.a
Arnold shares a statement from DraftKings' president of global product and technology, Paul Liberman, explaining how the company is positioning itself to grow alongside Polygon.
"Although DraftKings marketplace is still in its nascency, we are bullish on the possibilities that blockchain, NFTs, cryptocurrency and more will present as we prepare for Web 3.0 alongside Polygon and the new innovations ahead for digital collectibles."
Next, Arnold looks at the decentralized interoperability platform Polkadot (DOT). He points to a recent tweet from Polkadot founder Gavin Wood explaining that there are currently just under 19 million DOT tokens stored in the DOT treasury to fund community projects.
If any DOT goes unused, it gets burned. Currently, the Polkadot treasury is burning 239,988 tokens every month, according to Gavin Wood.
"Either burned or used, the DOT token is only getting more scarce. We have seen a rally in the DOT price recently. This could be linked to some exciting developments ahead, such as the upcoming parachain launch and slot auctions – these parachain auctions will take DOT off the market as well.
And with the first 11 parachain auctions coming to Polkadot next month, along with the 100 or so available slots to be filled, this could boost Polkadot's presence in the crypto sector, and could cement the multichain system's rising status."
The third coin Arnold looks at is the supply chain management protocol VeChain (VET). The trader highlights that VeChain recently landed a partnership with major logistics company DHL for enterprise NFT (non-fungible token) issuance.
"This collaboration with DHL China, one of the first things it will allow customers to experiment with is customize the DHL mascot and then mint it as NFTs on the VeChainThor blockchain solution."
Next up is the smart contract platform Cardano (ADA). Arnold notes that Cardano appears to be gaining more traction after landing partnerships with television satellite provider DISH and announcing that the network has received $100 million for investment in Cardano-focused projects in Africa.
"Simply put, there are so many people in more developing areas of the world that don't have financial stability, and that can be changed with Cardano with blockchain."
Another coin on Arnold's list is the decentralized oracle network Chainlink (LINK). He notes that despite the token's lackluster performance over the last few months, he believes there is still massive upside for LINK to realize in the market as partnerships continue to rise month-over-month, with 84 integrations made just in September.
"I get it, but in my opinion, Chainlink still has a lot of room to grow. Think about this: Chainlink already has a ton of exclusive, big partnerships with big companies – Google and Oracle to name two – over 75 different blockchains already use Chainlink technology, as well as being used by many data feeds, including USD [US dollar] currency pairs. That's a strong foundation.
My speculation is this: over these next few years, as DApp [decentralized application] platforms like Ethereum [ETH], Cardano, Solana [SOL], Polkadot, Elrond [EGLD], etc. continue to fight for market share… Chainlink is integrating with all of them… Something to think about."
Finally, the crypto trader thinks that the leading smart contract platform Ethereum is gearing up for a huge 2022. He notes that Ethereum developers announced that ETH is planning to make the transition into Ethereum 2.0 in May-June of 2022, which will convert the blockchain to a proof-of-stake protocol.
"The code should be ready around February 2022. The merge to mainnet, to ETH 2.0, in June of 2022 at the earliest. Next year will be known as the year of ETH. That's where DeFi [decentralized finance] is, that's where NFTs are."