Macro Guru Raoul Pal Pinpoints Ethereum's Potential To Become Massively Dominant
Macro guru Raoul Pal says a new milestone for Ethereum demonstrates the platform's ability to command the crypto and financial sectors.
The Real Vision founder highlights news that the European Investment Bank (EIB) is launching €100 million in digital bonds on the Ethereum blockchain.
The EIB, the lending arm of the European Union, is tapping Ethereum's distributed ledger technology for the registration and settlement of the digital bonds, according to a press release from the bank, which is collaborating with Goldman Sachs, Santander and Societe Generale.
Pal says the development shows the flexibility and dominance of the Ethereum network.
"It is a test that tacitly accepts that crypto offers better settlement, custody and transfer for the global bond market. Something I have talked about for a decade… in the end, all securities of all types will migrate across to public blockchains.
Also, it just show how massively dominant ETH currently is for use cases."
The EIB will issue a series of bond tokens on the Ethereum blockchain, and investors will pay for the tokens using fiat currency. The bond issue will still be governed by French law.
The European bank says the digitalization of capital markets will reduce intermediaries and fixed costs while improving market transparency and settlement speed.
Explains Bertrand de Mazières, the director general for finance at the EIB,
"By helping to create a framework for a new market ecosystem, the EIB believes this will bring value added for both issuers and investors, while contributing to an innovative, efficient and secure market infrastructure."
One Ethereum Competitor Is Showing Strength As Bitcoin Loses Ground, According to Crypto Trader Benjamin Cowen
Crypto analyst Benjamin Cowen says an Ethereum rival is showing strength as Bitcoin pulls back from its all-time high.
Cowen tells his 576,000 YouTube subscribers that AVAX, the native token for the smart contract platform Avalanche, is "weathering the storm relatively well."ADVERTISEMENT
The 12th-ranked asset by market cap is trading at $68.28 at time of writing, up over 5% in the past 24 hours and more than 20% in the past week, according to CoinGecko.
Cowen notes that AVAX is trading well above both its 20-week simple moving average (SMA) and 21-week exponential moving average (EMA). Taken together, the two metrics are what Cowen refers to as the "bull market support band."
"We also have some wiggle room in the sense that we are above the bull market support band of the AVAX/USD valuation. The 20-week SMA is at $35.85 and the 21-week EMA is at $43.47. What that tells you is that Avalanche has been performing pretty well for the last several weeks.
A lot of coins are right above their bull market support band, and they haven't been performing as well recently. A lot of these things can have some type of seasonality as the money ball just jumps around from project to project, and right now, clearly, AVAX is showing a decent amount of strength."
Cowen doesn't predict that AVAX will have a strong move against Bitcoin "in the next month or so," but he does say that Avalanche can increase in value in terms of its relationship to the US dollar in the short term.
Ethereum Price Forecast: ETH bulls set sights on new record high targeting $6,000
Ethereum price is gearing up for a new all-time high as two significant bullish chart patterns have transpired.
The governing technical patterns present optimistic targets at $6,015 and $6,365.
A daily close above $3,960 would add credence to the bulls' aspirations toward $6,000.
Ethereum price is hovering around a key support level which has previously acted as resistance for ETH, as the bulls catch their breath before the token resumes its rally. As long as the second-largest cryptocurrency by market capitalization holds above $3,960, a 60% surge is still on the radar.
Ethereum price eyes 60% ascent
Ethereum price has printed two major bullish technical patterns on the daily chart, an ascending parallel channel and a cup-and-handle pattern. The former chart pattern indicates that ETH has been consistently reaching higher highs and higher lows since mid-June, presenting an optimistic outlook for the token.
Based on the first prevailing chart pattern, ETH is likely to tag the upper boundary of the channel at $6,015, coinciding with the 161.8% Fibonacci extension level, representing a 48% climb.
The cup-and-handle chart pattern suggests that the projected target for Ethereum price is at $6,365, forecasting a 60% rally. While the two governing technical patterns establish an optimistic outlook for ETH, the token may be confronted by a headwind at its all-time high at $4,369, corresponding to the middle boundary of the parallel channel.
Additional hurdles may emerge at the 127.2% Fibonacci extension level at $5,092, then at the 161.8% Fibonacci extension level at $6,015.
Given the reinforcement of the two optimistic chart patterns presented on the ETH daily chart, retracements for Ethereum price may not be significant even if selling pressure arises.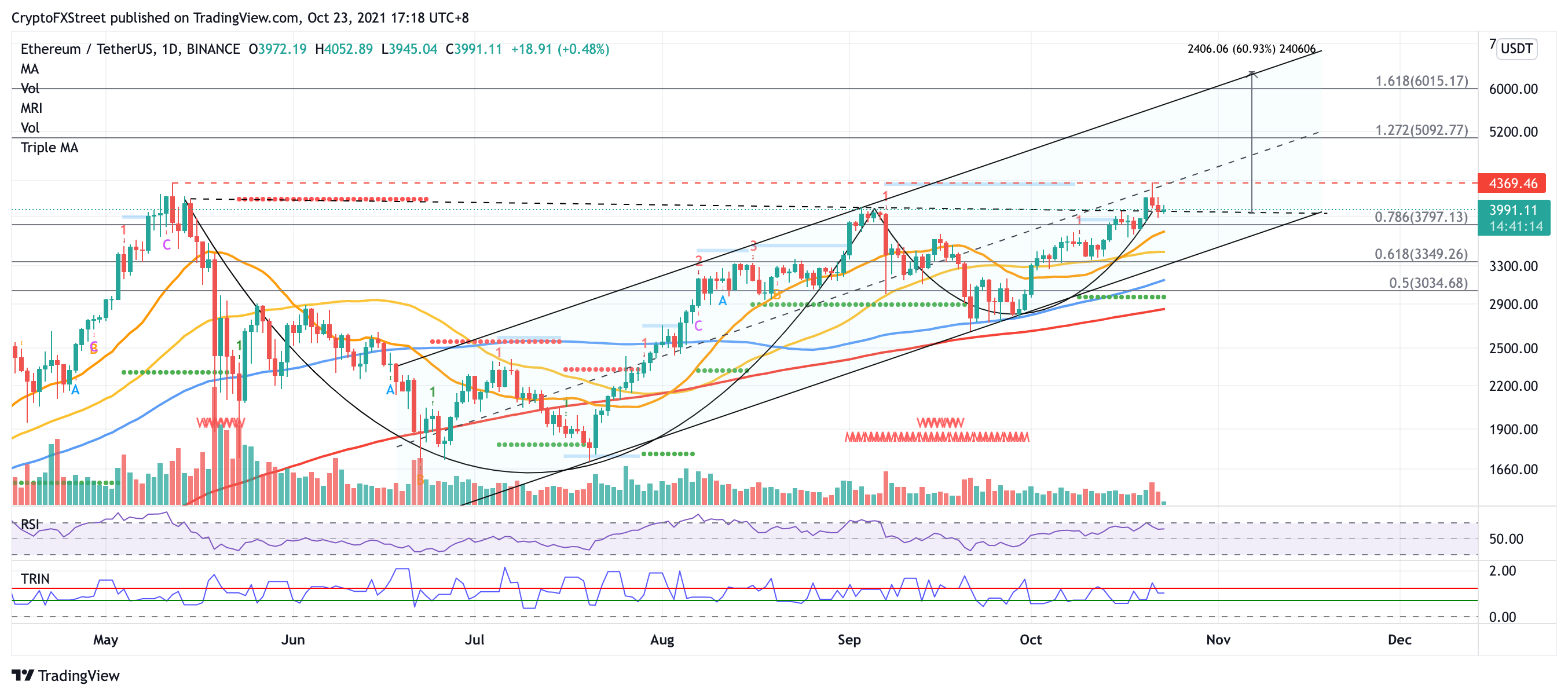 ETH/USDT daily chart
Ethereum price will discover immediate support at the support trend line at $3,960, then at the 78.6% Fibonacci retracement level at $3,797. The following line of defense will emerge at the 21-day Simple Moving Average (SMA) at $3,710, then at the 50-day SMA at $3,453 before eventually dropping toward the lower boundary of the ascending parallel channel at $3,349, which meets the 61.8% Fibonacci retracement level.
If Ethereum price fails to hold above the aforementioned levels of support, the bullish outlook may be voided, prompting ETH to plunge lower toward the 100-day SMA at $3,137.
ETH bulls should aim for a daily close above $3,960 to reinforce commitment for the bullish target to be on the horizon.
Whales hoarding NFTs? 80% of Ethereum NFTs bought by only 17% of Addresses
Around 16 percent of addresses snatched up 80.98 percent of all NFTs on Ethereum between April and September.
Moostream argues that there is still room in the NFT space for 'small investors.'
---
Moonstream, the open-source blockchain analytics platform, has revealed that about 80 percent of all non-fungible tokens (NFTs) on the Ethereum blockchain between April 1 and September 25 were owned by a minority of wallets. According to the October 21 report, four-fifths of NFTs in that time period was owned by 17 percent of wallets.
The reported analysed data from 7,020,950 million NFT transactions on Ethereum in a period of close to six months. It revealed that a significant number (80.98 percent) of NFTs on the blockchain were owned by whales, NFT platforms and exchanges which make up 16.71 percent of all wallets. The rest were distributed amongst the remaining 83.29 percent. This trend seems to follow the Pareto Principle or 80/20 rule as pointed out by one Reddit user. This is a principle that asserts that 80 percent of consequences are as a result of 20 percent of the causes.
It is worth noting that the data used in the report is based exclusively on the Ethereum blockchain and not Layer 2 networks or centralised Application Programming Interfaces (APIs). The report explains this in it's 'Caveats' section.
The Ethereum NFTs dataset is constructed purely from events on the Ethereum blockchain. It does not include any data from Layer 2 networks like Polygon. Nor does it include any data from centralized APIs like the OpenSea API. It does not account for events or data from any non-ERC721 smart contracts associated with these platforms on the Ethereum blockchain. This means that two parties could exchange a positive amount of funds for a transfer off-chain and conduct the transfer on-chain and we would not be able to distinguish the transfer from a gift. It is also possible for a single transaction to involve multiple NFT transfers.
Still early for 'small-time' investors and individuals?
While the unevenness in NFT distribution is glaringly obvious, Moonstream insists that there is still room for participation from small investors.
What this data shows us is that the Ethereum NFT market is open in the sense the vast majority of its participants are small-time purchasers who likely make their purchases manually. There are few barriers to entry for those who wish to participate in this market.
Contrary to what many may believe, purchasing and holding NFTs is relatively easy. Individuals can open a wallet on an NFT marketplace and fund it. After this, they can easily bid on available NFTs. Some popular NFT marketplaces are OpenSea, Rarible and Foundation.