VeChain announces $1 million grant as VET price eyes comeback
VeChain Foundation announced a $1 million grant program for an eNFT ecosystem.
This grant aims to leverage NFT in a large-scale setup, helping enterprises combat issues like tracking and counterfeiting.
VET price looks bullish as it approaches a wide area of demand that could help provide stable ground for the next leg up.
VeChain Foundation unveiled a massive grant program to further its real-world adoption and impact. VET price has recently tapped a demand zone and looks ready for blast-off.
eNFT, game-changer in blockchain mass adoption
VeChain Foundation announced on April 28 their allocation of $1 million to developers and projects that can bring value to the enterprise NFT (eNFT) ecosystem and its derivatives.
With DeFi and NFT sectors booming, VeChain believes that this grant will help further the adoption of its native token VET and its recent introduction of the VeThor (VTHO) token.
The blog details,
To build such an ecosystem, we need as many applications and projects as we can get, including NFT marketplaces, token bridges, DeFi applications, open source tools and more. The compounding effect of more tools will exponentially increase the development progress of the eNFT ecosystem.
Additionally, the grant program does not restrict the developers to NFT but allows them to expand to other aspects like DeFi applications, token bridges and cross-chain tools.
VET price primed for higher high
VeChain price has broken the short-term market structure by setting up a higher high on April 27. Since then, VET has retraced nearly 16% to a 4-hour demand zone that extends from $0.190 to $0.198.
Over the past 24 hours, the buyers in the area have prevented VeChain price from sliding lower, indicating a buyer interest. Hence, a bounce from this barrier to the swing top at $0.251 is the path that the bulls might take.
However, the recent swing high at $0.224 might dampen the buying pressure. Thus, it is crucial to breach past the higher high to retest $0.251.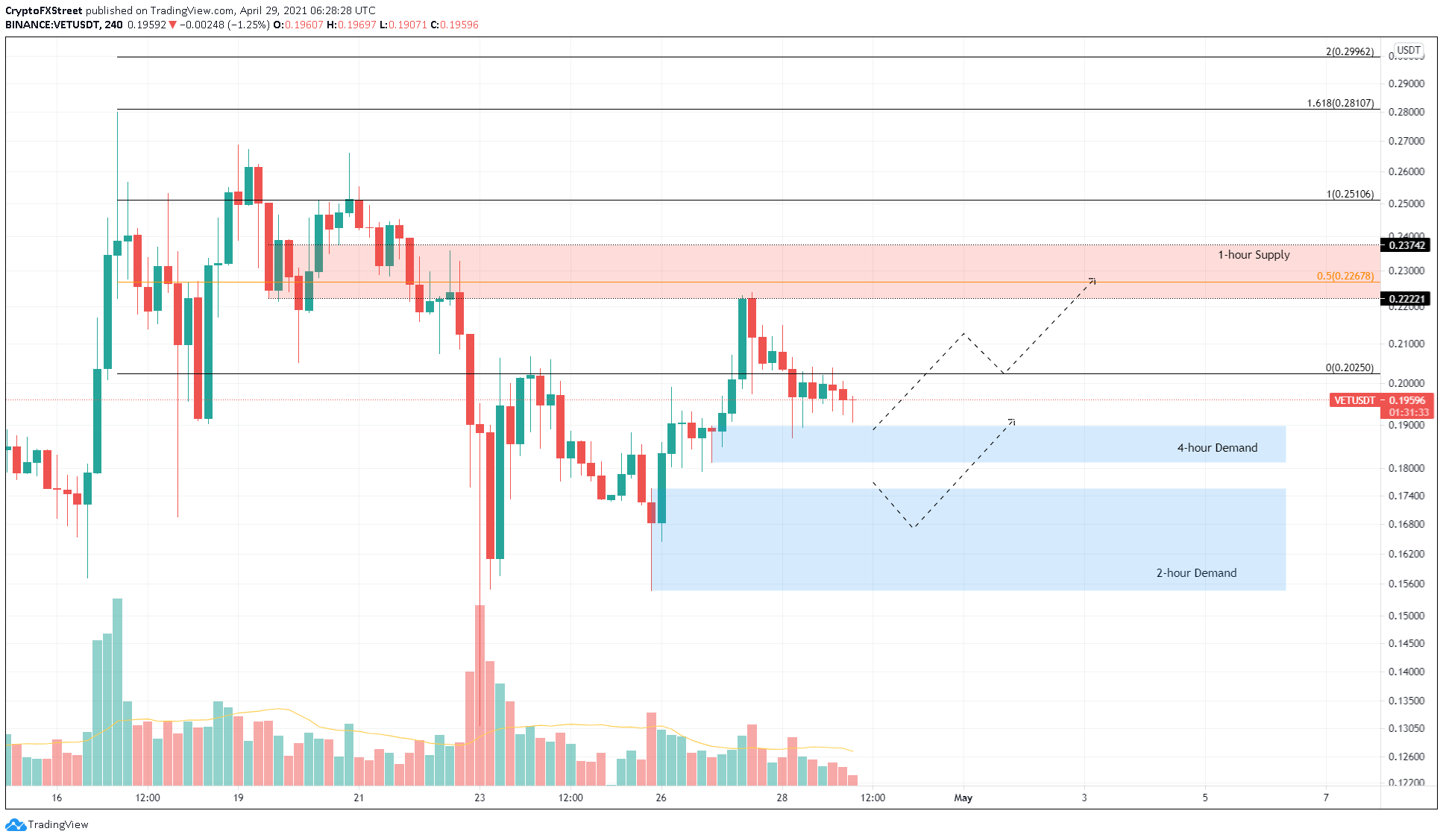 VET/USDT 4-hour chart
While the 4-hour demand zone seems like a viable barrier to bounce from, a potential spike in selling pressure could easily overthrow it. A breakdown of the $0.186 level will invalidate the bullish thesis and kick-start a sell-off toward the 2-hour support area stretching from $0.154 to $0.175.
Here's What's Next for Chainlink, Curve, Skale, The Graph, THORchain and VeChain, According to Analyst Michaël van de Poppe
Crypto strategist and trader Michaël van de Poppe has high hopes for a handful of altcoins amid Bitcoin's (BTC) recent rally to new all-time highs.
In a new strategy session, the prominent trader begins by outlining his latest analysis on the native asset of the decentralized price feed service Chainlink (LINK).
"At this stage I think that Chainlink is still in the area of interest if you want to get a position on this one. I think that's completely fine, it's just ready for a breakout."
At time of writing, LINK is valued at $28.79, up 5% on the day but flat over the past week, according to CoinGecko.
Next on the trader's list is Curve DAO Token (CRV), the asset powering the automated market maker protocol of the same name.
He expects the coin to move sideways in the short-term before a fresh breakout begins.
"Curve has been seeing this beautiful retest here, a beautiful structure in which we are most likely going to see continuation towards resistance here, before we have some slight consolidative periods towards the area here and then we are going to break out at some stage later."
CRV is priced at $2.90 at time of writing, down slightly from its weekly high of $3.05.
Next, van de Poppe looks at the decentralized application (DApp) protocol Skale (SKL), which is designed to help developers bypass congestion on the Ethereum network.
He thinks SKL will begin to rise next month.
"We are most likely in November going to have this breakout towards… 1400 sats before we are going to have the new impulse, new probably final impulse wave, on Skale."
Right now SKL is going for $0.34, up 11% from its 7-day low but down 25% from the high of $0.42, according to CoinGecko.
Van de Poppe next analyzes the chart for decentralized blockchain indexer The Graph.
"This one is also on the list. [It] has been underperforming in the past months, and actually in 2021 has seen [only] one impulse wave. But if support sustains here… if it continues to make higher lows, then there is a most likely breakout going to take place."
Currently GRT is valued at $0.88, down 5% from its weekly high but up over 30% from its low of $0.70.
The crypto analyst says he's looking for the decentralized cross-chain liquidity protocol THORchain (RUNE) to post a higher low, which would suggest another move to the upside is in order.
"When I see this big bounce back up I'm assuming that we're going to grant ourselves some slight consolidation, grant ourselves a higher low, and then we start continuing."
RUNE is going for $8.71 at time of writing according to CoinGecko, which is just shy of its weekly high after a low of $7.25.
As for the supply chain platform VeChain (VET), van de Poppe says he's sticking to his prediction at the beginning of October and looking for the coin to fall to at least 0.00000149 BTC [0.094] before a sustainable uptrend can begin.
"Still waiting on VeChain (VET) to hit those levels."
VeChain (VET) Stake Holders Have Spoken Mainnet Upgrade by End of October
VeChain's stakeholders have spoken. The all-stakeholder vote to implement the first phase of PoA2.0 on the VeChainThor mainnet has ended with an overwhelming majority of 737 voting of 'Agree' Thank you for taking part! Mainnet will be upgraded by the end of Oct.
Community Response: When Coinbase listing? Look – VET is on Binance and what is currently #1 Crypto Exchange? Why would we need Coinbase listing when we are already on the Top.
Excellent work team. Are you able to provide an estimate of a completed POA 2.0 upgrade? Even if a loose estimate? End of October they said. I think the end of October only refers to this particular step in the upgrade, not the entire POA2.0 migration.
Vexchange=done, poa2.0=done, price=0.12 Seems 0.26 is the top. I enjoyed the ride.
The all-stakeholder vote to implement the first phase of PoA2.0 on the VeChainThor Mainnet has ended with an overwhelming majority of 737 voting of 'Agree.'
What are the direct benefits for enterprises after Phase one is launched on Mainnet? What difference does it make for your node? Is it more security or more TPS? Now we are getting somewhere.
Otherwise, Sunny Lu, CEO and Founder of VeChain stated "Everything is connected or to be connected." BMW x DHL x VeChain.
The good news is that DHL has chosen the VeChainThor blockchain for their NFT collection. As a trend pioneer, DHL China has permitted everyone to customize the DHL mascot and mint it as a NFT on the VeChainThor blockchain.
Community Response: You're not an NFT company man, begin announcing supply chain contracts.
This is just the beginning of a robust eNFT ecosystem and VeChain are looking forward to future collabs with the DHL team.
You are not an NFT company man, start announcing supply chain contracts.
$VET prediction for short – mid-term is looking really bullish. Bullish cross 20 and 55 EMA in daily time frame.
Was expecting something a little more exciting than this. Is it really worth announcing? Shows a good partnership with DHL China but that's about it. Who would want to customise and mint the DHL Mascot? At least provide some substance to the 'news.'
VeChain has a growing expertise from years of live commercial use cases, which ensures that VeChain will play an ever more vital role in tackling the challenges of global food equality in delivering United Nations SDGs. Apart from this, VeChain has been doing a lot in terms of improving the competitive advantage for sustainable brands. The possibilities with VeChain are improved because of its capabilities to create and deploy smart contracts on VeChain.
News Source
Top Crypto Analyst Unveils Massive Polkadot Prediction, Issues Cardano, Solana and VeChain Price Alert
Crypto strategist Michaël van de Poppe is extremely bullish on Polkadot (DOT), while warning several popular altcoins may face further corrections.
The trader and analyst tells his 442,000 Twitter followers that DOT appears "programmed" to rise above $100 in the current market cycle.
Using a Fibonacci extension model, he outlines $75 and $115 as potential targets.
"If we assume that the area around $37 is going to hold as we are into a bull cycle, you could wonder whether you could be getting into the markets already or whether there's a retest. So you derive a potential scenario of potential lows and potential gains. So for you, the [upside] targets are $75 to $115…
If you analyze the fact that we are going to sustain at around $38, then the potential loss and invalidation is this previous low at $32."
As for Cardano (ADA), Van de Poppe says the fifth-largest crypto asset by market cap is sending bearish signals on the Bitcoin (BTC) chart.
"Cardano against Bitcoin is showing heavy run-up, bearish divergence here, and currently showing weakness resulting in overall downwards momentum."
The cryptocurrency analyst says that a buying opportunity may present itself if support around 0.00002930 BTC holds, which is worth about at $1.75 at time of publishing.
"The crucial area that I want to see sustained is overall this level [at $1.75]. If that is going to hold here, which I might find tricky, then I'm looking for anything in these regions for potential long entries.
If that one is lost, I think we're going to look at the area around 0.0000150 BTC [$0.90] and 0.00002 [$1.19] BTC before we're going to get bullish all over again."
Next up, Van de Poppe says he expects Solana (SOL) to experience "heavy correction." According to the crypto analyst, the ideal opportunity would be after Solana corrects by about 67%, falling to around the 0.00135 BTC level on the SOL/BTC chart, which is currently valued at $80.40.
"Solana, same picture. Heavy correction most likely going to take place.
I practically have one area that I'm looking at to buy Solana at this point. It's this region (0.00135 BTC). I'm not interested in Solana until there. That's a corrective move of 67%."
The cryptocurrency analyst also looks at supply chain management blockchain VeChain (VET), which he says is trending downwards.
"What we can see in this cycle too is that we are making lower highs [and] lower lows. And we are also rejecting previous support for resistance all the time."
According to Van de Poppe, the "best potential entry point" on the VET/BTC chart is either the 0.00000110 BTC level or at 0.00000150 BTC, worth $0.066 and $0.089, respectively.
"Best potential entry point for me is around 0.00000110 BTC [$0.066]. I'm looking at an entry point in this region. If we get there in November and December, that would be absolutely amazing if that is going to be hit.
Second one – that's this entire zone that we have here. We dipped in it already and that is the zone around 0.00000150 BTC [$0.089]."