Cardano enters Tanzania to bank the unbanked as ADA price looks to consolidate
Cardano's IOHK team announced a partnership with World Mobile Group to democratize access to digital, financial and social services in Africa.
This move comes after the recent tie-up with the Ethiopian government.
ADA price has tested a crucial supply barrier but might undergo sideways movement.
Cardano blockchain adoption takes flight after the second major partnership in Africa. ADA price also made headway but failed to follow through and is now bouncing off a crucial support level.
Africa embraces Cardano blockchain
Input-Output (IOHK), the blockchain research and engineering company behind Cardano, announced a brand new alliance with the World Mobile Group to help bolster Africa's digital, financial and social services.
This deal that utilizes Cardano blockchain comes right after IOHK's recent collaboration with Ethiopia's Ministry of Education to help connect teachers and students via their Atla PRISM solution. The new announcement will also leverage the same technology but to provide stable internet connectivity using solar-powered energy.
The blog details,
Together, the companies will provide affordable network nodes, based on the Cardano blockchain infrastructure, to local business owners. These network nodes act as local relays for internet connectivity. Subscribers to these networks will be able to access Input Output's digital identity solution, Atala PRISM, which will allow them to use services such as digital banking, healthcare and education.
Cardano has been breaking barriers when it comes to adoption. The blockchain has also received significant upgrades that have fortified its fundamental value, boosting the utility token and ADA's market value by an egregious amount.
ADA price lingers between two crucial barriers
ADA price surged nearly 30% in less than four days, allowing it to retest the supply zone that extends from $1.35 to $1.39. Although unsuccessful in breaching it, Cardano has found support on an immediate demand barrier that stretches from $1.19 to $1.25.
A likely scenario would be to consolidate between the two barriers until one camp overwhelms the other leading to a breakout.
If ADA breaches through the supply barrier's upper trend line at $1.39, it will signal the start of a new uptrend that could propel Cardano price 11% to all-time highs at $1.55.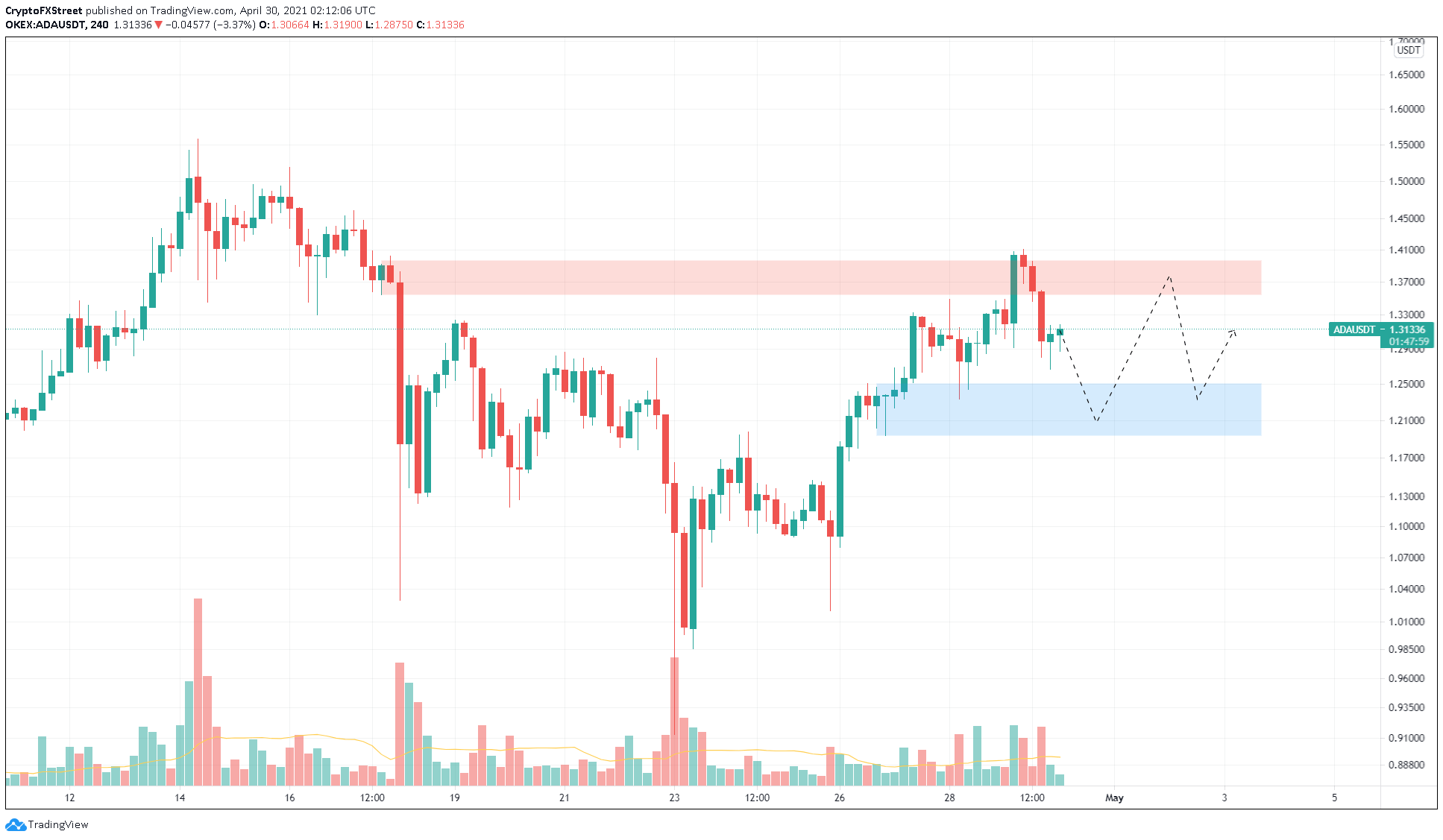 ADA/USDT 4-hour chart
Supporting this upswing is IntoTheBlock's In/Out of the Money Around Price (IOMAP) model, which shows stacked support levels below the current price, ready to absorb any short-term selling pressure.
Moreover, there are only two feeble resistance barriers at $1.36 and $1.44, where roughly 86,000 addresses that purchased nearly 1.4 billion ADA are "Out of the Money."
Hence, slicing through these hinderances will open Cardano price up to a path of least resistance to retest its all-time highs.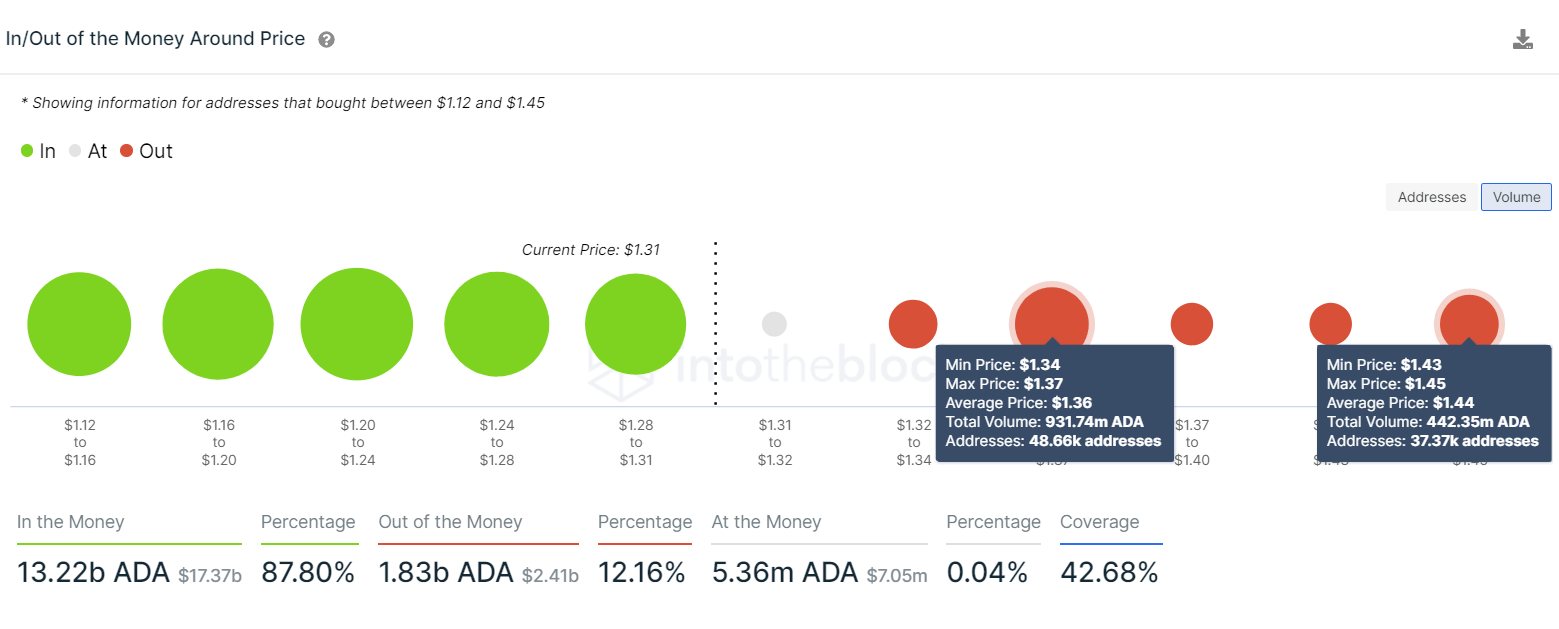 ADA IOMAP chart
However, if the buyers fail to build up steam, leading to a pile-up of ask orders, the demand barrier will face invalidation. A decisive 4-hour candlestick close below $1.19 will create a new lower low, signaling the strength in sellers.
Under these conditions, investors can expect ADA price to find support at $1.14.
Cardano Price Stuck in Sideways trade, Here's When ADA will Breakout!
The cryptocurrency market has started the new week on a positive note, with all of the top ten coins trading in the green. Yesterday, the price of Bitcoin (BTC) fell back to $64,895 and fought to stay above it for the first half of the day. 
Cardano in sideways trade
The Cardano price has remained sideways, with the coin's price remaining below the 9-day and 21-day moving averages.
Cardano's price is falling below the 9-day and 21-day moving averages when compared to Bitcoin. The long-term 9-day moving average is projected to bearishly cross below the channel's lower border. The Cardano market is currently in a slump, with the price reaching a daily low of 3397 SAT.
Popular analyst Micheal Van De Poppe too has pointed out the bearish/sideways momentum ADA has been experiencing off late. He depicts this in his recent tweet.
#Cardano rejecting at crucial area around 3650-3700 sats and correcting down.

Trend is still downwards. pic.twitter.com/1GjfraAFEE— Michaël van de Poppe (@CryptoMichNL) October 25, 2021
A Breakout On the way?
If the bulls can drive the price above the 9-day and 21-day moving averages, the Cardano price is likely to break out. Meanwhile, the Cardano price may continue to rise by breaching above the moving averages, maintaining a solid upward trend. As a result, any further bullish movement might push the coin to resistance levels of $2.50, $2.60, and $2.70.
The bullish movement may be invalidated if the bears break below the lower border of the channel, and the Cardano price falls below the negative side to support levels of $1.85, $1.75, and $1.65, as seen on the daily chart.
Meanwhile, the technical indicator Relative Strength Index (14) signal line is falling below 50, indicating that the market is sliding sideways. 
Solana And Cardano Are Heading To The Moon Amidst Huge Institutional Inflow
The crypto market is seeing the most significant weekly institutional inflow in history, according to official data from CoinShares.
The online publication the Daily Hodl notes that the crypto firm says that digital asset investment products have shattered the record for both weekly and yearly capital flows by a considerable margin.
"Digital asset investment products saw inflows last week totaling US$1.47bn, the largest on record by a significant margin. The previous weekly record was seen earlier this year in February with inflows totaling US$640m."
The notes continue and say:
"Inflows year-to-date now sit at US$8bn, far surpassing the record in 2020 of US$6.7bn."
CoinShares also said that Bitcoin (BTC) accounted for the overwhelming majority of the funds. This has been happening following the positive sentiment stemming from the launch of the new ProShares Bitcoin futures exchange-traded fund (ETF).
"Bitcoin saw 99% of the inflows totaling US$1.45bn last week. The record inflows were a direct result of the US Securities & Exchange Commission [SEC] allowing a Bitcoin ETF investing in futures and the consequent listing of two Bitcoin investment products with inflows totaling US$1.24bn."
The same notes reveal that "Inflows into Bitcoin products were also seen in other regions totaling US$138m, although there was evidence of profit-taking with some older investment products seeing outflows."
Cardano (ADA) and Solana (SOL) are exploding
The same crypto firm is also looking at altcoins, and they said that the most notable coins seeing inflows were smart contract platforms Solana (SOL) and Cardano (ADA), as well as crypto exchange Binance's BNB.
Solana and Cardano saw $8.1 million and $5.3 million in inflows.
Regarding the prices of the coins, at the moment of writing this article, both of them are trading in the green. ADA is currently trading at $2.18, while SOL is priced at $210.
Stay tuned for more news and make sure to keep your eyes on the crypto market.
Charles Hoskinson of Cardano (ADA) In Republic of Burundi and Zanzibar Island
Charles Hoskinson Expressed: Great meeting with his excellency President Évariste Ndayishimiye about the future of Burundi's digital transformation.
And before Burundi, we had a wonderful meeting about the Blue Economy with President Hussein Ali Mwinyi in Zanzibar.
For clarity, just looks like Charles is on the mission. Cardano is an open platform that seeks to provide economic identity to the billions who lack it by providing decentralized applications to manage identity, value and governance. May be taking stuff to the next level.
For clarity, Burundi, officially the Republic of Burundi, is a landlocked country in the Great Rift Valley where the African Great Lakes region and East Africa converge. Burundi itself is a landlocked, resource-poor country with an underdeveloped manufacturing sector. Although Burundi is potentially self-sufficient in food production, the ongoing civil unrest, overpopulation, and soil erosion have contributed to the contraction of the subsistence economy by 25% in recent years.
Unguja, also known as Zanzibar Island, is the main island in the Tanzanian archipelago of Zanzibar. Stone Town, part of Zanzibar City, is an old trade center, with mosques and winding lanes.
Community response: I am waiting for ADA to move an inch so I see it can rise up.
1600% in one year ADA gains. You were saying something? And, it will dump now. Death cross forming.
ADA is up over 2000%. In less than a year. Lol. I've been here and this is how ADA runs. We're blessed to have Charles and the team. Haters are either new or slow.
Charles should have focus on other market than Africa like Indonesia, Philippines, Pakistan.
Africa is adopting Crypto. Huge opportunities. We are growing food so long. Charles Hoskinson means business. Get on this train now. He is on an Africa tour for pushing power to the edges. Cardano is changing the world.
Presidents are elected officials, Charles is a free man, again they need Cardano not the other way round if anything they are impressing Charles as they have more to gain by utilising Cardano.
Presidents have meetings all day long. It's their job to meet people and represent their country. It doesn't mean they commit to something.
Please catch Nigeria, Ghana, South Africa and Egypt and all the dominoes will be set. I can't wait to hear about Cardano's upcoming partnerships, with countries
South African just done. Egypt is in a few days. Nigeria and Ghana will be next time I believe.
This guy's view of the future is to complete change the financial system, help countries and always improving.
I am glad that these countries in Africa are embracing the new technology that Cardano is bringing, and the so-called developed countries will remain at the forefront of evolution. I am proud of Africa that they have chosen the future.
News Source