Ethereum price flashes multiple sell signs after setting up fresh highs
Ethereum price looks at a steep decline after setting up a new all-time high at $2,800.
Multiple technical, social and on-chain indicators suggest a short-term sell-off is near.
A sustained buying pressure leading to a higher high above $2,800 would invalidate the bearish thesis.
Ethereum price has been on a tear after the recent market crashes. While the pioneer cryptocurrency moves sideways, ETH has shattered its ceiling and set up new all-time highs. However, this drastic increase in its market value could lead to a minor pullback.
Ethereum price eyes correction
On the 12-hour chart, Ethereum price shows two crucial technical formations that suggest a bearish outlook, the spinning top candle and the Momentum Reversal Indicator's (MRI) cycle top signal.
Both these signs are indicative of bullish exhaustion, which often leads to a correction.
A bearish spinning top candlestick is a technical formation that contains long wicks and a short body that closes below its opening price. This pattern is formed at the top of an upswing and forecasts a reversal.
Adding credence to this bearish outlook is the MRI's cycle top flashed in the form of a red 'one' candlestick. Such a setup projects that a one-to-four candlestick correction could ensue.
The stable support barrier at $2,546.8 is the first line of defense for this sell-off. A breach of this would allow the bears to target the 50 Simple Moving Average (SMA) on the 12-hour chart that coincides with another crucial demand level at $2,312.3.
The horizontal trend lines at $2,371.2 and $2,253.4 act as a buffer zone, present above and below the said target. Here ETH bulls could potentially rescue the smart contract token and kick-start an upswing.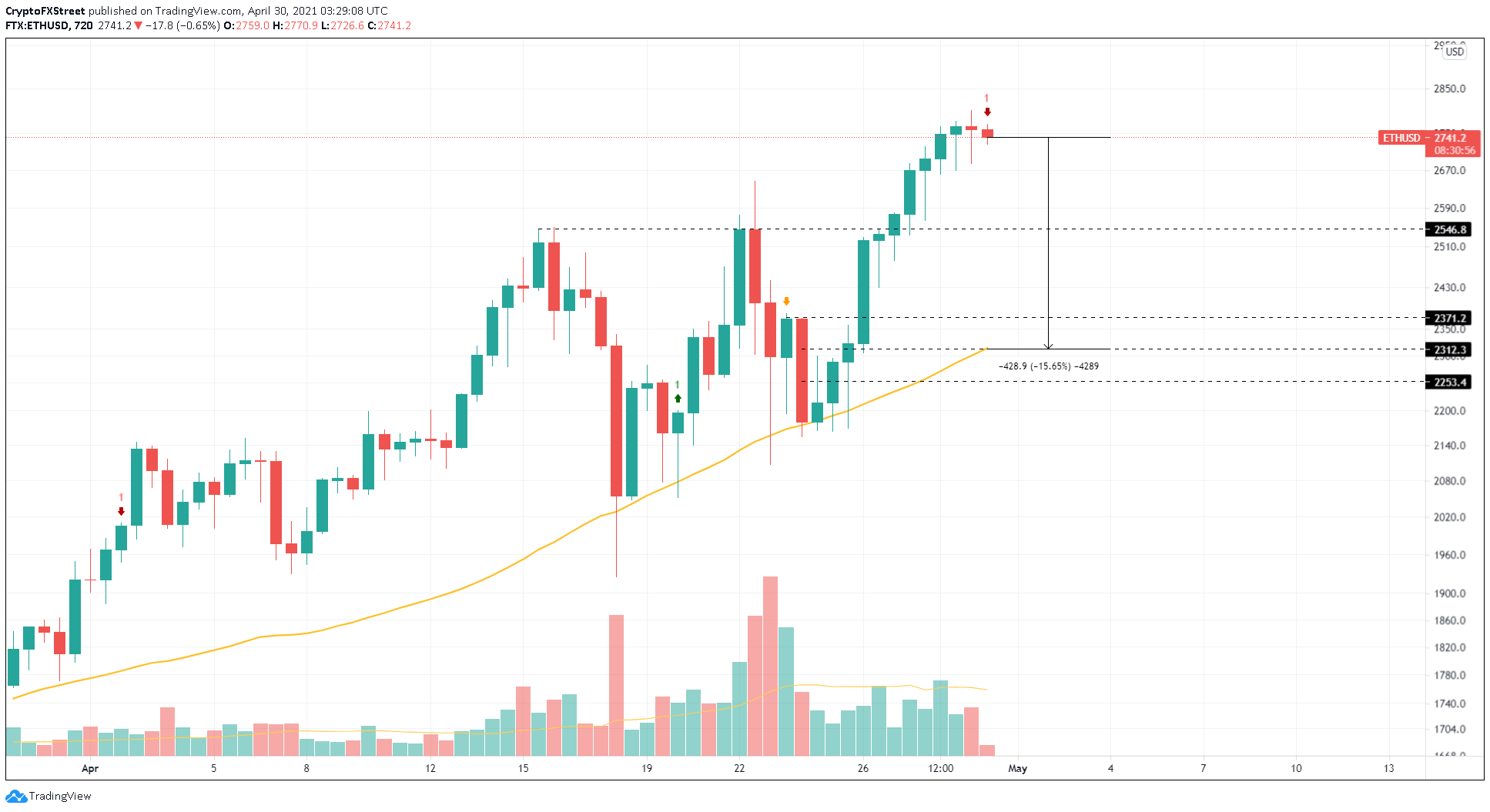 ETH/USD 12-hour chart
An increase in the number of daily active addresses interacting with the Ethereum blockchain is bullish and can be considered as a proxy of investor interest in ETH at the current price levels. However, the contrary of it also holds true.
At press time, not only is ETH price increasing, but the number of daily addresses has dropped 7.1% from 700,000 to 650,000 since April 21, portraying a bearish divergence and suggesting that a decline in price might follow.

ETH price and daily active addresses chart
Adding headwind to ETH buyers is Santiment's 30-day MVRV model, which shows that 19.3% of the investors who purchased Ether in the past month are experiencing profits.
A similar bump in MVRV was seen in early April, which eventually led to a decline as market participants rushed to book profits.
History reveals that a spike in social volume usually occurs at price tops. Therefore, the recent 61% bump in this metric is bearish from a counter-sentiment perspective and adds credence to the correction thesis mentioned above.

ETH 30-day MVRV and social volume chart
The only arsenal in the buyers' corner is the diminishing supply of ETH held on exchanges. This value has dropped 16.3 million to 13.7 million since the beginning of 2021. Such a sharp collapse causes a negative supply shock and could potentially increase Ethereum price.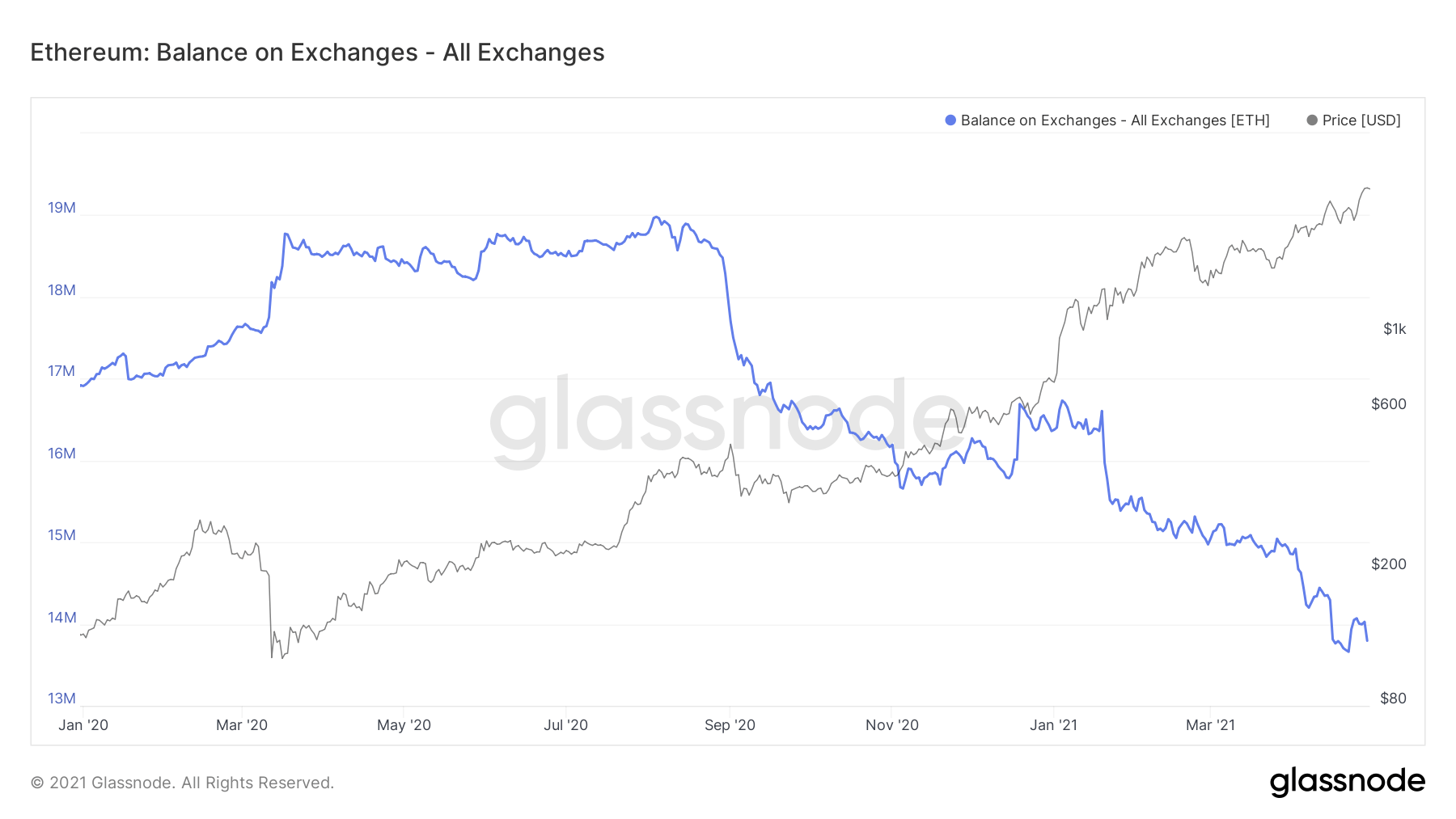 ETH held on exchanges chart
While everything seems to be bearish for the second-largest cryptocurrency (by market cap) in the world, investors should consider the possibility of ETH price defying technical and on-chain indications due to the current bull run.
If Ethereum price creates a higher high above $2,810, it will invalidate the bearish scenario and kick-start a bullish one.
In such a case, market participants can expect the pioneer altcoin to surge to $2,842.
Massive drop in Ethereum exchange reserves signals imminent supply shock, ETH eyes $8,000
Over 400,000 ETH was pulled out of Coinbase, dropping exchange reserves and driving a supply crisis.
Average Ethereum gas fees stay above $20 due to an increase in pressure from smart contracts on the network's blockchain.
Analysts who are bullish on Ethereum expect ETH price to cross $5000 in an upward climb.
Institutional investors are bullish on Ethereum with rising capital inflow. Ethereum reserves across exchanges have dropped as outflow increases.
Coinbase notes massive Ethereum exchange outflow
Coinbase noted a withdrawal of 400,000 Ethereum tokens, and according to community-driven crypto platform CryptoQuant, it is likely that the outflow was institutional activity. Analysts expect a bullish impact on ETH prices. 
400,000 Ethereum tokens are the equivalent of $1.5 billion, withdrawn from the second-largest cryptocurrency exchange. The exchange outflow indicator is considered a sign of increased outflow and a supply shortage in Ethereum.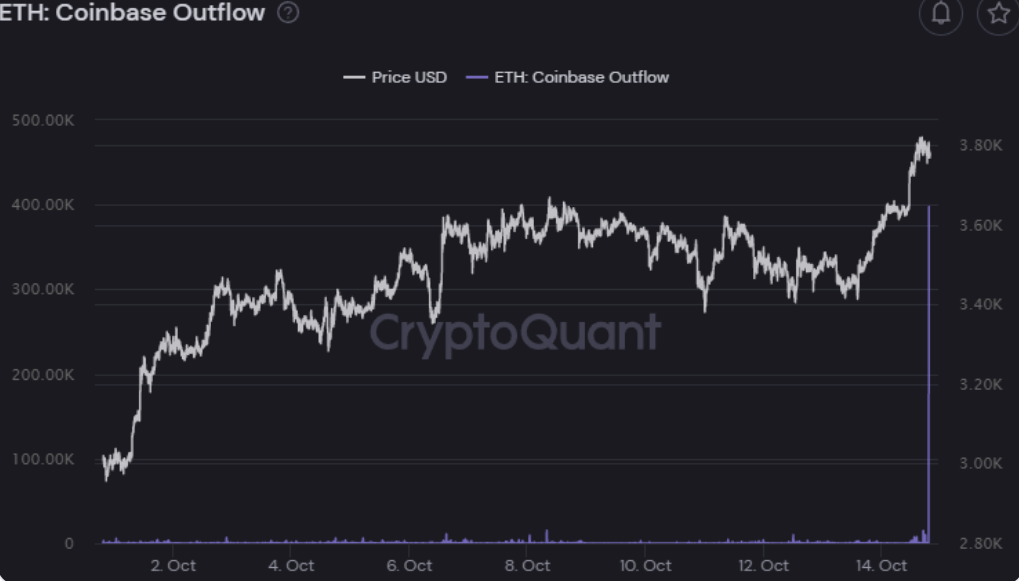 Ethereum Exchange Outflow.
Ethereum has posted over nearly 20% gains in the past two weeks.
Interestingly, there is a spike in whale activity on the Ethereum network. Over $188 million worth of Ethereum was moved between two anonymous cryptocurrency wallets in a single transaction. 
A mysterious whale initiated the transaction, and it was sent to an unknown recipient. The details of the transaction are as follows: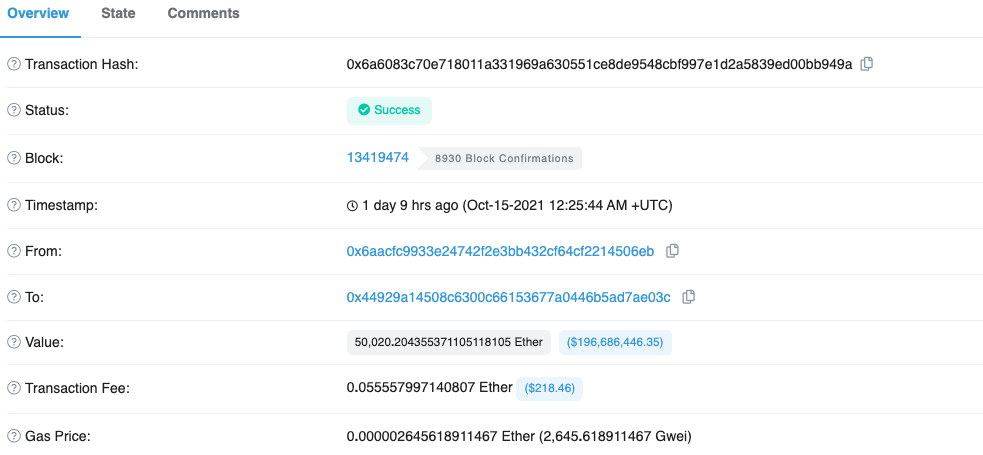 Whale activity on the Ethereum Network.
With news of Bitcoin ETF getting approval by the Securities & Exchange Commission next week, experts are awaiting Ethereum's turn. Analysts are of the opinion that following Bitcoin ETF approval, capital inflow to Ethereum and altcoins will increase.
Pseudonymous cryptocurreny trader and analyst @jroberts3334 has set a target of $8000 for Ethereum for February 2022. 
My target for ETH is 7600/8000 by Feb. The Altair upgrade is coming quickly on Oct 27. The merge of POW/POS and L2 upgrades are coming quicker than people realize – I believe it will coincide nicely with this next leg higher in BTC (after 1 more possible dip).— jrob 🍌₿ Ξ (@jroberts4334) October 14, 2021
Simon Dedick, Managing Partner of Moonrock Capital, is bullish on Ethereum; he tweeted:
$ETH is just a 13% pump away from breaking its previous ATH and entering parabolic price discovery.— Simon Dedic (@scoinaldo) October 16, 2021
FXStreet analysts have evaluated the ETH price trend to analyze where altcoin is headed next. Analysts have set a target of $5200 for ETH price. 
Ethereum 2.0 Next Steps to Mainnet Shared by Ethereum Foundation
Ethereum (ETH) developers have entered final phase of testing before hotly anticipated ETH1-ETH2 transition
Tim Beiko, Ethereum 2.0 researcher and coordinator at Ethereum Foundation, published a recap of Amphora devnet launch. Why is this milestone special for progress to Ethereum 2.0?
Amphora workshop has been completed successfully
Mr. Beiko has taken to Twitter to share his blog post about the Amphora workshop that launched the interoperable devnet of Ethereum 2.0 Merge.
Fresh off the press: here's a recap of the #amphora interop event 🏺 highlighting the next steps to The Merge, with links to devnets and an A+ infographic by @trent_vanepps. Enjoy 😁! https://t.co/L66OymXFmA— Tim Beiko | timbeiko.eth (@TimBeiko) October 15, 2021
As such, Ethereum's (ETH) core developer community entered the last phase of its incentivized testing, i.e., "devnets." Ethereum 2.0 devnets should be considered "public networks with hardened specs for community to test."
Amphora meetup was joined by a number of teams behind ETH2 client implementations: Besu, Erigon, EthereumJS, Geth, Nethermind, Nimbus, Lighthouse, Lodestar, Quilt, Prysm and Teku.
Amphora's agenda included five milestones (M1-M5); all of them were accomplished successfully.
10,000 validators, 100 nodes: Welcome to Pithos
To achieve an M5 milestone, a network of 10,000 validators across 100 nodes launched on the top of proof-of-work (PoW) consensus, successfully transitioned to proof-of-stake (PoS) and finalized the chain.
On Oct. 14, 2021, the more stable version of Amphora testnet, Pithos, launched to facilitate upcoming experiments.
As covered by U.Today previously, Ethereum 2.0 Merge was successully activated in an interoperable multi-client testnet in a secret location on Oct. 8, 2021.
Ethereum Looks Set To Explode As 400,000 ETH Exits Coinbase
On-chain data shows crypto exchange Coinbase saw a withdrawal of 400k Ethereum yesterday. This could be a sign of activity from institutional investors, and could prove to be bullish for the coin.
Coinbase Observes Outflow Of 400,000 ETH
As pointed out by a CryptoQuant post, about 400k ETH (1.5 billion at the current exchange rate) was withdrawn yesterday from the crypto exchange Coinbase.
The indicator used here is the Ethereum outflow, which shows the total number of coins exiting wallets of the exchange.
When the metric shows a big spike, it means a lot of ETH was withdrawn from the exchange. Investors usually take out a lot of coins to either hodl them or to sell them through OTC deals.
So, constant outflows can mean that there is a buying pressure in the market and investors feel bullish on Ethereum.
Now, here is how the chart for the indicator looks like for the crypto exchange Coinbase:
ETH's outflow showed a large spike yesterday | Source: CryptoQaunt
As the above graph shows, the crypto exchange Coinbase saw a spike of a massive 400k Ethereum in outflows yesterday.
Outflows this big can be a sign of activity from institutional investors as certainly normal holders won't have these many coins to move around.
Institutional investors being bullish on ETH can mean huge things for the crypto. If ETH has to move to the next leg up, it will need a lot of money pumped into it, and this usually means whales like institutional investors need to get involved.
As these outflows already signal that institutional investors are taking their coins out of exchanges to perhaps hodl them, ETH's outlook looks bullish.
Ethereum Price
At the time of writing, ETH's price floats around $59.9k, up 9% in the last seven days. Over the last thirty days, the crypto has amassed 25% in gains.
The below chart shows the trend in the price of the coin over the last five days:
ETH's price makes a push up and approaches the $4k mark | Source: ETHUSD on TradingView
ETH has made a big push in the last few days as the coin now approaches a test of the $4k mark. It's unclear at the moment if ETH can keep this momentum going and reach a new all time high (ATH) soon, or if it will falter once again.
f the outflows are anything to go by, the general sentiment seems to be bullish and institutional investors getting involved can help with the big price pushes the crypto needs to break important resistance lines.