Grifter season in DeFi-land, and Uniswap v3 is here! Finance Redefined 4/28-5/05
Lots of cons, no artistry
It's grifter season: scams and opportunists run amok, and it's harder than ever to tell who to trust.
Case and point: over the weekend, an influencer by the pseudonym "Crypto Spider" was found to have pumped-and-dumped a meme coin, $SELON — while publicly claiming that he had joined his followers in taking a loss.
step 1: @linkpadvc make a Doge fork called Shibe-Elon

step 2: give themselves a ton of it

step 3: burn 1 of their top address to induce FOMO

step 4: rug

I knew it from instinct, but thanks for @mathieu_ouioui for verifying this onchain. pic.twitter.com/wVOHVHMpb8

— CL (@CL207) May 2, 2021
The drama jarred me personally, despite the fact that I didn't have any exposure to the failed shitcoin. The reason being is that I quoted Crypto Spider in a piece from January. Had I unwittingly aided a scammer?
I'd gotten his name from a trusted colleague. Part of my beat is emerging projects, and I'm always open to hearing from anon teams and sources — other cryptomedia outlets ignore them to their detriment, given that the largest digital asset in the world was founded by an anon.
When we spoke he told me about an algo stablecoin project, and I now realize that it was likely an effort to use the Cointelegraph platform to pump his bags. Thankfully, I did my due diligence while researching the project: the developers were clever and intrepid, but ultimately working in what appears to be a doomed vertical (though I suppose FEI and OHM are still giving it the old college try), and I profiled them as such.
While my reporting was unlikely to lead anyone astray, seeing Spider exposed as a fraud was nonetheless a jolt. It's getting harder to tell who to trust out there — a point that Spider made himself.
I reached out to him over the weekend to ask for his side of the story, and he pointed to a Tweet thread from his alleged co-conspirator — one which, oddly, confirmed that he had promoted the project and then sold. He also sighed that he'd become "the target of anyone who shilled or created meme coins."
1. Wanted to clear up some misinformation surrounding SELON and @CryptoSpider1 's involvement. This token was meant to start out as a joke with a friend on twitter who approached me. I was asked to make the website for my friend and he deployed the token.

— Sheel Patel (@iamSheelPatel) May 2, 2021
It would take the moral nuance of a toddler to claim Spider's actions are equivocal to the standard influencer cheerleading, but with all the money sloshing around more and more people seem to be getting mixed up with shady deals.
Not even institutions are exempt: Alameda Research invested $20 million in Reef, part of what would have been a larger $80 million deal — but the two companies cut ties over a disagreement regarding Alameda transferring the tokens they purchased to Binance, presumably to sell. Alameda later said it was merely an OTC buy and not a longer-term "strategic investment."
Anons lie, institutions lie, and despite the money pouring from the sky greed is still getting the better of people. Watch who you listen to and what you invest in — I know I'll be even more careful going forward.
But here's one principle that hasn't led me astray yet: anonymity by nature encourages and enables both the best and the worst in crypto. An anon with integrity can be a guiding light in these choppy waters.
Uniswap v3 mewls out of the gate
After months of anticipation, Uniswap v3 is finally here. It may take a while before it gets its sea legs, however.
1/

🦄 We are thrilled to announce that Uniswap v3 is now live on Ethereum mainnet!https://t.co/liqYXtQoM2 has been updated to support v3.https://t.co/VeR2ueZfEk

— Uniswap Labs 🦄 (@Uniswap) May 5, 2021
In the first few minutes after launching the protocol had attracted $1.3 million in total value locked; at the time of publication it has since risen to $24.3 million. The majority of liquidity is in bread-and-butter trading pairs such as ETH/stable pairs, but specifics are hard to come by; while a blog post from Uniswap says that their info site has migrated to displaying v3 statistics, their top pools are still for Uniswap v2.
Aside from the interface stumble, there is not yet sufficient liquidity to swap at any significant size. Quotes for ETH/stablecoin pairs led to double-digit slippage quotes on orders over 10 ETH or so, and the interface often suggests better prices on v2. (Cointelegraph has a policy in place prohibiting writers from making trades during business hours, so I'm only relaying the quotes I got for the trades).
The low liquidity woes may soon be ameliorated, however. As multiple Twitter observers pointed out, Uniswap is making it simple to migrate liquidity pools to v3 — including Sushiswap LP positions in what some have dubbed a "reverse vampire attack."
Perhaps coolest of all however is that a long list of Uniswap v3 pool positions, which are represented as NFTs, are now on sale on Opensea. Uniswap founder Hayden Adams bragged about his, the first-ever v3 position. I expect a interesting market to develop over the comping days for early pool positions, and the first positions in culturally important pools may come to have significant value. What would the first EMN-DAI position NFT be worth now?
1/

🦄 Proud owner of @Uniswap v3 NFT #1

Mini thread on v3 NFT positions which are SVGs generated entirely on-chain and derived from the properties of the underlying position https://t.co/PLrrlUNHyd pic.twitter.com/JBD9rlxxZn

— hayden.eth 🦄 (@haydenzadams) May 5, 2021
In all, a mixed-review launch. But that's to be expected for a protocol only open to the public for the last few hours, and as Framework Venture's Vance Spencer puts it, once it's attracted significant liquidity v3 may well represent a new "era" for capital efficiency in DeFi:
https://twitter.com/pythianism/status/1390008888393535490?ref_src=twsrc%5Etfw%7Ctwcamp%5Etweetembed%7Ctwterm%5E1390008888393535490%7Ctwgr%5E%7Ctwcon%5Es1_&ref_url=https%3A%2F%2Fcointelegraph.com%2Fnews%2Fgrifter-season-in-defi-land-and-uniswap-v3-is-here-finance-redefined-4-28-5-05
Major stories this week
Balancer and Gnosis team up for Uniswap v3 rival Cowswap
Inverse Finance acquires Tonic in possible first-ever protocol merger
Lido looks to go cross-chain
Federal Reserve says DeFi may lead to "Paradigm Shift"
Uniswap Price Prediction: UNI bulls eye 40% upswing
Uniswap price broke out of a descending parallel channel on October 1 but lacks momentum.
A decisive close above $25.24 could signal the start of an uptrend.
UNI will face $29.43 before hitting the $33.34 resistance barrier.
Uniswap price broke out of its consolidation phase on October 1 but showed no signs of moving. A bounce that pushes it past the immediate resistance level could trigger the start of an uptrend.
Uniswap price prepares for volatile move
Uniswap price set up three lower lows and lower highs since August 18. Connecting these swing points using trend lines results in the formation of a descending parallel channel. While a move above the channel's upper barrier usually indicates a breakout and catalyzes a run-up, UNI seems to be facing a problem.
Since its breakout, Uniswap price has dropped 7%, slicing through the $25.24 support floor. Therefore, UNI needs to gather steam and produce a decisive close above this resistance level to signal the start of an uptrend.
Doing so will allow Uniswap price to embark on a 40% climb to $33.34. However, UNI will face stiff resistance around $29.43, which must be cleared for the bulls to reach their destination.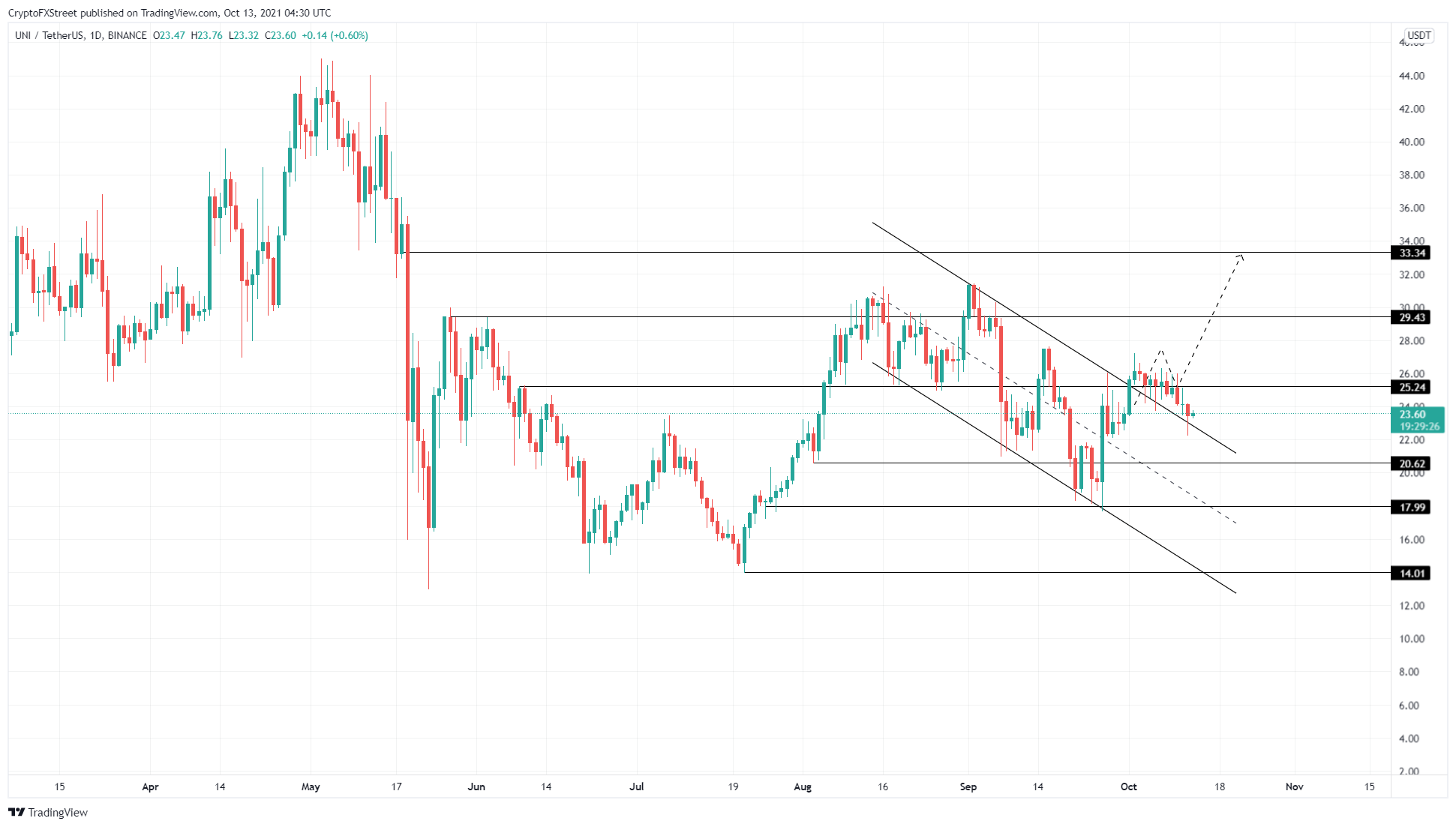 UNI/USDT 1-day chart
Firmly supporting the potential bullish outlook is Santiment's Market Value to Realized Value (MVRV) model. This on-chain metric is used to determine the average profit/loss of investors that purchased UNI over the past year.
Currently, the 365-day MVRV is hovering at -1.21%, suggesting that short-term investors have already sold their holdings and that a sell-off at this stage is unlikely. Moreover, the negative territory is where long-term holders accumulate. Therefore, a potential surge in buying pressure could kick-start a new uptrend.

UNI 365-day MVRV chart
IntoTheBlock's Global In/Out of the Money (GIOM) model supports the cautiously optimistic scenario. This model shows that roughly 31,700 addresses that previously purchased 244.64 million UNI at an average price of $27.29 are "Out of the Money" and are likely to sell if Uniswap price ever rises to this level.
Therefore, the buyers need to overcome this resistance level to have any chances of an upswing.

UNI GIOM chart
While things are not looking so good for Uniswap price, continuing this downswing could lead to a retest of the $20.62 support floor. A breakdown of this barrier will reveal a weakness among the buyers and knock UNI down to $18.
If the bulls fail to defend this level, it will invalidate the bullish thesis and likely knock UNI down to $14.01.
Uniswap price analysis: Price equalizes above $24 after minimal recovery
UNI price has been uplifted to $24.82.
Uniswap price analysis is indicating rise in price.
Support has been stable at $18.828.
The Uniswap price analysis suggests, the UNI/USD price has been unrestrained from the bearish pressure, as slight progress has been reported for today. The price is trying to resettle above $24 after following the downward movement for the past week. Right now, it is present at a $24.82 value as a slight bullish recovery has been detected in the last 24-hours. Although the bears tried to restrict the upward trend, the bulls are trying to proceed with their mission once again.
UNI/USD 1-day price chart: Bullish momentum stimulates as to retrieve price over $24
The one-day Uniswap price analysis is showing signs of bullish recovery as the green candlestick has returned to the price chart. The past few days have proved crucial for the cryptocurrency, as a downward trend has been following. There has been a recurring fall occurring in the coin value, but today its value has been restored to $24.82. The current value is quite close to the moving average (MA) value which is settled at $25.5.
The SMA 20 curve is traveling high again as the bulls are regaining their strength. The Bollinger bands Indicator in the 1-day price chart is pointing out the following values; the upper value at $27.91 while the lower one at $18.82. The Relative Strength Index (RSI) score has improved up to 51.54 as well because of the rise in price.
Uniswap price analysis: UNI faces rejection above $24 after recent drop-off
The price has been traveling low according to the four hours Uniswap price analysis. The recent downturn in price movement has resulted in its decline as it has been lowered to $24.82. Chances of recovery seem minimized as the bearish slide has been proceeding uninterruptedly. The price has gone below the moving average value as well which has been standing at $25.2 position.
As the volatility has slightly increased, the upper Bollinger band is now touching the $26.20 mark whereas the lower Bollinger band is on the $24.35 mark. The RSI curve has descended to the 45.30 mark, confirming the drop in price.
On the contrary, improvement in price has been observed if we overview the situation on a general basis. This is why the technical indicators chart is giving a bullish hint, with 12 indicators on the buying mark, nine indicators on the neutral mark, and five indicators on the selling mark.
The moving averages indicator is confirming the overall bullish lead as well by giving out a buying signal. We can see nine indicators standing on the buying position, with only five indicators on the selling position and one left on the neutral position. The Oscillators are giving a bullish signal as well, and there are eight oscillators on the neutral level, three oscillators on the buying level, and none on the selling level.
Uniswap price analysis conclusion
The bulls are trying to recover once again after a continuous drop in price occurred during the past few days. The UNI/USD price has rejoined the $24.82 level, thus confirming the rise in price. We can expect a downward price movement in the upcoming hours, as the four hours price analysis is dropping bearish hints.
Uniswap Price Analysis: UNI retests $25 as support, will it hold?
Uniswap price analysis is bullish today.
UNI/USD retraced to $25 over the last 24 hours.
Next support at $23. 
Uniswap price analysis is bullish today as a retracement over the last 24 hours took the market towards the previous resistance level of $25 to be retested as support. Therefore, we expect bullish momentum to return later today as a new higher low is likely set.
The overall market traded mostly in the red over the last 24 hours. The market leader, Bitcoin, gained 0.22 percent, while Ethereum lost 1.1 percent. Axie Infinity (AXS) is still the top performer, with a gain of 32 percent.
Uniswap price movement in the last 24 hours: Uniswap rests previous resistance at $25 as a support
UNI/USD traded in a range of $24.91 – $26.61, indicating mild volatility over the last 24 hours. Trading volume has declined by 22.71 percent and totals $398.4 million, while the total market cap trades around $15.65 billion, ranking the coin in 12th place overall.
UNI/USD 4-hour chart: UNI to continue higher?
On the 4-hour chart, we can see the $25 mark preventing further downside, indicating we could see bulls continue higher from there.
Uniswap price action has seen bearish momentum over the past weeks, with large volatile moves taking the market to the $18 low. However, some bullish momentum was seen last week, with a sharp spike higher resulting in the $26 mark reached last Monday.
A retracement to the $22.5 mark followed, where a several-day consolidation was seen during the middle of last week. On Friday, bulls gathered momentum to push higher again, leading UNI/USD to $27 next resistance this time.
Since then, Uniswap price has slowly retraced and reached the $25 support. If any further downside is not seen, we assume a new higher low is set, and UNI/USD will rally higher later this week from there.
Uniswap Price Analysis: Conclusion
Uniswap price analysis is bullish today as a new higher low has likely been set at the $25 mark after a slight retracement over the last 24 hours. Therefore, we expect UNI/USD to continue higher later today as a new higher low is likely set.
While waiting for Uniswap to move further, read our guides on Mycelium Wallet, Next Cryptocurrency to Explode in 2021, as well as our BitMEX review.