Polkadot (DOT) Price Prediction and Analysis in May 2021
Polkadot (DOT) is the 8th largest cryptocurrency according to its market cap of $29,951,225,228. It has a circulating supply of 931,246,893 DOT out of the total supply of 1,066,771,007 DOT. About $3,242,377,951 worth of DOT have been traded in the last 24 hours. In this Polkadot price prediction, we will delve into all the important aspects to consider by an investor, such as past price trends, recent developments, market opinions, and more.
Polkadot Price Prediction: Analysis
DOT has made a lot of progress in terms of its price in the first quarter of 2021. It rose from just over $9 at the beginning of the year to reach a high of $46 on 3rd April. This sharp rise reflects the general market surge recorded this year and could also be as a result of the growing demand for Polkadot's DeFi project.
The price has dipped and now seems to be in consolidation, with a small price range. Buyers and sellers have been in a battle, thus holding the price within the range. The Moving Averages of 20, 50, and 100 suggest that the price is still doing fine, but if the consolidation lingers or leads to a lower drop, the trend could reverse to the bearish.
The Relative Strength Index (RSI) has dropped significantly to 44.77. While this is not necessarily oversold yet, a rebound could occur soon, or the price could still dip lower.
Already, the 50 MA has failed to serve as support, and the price has dropped below it. However, there is no clear trend reversal confirmed by a death cross yet, so things may change eventually. The following are major support and resistance levels that you should watch if you are trading DOT. The values are calculated by Walletinvestor:
Resistance Level (R3): 51.785;
Resistance Level (R2): 47.415;
Resistance Level (R1): 42.381;
Pivot Point: 38.011;
Support Level (S1): 32.977;
Support Level (S2): 28.607;
Support Level (S3): 23.574.
Developments
Polkadot Network is growing in different ways and adopting new use cases as well. Earlier this month, it was reported that Tether's stablecoin – USDT is set to get on the Polkadot and Kusama network. The launch of USDT on the network will happen as soon as the first parachain is launched, Tether CTO Paolo Ardoino said. The stablecoin will first launch on Kusama, which is used to launch new projects before finally launching on Polkadot.
Meanwhile, America's top crypto exchange Coinbase has declared support for Acala, a layer-one blockchain designed to bring full-service DeFi to the Polkadot ecosystem. The exchange through its investment arm, Coinbase Ventures will support the Ethereum compatible blockchain that has already built four core products on Polkadot with an undisclosed investment amount.
The products include Liquid DOT staking, a stablecoin, an automated market maker decentralized exchange, and a sovereign wealth fund. These are expected to greatly increase participation in the Polkadot ecosystem, with various functionalities being introduced.
Polkadot (DOT) Price Prediction: Market Opinions
The price of DOT has done well so far, but you may wish to know what will happen in May. The following are opinions of some top crypto price prediction sites, which should give you an idea of what to expect.
Digitalcoinprice
The Polkadot price prediction for May, according to Digitalcoinprice, is that it will reach an average of $59.3, which means an increase of 61.77%. The predicted price for May is the second-highest monthly price for the year.
Longforecast
Longforecast is rather bearish on DOT in May. Their Polkadot price prediction is that the asset will open the month at $34.27, much lower than the current price. The highest price is expected to be $50.11, while the lowest is $29.92. The closing price for the month is $31.4.
Tradingbeasts
Tradingbeasts predicts that Polkadot will be priced at $32,785 in early May. The maximum price for the month is $42.269, while the lowest price is $28.743. The closing price for the month is expected to be $33.815.
Previsionibitcoin
Previsionibitcoin is extremely bullish on Polkadot. The Polkadot price prediction is that it will reach $119.99 in May. The reason is that the increase in the usage of the Polkadot network will drive the market cap up and thus the price.
Polkadot Price Prediction: Verdict
The price of Polkadot has done well, but what is its performance likely to be in May? This Polkadot price prediction reveals that there may be some uncertainty. In the short-term, the price looks fine with the hope of a reversal to the up side. However, if the downward trend continues, things may get more bearish, which could significantly affect the price. May is still roughly a week away, so it is better to stand back and watch carefully before jumping on board.
Polkadot Kusama bridge could go live by end of 2021, traders bullish on DOT
Development of the Polkadot-Kusama bridge is currently underway; the DOT team predicts launch by the end of 2021.
Rococo testnet has turned into a community-maintained parachain testbed in the latest update.
Analysts are more bullish on KSM tokens than DOT, as bridge development nears completion.
Polkadot's social media activity exploded after the parachain launch announcement.
Polkadot is nearing its parachain auctions in November 2021. The post-auction phase of Kusama led to a drop in the price of KSM tokens. If the same occurred to DOT, the price of the altcoin would plunge in December 2021.
Polkadot network goes through major upgrades; analysts predict massive rally in Q4 2021
The team behind the development of Polkadot has announced that the Polkadot-Kusama bridge, for interoperability of assets on both blockchains, will go live by the end of 2021.
Pseudonymous cryptocurrency analyst @DonnieBigBags has predicted that the importance of the KSM token would go up. Following the launch of the bridge, all native KSM assets will be interchangeable with assets on the DOT blockchain, boosting the utility of the Kusama network's tokens. 
Polkadot (DOT) Shoots to $45 After Governing Council Passes Motion for Open Parachain Auctions

Polkadot (DOT) continues its rally further gaining Another 6% in the last 24 hours and moving closer to $45. As of press time, DOT is trading at 4.83% up at a price of $43.57 and a market cap of $43.02 billion. The DOT price has gained more than 30% in the last three days after Polkadot announced that it is ready for the parachain launch.
On-chain data provide Santiment reports that following the recent price rally, the euphoria around DOT has skyrocketed significantly as Polkadot (DOT) sets its eye for a new all-time high above $49.25. With this recent price rally, DOT has broken away from the broader altcoin space that has been consolidating for a while now.
Passing the Motion for Open Parachain Auctions
Polkadot said that its parachain auctions will start next month onwards. In a further update, Polkadot said that its governing council has passed the motion for open parachain auctions. however, it's still waiting to be passed via a public referendum. The team also notes:
Referendum 39 is currently up for a community vote, if passed it will schedule the first auction to take place on November 11, 2021 [a little over 26 days]. Reminder for those wishing to take part in auctions, the unbonding period on Polkadot is 28 days.
The official page states that parachains will connect with the Polkadot blockchain by leasing a slot with the Relay Chain for 96 weeks at a time. All the parachain slots shall be assigned through an on-chain auction. The winners of these slots shall be locked un in a bond in DOT for the leasing period.
This development is likely to further incentivize more players to land on the Polkadot blockchain while gaining broader community support. The Polkadot parachains have been long sought by the market and will exponentially increase the scalability of the platform giving rival Ethereum a tough fight.
Crypto Traders Most Bullish on Polkadot, Solana, Polygon and 10 Additional Altcoins: Digital Asset Survey
A new survey unveils that crypto traders are most bullish on 13 altcoins including Polkadot, Solana and Polygon.
The Real Vision Exchange Crypto Survey is designed to track sentiment among investors by allowing participants to scan 30 tokens and choose if they want to have an overweight or underweight allocation for each one. The survey was conducted by Real Vision Bot, which was created by two independent developers and boosted by macro guru Raoul Pal.
Results from voting that happened on the first two days of this week indicate traders prefer an overweight portfolio consisting of smart contract platforms Polkadot (DOT) and Solana (SOL), as well as Ethereum-scaling solution Polygon (MATIC).
The scalable and interoperable ecosystem Cosmos (ATOM) is fourth on the list, and smart contract platforms Terra (LUNA) and Cardano (ADA) appear tied for fifth. Traders also have overweight allocations for decentralized oracle network Chainlink (LINK), Ethereum competitor Avalanche (AVAX), Ethereum-based token Enjin Coin (ENJ) and decentralized exchange Uniswap (UNI) for the sixth, seventh and eighth places, respectively.
Tied in ninth place are cross-border payment solutions Stellar (XLM) and XRP, as well as decentralized storage network (FIL).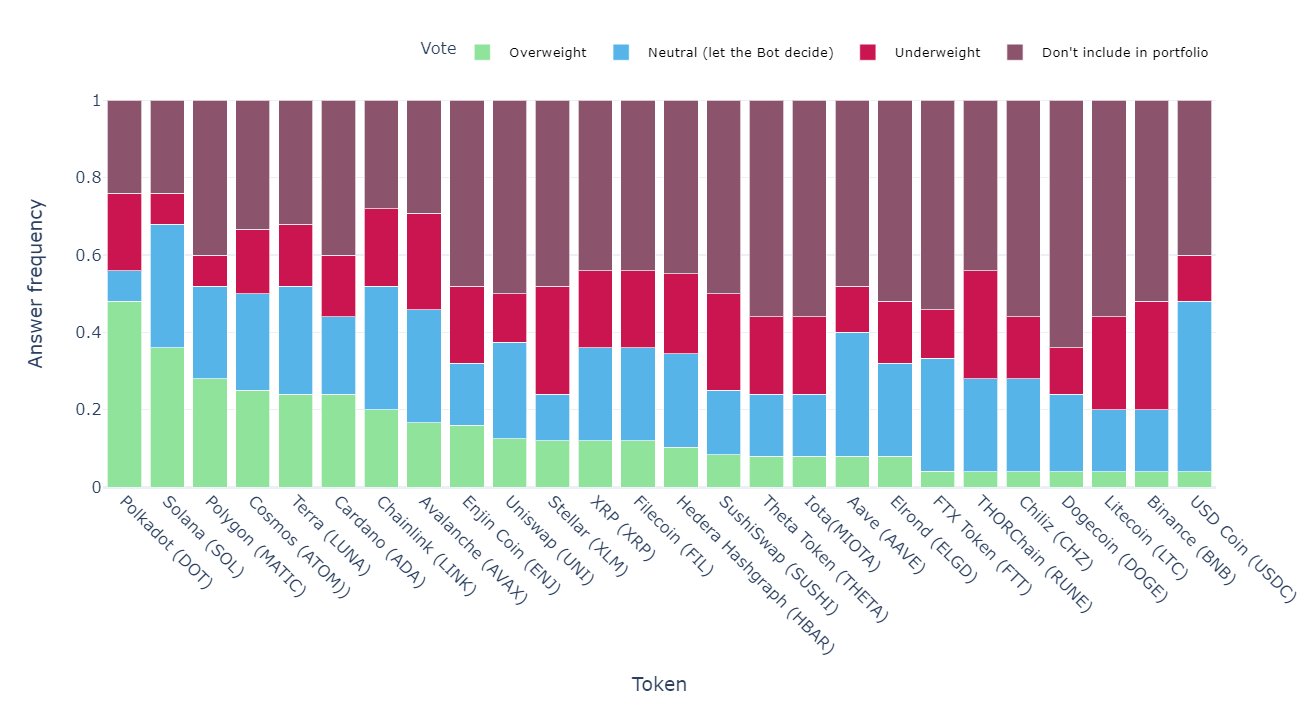 Real Vision Bot clarifies that the participants are not necessarily holding the cryptocurrencies that they voted for.
"They can of course vote according to their own positions, but also just based on their sentiment or forward looking. There are many reasons why the own book might not be 1:1 the preferred allocation."
Bitcoin (BTC) is conspicuously absent from the list. Pal highlights that the community is responsible for that absence.
"It's not us – it's the community who makes the allocation… You guys, to be exact.