Top Analyst Unveils Bullish Targets for Ethereum and 3 DeFi Altcoins
Widely-followed crypto trader and analyst Smart Contracter is calling for big rallies in three DeFi coins, and remains bullish on Ethereum despite its recent gains.
The analyst says that Ethereum has officially given traders the "God candle," with its 71.1% rally in seven days.
When it comes to ETH/BTC, Smart Contracter says now is not the time to be selling.
"We've been waiting for this ETH/BTC IHS breakout for 3 f****ng years lol. if you are even contemplating selling now, after it's only been broken out for a few weeks you need to go back to the drawing board and rethink everything you know."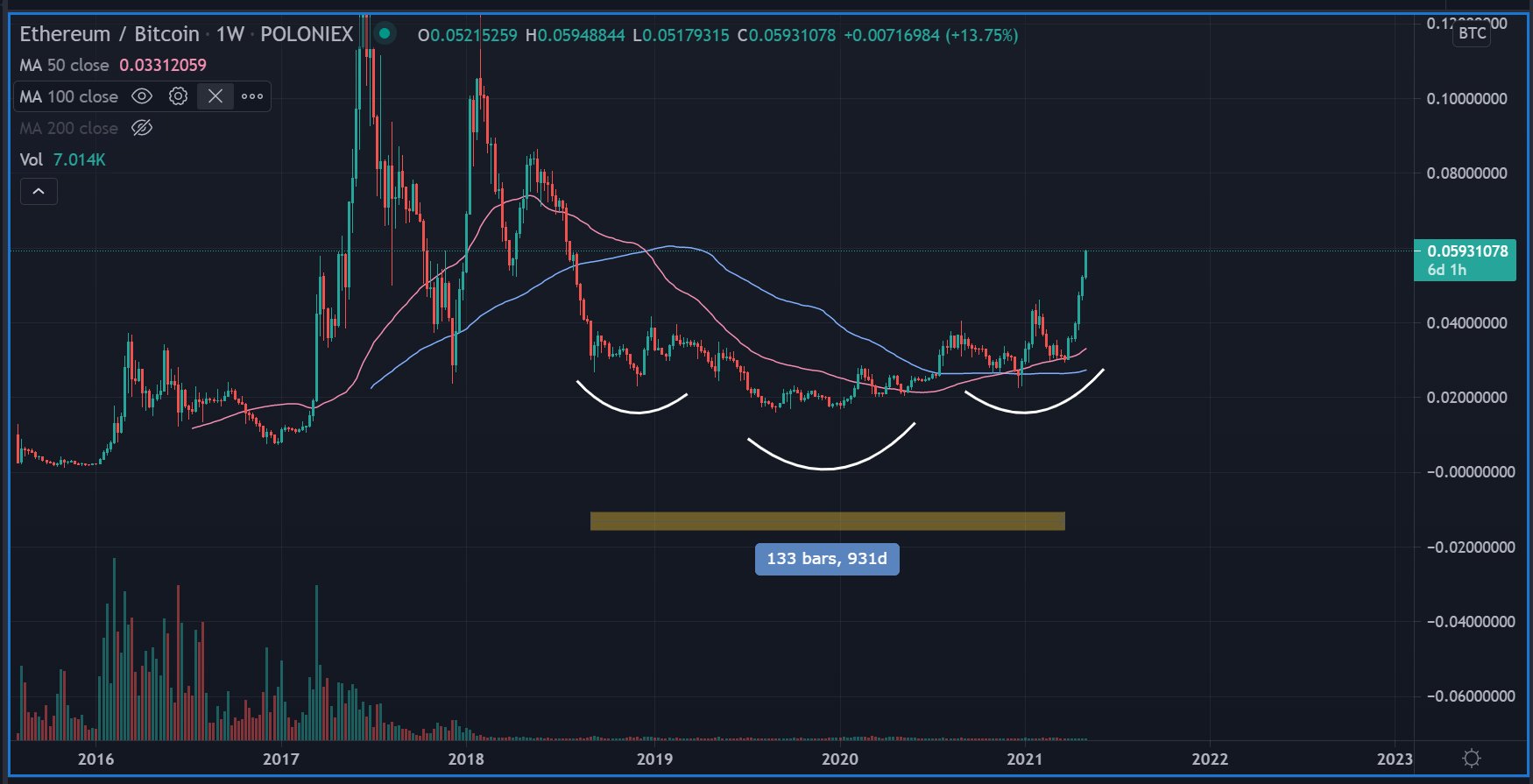 Besides Ethereum, the popular crypto strategist also has his eye on three coins in the decentralized finance (DeFi) space.
The first one is Ethereum-based automated market maker (AMM) Balancer (BAL). Against BTC, Smart Contracter sees BAL racing towards its all-time highs for potential 145% gains.
BAL/BTC is literally breaking out of a 111 day ascending triangle.
defi season is back baby, this thing's gonna rip so hard in my opinion."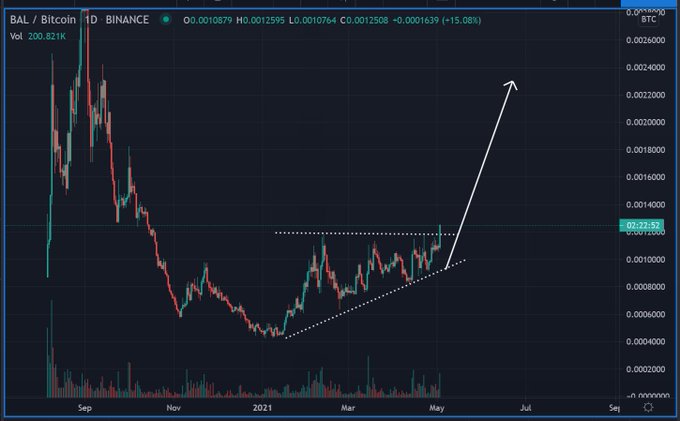 Next, the trader is watching DeFi aggregator Yearn.Finance (YFI). According to him, YFI/BTC is one of the juiciest opportunities out there.
"YFI is gonna go full chad in the next few days in my opinion, the BTC pair is one of the most primed things I've seen in a while."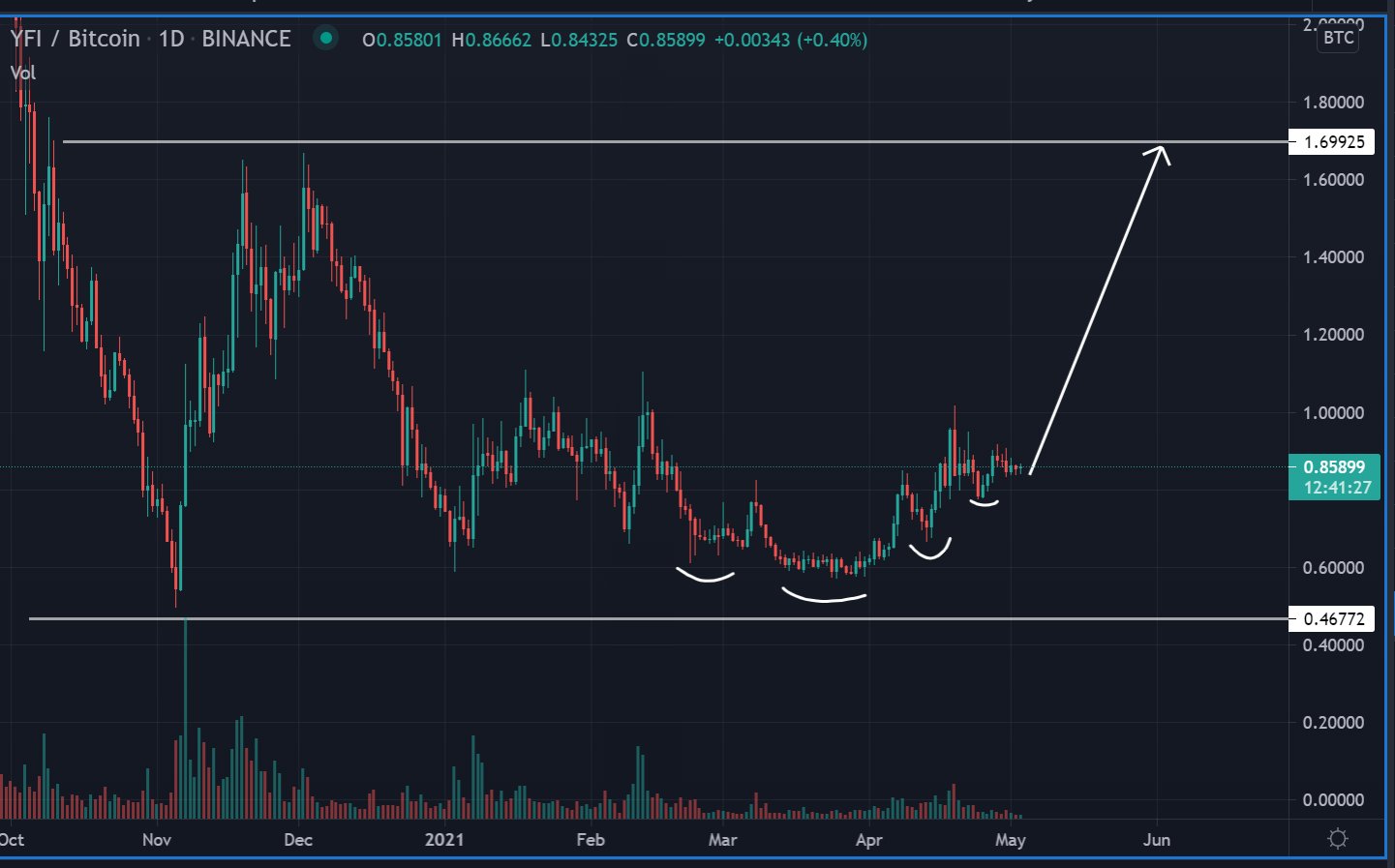 The third altcoin Smart Contracter is watching is Chainlink (LINK). From his perspective, LINK/USD is about to shatter all-time highs, while LINK/BTC is looking stronger than ever.
"LINK/BTC slowly chugging along and still looking insanely bullish.
LINK/USD ATH feels like its just around the corner."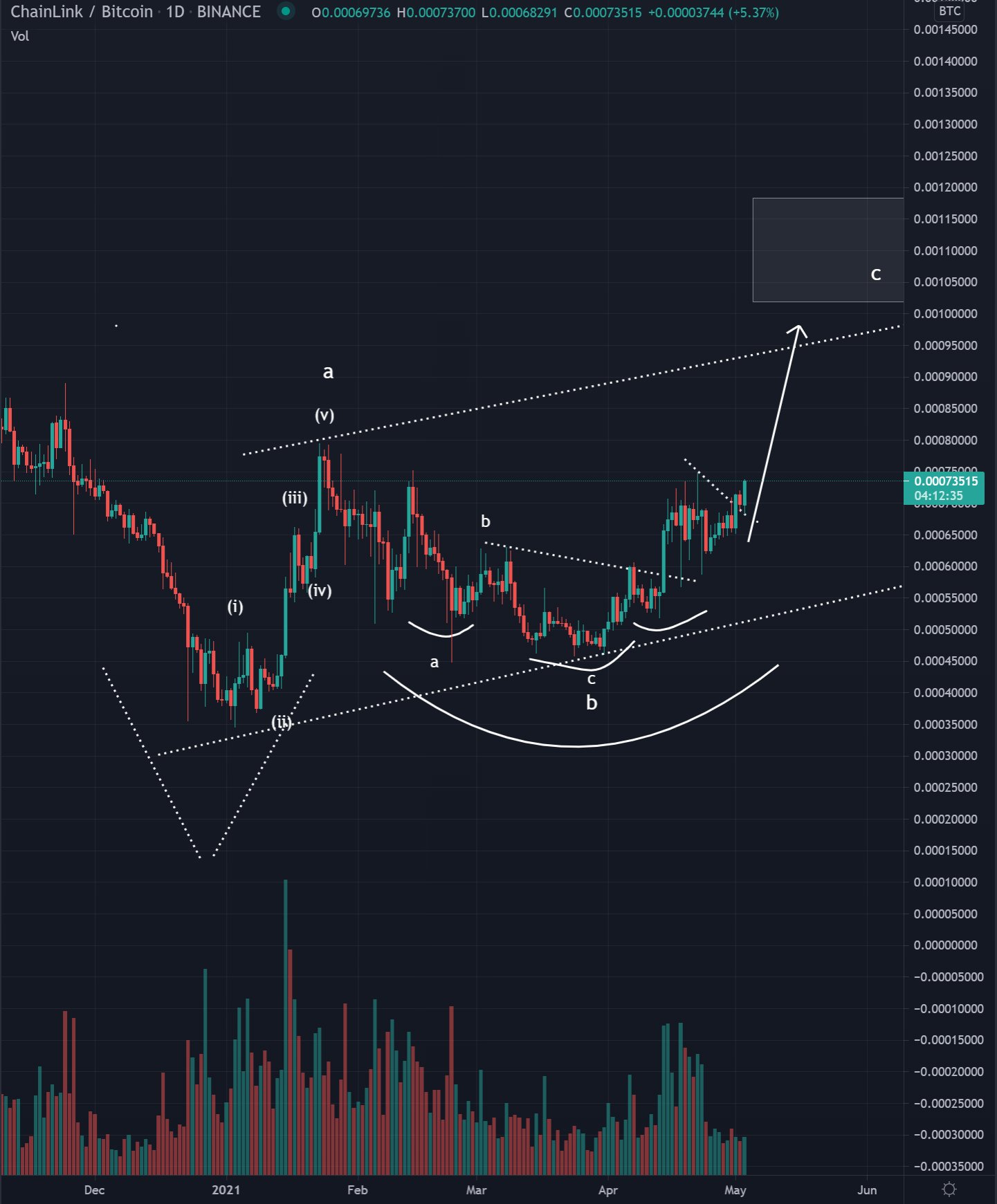 Don't Miss a Beat – Subscribe to get crypto email alerts delivered directly to your inbox
Ethereum Challenger Terra Becomes Third-Largest Blockchain by Total Value Locked, Surpassing Solana and Avalanche
Decentralized finance (DeFi) platform Terra (LUNA) has surpassed its rival blockchains to become the third-largest crypto by total value locked (TVL).
Crypto market intelligence firm Delphi Digital says that the Ethereum competitor has now overtaken Solana (SOL) and Avalanche (AVAX) in terms of TVL primarily due to value growth in Bonded Luna (bLuna), which is the token used by liquid staking protocol Lido as collateral to borrow stablecoin TerraUSD (UST) within the Anchor protocol.
"TVL on Terra network overtook Avalanche and Solana, making it [the] third-largest blockchain by TVL after Ethereum (ETH) and Binance Smart Chain (BSC).
It's important to note that TVL numbers are highly reflective alongside native token prices as they are commonly used as collateral in DeFi and as base pairs for DEXes. In Terra's case, DEX base pairs usually utilize Tether instead of LUNA, therefore this growth in TVL is primarily contributed by value growth in Lido bLuna."
The TVL of a DeFi platform is the total value held within its smart contracts. It is calculated by multiplying the amount of funds locked into the network as collateral by the current price of the assets.
Delphi Digital points to how LUNA's rise has helped Terra's stablecoin UST increase its overall supply by 4 billion tokens due to a proposal to mint UST on the Terra network.
"The increase in UST Supply from under $3 billion to $7 billion across mid-November was due to this proposal to mint UST with LUNA in the community pool to grow the Terra ecosystem through UST usage.
UST did another ~$1 billion of growth in circulating supply after 19th November."
LUNA is exchanging hands at $70.85 as of writing, an 46% increase from its 30-day low of $38.06.
Fourth-Largest Ethereum Whale Pounces on Large-Cap Altcoin, Accumulating $580,000,000 in Crypto
One mega-whale just loaded up on an Ethereum (ETH) token that powers a popular crypto marketplace.
The blockchain-transaction tracker WhaleStats reveals that the unnamed wallet received 14,000,000 FTT, the native token of the FTX exchange. The transaction was worth $581,444,018 at time of sending.
The whale now holds over $1.2 billion worth of FTT with a total value exceeding $3.8 billion and is now ranked fourth on the WhaleStats' list of the top 1000 Ethereum wallets, excluding the ETH cryptocurrency itself.
Popular crypto analyst Smart Contracter is also showing interest in FTT, noting that the Fibonacci ABC spacing between sharp highs and lows on the coin's historical chart offers encouraging signs for future price action.
The trader says in a tweet to his 196,000 followers,
"Been a long while since I played FTT but I actually think a major bottom is in and we go to [all-time highs] from here.
Perfect ABC on super-high timeframes where ABC came below the 0.618 and bull/bear periods are almost 1:1 extension."
In late October news broke that FTX had purchased advertising airtime during the February 2022 Super Bowl as part of a wider push to bring crypto awareness to the mainstream.
Last week FTX also announced the launch of a marketplace for Ethereum-based non-fungible tokens (NFTs).
At time of writing, the FTT token is mostly flat on the day and trading at $42.73.
Top Trader Says Ethereum Looks Exceptionally Bullish, Unveils Targets for Bitcoin and Explosive Altcoin Terra
A popular crypto analyst believes Ethereum (ETH), Bitcoin (BTC) and one altcoin are about to blast off and leave the recent market-wide slump in the dust.
The pseudonymous crypto strategist and trader Kaleo tells his 454,000 Twitter followers that ETH's time to shine has arrived as the "king" of the layer-1 blockchain protocols.
The analyst says,
"ETH is so bullish after the most recent flush it's not even funny.
We've seen a major rotation play among the alt [Layer-1s] the past few months.
It only makes sense that the king of the L1s finally has a chance to suck liquidity from the rest of the market and have a run of its own."
Ethereum is about even on the day, trading for $4,346 at time of writing.
Kaleo next looks at Bitcoin and says he still believes the top crypto will reach at least $100,000 during the current cycle.
"I've said it before and I'll say it again – I still expect to see Bitcoin have a parabolic move to top out at $100K+ this cycle.
I'll gladly start scaling out around $150K. I expect it to go higher, but I'm not concerned with nailing the top. Until then, just keep stacking."

BTC currently sits at $50,900 after having battled back from a flash-crash low around the $43,500 level on December 3rd.
Lastly, the crypto analyst lays out his price prediction for the Terra (LUNA) protocol, whose native token LUNA underpins a suite of decentralized stablecoins.
Kaleo tells his followers that Terra reaching the $100 threshold is inevitable.
"LUNA going to $100 from here is only a matter of time."

LUNA has seen some wild price action in recent days, with the altcoin tumbling from $69.66 to $53.64 late last week before surging to $77.37 on Sunday.
The 10th-ranked crypto has since corrected but is back up 5% on the day to $70.74.