VeChain Price Analysis: VET consolidates before it launches an 80% rally
VeChain price huddles around the 61.8% Fibonacci extension of the April decline.
Conviction in the historic 7-week gain leads to three consecutive inside weeks.
Cup-with-handle base measured move is 1,520%.
Vechain price is in preparation for an 80% gain from the current price as VET pursues the measured move target of a multi-year cup-with-handle base at $0.377.
VeChain price requires time and speculators need patience
History repeats itself, and it is valuable to learn to use historical precedents in investing or trading. One of the precedent patterns, made famous by William J. O'Neil, is the cup-with-handle pattern. It can develop as a primary base, as in the case of VET, but more frequently as a continuation pattern following a definite price uptrend.
In most cases, the bottom part of the cup is rounded, allowing the stock time to complete a necessary correction, with a couple of shakeouts along the lows of the cup. The cup area is critical because it liquidates the weak holders and shifts the attention of speculators away from the financial instrument. With weak holders gone, there is a solid foundation to build the right side of the base, and finally, the handle.
For 18 months, from July 2018 to January 2021, VeChain price sketched out a cup-with-handle base that yielded a tremendous gain of 1,100% from the breakout of the handle at the beginning of January. The rally included the historic 7-week gain of 539% from the beginning of March until April 17. And, the advance culminated with the largest weekly gain since VET began trading, at 82%.
A gain of 1,100% merits some time to consolidate and release the accumulated price compression. VeChain price has spent the last three weeks consolidating the historic gain of 2021 with three consecutive inside weeks, just above the long-standing ascending channel that began in December 2020.
Since April 26, the consolidation has been occurring along the 61.8% Fibonacci retracement of the April decline at $0.209 and above the ascending channel. The initial objective is to release from the tightening consolidation with a volume thrust, followed by a probe of the all-time high at $0.282. A successful breakout for VeChain price will test resistance at the 361.8% extension of the August-November correction in 2020 at $0.309, representing a 50% gain from the price at the time of writing.
The aggressive objective for Vechain price is to overtake the cup-with-handle measured move target at $0.377, presenting a 86% gain from the price at the time of writing.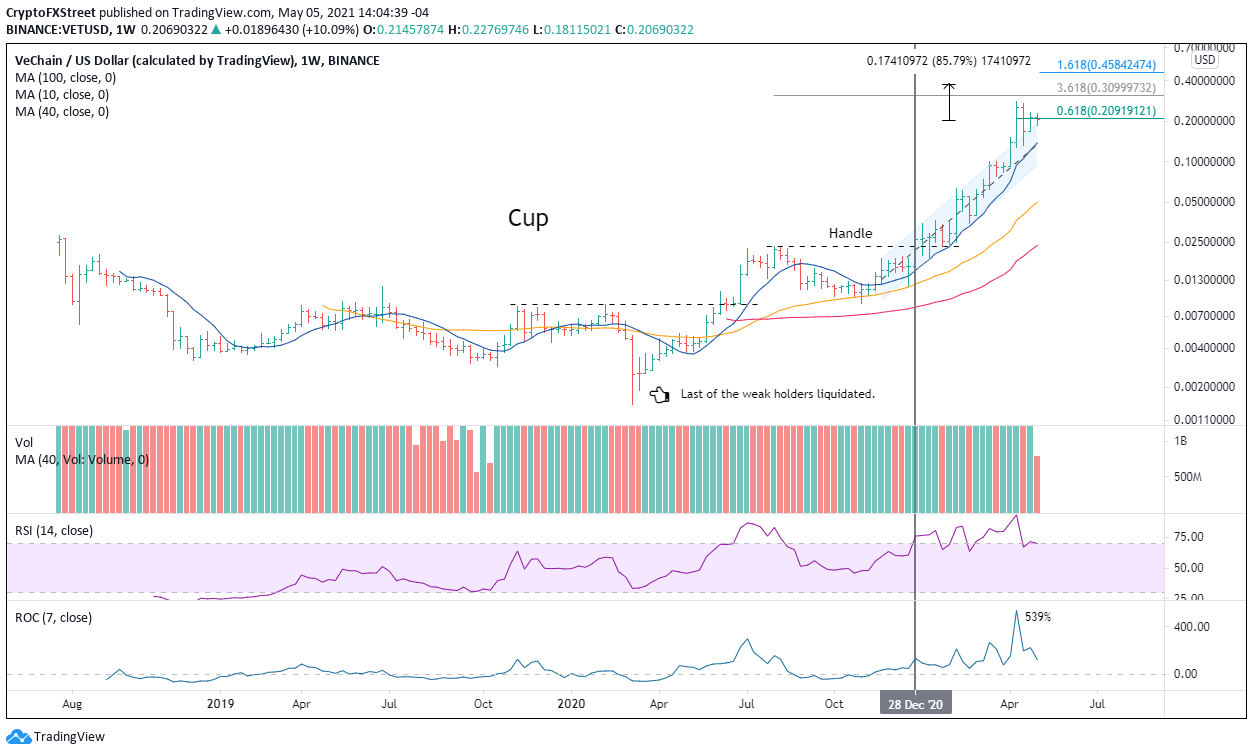 VET/USD weekly chart
For the bullish thesis to be invalidated, VeChain price will need to close below the April low of $0.128. Before that can happen, VET will have to wrestle with solid support framed by the 10-week simple moving average (SMA) at $0.138 and the channel mid-line at $0.129.
Top Crypto Analyst Unveils Massive Polkadot Prediction, Issues Cardano, Solana and VeChain Price Alert
Crypto strategist Michaël van de Poppe is extremely bullish on Polkadot (DOT), while warning several popular altcoins may face further corrections.
The trader and analyst tells his 442,000 Twitter followers that DOT appears "programmed" to rise above $100 in the current market cycle.
Using a Fibonacci extension model, he outlines $75 and $115 as potential targets.
"If we assume that the area around $37 is going to hold as we are into a bull cycle, you could wonder whether you could be getting into the markets already or whether there's a retest. So you derive a potential scenario of potential lows and potential gains. So for you, the [upside] targets are $75 to $115…
If you analyze the fact that we are going to sustain at around $38, then the potential loss and invalidation is this previous low at $32."
As for Cardano (ADA), Van de Poppe says the fifth-largest crypto asset by market cap is sending bearish signals on the Bitcoin (BTC) chart.
"Cardano against Bitcoin is showing heavy run-up, bearish divergence here, and currently showing weakness resulting in overall downwards momentum."
The cryptocurrency analyst says that a buying opportunity may present itself if support around 0.00002930 BTC holds, which is worth about at $1.75 at time of publishing.
"The crucial area that I want to see sustained is overall this level [at $1.75]. If that is going to hold here, which I might find tricky, then I'm looking for anything in these regions for potential long entries.
If that one is lost, I think we're going to look at the area around 0.0000150 BTC [$0.90] and 0.00002 [$1.19] BTC before we're going to get bullish all over again."
Next up, Van de Poppe says he expects Solana (SOL) to experience "heavy correction." According to the crypto analyst, the ideal opportunity would be after Solana corrects by about 67%, falling to around the 0.00135 BTC level on the SOL/BTC chart, which is currently valued at $80.40.
"Solana, same picture. Heavy correction most likely going to take place.
I practically have one area that I'm looking at to buy Solana at this point. It's this region (0.00135 BTC). I'm not interested in Solana until there. That's a corrective move of 67%."
The cryptocurrency analyst also looks at supply chain management blockchain VeChain (VET), which he says is trending downwards.
"What we can see in this cycle too is that we are making lower highs [and] lower lows. And we are also rejecting previous support for resistance all the time."
According to Van de Poppe, the "best potential entry point" on the VET/BTC chart is either the 0.00000110 BTC level or at 0.00000150 BTC, worth $0.066 and $0.089, respectively.
"Best potential entry point for me is around 0.00000110 BTC [$0.066]. I'm looking at an entry point in this region. If we get there in November and December, that would be absolutely amazing if that is going to be hit.
Second one – that's this entire zone that we have here. We dipped in it already and that is the zone around 0.00000150 BTC [$0.089]."
VeChain Price Analysis: VET spike back to $0.123, will the resistance hold?
VeChain price analysis is bearish today.
VET/USD spiked back to $0.123 major resistance.
Bullish momentum has slowed down over the past hours.
VeChain price analysis is bearish today as the $0.123 major resistance was reached after a very strong rally over the last 24 hours. Therefore, we expect VET/USD bulls to be exhausted and a retracement is needed next.
The overall market traded in the green over the last 24 hours, with Bitcoin up by 4.91 percent. Meanwhile, Ethereum is up by 5.42 percent, while VeChain (VET) is in the middle of the pack, with a gain of 13.6 percent.
VeChain price movement in the last 24 hours: VeChain spikes back to $0.123
VET/USD traded in a range of $0.1053 – $0.1224, indicating strong volatility over the last 24 hours. Trading volume has increased by 73.5 percent and totals $762.68 billion, while the total market cap trades around $7.73 billion, ranking the coin in 24th place overall.
VET/USD 4-hour chart: VET to retrace next?
On the 4-hour chart, we can see the VeChain price slowing down after reaching the $0.123 resistance, indicating an upcoming reversal.
VeChain price saw a strong beginning of October. A sharp rally from the previous major swing high of $0.082 was seen on the 1st of October, leading to a new high at $0.116.
From there, VET/USD consolidated for several days until another spike higher was seen on the 9th of October, reaching the $0.123 mark this time. What followed was a swift retracement of around 18 percent to the $0.101 mark.
Further downside was rejected on Tuesday, reversing VET/USD back to the upside after some consolidation. Since then, the VeChain price has seen a strong rally higher as the $0.123 major swing high is tested again.
VeChain Price Analysis: Conclusion
VeChain price analysis is bearish for the next 24 hours as bullish momentum is exhausted after a strong rally back to the $0.123 mark over the last 24 hours. Therefore, we expect VET/USD to retrace some of the gains and look to set a higher low.
While waiting for VeChain to move further, read our guides on Best NFT marketplaces, NFT history and development, as well as NFT Music.
VeChain (VET) Could Rally 2,600%
The crypto market looks excellent today, with most of the essential coins trading in the green.
There are all kinds of optimistic predictions about Bitcoin, especially since the king coin managed to hit essential levels. Analsyst are expecting to see the king coin racing towards new ATHs soon
But there are also optimistic predictions about the prices of some altcoins these days. One of them is VeChain (VET). Check out the latest price predictions.
VET price prediciton
The online publication the Daily Hodl notes that crypto analyst Justin Bennett said that decentralized supply chain management network VeChain (VET) could be ready to see $1.60 under one condition.
Bennett said that if BTC can make new highs above $65,000, "VET should be able to pull off a 1335% rally in the next two months."
The online publication mentioned above also noted that if the crypto markets end up going on an extended market cycle that lasts well into 2022, VET may even be able to make it as high as $3.00, which is a 2627% rally from current prices.
"Bitcoin above $65,000 = $1.60 $VET by December, [in my opinion]. If December peaks short of that and the cycle runs until March 2022, #VET is likely in the $2 – $3 range."
At the moment of writing this article, BTC is trading in the green, and the king coin is priced at $57,659.86.
VET is also trading in the green as well and the digital asset is currently priced at $0.1207.
Bitcoin supply shortage
The other day, we were addressing analyst Nicholas Merten who is looking at one key metric to explain what's fueling Bitcoin's bull run.
He recently said that investors are holding Bitcoin (BTC) for longer and longer periods of time. This is why he believes that BTC can hit $100k by the end of 2021.
"The reason market prices generally go up or generally go down is inflows and outflows, and if we can know there are more people eager to market sell or market buy, we can generally know the direction the price is going to go, and we're able to spot the trend much, much simpler."