Cardano [ADA] Swings To A New ATH; Nears $2
Cardano [ADA] has made an exceptional jump from trading near $0.18 to the press time price. Its year-to-date [YTD] gains were found to be a whopping 855%. This alt has generated some serious returns.
Cardano [ADA] reached yet another all-time high on the 7th of May as it soared to $1.75 before a minor retracement. At the time of writing, the seventh-largest altcoin was being traded at $1.72 after appreciating by more than 5% over the past day. In addition, the token has accrued weekly gains of 26%.
It registered a market cap of $54.4 billion and a 24-hour trading volume of $9.21 billion, at press time.


The digital asset surged significantly which coincided with the collective altcoin cohort breaking away from Bitcoin. As the dominance of the BTC declined, the alts rose and so did ADA.
It was in a consolidation mode for the most part of the year and oscillated between the range of $1.47-$1.03. The latest uptick was backed by significant volume which continued to support the positive trend.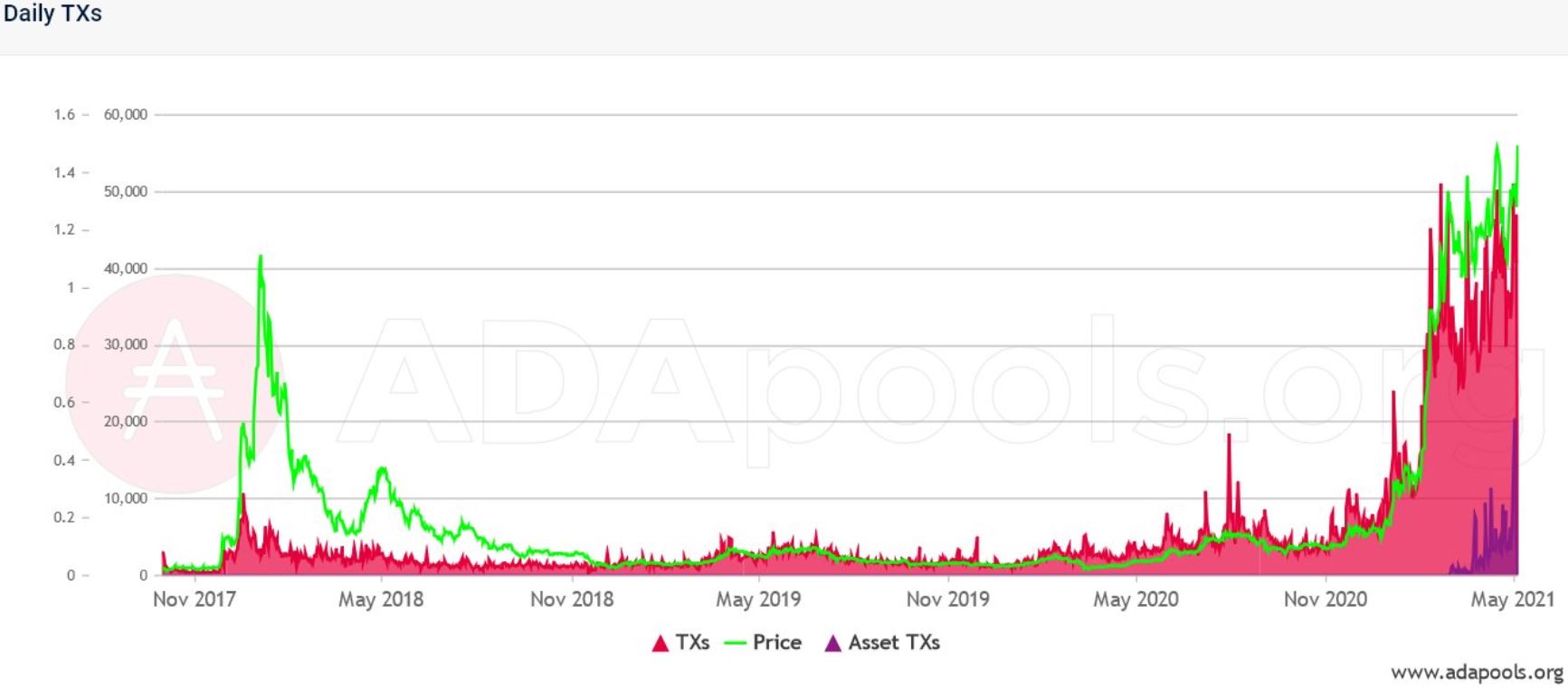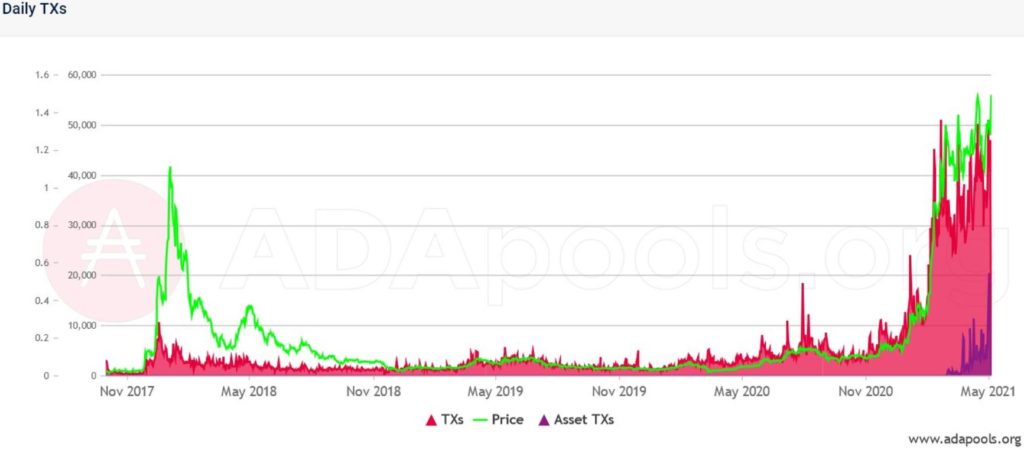 Cardano's daily transaction figures have also neared their all-time high level. This was indicative of the growing adoption of the cryptocurrency even as the market hit a halt in the first quarter of the year.
Cardano's [ADA] Rise To Popularity
Cardano has seen significant development in terms of its roadmap towards total decentralization. On a similar note, IOHK had recently tweeted,
"Block production is fully decentralized in Cardano. Next up, full P2P network decentralization. Great to share this next milestone – a real P2P node in action – in this visualization fresh today from our brilliant team."
Recently, the US-based cryptocurrency exchange, Kraken had announced adding support for staking the token on its platform.
The platform had previously detailed that its users will be able to access the staking option inside their Kraken Staking Wallet. It also said that those staking ADA will be offered rewards of 4% to 6%.
The Cardano Foundation has also made huge progress with respect to further advancing the utility of the ADA network. The platform recently revealed a new identity solution to boost the education system in Ethiopia with IOHK entering into a partnership with the Ethiopian government to build a blockchain-powered system to track educational progress among students in the country.
In February this year Kiss bassist and frontman, Gene Simmons had expressed his support for the token on a social media website, Twitter, and revealed buying $300,000 of the ADA.
Following the latest 'non-event,' what next on the price front for Cardano
It has been almost two weeks since Alonzo went live on Cardano's network. The narrative before the hard fork was largely conformist, one that proclaimed ADA's price would soon surge to new heights after its release.
The hard fork, however, turned out to be a 'non-event' and did not impact the token's price much. In fact, in the days that followed the release, ADA's price dropped to as low as $1.98. Ergo, one may argue that ADA, just like the market's other tokens, became a victim of the pessimistic broader market trend.
Well, the same holds true to a certain extent, particularly because ADA's dependency on the market's other cryptos has increased over the last couple of weeks. In fact, it now shares a correlation of 0.78 and 0.74 with Bitcoin and Ethereum, respectively.
Apart from this, the deteriorating state of on-chain metrics has created a cascading effect on the alt's price. So, unless and until the same improves, a price trend reversal seems to be out of the question.
State of the network
Well, inspecting the state of the network would give us a fair idea about the direction in which Cardano is heading. As per data from CardanoScan, the transaction count on the network has been quite stagnant over the last couple of days, despite crossing 111k on 17 September.
This, quite obviously, indicates that not many people have been using Cardano's network of late.
What's more, the average transfer value too has been spending more time towards the lows of late. Notably, the same witnessed a massive spike during the initial few days of September but subjected itself to a freefall right after that. The active address ratio as well, for that matter, has been on the decline. The same fell from 9.17% to 2.45% over the period between 7 to 24 September.
By and large, this implies that users who have been active are merely trying and testing the network at this stage. One can argue then that the Cardano market is devoid of some solid momentum at the moment.
However, there's a silver lining to this scenario too.
All's not lost
As far as Q4 is concerned, a host of launches are already lined up for Cardano. The introduction of Cardax DEX would allow users to trade ADA for other native tokens. Notably, the exchange would have its own utility token – CDX. Further, GREED is also set to launch as one of the blockchain's first tokens.
Additionally, right from Liqwid, an open-source and non-custodial liquidity protocol, to SingularityNET, a platform that lets users create and monetize AI services at scale, several noteworthy projects are set to make use of Cardano's ecosystem in the coming weeks. In effect, a new set of users would be using the blockchain.
Thus, unless and until Cardano's adoption hastens up, a prominent trend reversal seems to be unlikely. In effect, only if the aforementioned future events actually end up contributing to the network's growth, it would make sense to anticipate a direct impact on the altcoin's price.
Thus, it'd be interesting to see if the 'non-event' tradition continues or Cardano successfully frees itself from the shackles of the same.
Cardano Partners with Chainlink to Integrate Oracles for Advanced Smart Contracts
Cardano joins forces with Chainlink to provide extra support for developers building smart contracts by integrating oracles
The Cardano team has just published a blog post, announcing a partnership with Chainlink that will result in integrating Chainlink's oracles. These will help developers build smart contracts for Cardano DeFi apps.
The collaboration was announced during the Cardano Summit today, on September 25.
NEW BLOG: Announced just moments ago at #CardanoSummit2021, our collab with Chainlink Labs gives #DeFi developers #BuildingOnCardano secure access to a wealth of real-world data through Chainlink's decentralized oracle networks @Chainlink @Smart_Contract https://t.co/kOWFpjhtpL— Input Output (@InputOutputHK) September 25, 2021
Cardano teams up with Chainlink
Chainlink's oracle networks supply data to blockchain networks and allow smart contracts to work with results of elections, sports statistics, crypto rates, etc. They can also operate weather data (Chainlink is now working with some fintech companies that are bringing parametric insurance to South Africa) and other types of data as well.
Chainlink oracles help run hybrid smart contracts on any DLT network. Presently, Chainlink secures billions of USD in DeFi apps, gaming apps, platforms related to insurance and other top industries.
Chainlink to power Cardano smart contracts
The integration of these oracles in the Cardano DLT will allow dev teams to supply institutional-grade data provided by Chainlink into their smart contracts. The oracles will support prediction apps that deal with sports data, weather data necessary for parametric insurance apps; they will be applied in the sphere of gaming and digital collectibles, like NFTs, etc, via multiple partnerships.
Founder of IOHK Charles Hoskinson stated that Chainlink oracles are necessary for advanced smart contracts and they will provide real-world data to the Cardano blockchain. He emphasized that Cardano intends to provide developers with best tools for creating solutions that will be of actual use.
Hoskinson believes that Chainlink oracle integration will also provide a perfect foundation for the DeFi ecosystem on Cardano.
Top Analyst Maps Bitcoin and Cardano Price Trajectories, Warns Best Entry Point for ADA May Be Gone
Top Analyst Maps Bitcoin and Cardano Price Trajectories, Warns Best Entry Point for ADA May Be Gone
Crypto trader Michaël van de Poppe is looking at what's ahead for Bitcoin (BTC) and the smart contract platform Cardano (ADA).
The analyst tells his 420,000 Twitter followers that the best entry point for Cardano may be gone after the asset bounced off a key support level at $1.86.
"If you want to get into Cardano, this was the region where you would want to get into it, and the higher low that might be created.
So based on the daily timeframe, the best entry might be gone, but you're still getting a better entry than the ones who have been buying around $2.80."
Van de Poppe is now looking to see if ADA can turn resistance at the $2.37 level into support.
If the markets correct further, he is keeping an eye on the $2.15 level as a potential buy zone.
"When you're looking at the four-hour time frame, I think you're getting the exact same view as what you have right now on Bitcoin and [Ethereum], actually. So you're going to look for an entry point which is around the fact of $2.15, so anything in this region might be a good entry point if we get a corrective move."
Looking at the Bitcoin pair, van de Poppe thinks that ADA will most likely consolidate briefly after retesting support at its previous all-time high.
"We can see that we've had a beautiful retest of the previous high here too, and therefore some consolidation is most likely going to take place before we're going to have new impulse waves.
So both the USDT and BTC pair are looking for continuation, and I think that's just great, and I think that's just what we want to see with the markets right now."