Dogecoin Price Prediction: DOGE's bullish potential appears limited amid overbought conditions
DOGE/USD eyes $0.80 amid a descending triangle breakout on the 4H chart.
Overbought RSI remains a cause for concern for the DOGE bulls.
Elon Musk's Saturday Night Live appearance waited for fresh impetus.
Dogecoin (DOGE/USD) has entered a phase of bullish consolidation after recording fresh all-time highs at $0.7558 on Friday
The Shiba Inu-represented cryptocurrency, Dogecoin, staged a 23% rebound from Thursday's low of $0.5339, as traders overlooked Tesla Inc's founder Elon Musk warning, "Cryptocurrency is promising, but please invest with caution!"
The optimists rather cheered Musk's tweet referring to DOGE, "Fate loves irony. Like, what would be the most ironic outcome? That the currency that was invented as a joke in fact becomes the real currency."
The coin has risen a staggering 20000% so far this year, benefiting from the celebrity endorsements while being Musk's all-time favorite.
Looking ahead, DOGE bulls brace for Musk's Saturday Night Live appearance for fresh trading impulse.
DOGE/USD: How is it positioned on the technical graph?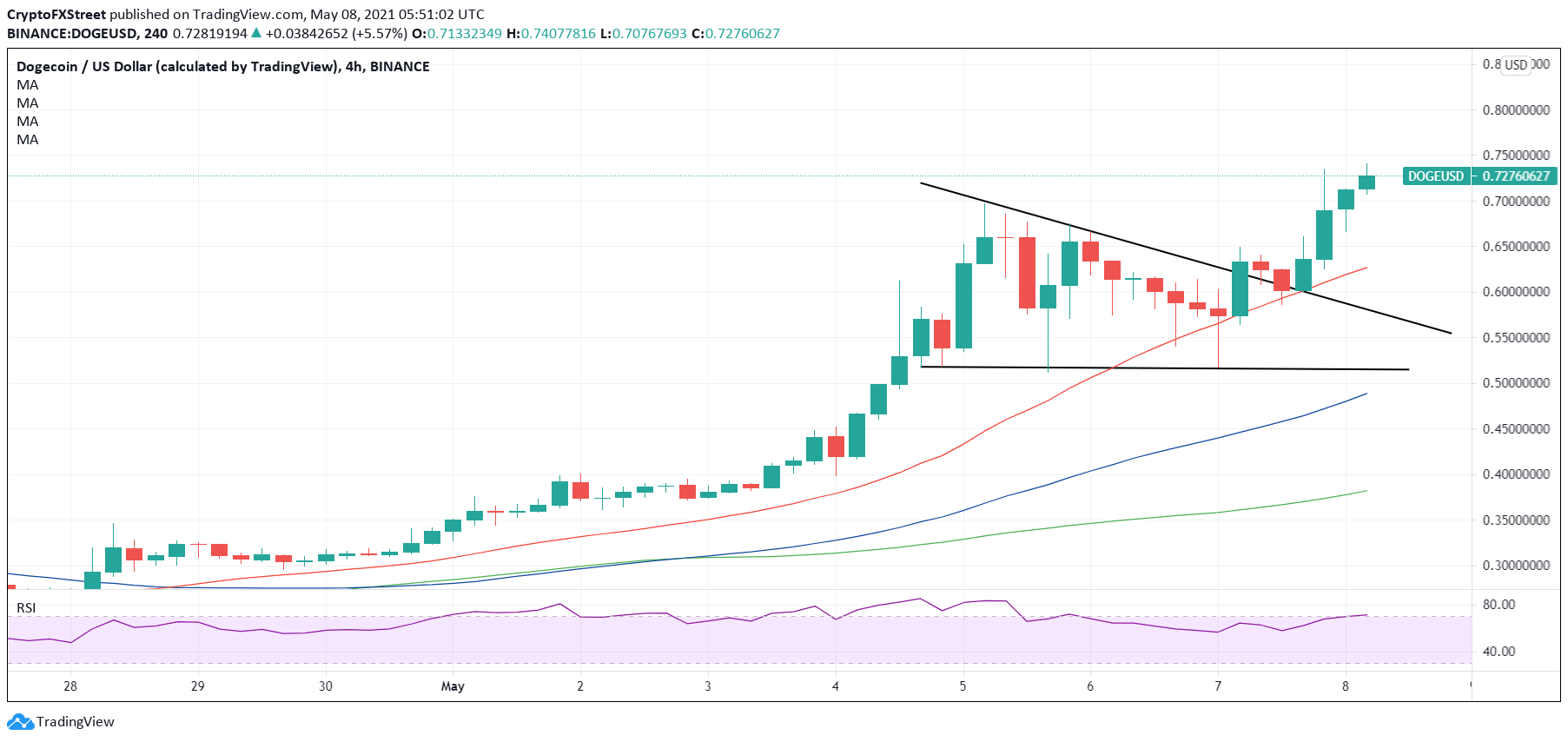 DOGE/USD: Four-hour chart
Having confirmed a descending triangle breakout on the four-hour chart in Friday's Asian trading, DOGE/USD built onto the upside, looking to retest the record highs.
The next stop for the DOGE bulls is seen at $0.7915, the pattern target. Further up, the $0.80 round figure could come into play.
However, the relative strength index (RSI) is edging higher within the overbought region, warranting caution for the buyers.
Therefore, the DOGE price could likely face rejection near the $0.80 region, which could trigger a corrective pullback towards the upward-sloping 21-simple moving average (SMA) at $0.6260.
If the downside pressure intensifies, the sellers could aim for the psychological $0.60 level.
The next relevant support is aligned at the triangle resistance now support at $0.5831.
Further south, Friday's low of $0.5093 could challenge the bearish commitments.
News Source
Elon Musk Will Always Have Support of DOGE Community: Major Dogecoin Account
Owner of one of major Dogecoin Twitter accounts has promised that Elon Musk's support to Dogecoin and its community will be mutually beneficial
Dogecoin account @itsALLrisky with over 183,000 followers has tweeted that the support given to Dogecoin by the Tesla CEO Elon Musk will not go unnoticed by the community.
The Twitter user referred to it as "a mutually beneficial relationship" and has promised that the community of the most popular meme coin will always support Elon Musk.
He posted a picture of Boris Vallejo featuring Atlantis holding the Earth. The titan has Elon Musk's face and there's a Shiba Inu Doge character standing behind, offering his help.
Elon's support for $DOGE is a mutually beneficial relationship

Because the #DOGE community will always support @elonmusk! pic.twitter.com/osU8YRmiQd— 💸💸💸 (@itsALLrisky) September 25, 2021
Earlier this week, Elon Musk stressed the importance of making DOGE fees drop and supported the idea of the AMC cinema giant adopting Dogecoin for payments.
Mapping how Dogecoin can make it in the big leagues
While Dogecoin is still considered a meme coin by many, the premise of that joke is the apparent lack of use cases. Even so, yesterday's news did fuel some sort of hope for Dogecoin fans.
Could this be the moment that puts DOGE on the map in the big leagues? Might this be the moment Dogecoin, the "joke crypto," finally grows up and makes it big?
DOGEing its way up
A few days ago, AMC Theatres CRO Adam Aron conducted a poll to discuss the possibility of the theatre chain accepting DOGE for payments. Not surprisingly, 77% of the 140k voters were in support. Additionally, the DOGEfather pitched in as well and said that DOGE needs to reduce the transaction fees for the system to be viable.
This is true since the average fee right now is around $0.5 and even peaked at $1.3, earlier last month. The transaction fees, at the moment, are higher than the price of 1 DOGE itself, trading at $0.2.
Dogecoin average transaction fees | Source: BitcoinInfoCharts
What's more, even though the network is capable of processing 40 transactions per second and conducts transactions worth more than $1 billion every day, it's lacking in participation. Presently, less than 6.5% of all the addresses hold any balance.
Plus, a rise in investors is observed usually when DOGE is in the news or hyped because of some reason or the other. However, it soon loses that traction.
This is apparent when the UTXOs are looked at. This week alone, UTXOs for less than a day rose from 0.45% to 5.94%. On the contrary, the same for between 1 day to 1 month fell by 7.5%.
As a matter of fact, it is. As previously mentioned, DOGE picks up strength in moments of hype. And, this can be observed from the data obtained from social behavior as well. Social volumes were low until the AMC announcement, following which, they suddenly spiked on the charts.
Similarly, Twitter users spiked to a 2 month-high over the same period, before eventually dropping once again. 
Of late, DOGE has also seen an increase in long-term holders. That is good for the crypto's price. However, its velocity needs to increase as well to support daily use, especially since it has been dormant since the end of July.
Webcams Site, BongaCams, Becomes Next Major Player to Accept Dogecoin
The success and popularity of the cryptocurrency asset, Dogecoin, continues to trend upward as BongaCams has just become the next on a growing list of market-leading companies announcing their adoption of the digital currency as a payment option. Dogecoin, now the world's 8th largest digital asset, is surging once again and continues to enjoy support from investors and celebrities alike, including Tesla CEO Elon Musk, who has tweeted favorable comments about the currency on multiple occasions, even calling Dogecoin the "future currency of Earth." 
BongaCams, the biggest webcam site on the web, and recipient of multiple industry awards, has formally announced that they will be the next major name to begin accepting Dogecoin. BongaCams has built a reputation for being closely aligned to the needs of their customers and the company has made extensive efforts to provide an accessibility experience that is fast, easy, and comfortable. When it came to offering payment options that customers wanted BongaCams couldn't ignore all that DogeCoin had to offer in terms of fast and anonymous payment options for their customers, and broad market acceptance.
And what's not to love about Dogecoin?  After soaring 15,000% in value and reaching a market cap of $88 billion, the cryptocurrency has built one of the largest and most active communities in the cryptocurrency world and is now considered a great alternative for payment options. Dogecoin's popularity along with the abundant praise from research analysts who expect the ascent to continue have helped Dogecoin succeed where other cryptocurrency coins have struggled. 
For those interested in using Dogecoin as a payment option – BongaCams offers wide array of helpful resources and exchange services with instructions on how to easily purchase Dogecoin online.