Peter Brandt, who is known for predicting Bitcoin's largest market crash in terms of US dollar value back in January of 2018, is sharing his thoughts on the current BTC correction.
In a new tweet, the veteran analyst and trader says that the ongoing BTC pullback that saw the leading crypto asset plunge from its all-time high of $64,899 to a 90-day low of $42,207 is Bitcoin's deepest correction since the coronavirus-induced meltdown last year.
"Now officially the largest correction since the Mar 2020 low. But, how can this be??? There is supposed to be institutional support.
BTC
. This was not supposed to happen!!!
In case you did not catch it, the comment about institutional support was intended as sarcasm."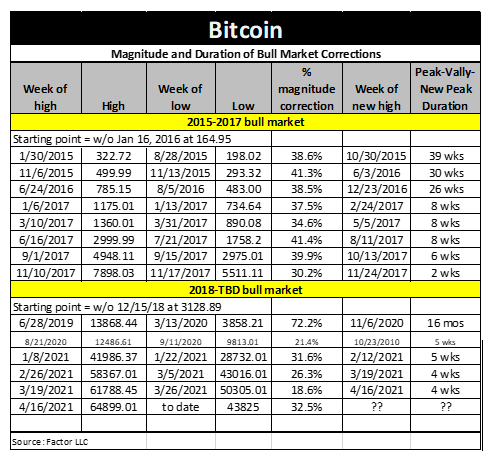 Looking at Brandt's table, which involves 14 corrective events, Bitcoin has a corrective magnitude of about 35% on average. Measuring the pullback from the all-time high to the recent lows, BTC has already retraced by 34.97%, which statistically meets the average correction magnitude.
According to Peter Brandt, he will know that the correction is over once market participants abandon the laser eyes trend on social media, a movement where members of the crypto community superimpose glowing laser eyes on their social media profile photos to indicate their bullishness on the top cryptocurrency.
"When will the selling pressure of BTC subside? Wrong question. Right question: When will 50% of the laser eyes on Twitter disappear?"
Brandt says the trend shows the hubris of market participants, indicating that the BTC market needs to cool off.
"Over enthusiasm in any market is always a warning not to turn from a bull to a bear or to liquidate long holdings or it will liquidate an establish position, but it indicates that it's gotten a little frothy… The more people put the laser eyes, you know at least the market's going to get choppy for a while and stop going straight up."