Ethereum (ETH) Price Prediction 2025: Market Analysis and Opinions
Ethereum price prediction 2025 is an almost impossible forecast, but we've gathered the most realistic market opinions and analyzed the historical behavior of its price in order to get an idea of its volatility. The second-largest cryptocurrency has a market cap of $393,902,312,019. It has a circulating supply of 115,911,541.75 ETH, which is roughly the same as its total supply since it migrated to Proof-of-Stake. Trading volume in the last 24 hours is $59,909,994,466.
Ethereum Price Prediction: Analysis
Ethereum is currently one of the fastest growing and the highest gainer in the cryptocurrency market. It hit $1,000 for the first time since 2018 in January. Since then, it has been growing steadily and breaking several new highs. As a result, analysts are becoming optimistic that the asset could reach much higher levels in 2021 than earlier anticipated.
According to the daily ETH/USD chart, the price has been appreciated consistently since 25 of April with just a few red candles. This is also supported with significant volume, which means the rally is genuinely supported by investors' interest in the asset.
The 20, 50, and 100 moving averages are far below the current price, which means the uptrend is quite strong.
The relative strength index (RSI) is at 84 at the time of writing this article. This is the first time it had reached this level since early January, when it got to 87 before a reversal kicked in. At this level, it is likely that a reversal may be around the corner, and the price could tip downwards soon even though the moving averages suggest otherwise.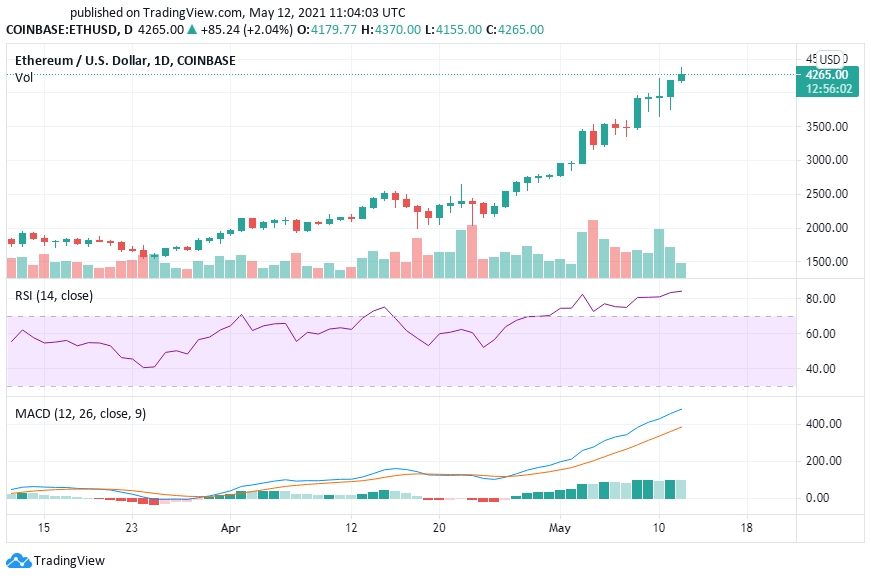 This tendency is supported by another indicator, the moving average convergence divergence. The indicator shows that the uptrend is weakening, as indicated by the light green color of the last bar in the chart above. This suggests the bears may take over any time soon, and there could be a reversal.
Developments 
Moving to Proof-of-Stake from Proof-of-Work may be one of the most important steps that the Ethereum team took ever. The staking of ETH for profit has greatly attracted investors to engage more with the asset.
However, even beyond this, Ethereum plans to implement other upgrades that will help the network scale and also make it more friendly for developers. For instance, the introduction of sharding will help improve scalability and so reduce the cost of transactions significantly.
This could help to remedy the large exodus of Ethereum users to alternative blockchains, such as Tron and Binance Smart Chain, because of high fees.
There are also plans to replace Ethereum Virtual Machine (EVM), which is responsible for how Ethereum operates. This is a computational wonder, but it is a bit of a headache even for the best developers. Therefore, it is to be replaced with a web assembly language known as eWASM.
This will allow developers to execute Ethereum codes in web browsers. All these developments, when put in place, will greatly improve Ethereum's usability, which could make ETH even more valuable in the future.
Ethereum Price Prediction 2025: Market Opinions 
PrimeXBT
PrimeXBT's Ethereum price prediction is that it may reach $70,000 between 2024 and 2025. This will, however, not happen without some rough times. They predict that it could tumble in 2024 before breaking out in 2025 to reach this price. An expected low during this period is $3,500.
Digitalcoinprice 
Digitalcoinprice expects Ethereum to have a price of $12,898.02 by the end of 2025. According to its Ethereum price prediction 2025, the lowest price will be $10,529.82, while the highest price will be $13,505.47 in August of the year.
| | | |
| --- | --- | --- |
| Month | Average Price ($) | Change (%) |
| Jan 2025 | $10,826.96 USD | 172.77 % |
| Feb 2025 | $13,034.11 USD | 228.37 % |
| Mar 2025 | $12,069.92 USD | 204.08 % |
| Apr 2025 | $12,416.74 USD | 212.82 % |
| May 2025 | $10,529.82 USD | 165.28 % |
| Jun 2025 | $11,412.14 USD | 187.51 % |
| Jul 2025 | $13,199.47 USD | 232.54 % |
| Aug 2025 | $13,505.47 USD | 240.25 % |
| Sep 2025 | $10,971.34 USD | 176.41 % |
| Oct 2025 | $10,564.66 USD | 166.16 % |
| Nov 2025 | $12,804.34 USD | 222.59 % |
| Dec 2025 | $12,898.02 USD | 224.95 % |
Trading-education 
This website's Ethereum price prediction is that it could reach $15,500 by 2025. This is because the price is likely to grow fast in the next four years, mainly driven by massive adoption, according to the website.
Changehero 
This website predicts that Ethereum will reach at least $10,000 by 2025. They foresee a maximum price for the year of $200,000. According to the website, the prediction is based on experts' expectations on the technical capacity of Ethereum, which could significantly add value to its price.
Ethereum Price Prediction 2025: Verdict
Ethereum has a bright future as an investment asset. Looking at the current rate of growth and the huge potential based on its technology, this could just be the beginning of Ethereum's price surge. The Ethereum price prediction 2025 also suggests optimism, as the asset may have risen to levels that are greater than what analysts are predicting now. However, investments must be made based on information in order to avoid disappointment.
Reason Behind Ethereum (ETH) Price Surge to $12,000
Justin Bennett looks at a situation in which the price of ETH could hit $12,000.
Ethereum always follows the BTC price.
Bennett explained that a $200,000 price surge in BTC will put ETH at $12,000.
With Ethereum (ETH) breaking the $4,000 price this week, analyst Justin Bennett looks at a situation in which the price of ETH could hit $12,000. More so, the crypto has limited two-and-a-half months to travel this year. This indicates ETH has only limited time to reach the optimistic price targets.
According to CoinMarketCap, the ETH price is trading at $4,010.56 with a 24-hour trading volume of $18,093,022,938, at the time of writing.
Ethereum always follows the BTC price, however, analysts have not seen a deviation from this trend. Also, with the current market conditions, the analyst explained in his newsletter which indicators reveal that the price of the pioneer crypto will reach as high as $200K before the present cycle ends.
In case, ETH hits this price target, then ETH will surely rally over 300% in response to this. Aside from all this, Bennett explained that a $200,000 price surge in BTC will put ETH at $12,000 with the present ETHBTC levels. Added to this, the analyst views that the price of ETHBTC will surge before the end of the bull market.
According to Bennett, the price of ETHUSDT could be between $15,000 and $20,000. If the price of bitcoin breaks above $200,000 before the cycle ends, then the price of ETHUSDT will also rise.
Recent trends indicate that Ethereum may hit a new all-time high before the weekend closes, despite significant resistance toward breaking the previous all-time high. If that happens, then we will just have to wait and see what happens.
One Ethereum Competitor Is Showing Strength As Bitcoin Loses Ground, According to Crypto Trader Benjamin Cowen
Crypto analyst Benjamin Cowen says an Ethereum rival is showing strength as Bitcoin pulls back from its all-time high.
Cowen tells his 576,000 YouTube subscribers that AVAX, the native token for the smart contract platform Avalanche, is "weathering the storm relatively well."ADVERTISEMENT
The 12th-ranked asset by market cap is trading at $68.28 at time of writing, up over 5% in the past 24 hours and more than 20% in the past week, according to CoinGecko.
Cowen notes that AVAX is trading well above both its 20-week simple moving average (SMA) and 21-week exponential moving average (EMA). Taken together, the two metrics are what Cowen refers to as the "bull market support band."
"We also have some wiggle room in the sense that we are above the bull market support band of the AVAX/USD valuation. The 20-week SMA is at $35.85 and the 21-week EMA is at $43.47. What that tells you is that Avalanche has been performing pretty well for the last several weeks.
A lot of coins are right above their bull market support band, and they haven't been performing as well recently. A lot of these things can have some type of seasonality as the money ball just jumps around from project to project, and right now, clearly, AVAX is showing a decent amount of strength."
Cowen doesn't predict that AVAX will have a strong move against Bitcoin "in the next month or so," but he does say that Avalanche can increase in value in terms of its relationship to the US dollar in the short term.
Ethereum Price Forecast: ETH bulls set sights on new record high targeting $6,000
Ethereum price is gearing up for a new all-time high as two significant bullish chart patterns have transpired.
The governing technical patterns present optimistic targets at $6,015 and $6,365.
A daily close above $3,960 would add credence to the bulls' aspirations toward $6,000.
Ethereum price is hovering around a key support level which has previously acted as resistance for ETH, as the bulls catch their breath before the token resumes its rally. As long as the second-largest cryptocurrency by market capitalization holds above $3,960, a 60% surge is still on the radar.
Ethereum price eyes 60% ascent
Ethereum price has printed two major bullish technical patterns on the daily chart, an ascending parallel channel and a cup-and-handle pattern. The former chart pattern indicates that ETH has been consistently reaching higher highs and higher lows since mid-June, presenting an optimistic outlook for the token.
Based on the first prevailing chart pattern, ETH is likely to tag the upper boundary of the channel at $6,015, coinciding with the 161.8% Fibonacci extension level, representing a 48% climb.
The cup-and-handle chart pattern suggests that the projected target for Ethereum price is at $6,365, forecasting a 60% rally. While the two governing technical patterns establish an optimistic outlook for ETH, the token may be confronted by a headwind at its all-time high at $4,369, corresponding to the middle boundary of the parallel channel.
Additional hurdles may emerge at the 127.2% Fibonacci extension level at $5,092, then at the 161.8% Fibonacci extension level at $6,015.
Given the reinforcement of the two optimistic chart patterns presented on the ETH daily chart, retracements for Ethereum price may not be significant even if selling pressure arises.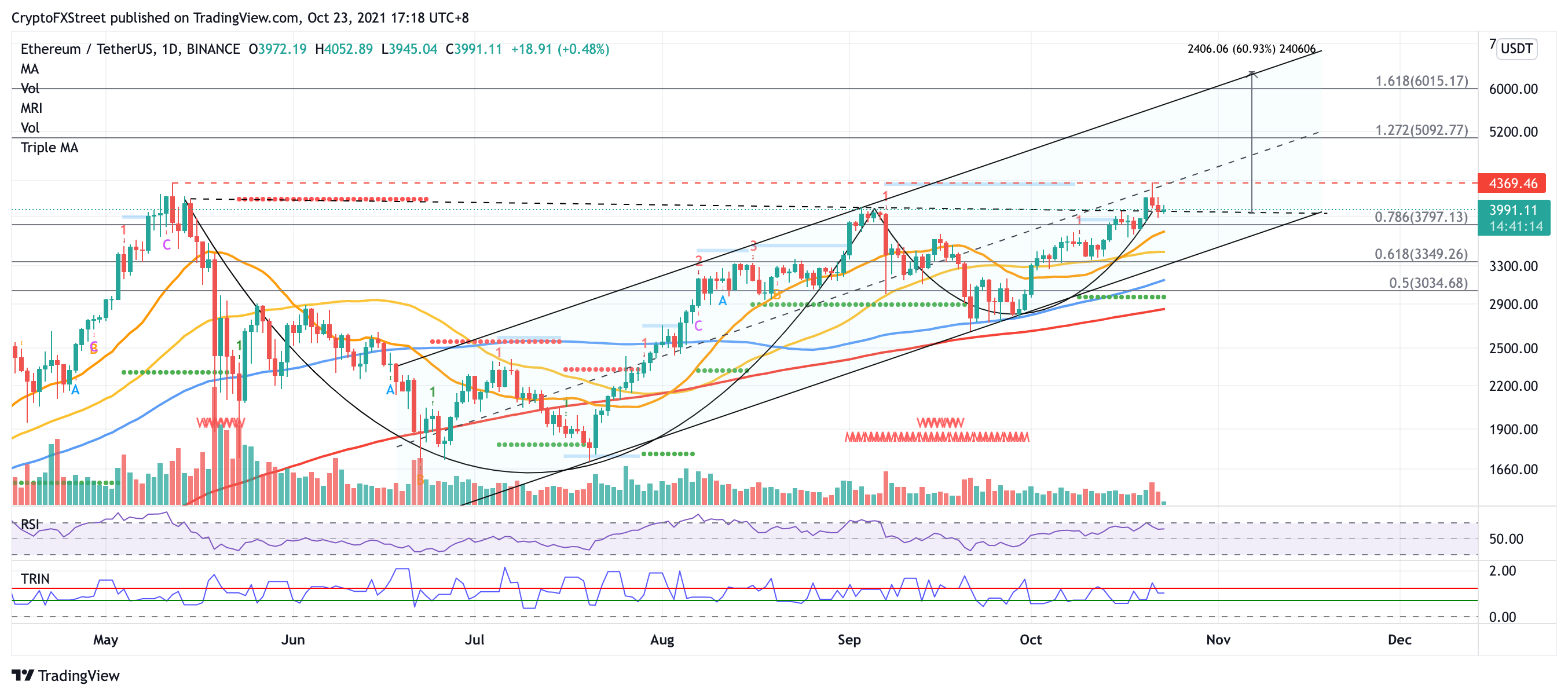 ETH/USDT daily chart
Ethereum price will discover immediate support at the support trend line at $3,960, then at the 78.6% Fibonacci retracement level at $3,797. The following line of defense will emerge at the 21-day Simple Moving Average (SMA) at $3,710, then at the 50-day SMA at $3,453 before eventually dropping toward the lower boundary of the ascending parallel channel at $3,349, which meets the 61.8% Fibonacci retracement level.
If Ethereum price fails to hold above the aforementioned levels of support, the bullish outlook may be voided, prompting ETH to plunge lower toward the 100-day SMA at $3,137.
ETH bulls should aim for a daily close above $3,960 to reinforce commitment for the bullish target to be on the horizon.