MicroStrategy's Michael Saylor Buys More Bitcoin On Square Cash App
MicroStrategy's Michael Saylor continues to be bullish on Bitcoin regardless of the massive FUD. He has been pumping BTC like there's no tomorrow these days.
Check out one of his most recent tweets.
Today I smash bought some #bitcoin on @Square Cash App. I found it quite satisfying.🙂

— Michael Saylor⚡️ (@michael_saylor) May 21, 2021
Someone commented: "Instead to buy bitcoin which is good at this price how we can stop this manipulation. If they are doing this now why will not doing again at 60 k or 100k. Who are those Whale. How we can expose them ?"
One other follower said: "Only 1% of cryptocurrency exchange users actively engage in trading, while the other 99% have cryptos sitting dormant in their accounts. Buy #Bitcoin as a store of value!" and someone else said: "You're such a great person Micheal. Truly. Conviction in Action lends magic to life."
MicroStrategy has the highest correlation with Bitcoin
Not too long ago, we were revealing that MicroStrategy has the highest correlation with Bitcoin. Michael Saylor's company is supporting and accumulating Bitcoin for quite a while now.
Saylor became a BTC maximalist and just the other day, he was sending people an important message.
Check out Michael Saylor's tweet.
Entities I control have now acquired 111,000 #BTC and have not sold a single satoshi. #Bitcoin Forever.

— Michael Saylor⚡️ (@michael_saylor) May 19, 2021
Here's a graph involving MicroStrategy:
MicroStrategy has highest correlation with #Bitcoin compared to other cryptocurrency-linked stocks.https://t.co/3u1Q0TIEWU pic.twitter.com/RlM3zWbdsU

— unfolded. (@cryptounfolded) May 20, 2021
CoinGecko indicates Bitcoin has tumbled, likely due to Musk's announcement last week that Tesla will no longer accept Bitcoin for purchases, citing concerns over BTC's energy use.
Musk continued to fuel uncertainty in the markets this week with contradictory remarks on Twitter regarding whether or not the company plans to sell its BTC holdings.
Bitcoin ETF Approval is a double Edged Sword in Terms of Price Discovery
Futures based paper products don't lead to natural price discovery. There's so much the players can manipulate on these paper products, which will be fixed in a physically-backed ETF.
In response, Caitlin Long expressed: Yep, but physically backed ETFs also foster spot price manipulation. As I've said for yrs, Bitcoin ETF approval is a double-edged sword. It brings liquidity, but also brings Wall Street style manipulation and price suppression.
Community response: I don't see ever any logic here. Crypto is the Wild West, when it comes to manipulation. How does having liquidity in a more regulated market make the manipulation worse?
Crypto markets are way more manipulated than any other asset class. Adding an ETF would only dilute the manipulation.
Supply is real with bitcoin paper copies won't bring more real supply, but can't the paper push around the price like in gold and silver? I think they will try but will soon discover that the underlying asset isn't as elastic as gold and silver with a significantly lower inflation rate and stock flow. Also, gold and silver aren't 100% auditable by everyone on the planet at all times.
How does a spot ETF foster price manipulation? I don't really understand the logic here. Most likely, the ETF would simply be buying and storing Bitcoin every single day of its existence.
What do you think the manipulation would look like? With the open source monetary policy and public blockchain ledger, I think any manipulation would have to be very short lived. They can't create millions of 'paper' BTC like the precious metals markets.
Yeah but unlike gold and silver we can completely verify the total supply, and punish manipulation out of these honest markets. If on-chain metrics unanimously say one thing, futures manipulation will be that much easier to rectify, no?
Wall Street can short BTC through the floor. My guess is they want to hammer the BTC price down and drive everyone back to USD. Same way they control all commodities.
ETF is a double edged sword, and anyway there's a lot of manipulation. So, ETF is nothing significant to care about? If the ETF would hurt bitcoin price more than it would help it, the US would have approved it several years ago.
Hard manipulation like in gold/silver market not possible: Withdraw your BTC from the exchange, as soon as supply dries up the price explodes.
With an BTC ETF, have you removed legal tender? Been thinking on this one and I'm not so sure an BTC ETF is the best thing for BTC in the long run. There is always two sides of a coin.
How can spot price with proof of reserve be manipulated? And how can we move past the financial products created out of thin air, and toward the purpose crypto was created for?
We already have manipulation and suppression in BTC – The Futures-ETF will only serve to deepen that manipulation/suppression. So, Qui Bono? This is not about investors folks!
News Source
Bitcoin Whales Buying Activity on Rise with 254 New Whales Entering Market
More traders and institutions are buying Bitcoin prior to the potential launch of physically-backed ETFs
According to data provided by Santiment, the number of Bitcoin whales (addresses owning between 100 to 1,000 BTC) has significantly increased prior to the asset's rise back to the previous ATH. More than 250 whales appeared on the network since Sept. 11.
The increased number of Bitcoin whales is also followed by progressively increasing exchange outflows. While traders and investors move funds away from exchanges, they have no other choice but to hold them in their wallets; hence the network is experiencing an increasing number of new wealth holders.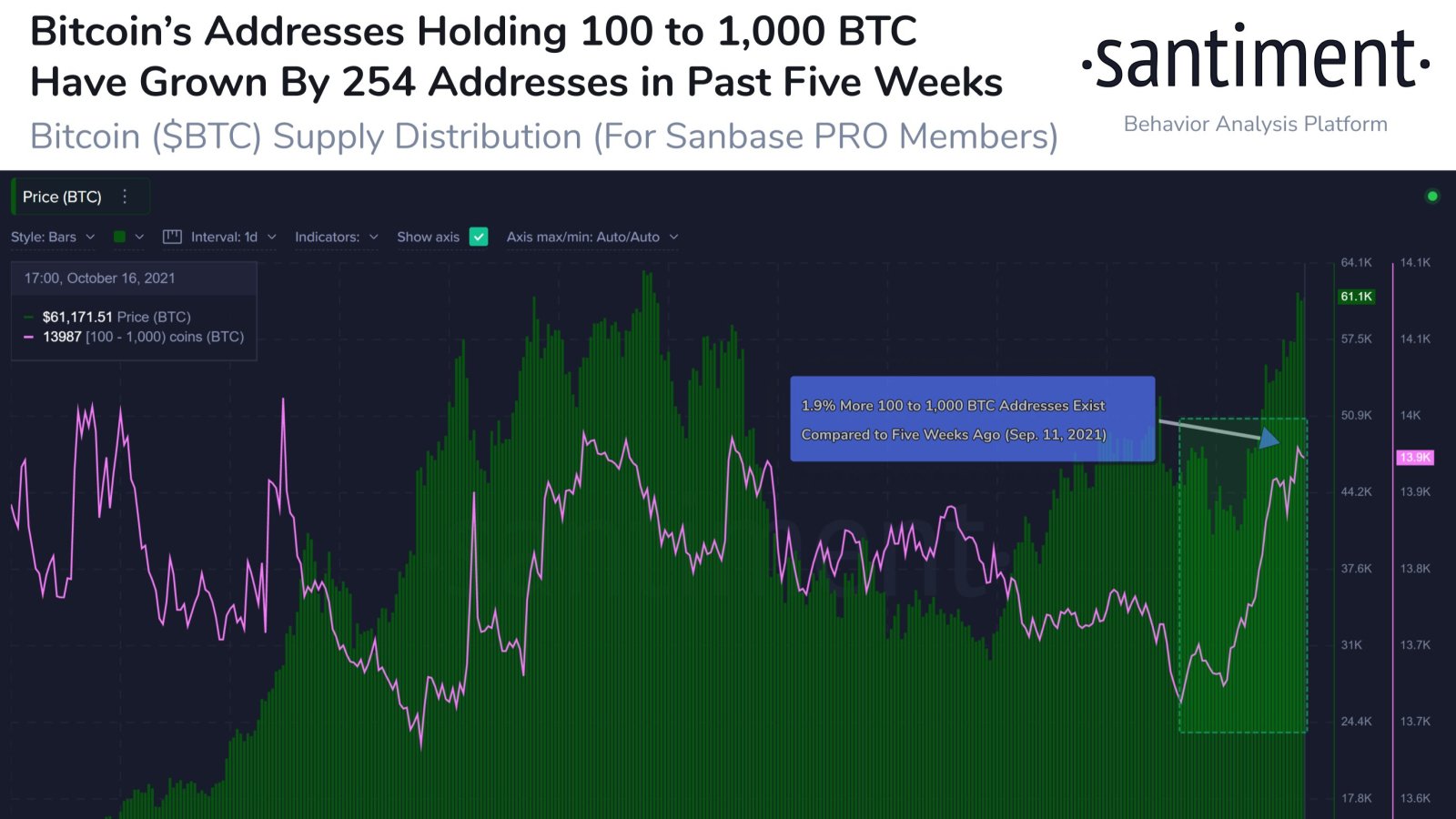 On the other hand, the increasing number of holders can be tied to the rapid and significant increase of Bitcoin's market capitalization. The current price action is followed by 40% growth, which itself attracts both institutional and retail investors.
In addition to the increasing popularity of cryptocurrency among the general public, the news of the upcoming ETF approval is a strong risk-on signal for institutional investors. Previously, U.Today reported that the market may see a strong inflow of funds right after physically-backed ETFs are approved.
According to Santiment's data, the majority of whales have held through the previous market correction and only a minority of large holders have to get rid of their coins. The current increase in the number of whales is considered rapid compared to other periods.
BTC Price Analysis: Bearish Divergence Signal On the Weekly May Cool off Intraday Longs

The long-awaited Bitcoin BTC ETF-Exchange Traded Fund is now approved by the US SEC, and it's viewed as a positive development for the entire cryptocurrency market. Analysts suggest that the crypto market could see capital flowing in, with speculations around investors moving out of Gold ETFs into Bitcoin.
Let's analyze the BTCUSDT charts for insights into the recent price action.
Bitcoin (BTC) Weekly Chart Analysis
The Bitcoin price is back on the headlines of many digital media outlets as many analysts speculate on a price surge beyond the 2021 ATH. However, while the price is pumping real hard at press time, we also want to bring your attention to bearish reversal chart patterns that could lead to temporary retraction of the recent upswing.
A prominent bearish correction signal is an impending regular bearish divergence signal on the weekly chart above, where the RSI forms a lower peak [82] compared to the price chart setting a higher peak.
We anticipate a cool off of the BTC price if the RSI value stays below level-87 in the coming week.
Bitcoin (BTC) Daily Chart Analysis
A view from the daily time frame shows the start of a bullish campaign on 01 October '21 after the RSI crossed above level-75 and has not dropped below level-25 ever since.
The Bitcoin BTC price continues to set new highs and is recently shy of the all-time high at $64854.00, as the relative strength index forms a lower peak [79] signaling a likely price pull-back to come.
We expect the upward price momentum to persist till the end of the current week, given that the RSI continues to trade above level-25.
While we are optimistic of a spike in demand for the BTC, we also suggest putting some funds on the sideline for a possible price dip which can be viewed with the RSI slumping below level-25 on the daily time frame.
Bitcoin (BTC) 4 Hr Chart Analysis
The 12 October 20:00 support [$53879] confirmed the price correction on the daily time frame setting the BTC price back into a series of higher peaks and troughs.
A recent hidden bullish divergence at press time marks an end to the 3.8% correction from this week's high.
However, a price breakdown below the hidden bullish divergence trend line would spark a rapid sell-off of the BTC price into lower price zones, perhaps around the $58k mark.