100x-200x Growth Coming to Crypto Markets, Says Macro Guru Raoul Pal – Here's His Timeline
Former Goldman Sachs executive and current CEO of Real Vision Raoul Pal is assessing Bitcoin's short-term and long-term prospects.
In a tweet, Pal says that the trend of Bitcoin enthusiasts superimposing laser eyes on their profile photos on Twitter was, in hindsight, probably a sign of overconfidence and a local top in the crypto markets.
"I did kind of say Laser Eyes were not a good idea… was the interim top. Hubris never pays the bills."
Following the big correction in the crypto markets, the macro guru says that he's scrounging for every last bit of cash he can find to deploy as dry powder for his portfolio. Despite the scary price action, Pal doesn't believe we've seen the top of the bull run yet.
"Ho hum… I'm now looking for cash in the sofa cushions to add. Feels awful out there, but this is the nature of a 65 [volatility] + asset class." 
"*Note – I don't think it's THE top. Just interim large correction."
To show the possibility that the bull market is in an intermission before going higher, Pal takes the price action of the entire 2013 and 2017 bull cycle and compares it with that of this cycle to find some striking similarities.
"These might be useful for you… BTC now vs 2013."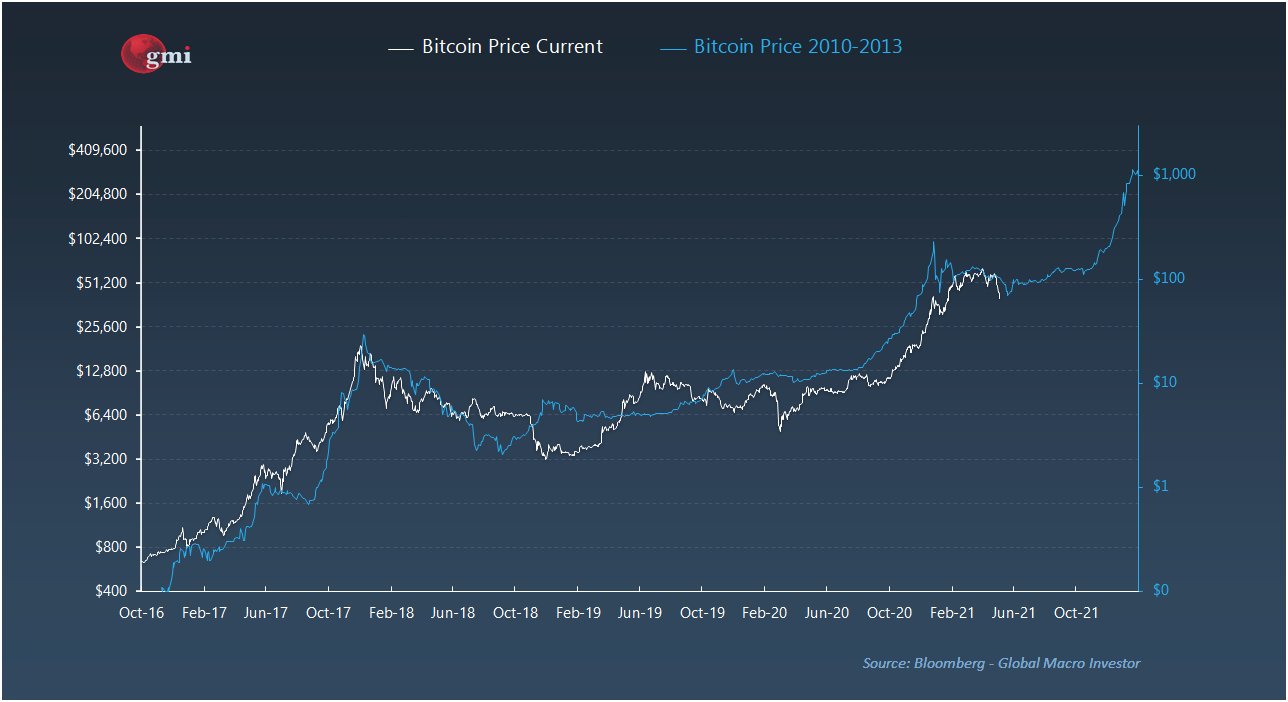 He also looks at the price action of the 2017 bull market to illustrate that Bitcoin can potentially still climb higher.
"BTC now vs 2017…"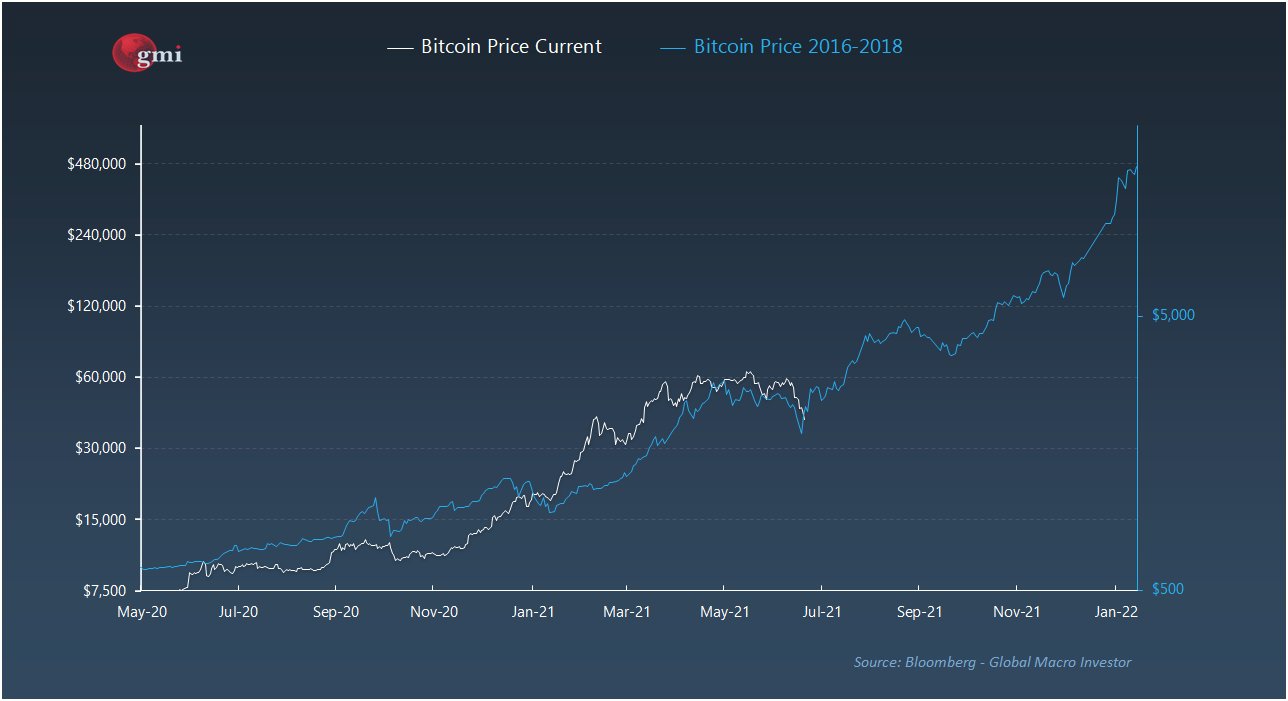 Pal has previously stated that compared to traditional markets, the crypto asset space is relatively small. At the rate the emerging asset class growing, achieving a similar market share to traditional financial markets could catapult the crypto markets by 200x.
"The crypto market is $2 trillion. It's 100x from here. But I think it eats all of those assets over time, so maybe it's 200x. No, it won't be a straight line, but this is the biggest change in financial markets. The system of money, economics and how economies are run in all of history in the fastest, shortest time it's ever happened. And people are going to be tribal about it. People are going to catch hold of their own narratives to makes sense of this world, but this world is unstoppable and it's coming. It will have massive boom-bust cycles. There will be periods you lose money and times [you] will feel like a god."
One Ethereum Competitor Is Showing Strength As Bitcoin Loses Ground, According to Crypto Trader Benjamin Cowen
Crypto analyst Benjamin Cowen says an Ethereum rival is showing strength as Bitcoin pulls back from its all-time high.
Cowen tells his 576,000 YouTube subscribers that AVAX, the native token for the smart contract platform Avalanche, is "weathering the storm relatively well."ADVERTISEMENT
The 12th-ranked asset by market cap is trading at $68.28 at time of writing, up over 5% in the past 24 hours and more than 20% in the past week, according to CoinGecko.
Cowen notes that AVAX is trading well above both its 20-week simple moving average (SMA) and 21-week exponential moving average (EMA). Taken together, the two metrics are what Cowen refers to as the "bull market support band."
"We also have some wiggle room in the sense that we are above the bull market support band of the AVAX/USD valuation. The 20-week SMA is at $35.85 and the 21-week EMA is at $43.47. What that tells you is that Avalanche has been performing pretty well for the last several weeks.
A lot of coins are right above their bull market support band, and they haven't been performing as well recently. A lot of these things can have some type of seasonality as the money ball just jumps around from project to project, and right now, clearly, AVAX is showing a decent amount of strength."
Cowen doesn't predict that AVAX will have a strong move against Bitcoin "in the next month or so," but he does say that Avalanche can increase in value in terms of its relationship to the US dollar in the short term.
This ransomware gang moved $6.8 million in Bitcoin amid regulatory overhaul

Ransomware groups, Darkside and BlackMatter recently moved multi-million dollars worth of Bitcoin upon getting the news of REvil's servers getting hacked by a global coalition of law enforcement agencies. According to the authorities, 107 BTC, which amounts to $6.8 million were moved earlier today by splitting the amount into several different wallets.
Furthermore, officials revealed that the gangs were already aware of regulators' oversight and therefore had prepared the mentioned balance to be laundered or cashed out. According to The Record, officials noted that the breakdown of funds into smaller portions is usually used for money laundering operations as the regulators directly transfer the entire amount of confiscated funds instead of splitting them up.
"Basically, since 2AM UTC whoever controlled the wallet started to break the BTC into small chunks… At the time of this writing, the attackers split the funds into 7 wallets of 7-8 BTC and the rest (38BTC) is stored in the following wallet: bc1q9jy4pq5su9slh56gryydwkk0qjnqxvfwzm7xl6", Omri Segev Moyal, CEO and co-founder of security firm Profero shared this data with The Record.
It is obvious that the Darkside and BlackMatter were next on the regulatory hitlist as Darkside was the ransomware strain developed by REvil associates that were used earlier this year in the infamous Colonial Pipeline incident of May. This attack indirectly led to fuel supply outages across the US East Coast.
REvil ransomware group's website went offline
Yesterday, the Reuters' report about REvil's servers being hijacked by the regulators went viral and threw other ransomware groups in a fit of panic. A multi-nation operation against cybercrime group, REvil was implemented and took down the group's "Happy Blog" website, which was formerly used to leak victim data and extort companies.
"The FBI, in conjunction with Cyber Command, the Secret Service and like-minded countries, have truly engaged in significant disruptive actions against these groups," said Tom Kellermann, an adviser to the U.S. Secret Service on cybercrime investigations and VMWare head of cybersecurity strategy. "REvil was top of the list.", he added.
First Bitcoin ETF in Immediate Danger of Hitting Cap on Contracts Held
The first bitcoin (BTC) futures-backed exchange-traded fund (ETF), ProShares' BITO, is reportedly already in danger of breaching a limit on the number of futures contracts it is allowed to hold under current Chicago Mercantile Exchange (CME) rules.
BITO already owns nearly 1,900 bitcoin futures contracts expiring in October, according to Bloomberg data. The number is close to CME's current rule that a single entity cannot own more than 2,000 front-month futures contracts, Bloomberg reported on Thursday, when BITO had only been live for two full days.
To get around the limit, the ETF has reportedly started buying futures contracts expiring in November in addition to the October contracts it holds, with 1,400 November contracts amassed so far. At the current pace, however, the fund could also soon reach CME's cap on holdings for next-month contracts of 5,000 contracts, per the report.
And while the CME has already said it will increase the limits to 4,000 front-month contracts starting in November, this is also likely to be reached soon by BITO, which already has more than USD 1bn under management.
A major issue faced by ProShares' ETF is that futures contracts tend to trade at a higher premium over spot prices the further away their expiry date is – a phenomenon known as contango in the futures market.
As such, choosing to get around the maximum limits by buying longer-dated contracts will mean the ETF has to get its bitcoin exposure at prices that are increasingly higher than spot. This could result in high costs when contracts are rolled over at expiry that will eventually be paid by the ETFs investors in the form of lower returns.
According to Bloomberg's own ETF expert, Eric Balchunas, some of the pressure on the first ETF to be launched could be alleviated by competing ETFs coming to the market over the next few days and weeks. However, the first-mover advantage that BITO has gotten will still be difficult to challenge, he said.
"The unprecedented early volume in BITO makes it like a snowball rolling downhill, as liquidity and assets begets more liquidity and assets," Balchunas said, adding that it will be "nearly impossible" for other ETFs to steal significant volume from BITO in the short or medium-term.
Commenting on the possibility of the ETF running into the ceiling, some speculated that the extreme popularity of the futures ETF could eventually pressure the US Securities and Exchange Commission (SEC) to allow a "physically" backed spot bitcoin to launch.
That scenario was suggested by Zhu Su, CEO of crypto hedge fund Three Arrows Capital, saying that it could lead to the ETF rising to a "hilarious premium," leading the SEC to "approve a spot ETF because of public outrage."
In a tweet, he also shared a comment from Max Boonen, Founder of electronic market maker B2C2, saying that it is "doubtful" that clearing houses will be comfortable with a single entity holding more than 4,000 front-month contracts.
"What happens when BITO surpasses 4k [contracts] as it surely will?", Boonen asked.
So what if BITO halts creations bc hits CME OI limit, BITO spikes to hilarious prem, SEC rushes to approve spot ETF bc of public outrage, btc $1m, wyd https://t.co/1c5mRlg46j— Zhu Su 🔺 (@zhusu) October 21, 2021
A similar idea was also suggested by Eric Balchunas, saying in the Bloomberg report that BITO hitting the limits on how many futures contracts it is allowed to hold could pressure the SEC to allow a spot-based bitcoin ETF.
"That certainly would do the trick in slowing down BITO and providing a release valve for futures demand," the senior ETF analyst said.
Meanwhile, the second bitcoin ETF to be approved by the SEC, the Valkyrie Bitcoin Strategy ETF with the ticker BTF, is scheduled to go live on the market today, October 22. BTF will also be backed by bitcoin futures contracts traded on the CME rather than by "physical" bitcoins.
BTF should go live on the Nasdaq exchange when the market opens at 09:30 ET (13:30 UTC).
Following the launch of Valkyrie's fund today, a third bitcoin futures ETF, the VanEck Bitcoin Strategy ETF (XBTF), is set to go live on Monday on the Cboe BZX Exchange, according to a recent SEC filing.