Hoskinson Shares His Top Tips For Surviving The Crypto Crash
The CEO of Input Output Global (IOG), Charles Hoskinson, took to social media to share his advice on coping with difficult times. Drawing on his experience of running a multi-billion dollar firm, Hoskinson points to mindfulness as the key to getting through these difficult times.
Crypto Market Panic
The events of the past week or so were a real wake-up call for anyone with a vested interest in crypto. FUD, driven by threats from China, Elon Musk, and U.S. regulatory concerns, has conspired to crash the market.
Just a week and a half ago, crypto markets were riding high as the total crypto market cap hit $2.5 trillion for the first time. But FUD event after FUD event saw things take a turn for the worst.
The local bottom hit on Sunday after the market bounced at $1.3 trillion, making a staggering 48% loss in value across the board. While some tokens fared better than others, with Polygon and Maker showing signs of fight, the losses of the last five days have taken their toll.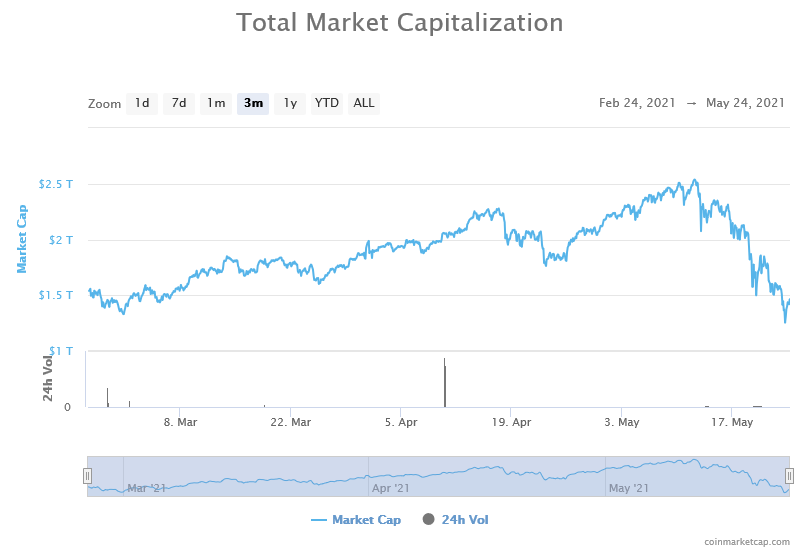 Source: coinmarketcap.com
The upshot to this has seen fear, anger, and panic dominant proceedings. This has only been exacerbated by the crypto-haters relishing this crash.
Binance CEO Changpeng Zhao (CZ) retweeted a message he posted in February when markets were going up to remind us that critical common-sense rules apply equally during a downturn.
Stay calm
Do proper risk management
Diversify a bit
Only invest with money you don't need urgently
Don't invest with your next month's rent
Expect some system issues
Don't fall for scams
Be responsible to, and take responsibility, yourself
Stay #SAFU

— CZ 🔶 Binance (@cz_binance) February 9, 2021
With that, what can be done to cope with dwindling portfolio valuations for those still holding the line?
Mindfulness In The Face Of Adversity
In a bid to spread a calming influence on things, IOG boss Charles Hoskinson weighed in on the situation by promoting mindfulness and resilience as a strategy to handle the stresses of the past week.
Hoskinson implied that investors have no control over macro events, which have ramped up in recent times to cool the market.
"What's really hard is when you have a collective event. you see the crypto markets are the crypto markets, and the macro right now on the U.S side is that regulation is coming. And on the China side, there's a crackdown. Both of these have put a needle into the balloon of the market, and now things don't look so hot."
Much like what CZ alluded to, Hoskinson said overextending oneself is a recipe for disaster. But he points out, no matter what is said about this, people, in general, don't listen.
"No matter how much you warn people and how much you talk about this stuff and how much you say, "hey, be mindful and respectful that stuff that goes up goes down," people don't listen. They never will because they think the minute they get rich that all the problems go away."
In getting to where he is now, Hoskinson said he faced difficulties and uncertain times. But what got him through the ups and downs was mindfulness, which he recommends incorporating into our daily routine.
Mindfulness is a type of meditation that involves being intensely aware of what is being sensed and felt in the moment, without interpretation or judgment. This involves breathing methods, guided imagery, and other practices to relax the body and mind.
Crypto Newcomer Explodes After Abrupt Altcoin Listing on Binance
A small-cap altcoin is shooting into the stratosphere after earning support from the global crypto exchange Binance.
The governance token Tranchess (CHESS) officially began trading today.
News of the coin's listing triggered a 185% rise in the price of the asset – from $2.77 to $7.91. Its value has since settled to $5.09 at time of publishing.
CHESS is listed in Binance's Innovation Zone, a dedicated trading area where users can buy and sell newer tokens that are likely to have higher volatility and pose a higher risk to traders.
According to Binance Research,
"Tranchess is a yield-enhancing asset tracker with varied risk-return solutions on Binance Smart Chain (BSC), which consists of 3 tranche tokens (QUEEN, BISHOP, and ROOK) and its governance token CHESS.
The platform offers various features including a DEX (Tranchess Swap), money markets (Primary Market), staking, and network governance."
Tranchess recently raised $1.5 million from Binance Labs, Three Arrows Capital, and other crypto venture firms.
Binance proposes a real-time token burning mechanism to boost BNB value
Binance has proposed the BEP-95 aimed to burn a percentage of transaction fees as a deflationary measure.
BEP-95 will occur alongside the quarterly token burn and well after the 100 million token supply is achieved.
---
Binance Smart Chain (BSC) is taking further steps to incorporate an additional deflationary mechanism to increase token valuation. As announced today, Binance (BNB) is introducing a new Binance Evolution Protocol (BEP) known as BEP-95. The BEP stands out from the network's occasional token burns since it introduced a real-time burning mechanism.
According to Binance, a fixed portion of gas fees collected by validators in each block will be sent to the burn address. The ratio initially set at 10 percent, is adjustable according to changes proposed by the Binance community. BSC validators get to vote on community proposals, where voting power is based on staked BNB.
For a proposal to be reviewed by the validators, it has to receive a minimum deposit of 2,000 BNB (mainnet). All BNB is returned to holders after the finalization of the voting process. A proposal that wins is that which gathers 50 percent of the total voting power on the mainnet. Binance notes that voted-upon parameters are implemented immediately.
Details of Binance BEP-95 token burning mechanism
BEP-95 became relevant as it speeds up the BNB token burn, and makes the network increasingly decentralized. The BNB supply cap is about 168 million tokens and Binance intends to burn until 100 million tokens remain in circulation. This will take about 5-8 years to complete, according to Binance. The network's most recent quarterly burn wiped out over 1 million tokens, worth about $639 million, from circulation.
However, the latest update from its blog now says the BEP-95 burn "will continue functioning" even after the above target is attained. With the burn, Binance expects the intrinsic value of the BNB token to increase in tandem with demand. The network notes that validators and delegators may receive fewer tokens from staking, but the "fiat-denominated value of their rewards may increase." Moreover, BNB has multiple use cases that benefit all holders of the token.
Currently, BEP-95 is in the draft stage and the network is yet to give a specific date for its implementation.
Several blockchains use the crypto-burning mechanism to create token scarcity and a subsequent increase in token value. Ethereum, for instance, uses the EIP-1559 for this purpose.
BNB price action
BNB, the fourth-largest cryptocurrency by market cap, was trading at $494 at press time, according to our data. The token has gained 0.8 percent in the day, and 4.8 percent week-over-week. Similar to other digital assets, BNB has rallied fueled by the Bitcoin-led gains. Crypto investor and YouTuber Lark Davis expects "good things" for the BNB price following its launch of a $1B growth fund.
Google warns crypto investors of Youtube scams amidst high hacking
Google warn crypto investors to be weary of Youtbe scams.
Google says hackers impersonate crypto influencers to run scams on YouTube.
YouTube, a hotbed for crypto scams.
Google's Threat Analysis Group has warned crypto investors to beware of cryptocurrency scams on Youtube as phishing and impersonation on the video-sharing platform surges.
The Google group noted that a group of hackers is taking over Youtube, rebranding popular Youtube channels of well-known crypto or tech companies. "The channel name, profile picture, and content are all replaced with cryptocurrency branding to impersonate large tech or cryptocurrency exchange firms," the group said, adding that hackers would live stream videos promising crypto giveaways in exchange for "initial contributions."
According to the Google group, if these hackers don't rebrand, they sell pages to the highest bidder depending on how many subscribers the channel has. They note that fake Youtube pages sell anywhere from $3 to $4,000.
The Google group notes that a group of hackers recruited in a Russian-speaking forum are actors behind the campaign.
Crypto investors should be warned as YouTube remains a hotbed for crypto scams
The video-sharing platform so many times has been used as a tool to dupe unsuspecting crypto investors. In December, American crypto exchange Gemini exposed two fake YouTube channels that were pretending to be from the exchange.
"These scam accounts are not our company. We have reported these accounts to YouTube," Gemini tweeted.
Funny enough, it was not the first time Gemini was being impersonated on Youtube.
Crypto scams have been well perpetrated on the platform that the video giants ban crypto content on its platform. Authorities in the UK also warned young crypto investors with campaigns on Youtube and TikTok against being victims of crypto scams.
The cycle of crypto scams across all platforms is one that may never end. As much as crypto exists, crypto scams would remain a thing. The rise in crypto scams recently has been attributed to the surge in price and adoption of cryptos globally. It is safe to say that with crypto prices going up and more people, corporate organizations adopting cryptos, more scammers will be threatening the burgeoning space.