Cardano and Other Altcoins To Massively Outperform Ethereum, According to Macro Guru Raoul Pal
Macro guru and former Goldman Sachs executive Raoul Pal predicts Cardano and other altcoins will massively outperform Ethereum in a bullish environment.
In a new interview on Crypto Banter, the chief of Real Vision describes his crypto portfolio strategy using analogies from traditional financial markets.
"In traditional markets, once an established trend takes place, you move out the risk curve. So from Bitcoin, being like government bonds, you then go to Ethereum which is like corporate bonds, and then you go to junk bonds, which is all the other stuff, and then private-sector lending. So I'm just moving out the risk curve because the trend is established, and I know that in a bull market, ETH will outperform Bitcoin and alts will outperform ETH." 
As Pal moves out of the risk curve, he says he doesn't necessarily know whether individual crypto projects like Cardano (ADA) will ultimately succeed. But according to the macro guru, an altcoin season means that as long as Bitcoin and Ethereum are showing strength, coins like ADA and DOT (Polkadot) will likely outperform ETH.
"I've got no clue whether Cardano is going to work, or Polkadot is going to work, and get network adoption, so I don't a take a bet in that. I just took a bet in a bunch of them, figuring that if we're in altcoin season, this stuff is going to go up 5x that Ethereum goes up."
Pal's assertions are confirmed by Real Vision's most recent portfolio reveal, which shows significant allocations to both ADA, DOT, and other altcoins.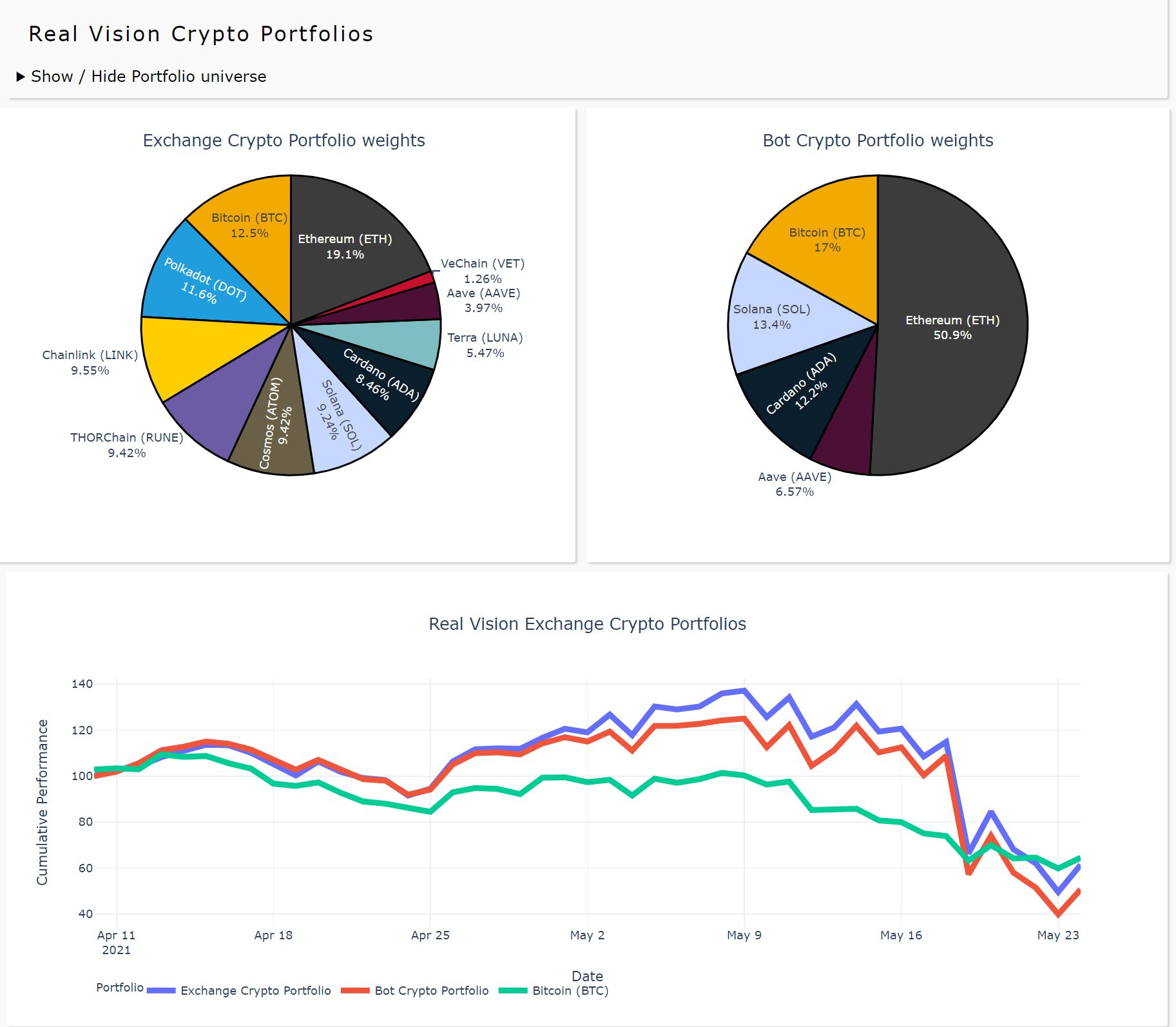 The digital asset investor also reveals that he's even a holder of meme-crypto Dogecoin (DOGE). Pal lists multiple factors the coin has going for it as it unexpectedly rises to prominence. According to Real Vision head, DOGE shouldn't be underestimated.
"I own DOGE… Everybody does, find me somebody who doesn't. We all do because it's fun!
I have a small position in it because it's fun to see what happens with this. We don't know what the outcomes are, we don't. So it could end up being something massive. Mark Cuban, he's started accepting it as payments for Dallas Mavericks merchandise and tickets, so now it's got payments. It's got millions of people invested in it, so what happens if Tesla builds an application? Now it has got applications, exchanges, and investors. You've got an ecosystem, a network, and that's valuable."