Crypto Whale Says He's Preparing To 'Buy Tears' and Bet on Two Small-Cap Altcoins
One crypto whale says he's getting ready to "buy tears" amid the ongoing correction in the markets as he bets big on two under-the-radar small-cap altcoins.
In a tweetstorm, the pseudonymous whale known as Crypto Messiah tells his 132,000 followers not to bother trying to buy bottoms and sell tops.
"You'll never buy the bottom… and you'll never sell the top.
Average in/out is the only way to do this. I'm extremely confident that we haven't seen the last of 'productive assets.'
I'm also extremely confident that this decentralized finance (DeFi) bear [market] won't be extended.
I'm here to buy tears."
Crypto Messiah says that he's keeping an eye on the DeFi index, which is a weighted average of 25 of the biggest decentralized finance (DeFi) coins, similar to the S&P500 or Dow Jones index.
The whale says that once the DeFi index reaches a final support level down near 6,000, he'll be looking to go long.
"Here's my plan… whether it turns out to be a good plan or a bad plan is yet to be seen…
Watching FTX DeFiperp. When/if we get here… people will be in agony. I [will] buy.
Solid confluence between previous lows/bull trend line. 2 sigma below yearly vwap (Volume-weighted average price) – hoping for reversion."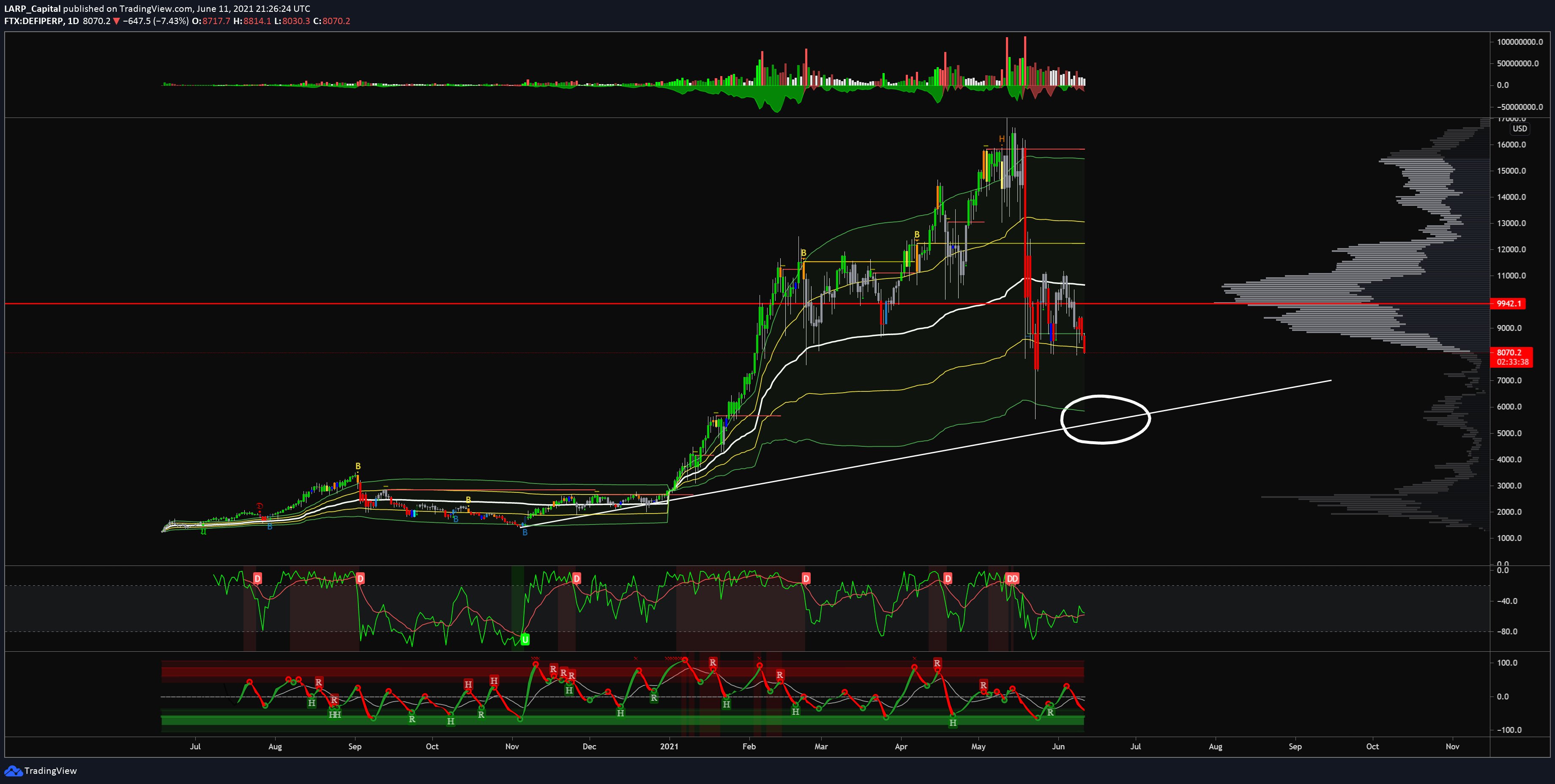 The crypto veteran goes on to reveal the only two low-cap altcoins he's heavily investing when the sell-off takes place.
"Targets for blood buys are ALPHA/ROOK.
Nothing else.
Keeping it concentrated. Watching it closely."
Alpha Finance (ALPHA) is an ecosystem of DeFi products that aim to address the limited availability of products outside the Ethereum network, as well as the lack of liquidity on decentralized exchanges (DEXs). At time of writing, ALPHA is trading at $0.58 according to CoinGecko.
KeeperDAO (ROOK) is a decentralized organization that provides liquidity to markets of smart-contract-based solutions. At time of writing, ROOK is trading at $148.67 according to CoinGecko.
As for Bitcoin, it appears Crypto Messiah is still bullish on the king cryptocurrency. Last week, in an episode of Delta-Fi, the analyst
claimed
 that El Salvador would likely be the first domino to fall in a big trend of global Bitcoin adoption.
"It's the first domino in a string of many disenfranchised nations and then maybe, other countries that are looking to reduce their reliance on US dollars. Coming in and saying like 'Hey we want to go with Bitcoin. We want to go with a currency for our country that can't be manipulated, that can't be controlled…'
It is kind of an interesting situation because I hear that the IMF (International Monetary Fund) is meeting with the president of El Salvador soon, and there's no way they're going to be happy about that. So on the positive side of things, this could be like the shot heard around the world. I understand that the GDP (gross domestic product) of El Salvador is pretty much the same as the market cap of Dogecoin (DOGE), but at the same time, the fact that this has happened is huge, and several other nations that have been disenfranchised are following suit."