Coinbase Adds Polkadot (DOT) on Coinbase Pro, DOT Surges 15%
Coinbase, the NASDAQ-listed leading cryptocurrency exchange, has added Polkadot (DOT) on its cryptocurrency trading platform Coinbase Pro.
In a blog post on Monday, June 14th, Coinbase announced that deposits to Coinbase Pro accounts were opened for users on Monday and the trading for DOT will begin on or after 9AM Pacific Time (PT) Wednesday, June 16, if liquidity conditions are met. Support for DOT will be available in Coinbase's supported jurisdictions with the exception of Singapore.
According to the announcement, once sufficient supply of DOT is established on the Coinbase Pro platform, orderbooks for DOT trading pairs will be launched in three phases: post-only, limit-only and full trading. Trading pairs for DOT include DOT-USD, DOT-BTC, DOT-EUR, DOT-GBP, and DOT-USDT.
Polkadot (DOT) is not available on Coinbase's website or mobile apps, although the exchange stated such plans would be announced when the support is enabled outside Coinbase Pro.
Since the announcement, the price of DOT has surged by a whopping 15.65% to touch $25.20, shows data provided by CoinMarketCap.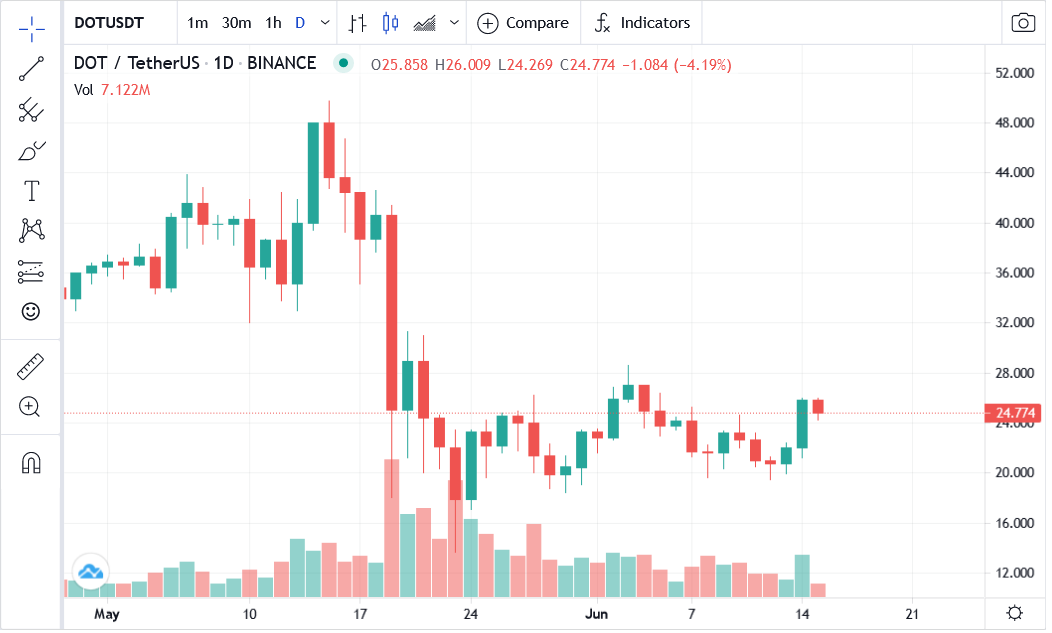 The launch of DOT on Coinbase Pro is in accordance with Coinbase's New Asset Listing Process that was announced in September of 2018. The process allows Coinbase to rapidly list most digital assets that are compliant with local law, by satisfying listing requests in a jurisdiction-by-jurisdiction manner.
The process begins with a form for issuers to submit assets for listing at Coinbase, which will then be evaluated against its regularly-updated Digital Asset Framework. Coinbase can also add asset to its platform on the basis of its own evaluation.
Through this listing process, Coinbase is actively listing new crypto assets. As Crypto Economy reported, the exchange has recently listed Dogecoin (DOGE) to its platform that helped the meme coin to by well over 30% in 24-hours. The exchange has also listed Gitcoin (GTC), Enzyme Token (MLN), Amp (AMP), Internet Computer (ICP), Cartesi (CTSI), iExec (RLC), Mirror Protocol (MIR), and Tellor (TRB) in recent times.
According to CoinMarketCap, Coinbase Pro is second-largest cryptocurrency exchange by 24-hour trading volume of $2.8 billion. The platform currently supports 67 asset including US Dollar, Euro (EUR), and Great Britain Pound (GBP). The exchange features 2018 trading pairs including pairs for suspend XRP coin. The largest pair is BTC/USD that accounts for almost 30% of trading volume on the exchange with $822.20 million being traded in last 24-hours.