Shiba Inu Listing Done On Coinbase, Is Robinhood The Next Stop!
The meme tokens are gaining much traction in recent days with amplified social media attention and listing on popular platforms. As the primitive meme token dogecoin gained immense user attention, many other tokens followed a similar path. Shiba Inu with listing on Coinbase Pro began with a need for Robinhood listing.
Shiba Inu gained huge user attention as it jumped from nowhere to as high as above $0.0000380. With the massive surge, the token got listed on many exchanges including Binance, Okex, Huobi, etc. However, the listing on Coinbase Pro was very much awaited which was announced recently.
With the listing on Coinbase, Shiba Inu price spiked nearly 40% and sustained above $0.000008 levels at the press time. Moreover, after Coinbase, the crypto space is looking forward to listing the token on Robinhood. And hence the petition was circulated to request Robinhood to list the token.
Also Read: This Is When Shiba INU Price May Rally Above $0.00001 Levels!
How Important is Robinhood Listing?
Robinhood is among the popular platforms that offers commission-free trades of stocks and exchange-traded funds through its mobile App. It is the same platform where-in the well-known GME stock manipulation took place.
No doubt the users on Coinbase are more than Robinhood, yet it is the main competitors in the crypto market. And moreover, Robinhood already offers several cryptocurrencies like Bitcoin, Bitcoin Cash, Dogecoin, Ethereum etc.
However, it is still unclear whether the platform will list the token or not. The company moreover, denies sharing the listing process on its platform. Therefore, the Shiba Inu price may propell high with the Robinhood listing as it happen after the listing on coinbase.
Shiba Inu price consolidates as SHIB bulls prepare for 22% advance
Shiba Inu price rose 54% between September 13 and September 17 but failed to sustain itself.
As a result, SHIB retraced 17% and is consolidating in hopes of retesting the $0.00000963 level.
A breakdown of the $0.00000620 support floor will invalidate the bullish thesis.
Shiba Inu price rallied exponentially on September 16, slicing through plenty of resistance levels. However, the bullish momentum grew exhausted as it retested the August 16 swing high. Now, SHIB is currently consolidating between two crucial barriers, anticipating a volatile move.
Shiba Inu price prepares for another leg-up
Shiba Inu price climbed 54% starting September 13. However, the bulls disappeared as the uptrend extended beyond the August 16 swing high at $0.00000950. Since this point, SHIB retraced 22% as it sliced through the $0.00000768 support floor.
A resurgence of buying pressure seems to have matched the holders booking profits, leading to consolidation between the $0.00000768 and $0.00000835 barriers.
This development is typically followed by a burst in volatility, leading to a breakout of the price in either direction. Considering the big crypto's bearish move over the weekend, the meme coin will likely rally, causing altcoins to do the same. Therefore, investors can expect Shiba Inu price to break out and trigger a 22% rally to retest the 62% Fibonacci retracement level at $0.00000963. In some cases, the uptrend might extend to the 70.5% Fibonacci retracement level at $0.0000101.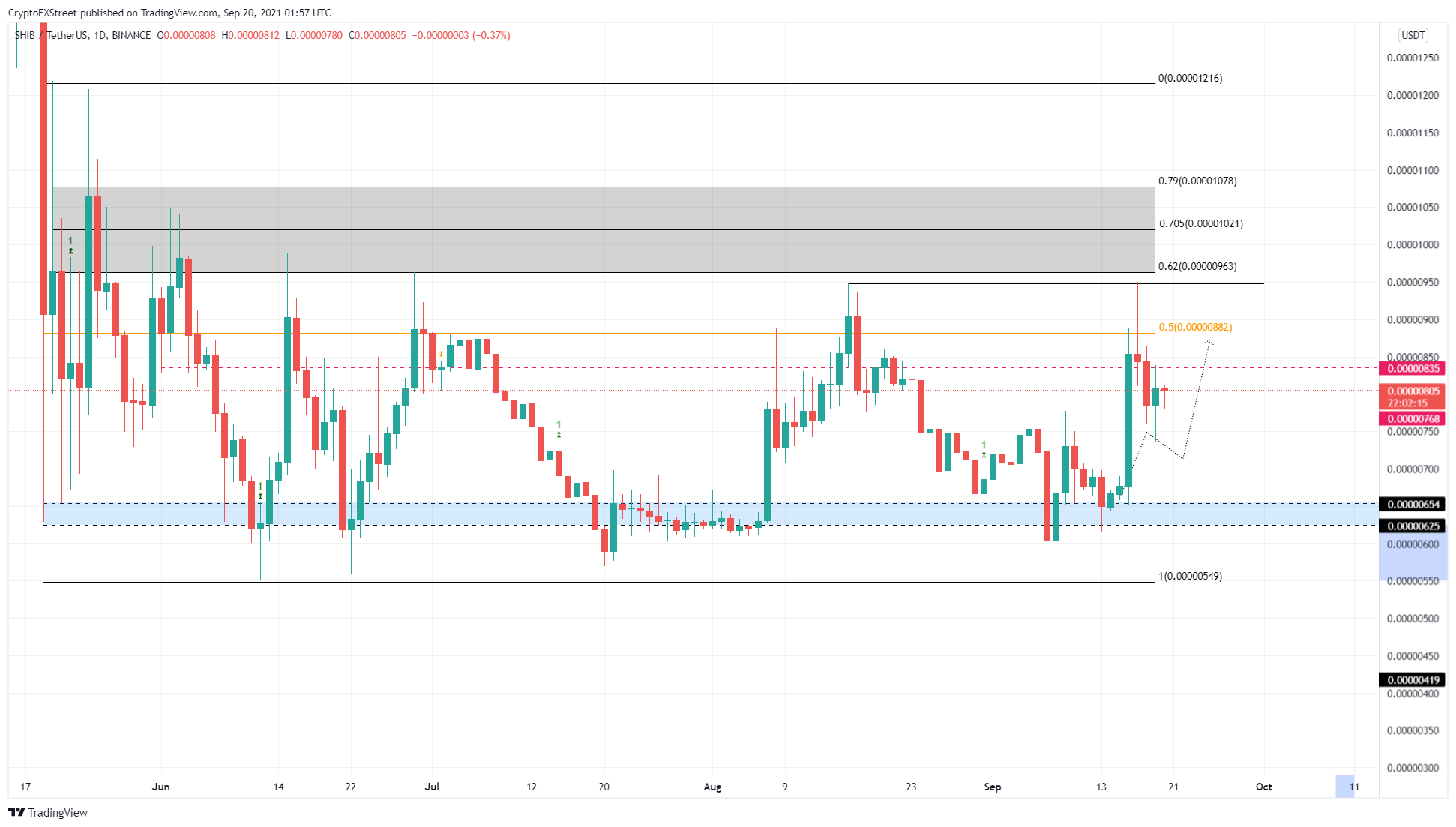 SHIB/USDT 1-day chart
On the other hand, if Shiba Inu price fails to hold above the $0.00000768 support floor, it will indicate that the sellers have taken control. In such a situation, investors can expect SHIB to slide 16% to retest the $0.00000654 and $0.00000625 demand barriers.
A decisive daily close below the $0.00000625 foothold without a quick recovery above $0.00000654 will invalidate the bullish thesis.
Such a move might trigger Shiba Inu price to slide 12% to retest the range low at $0.00000549.
Shiba Inu price is on the brink of a breakout to $0.00001115
Shiba Inu price made a new low in its existence last week.
SHIB bulls used that correction for a buy-up towards a new high since July.
A few essential technical elements got reconquered by buyers and should provide support in the coming week.
Shiba Inu (SHIB) formed the perfect scenario for a bull trap two weeks ago. In the week after that, price action made new lows in the existence of Shiba Inu, and buyers have used the lucrative move for picking up some Shiba Inu for their portfolio and longs in SHIB.
Shiba Inu price made a new high since the summer and look to add another 30%
Shiba Inu price is back in favor of the buyers after the love between the bulls and SHIB was at an all-time low since the bull trap from two weeks ago. Bulls go lured into buying SHIB at  $0.00000760. The week after that, in a failed attempt to run price action back towards the dotted descending trend line or the R1 monthly pivot at $0.00000900. Instead, buyers got washed out of their long positions, and the price retreated below $0.00000550. 
This event allowed buyers to step in and buy some SHIB at a very attractive discount. This renewed love between Shiba Inu and bulls got confirmed this week with some solid buying into the price action, resulting in a new high since July.
SHIB/USD weekly chart
It will be essential to see if buyers can keep price action above the dotted descending trend line next week. A close above there this week would be helpful as a launching point towards $0.00001115. That is the first fundamental level of importance and has not been adequately tested yet, although there have been several resistances from previous months around this level.  
If sellers cannot close this above $0.00000760, expect another bull trap is taking effect and could see buyers pulling their funds out of Shiba Inu again, leaving the price action in the hands of sellers. A retest of $0.00000500 would be inevitable then.
Crypto Asset That Surged More Than 8,600,000% This Year Now Listed on Coinbase
Coinbase is continuing its recent spree of listing new crypto assets by adding support for a popular Dogecoin (DOGE) copycat.
The exchange's newest addition is Shiba Inu (SHIB), a meme token that aims to be an Ethereum-based alternative to DOGE.
The 47th-ranked asset by market cap was trading at $0.00000000008 on January 1st. In part thanks to the tweets of Tesla CEO Elon Musk, SHIB skyrocketed by 47,387,400% to an all-time high of $0.00003791 on May 10th, before crashing partially back down to earth, according to CoinGecko.
Shiba Inu is trading at $0.00000878 at time of writing and is up nearly 30% on the day. The crypto asset is also still up a whopping 8,667,114.6% on the year.
Coinbase added support for SHIB across its website, mobile apps and Coinbase Pro platform.
The exchange's CEO Brian Armstrong said this summer that the exchange was hustling to list as many altcoins as possible.
Coinbase has recently added support for the Rari Governance Token (RGT), XYO Network (XYO), DerivaDAO (DDX), DFI.money (YFII), Radicle (RAD), COTI (COTI), Axie Infinity (AXS), Request (REQ), TrueFi (TRU), Wrapped Luna (WLUNA), Harvest Finance (FARM), Fetch.ai (FET), Paxos Standard (PAX), Polymath Network (POLY), Clover Finance (CLV), Mask Network (MASK), Rally (RLY), BarnBridge (BOND), Livepeer (LPT), Quant (QNT), Braintrust (BTRST) and Horizen (ZEN).