Dogecoin price analysis: Dogecoin abruptly moves to $0.255, prepares to spike higher?
DOGE finds support at $0.26.
Closest resistance at $0.28 to be tested.
Next support at $0.25.
Dogecoin price analysis is bullish for the next hours as the market retraces after spiking to the $0.255 mark and retests resistance $0.28. Therefore, after DOGE/USD should rally and retrace further from there, unless the $0.28 gets breached to the upside.
The overall market trades in the red over the last 24 hours as Bitcoin has lost 3.14 percent and the rest of altcoins follow this price action trend. Ripple (XRP) is among the worst performers with a loss of almost 7 percent.
Meanwhile, Dogecoin trades around 4.5 percent loss, meaning strong bearish pressure. Other altcoins such as Solana (SOL), Filecoin (FIL), and Theta also trade with a 5-6 percent loss, indicating bears are in control.
Dogecoin price movement in the last 24 hours
DOGE/USD traded in a range of $0.2565 – $0.2924, indicating a strong amount of volatility. Trading volume has increased by 27.8 percent and totals $1.86 billion. The total market capitalization trades around $35.7 billion, ranking the cryptocurrency in 6th place.
DOGE/USD 4-hour chart – DOGE spikes to $0.255
On the 4-hour chart, we can see the Dogecoin price action retracing to $0.255mark over the past hours and currently starting to retrace some of the loss seen earlier today.
DOGE/USD 15-minute chart – DOGE retracement approaches $0.28 previous support
When looking at the 15-minute chart, the Dogecoin price action is very bullish as bulls look to regain some of the loss seen earlier today. The closest support is located around the $0.28 previous support, which, if acts as a resistance, will likely send Dogecoin lower again early next week.
Therefore, a short position could be taken around the $0.28 level in case price action shows signs of rejection for further upside. From there, we can expect DOGE/USD to move towards the next major support at the 0.25 mark as seen on the 4-hour chart.
However, if the $0.28 breaks, DOGE/USD should see further upside towards the $0.30 mark, which would mean that a double top has been established over the past few days. This would ultimately still send DOGE lower as the overall, several-day price action sentiment is still extremely bearish.
The overall Dogecoin price action structure is still bearish as the market has retraced by more than 70 percent since May. After two strong waves to the downside, support was found around the $0.21 mark on the 19th of May.
From there DOGE/USD quickly rallied higher and established resistance around $0.44. After further retracement and two higher highs, DOGE/USD gathered the strength to push to the $0.44 mark again.
This resulted in another several-week retracement at the beginning of June. Higher support around $0.30 initially held the market from moving higher, however, it was broken on the 18th of June. Further downside followed earlier this week with the $0.28 mark tested next.
The $0.28 support broke earlier today as DOGE/USD quickly spiked lower. The $0.255 mark was quickly reached, and the market spiked higher over the past hours. Therefore, we can assume that DOGE/USD wants to retest the $0.28 resistance as a support and likely move lower from there.
Alternatively, if the $0.28 mark fails to hold, the Dogecoin price action will likely move much higher to the $0.30 resistance. From there, we can expect bears to push the market lower again.
The next major price target lower is located around the $0.21 mark as it is where DOGE/USD spiked towards during the severe retracement in May. Therefore, this could be the area where Dogecoin finds support again. In case the $0.21 mark fails to hold, a lot more downside could be seen for the Dogecoin price over the following weeks.
Dogecoin Price Analysis: Conclusion 
Dogecoin price analysis is bullish as we expect the market to retrace some of the loss seen over the past hours. Therefore, it is crucial whether the $0.28 previous minor support will act as a resistance or we will see further retracement higher to the $0.30 mark.
While waiting for the Dogecoin price to move higher, see our articles on DeFi advantages, Bitcoin fees, as well as what can you buy with Bitcoin.
Disclaimer. The information provided is not trading advice. Cryptopolitan.com holds no liability for any investments made based on the information provided on this page. We strongly recommend independent research and/or consultation with a qualified professional before making any investment decisions.
Dogecoin price to explode 50% as Shiba Inu profits head to DOGE
Dogecoin price is traversing a rising wedge formation, suggesting a short-term correction on the horizon.
A breakdown of the lower trend line is likely to result in a retest of the $0.235 support floor.
A bounce from this barrier will likely propel DOGE by 50% to the range high at $0.352.
Dogecoin price has been on an uptrend for roughly a month, but the ascent seems to have evolved to a pattern that hints at a correction. Therefore, investors need to be aware of a short-term pullback for DOGE, which eventually results in a 50% climb.
Dogecoin price prepares for massive uptrend
Dogecoin price created three higher lows and two higher highs as it rallied 44% from September 29. Connecting trend lines with these swing points reveals the formation of a rising wedge. This technical formation forecasts a 19% descent to $0.207, obtained by adding the distance between the first swing high and swing low and adding it to the breakout point at $0.256.
However, investors can expect Dogecoin price to stabilize around the $0.236 support floor. The profits from the meme coin investors are eventually going to cycle to other dog-themed cryptocurrencies, out of which Dogecoin is a strong contender. Therefore, a potential spike in buying pressure around this barrier will likely trigger an uptrend for DOGE.
If this run-up manages to climb past the 50% Fibonacci retracement level at $0.273, it will confirm the start of a bull rally. In such a case, Dogecoin price will retest the $0.30 barrier followed by the range high at $0.352.
This ascent from $0.236 to $0.352 will constitute a 50% move.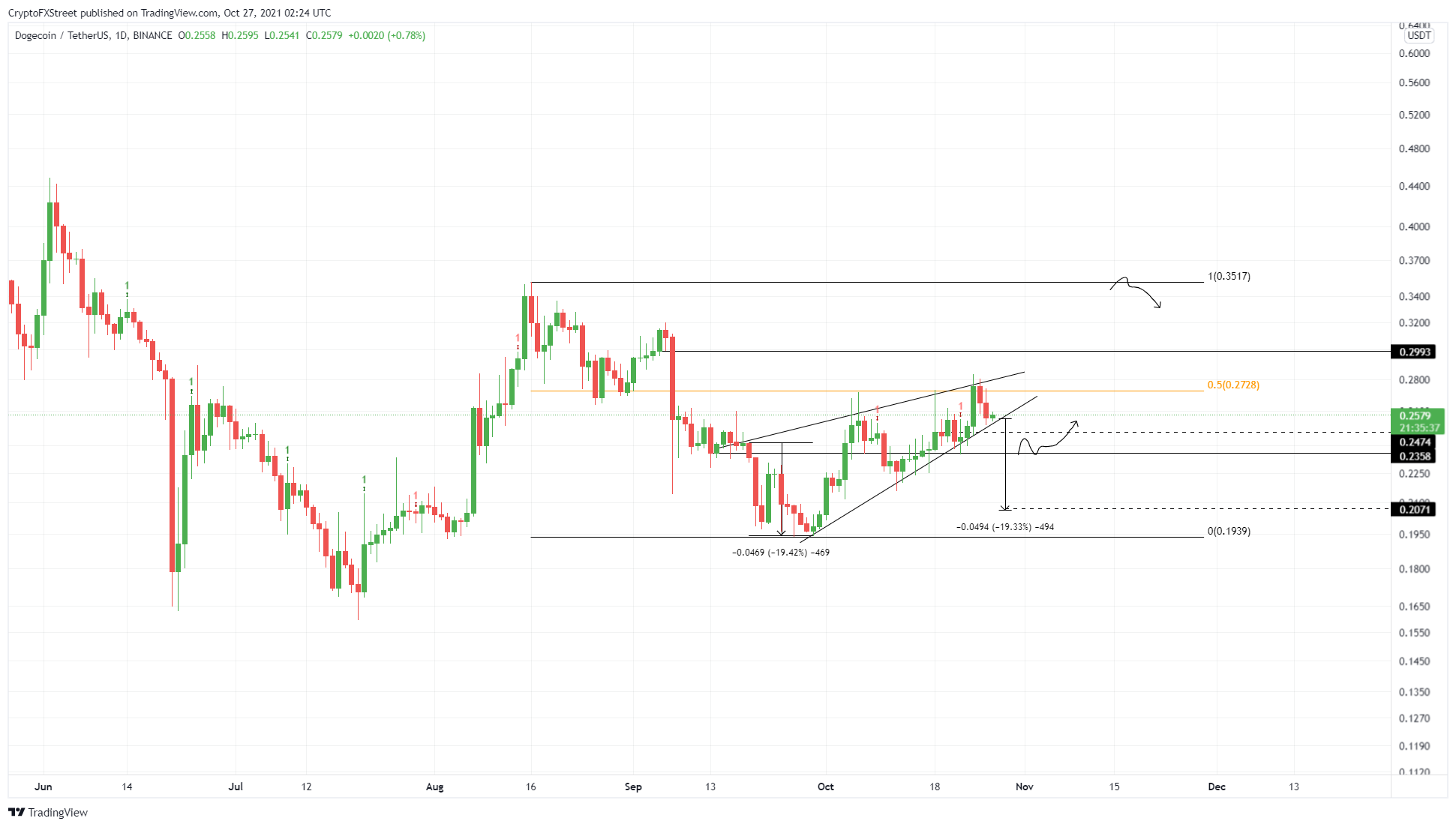 DOGE/USDT 1-day chart
While things are looking dull for the meme coin, a breakdown of $0.236 will indicate weakness among buyers. If the resulting retracement falls below $0.225, the bullish thesis will face invalidation as it would create a lower low.
In this situation, Dogecoin price will retest the intended target at $0.207 and, in a bearish case, the range low at $0.194.
Is Elon Musk a Shiba Inu Holder? Tesla CEO Says He Owns These Three Crypto Assets
Tesla CEO and tech mogul Elon Musk says he owns only three crypto assets.
Earlier this month, Tesla CEO Elon Musk tweeted a photo of his Shiba Inu puppy, which sparked speculation about his support for the surging Ethereum-based memecoin. However, when a Twitter user quizzed Musk about his SHIB holdings on Sunday, Musk said he doesn't own any of the Dogecoin (DOGE) competitor.
None— Elon Musk (@elonmusk) October 24, 2021
SHIB is trading at $0.00004275, up a staggering 49,268,197.7% in the past year, according to CoinGecko. Despite Musk's revelation, Shiba Inu is up more than 14% in the past 24 hours.
Musk also revealed he still holds the same three crypto assets that he said he owned in July.
"Out of curiosity, I acquired some ASCII hash strings called 'Bitcoin, Ethereum and DOGE.' That's it.
As I've said before, don't bet the farm on crypto! True value is building products & providing services to your fellow human beings, not money in any form."
The Tesla chief executive also elaborated on why he's been so vocal about supporting Dogecoin (DOGE).
"Lots of people I talked to on the production lines at Tesla or building rockets at SpaceX own DOGE. They aren't financial experts or Silicon Valley technologists.
That's why I decided to support Doge – it felt like the people's crypto."
Musk is currently the wealthiest person in the world with a net worth of $255.2 billion, according to Forbes.
Shiba Inu (SHIB) Reaches New All-Time High, Inching Closer to Surpassing Dogecoin
With Shiba Inu's market cap topping $19 billion, the meme coin flippening no longer appears to be a pipe dream for SHIB holders
Shiba Inu (SHIB) hit a new all-time high of $0.00004860 at 12:17 p.m. UTC on the Binance exchange.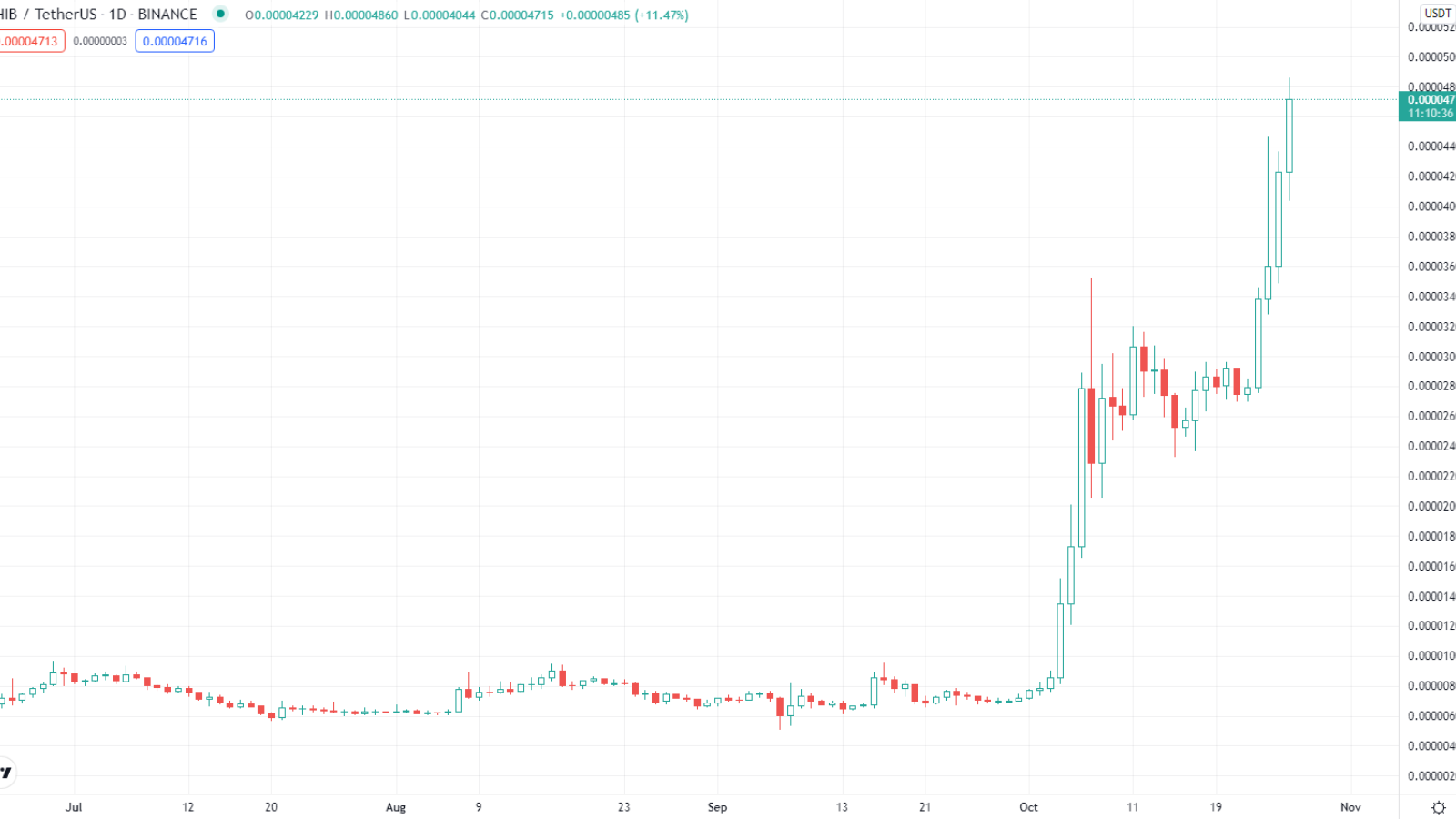 It is up by 19.2% over the past 24 hours, becoming one of the best-performing altcoins yet again, according to CoinMarketCap data.

With a market cap of $19 billion, it is currently the 11th biggest cryptocurrency overall.

Dogecoin, which is only up by a modest 2.26%, is in 9th place, followed by USD Coin (USDC)
Shiba Inu remains the most-traded cryptocurrency on Coinbase, nearly doubling Bitcoin's volume.
The crypto king is currently in the red after failing to gain footing above the pivotal $63,000 level.
Over the past week, Shiba Inu, an arcane canine token, has gained widespread press coverage, with CNN being among the mainstream outlets that reported on the cryptocurrency's eye-watering gains.
The token is up by a stunning 571% this month alone.