Ethereum Price Stoops below $2000, Will the Market Reverse Soon?
For the first time in a month, Ethereum has dropped below $2,000. HODLers are hoping that today's pullback isn't the start of a longer-term bear market. Before becoming used to the price in April, the second-largest cryptocurrency fell momentarily below $2,000 twice. Once in mid-April and again in mid-May but each dip lasted only a few hours.
Bitcoin is largely to blame for the current bearishness in the cryptocurrency market. Bitcoin's struggle around the $32,000 level caused a significant sell-off in other digital assets like Ethereum, Doge, and Cardano.
Will ETH have an uptrend soon?
Sure, the market isn't in ETH's favor right now, but hopefully, this won't be a long-term trend. The Ethereum blockchain has exciting changes up its sleeves right now. It is also building a reputation in the conventional markets as a serious Bitcoin contender.
The CTO of Komodo, Kaden Stadelmann recently told, If the highly anticipated 'London Hardfork,' which includes numerous EIPs including EIP 1558, succeeds, ETH prices could rise.  First, there will be more certainty about the network's future and its transition to Proof of Stake. Second, to make Ether a deflationary asset, the hard fork will cut block rewards.
Mike Novogratz, the CEO of Galaxy Digital in an interview was asked where ETH may potentially increase in the near-to-medium term. To which he said,
"You Know, It's Dangerous To Give Predictions On The Highs. But Could It Get To US $5,000? Of Course, It Could."
Not to forget, One of Goldman Sachs' private reports was released a little over a week ago. In which a spokesman indicated that ETH had a very strong chance of overtaking Bitcoin as the crypto ecosystem's leading store-of-value.
At the time of writing, ETH is trading at $1,974.02, down by 4.5% in the last 24 hours according to Coingecko.
Ethereum Whale Bought 276,592,553,073 SHIB, Is Something Big Coming?
An anonymous Ethereum whale decided to go on SHIB coin shopping.
The whale bought 276,592,553,073 #SHIB tokens ($11,510,207 USD).
Investors seemed highly interested in Shiba Inu since the total value locked (TVL) climbed close to $2 billion in June and July. Recently, an anonymous Ethereum whale decided to go on SHIB coin shopping, buying close to an enormous 276 billion SHIB.
On October 26, a Twitter account by the pseudonym Shiba Inu News tweeted the news first. The user said,
Wow… An Ethereum whale just bought 276,592,553,073 #SHIB tokens ($11,510,207 USD). We haven't seen a whale transaction THIS BIG in quite some time. This is massive and sends a clear signal that He/She knows something is coming.
This move comes after Shiba Inu token had an impressive rally from the last few days, surging by over 340% in the past 7 days and reaching a new all-time high of over $0.000046.
The last time an anonymous whale bought an enormous 6.3 trillion coins, a couple of weeks later, the Shiba Inu (SHIB) token went bullish, hitting a new all-time high. So, the Twitter user said that this latest whale might know that something big is coming that's why he or she bought this much SHIB.
Less Than 48 Hours Until Ethereum Altair Update, But 30% of Nodes Are Not Yet Ready
With Ethereum Altair update coming, users are not being dexterous
Ethereum's main network is getting closer to the new Altair network, which means that the absolute majority of the nodes on the network have to update their clients. According to the Nodewatch service, currently around 30% of nodes remain unsynced.
The new upgrade for Ethereum is aimed purely at validators, and it does not change anything for general coin users. The update affects only the beacon chain consensus mechanism. In addition to users, updates will not have any effect on contracts.
If users act as validators, they will need to download the latest version of their software, which they will be able to find in the table on the Ethereum blog, and restart their nodes as usual.
If node holders decide not to update to the latest version of the software and join the upgraded chain, they will be synced with the old chain after an upgrade on Ethereum occurs. While functioning on the incompatible chain, users will not be able to receive proper rewards and realize them on exchanges.
Validators running on the old network will receive penalties for not participating in the upgraded consensus with respect to the upgraded mainnet.
When the Ethereum community has decided which changes should be made to the network, the change is written by the clients functioning on the network. The changes to the beacon chain protocol go live in a specific epoch (the Altair update goes live at epoch 74240).
Any new nodes with the old ruleset will remain abandoned on the old chain without being able to use new functions, participate in the current network or, in general, utilize the cryptocurrency.
Ethereum killer Solana hits $13.65 billion in TVL as SOL price locks in on $300
Solana price is hovering around $208.76 after a new all-time high at $219.27.
A minor retracement to the $185.30 to $204.44 demand zone is likely before a 16% advance.
The total value locked on the SOL ecosystem hits a record high of $13.65 billion.
Solana price seems to be unaffected by Bitcoin as it set up a new all-time high on October 25, and so did the Total Value Locked (TVL) on the SOL ecosystem. With the altcoin currently retracing to a support zone, investors can expect another leg-up to kick-start a new uptrend.
Solana TVL goes through the roof
Solana has been a buzzing ecosystem with NFT projects, yield aggregators, liquidity mining and more. This massive ecosystem, which is set to rival Ethereum, has reached two new milestones, a new all-time high for Total Value Locked and the market value of SOL hitting a record high.
The top six projects on Solana have more than $1 billion in TVL. Saber leads the pack with $2.06 billion worth of SOL locked in its ecosystem.
Moreover, the Ethereum-killer narrative for Solana seems to be working out well, as plenty of projects have jumped ship. As a result, SOL has rallied a whopping 14,665% in 2021, reflecting the demand for an ETH alternative in the cryptocurrency space.
With Bitcoin slowing down, altcoins, especially Solana and a handful of other DeFi coins, are rallying. Moreover, Ignition saw 5,879 projects sign up for the 4th global hackathon on Solana. The prize pool is hovering around $5.1 million with a grand prize of $75,000 and famous faces in the cryptocurrency ecosystem like FTX founder and CEO Sam Bankman-Fried, Coinshares' CSO Meltem Demirrors, Circle founder and CEO Jeremy Allaire and so on judging these projects.
SOL price prepares for lift-off
Solana price rose 43% from October 19 to October 25 and created a new all-time high at $219.27. This run-up was an explosive one with minor retracements. Therefore, investors can expect SOL to undergo a short-term corrective action before embarking on a new leg-up.
The support area ranging from $185.30 to $204.45 is where the pullback finds a cushion and receives enough buying pressure to reverse its trend. Assuming the reversal occurs here, SOL needs to flip the $216.91 resistance barrier into a support floor. Doing so will allow Solana price to take aim at the new all-time high at $238.67 or the 161.8% Fibonacci extension level.
In a highly bullish case, Solana price could extend its run-up to $301 after a 50% ascent to the 261.8% Fibonacci extension level.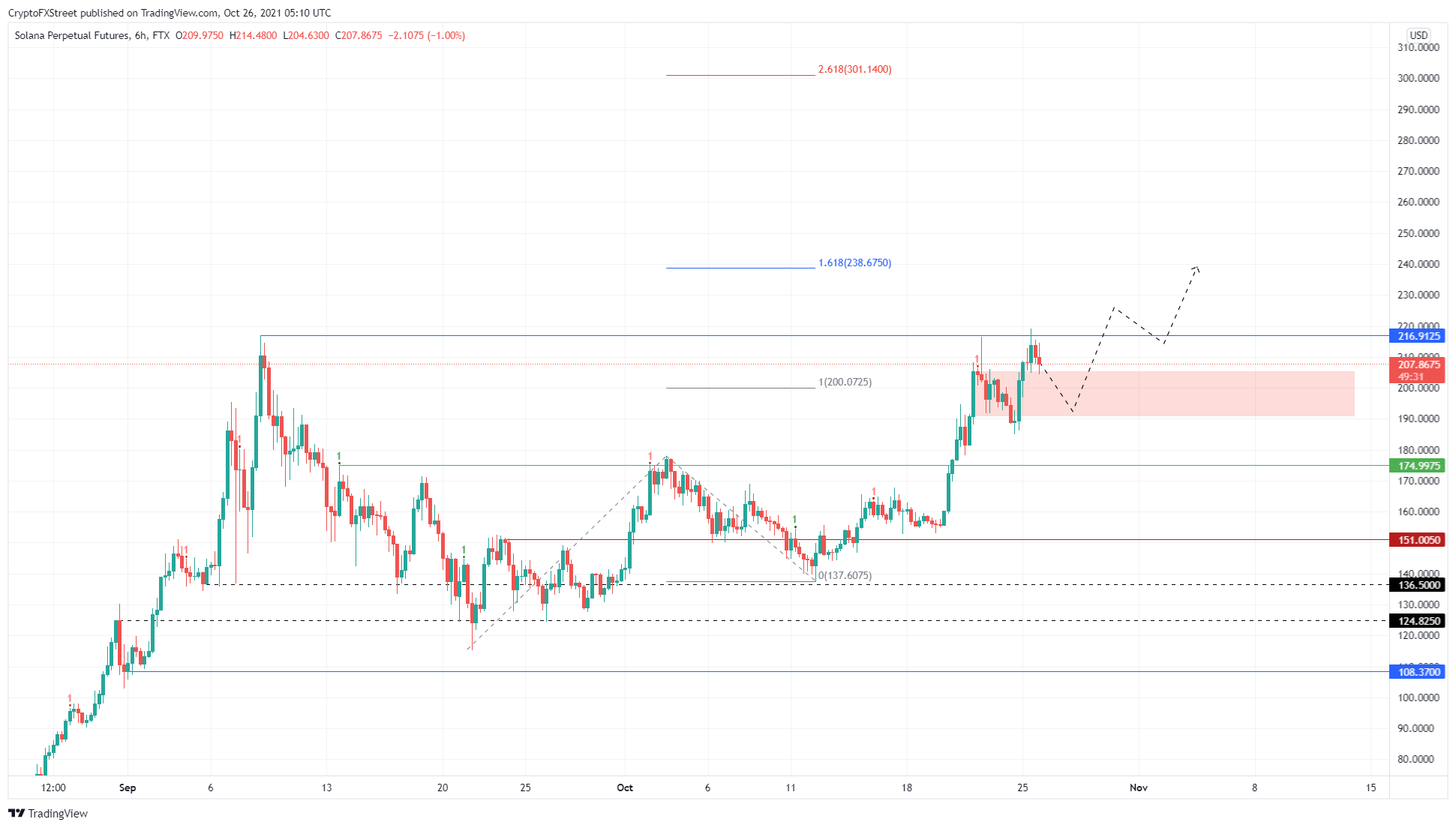 SOL/USDT 6-hour chart
While things are looking good for Solana price, a breakdown of the demand zone ranging from $185.3 to $200.37 will be catastrophic. In this situation, SOL could retrace to the $175 support floor and, in dire cases, $151.05. While this downswing does not invalidate the bullish thesis, it will delay it.