British Binance Users Reporting Fiat Ramp, Bank & Card-related Problems
UK-based customers of the crypto exchange giant Binance have claimed they have been frozen out of GBP withdrawals via the Faster Payments network, with disruption also reported on bank card-linked transactions – shortly after the British regulator orders the firm to cease offering fiat-based services in the UK.
Last week, the Financial Conduct Authority (FCA) told Binance's UK operations to stop providing financial activities in fiat on British soil, although the exchange claimed this would not affect British Binance.com customers, as the firm operates from the Cayman Islands.
But per the Financial Times, Binance has claimed that the "ability to remove sterling from the platform" through Faster Payments has been "suspended for maintenance," with the exchange not announcing "how long the outage would last" and "declining to immediately comment on the notice."
Customers use Faster Payments to process payments between crypto exchanges and banks in crypto-fiat transactions. The firm did not immediately provide the FT with a comment on the matter. Cryptonews.com has contacted both parties with a request for clarification.
Twitter users, however, have also reported having problems with bank card-related transactions.
The same media outlet pointed out that Binance uses "an FCA-regulated company called Clear Junction" to gain access to the Faster Payments platform. The Clear Junction chief executive Dima Kats "declined to comment on whether Binance had lost access to Faster Payments," the media outlet noted, but "said the company paid close attention to the regulators' actions."
On Twitter, irate customers have demanded an explanation. One called the failure to update customers "very shady," while another claimed that "UK banks" are currently "preventing debit card payments to Binance."
Others still called Binance's "silence" "suspicious", with some calling for an end to the exchange's "radio silence" on the matter.
And some posted screenshots showing that GBP withdrawals have been suspended on the Binance platform.
https://twitter.com/jjkullar/status/1409779609789415427?ref_src=twsrc%5Etfw%7Ctwcamp%5Etweetembed%7Ctwterm%5E1409779609789415427%7Ctwgr%5E%7Ctwcon%5Es1_&ref_url=https%3A%2F%2Fcryptonews.com%2Fnews%2Fbritish-binance-users-reporting-fiat-ramp-bank-card-related-10856.htm
Binance Announces Initial Game Offering for Horses and Attacks "CryptoGames" Market
Binance has just announced the launch of a new addition to the gaming and blockchain ecosystem.
According to a message sent to Cointimes, the world's largest brokerage firm wants to "build the ultimate launch pad for NFT games and gamers." To do this, it will take advantage of the Binance NFTs infrastructure to launch an Initial Game Offering (IGO).
"Through IGO distributions, Binance NFT connects the global crypto community to high quality blockchain games and high quality in-game NFT assets. Binance NFT is a dedicated hub where promising game projects can develop and build communities. Our aim is to help strengthen the gaming industry and develop this sector to become more popular. " – said Helen Hai, global leader of Binance NFT
IGOs may contain in-game assets such as early access passes, weapons and items, exclusive Binance skins, other cosmetics, and much more.
Binance NFT Announces First IGO
And the first IGO has already been announced, it's DeRace with a release date of October 26th.
The NFT item game is a horse racing ecosystem, "where players can participate in horse races, create their NFT with unique characteristics, host races on their own NFT racecourse and earn profits in the process."
To participate in the purchase of DeRace NFTs you only need to have a Binance account and login to the Binance NFT platform.
The game market using blockchain has grown rapidly. In Brazil, the search for this type of game surpassed even the search for more traditional assets such as Bitcoin and Ethereum.
Legendary Trader Peter Brandt Challenges Binance with Four Questions about 88% BTC Crash
Here's what is unclear for Mr. Brandt about mysterious Bitcoin (BTC) flash-crash of Oct. 21, 2021
Prominent trader and analyst Peter Brandt has taken to Twitter to ask his four questions in the context of the flagship crypto's 88% dropdown.
What do Binance and Binance.US have in common?
First of all, Mr. Brandt challenged the character of corporate relationships between Binance and Binance.US, its unit focused on American markets.
Questions remain:
1. What is exact corp. relationship @binance w/ @BinanceUS
2. Will firm release T&S with all trades/volume/price?
3. Did firm take opposite side of client fills
4. Will firm change low to reflect actual fills
cc: @GaryGensler @CFTC @SECGov @cz_binance @IBKR pic.twitter.com/huqzZbSGIt— Peter Brandt (@PeterLBrandt) October 24, 2021
Also, Mr. Brandt asks whether Binance is planning to release detailed documents to specify statistics for trades, their volume and prices during the flash-crash.
Then, the trading legend asked about the role of the platform in taking the opposite side of a client fills.
Besides the Binance CEO and co-founder Changpeng "CZ" Zhao, Mr. Brandt mentioned the Interactive Brokers platform, U.S. watchdogs CFTC and SEC and Gary Gensler, the SEC chairman.
Most expensive "trading algorithm bug" ever?
Also, Mr. Brandt attached a screenshot of a tweet by CZ when Binance's boss warned his audience about expected volatility spikes across cryptocurrency markets.
Finally, Mr. Brandt added that he never used Binance for trading.
As covered by U.Today previously, on Oct. 21, 2021, amidst a spending rally, the Bitcoin (BTC) price briefly tanked to the $8,000 level, losing more than 88% in no time.
A similar flash-crash was registered on 26 other low-liquidity exchanges. A Binance.US representative attributed this dramatic plunge to a critical bug in third-party mechanisms by one of the platform's sophisticated institutional clients.
Binance Bitcoin Balances Are Draining: 40,000 BTC Moved Away from Biggest Crypto Exchange
According to CryptoQuant data, Binance cryptocurrency exchange once again faced a massive fund outflow totaling 38,246 BTC. After a significant drop in the Bitcoin balance, the total balance on the sheets is close to 500,000.
In-house redistribution of funds
Previously, Binance.US faced a major bug that led to so-called "slippage"—the difference between the expected price of a trade and the actual execution of an order.
Whenever the order book on the market is too thin and an exchange cannot provide enough liquidity, volatility on the asset tends to rise exponentially, which leads to a massive drop in value.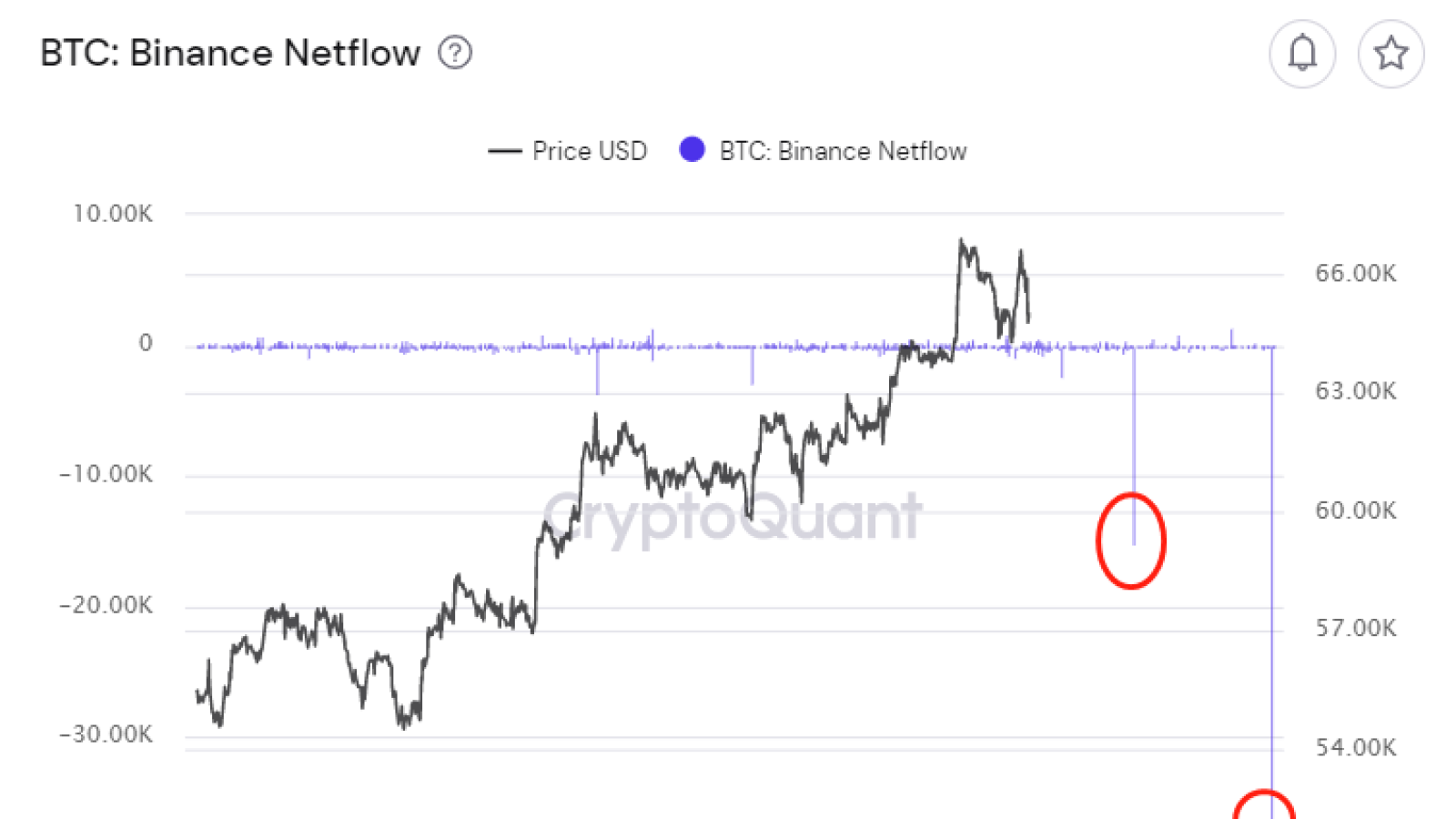 Due to the bug that appeared, the price of Bitcoin on Binance.US has dropped to $8,000, with numerous buy orders being executed on the way down. In order to provide more liquidity to the market on Binance.US, the main platform could have moved some of its funds to the U.S.-targeted platform, which is being counted by on-chain metrics as "outflows."
Natural outflows
With Bitcoin moving past the previous ATH and trading volumes remaining stable, some traders and investors are choosing to move their funds away from exchanges and keep them in their wallets.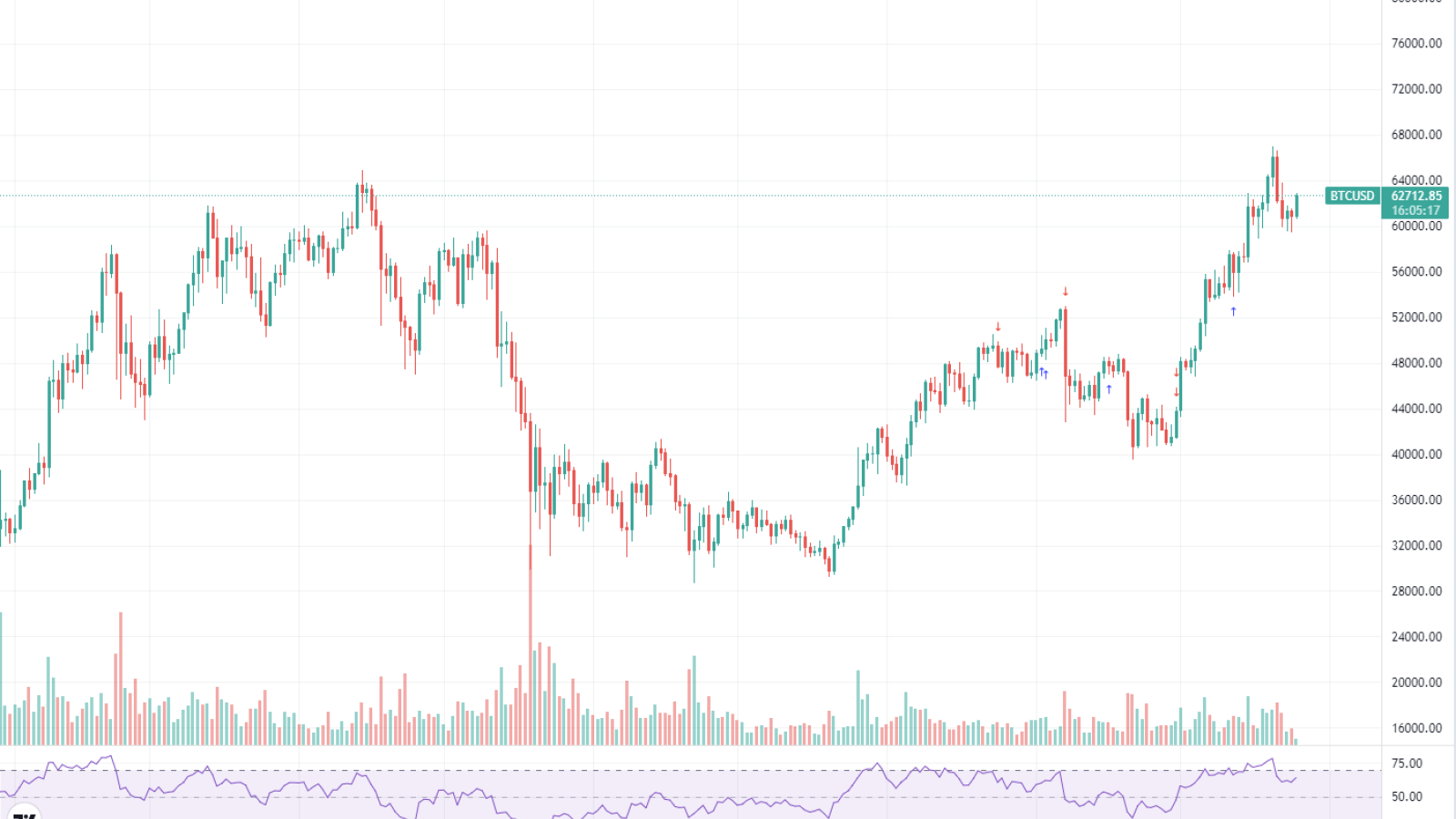 According to volume metrics, no significant selling pressure has been present on centralized exchanges, along with no abnormal trading activities.
Previously, notable exchange inflows appeared back in May, when Bitcoin's price retraced from the previous ATH to $29,000. Most retail investors have moved funds from their wallets to the exchanges to take profit.