McAfee's Death & Legal Battle, Worldcoin For An Eye, ETC Upgrade + More News
Legal news
John McAfee's death last week in a Spanish prison complicates the US government's intent to recover millions of dollars it says the software tycoon owed in taxes (USD 4.2m) and allegedly ill-gotten gains (USD 23m) from promoting cryptoassets, Bloomberg reported. "The US government will now have to weigh the prospects of a lengthy and expensive legal battle with the possibility that there may not be much money left to recoup, if they can even find it," per the report.
Altcoins news
US-based startup Worldcoin, co-founded by Sam Altman, the former head of the Silicon Valley business incubator Y Combinator, raised USD 25m from investors such as Andreessen Horowitz, Coinbase Ventures, LinkedIn founder Reid Hoffman, and Day One Ventures, in order to develop "a new global digital currency that will launch by giving a share to every single person on earth," Bloomberg reported. The company has also designed a device that would scan a person's iris to construct a unique personal identifier, it said, adding that the company is currently offering volunteers other types of digital coins, mostly bitcoin (BTC), in exchange for scanning their eyes and giving feedback on the process.
The Ethereum Classic (ETC) network will undergo a hard fork to implement the Magneto upgrade, scheduled for late July, the team announced. The upgrade will include Ethereum (ETH) Berlin upgrade features, and therefore certain Ethereum Improvement Proposals that will tackle the network's security and gas fees.
Investments news
Investment management firm Ark Investment Management has filed for a BTC exchange-traded fund (ETF) with the US Securities and Exchange Commission (SEC), called the ARK 21Shares Bitcoin ETF, which would trade under ARKB, according to Bloomberg. The ETF would hold BTC, providing direct exposure to the cryptoasset.
Digital asset investment products saw a fourth consecutive week of outflows totalling USD 44m, according to digital asset management firm CoinShares. Most of the negative sentiment was focused on ETH where net outflows totaled USD 50m, the largest on record. Bitcoin saw minor outflows totaling USD 1.3m, its seventh consecutive week of outflows.
Banking giant Morgan Stanley has purchased 28,289 shares of Grayscale Bitcoin Trust through its Europe Opportunity Fund, a filing with the SEC shows. The purchase was worth around USD 1.3m, per the filing.
Blockchain analytics platform Nansen has raised USD 12m in a Series A funding round led by investor Andreessen Horowitz (a16z), with participation from Skyfall Ventures, Coinbase Ventures, imToken Ventures, and others. The funds will be used to enhance user experience, build the platform further, and increase support for blockchains and layer 2 solutions, they said.
Financial smart contracts network Tracer DAO has raised AUD 5.9m (c. USD 4.5m) in a recent funding round, according to Financial Review.
Blockchain-based Big Data startup IAGON has raised USD 3.4m in seed and private funding, with the round led by crypto advisory LedgerLink Labs, according to an emailed release. The funding will help the company deploy a scalable platform for harnessing the storage and processing power of a decentralized grid of computers, coordinated over a blockchain network.
Exchanges news
Cryptoasset platform Coinbase has received a crypto custody business license from Germany's Federal Financial Supervisory Authority (BaFin). This is the first such license issued in the country, according to the announcement, and BaFin has already assembled a crypto-focused team.
Also, Coinbase said that its high-yield alternative to traditional savings accounts offers "4% APY on your USD coin." Pre-enrollment is now open for eligible customers in the US, they said, adding that "your loaned crypto is not protected by FDIC or SIPC insurance."
Kraken said it reduced deposit fees for more than 70 supported cryptoassets to zero. Also, the exchange said it "is preparing the ground for one of its long-term ambitions: to provide DeFi products and services from the exchange." No other details were provided about these plans.
Regulation news
A growing number of crypto companies are withdrawing their application for regulation with the UK Financial Conduct Authority: 64 have withdrawn theirs now, up from 51 less than a month ago, per Reuters. Only six firms have registered, with many more currently being actively assessed by the FCA.
DeFi news
Interest rate protocol Compound Labs has announced its Compound Treasury, a service designed for non-crypto native businesses and financial institutions to access the features of the Compound (COMP) protocol. The service removes the inherent protocol-related complexity including private key management, crypto-to-fiat conversion, and interest rate volatility, the team said.
Artificial intelligence lab for decentralized machine learning Fetch.ai (FET) has announced the launch of its DeFi Agents toolkit. Utilizing a DeFi app, users will now be able to automatically withdraw liquidity from any Uniswap V2 and PancakeSwap pool based on predefined conditions, according to the emailed release.
Bitcoin Futures Heating Up, Why BTC Traders Should Expect Volatility
Bitcoin has been moving sideways during the day as it was rejected north of $63,000. As of press time, BTC's price trades at $62,698 with a 1% profit in the weekly chart.
However, Bitcoin could see some action in the short term. The benchmark crypto has been rallying on the back of an increase in institutional demand and the launch of the first BTC-linked ETFs in the U.S.
As a consequence, Bitcoin went from the lows at $40,000 to a new all-time high in less than a week. This caused a FOMO effect most notoriously visible in the derivatives sector.
As CryptoQuant showed, the amount of leverage positions in this sector has been on the rise since the end of September. Moving to a year high with BTC's price, the leverage ratio points to an excess which could be reflected on the price action.
The CEO of CryptoQuant Ki Young Ju believes this excess in leverage is caused by new players, as it is has happened historically when Bitcoin enters price discovery. Usually, the market reacts with a sudden move to the opposite direction of the majority of the overleverage position.
Whales and other major players try to shake out these new traders and take advantage of the liquidity in the market to make their own moves. In response to the possibility of the current high leverage in Bitcoin futures been driven by Chicago Mercantile Exchange (CME) futures Open Interest, Young Ju clarified:
This data doesn't take into account CME futures. I think CME users are new players joining this industry, which indicates the market is over-leveraged by *existing* investors who are using crypto exchanges. Folks who use CME might not have over-leveraged positions.
New BTC ETFs, Same Bitcoin Price Action
The recently launched Bitcoin ETF are backed by CME futures. Therefore, some expects believe the platform could gain more relevance in the future and have a bigger impact in BTC's price.
In case of volatility, Bitcoin could find critical support at $60,000, as $840 million in futures contracts were purchased when BTC's price was hitting this mark, Young Ju said.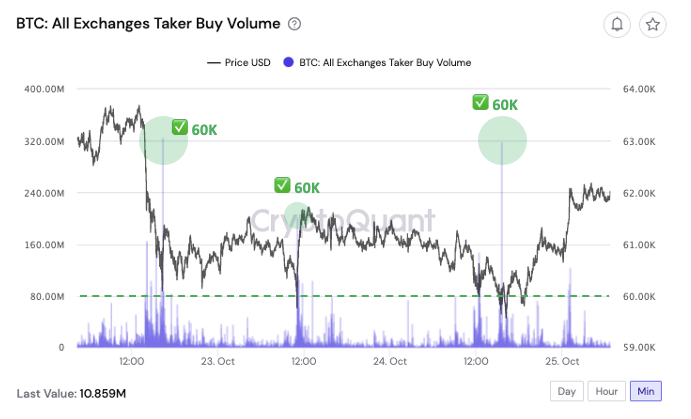 As noted by research firm Glassnode, the OI for the CME futures has increased by over 265% in just a month. This points towards a moment of euphoria which has favored the bears over the past months
However, the general sentiment around Bitcoin remains positive as Glassnode reported. This demonstrated by the amount of long-term investors that have stopped taking profits during BTC's most recent price rally.
Bitcoin Funding Rates Touch Same Level As Early September, More Correction To Come?
Data shows Bitcoin funding rates right now are at the same level as they were in early September. This means the coin may see another flush out similar to how it happened back then.
Bitcoin Funding Rates Float Around Similar Levels To Early September
As per this week's on-chain report from Glassnode, the BTC futures perpetual funding rate of all exchanges is currently at the level similar to what it was back in early September before the crash.
The "funding rates" is an indicator that shows the premium that traders have to pay each other while holding on to their positions in the perpetual swap futures markets.
When the metric has negative values, it means that short traders are paying longs, and that many traders are bearish on Bitcoin right now.
Opposite to that, positive funding rates imply that the overall market sentiment is leaning towards bullish and longs are currently paying shorts to keep their positions.
Now, here is a chart that highlights the trend in the value of the indicator over the last six months: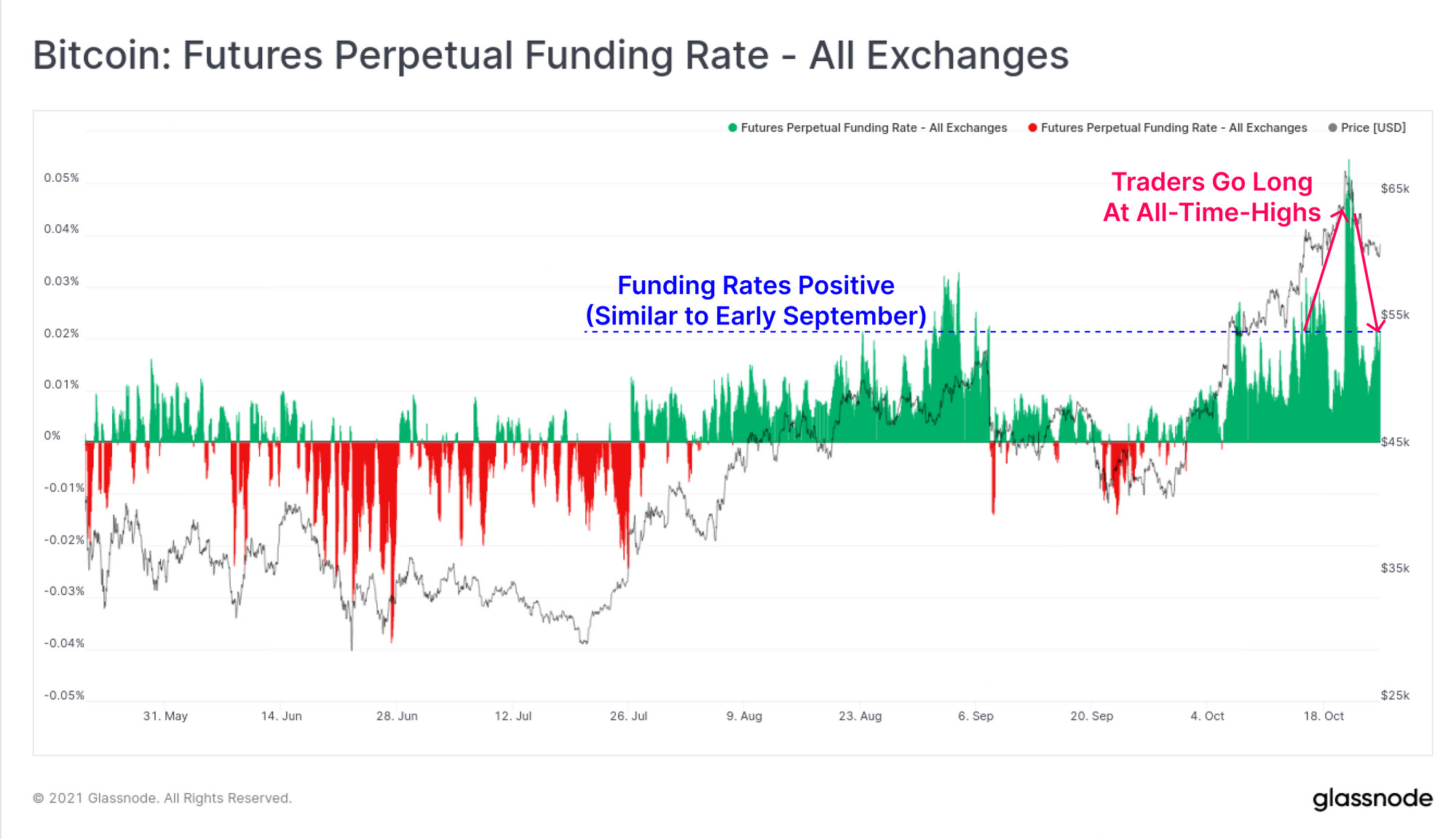 Looks like the metric is currently showing highly positive values | Source: Glassnode's The Week On-Chain, Week 43
As the above graph shows, when Bitcoin made its new all-time high (ATH) some days ago, the indicator reached positive local highs.
This means traders started opening many leveraged long positions so that they don't miss out on the wave of BTC making new ATHs.
However, the price had a correction, which has often been the case during periods of high leverage, and a lot of the excess leverage was flushed out.
Nonetheless, the funding rates are still at similarly high levels right now as in early September. What followed then was the El Salvador crash that took the rates to negative values.
It's possible another correction can take place now in order to flush out more of the currently high leverage in the market. Though it's not a certainty that it will be how it plays out.
BTC Price
At the time of writing, Bitcoin's price floats around $62.5k, down 0.4% in the last seven days. Over the past month, the crypto has gained 44% in value.
The below chart shows the trend in the price of the crypto over the last five days.
BTC's price seems to be recovering somewhat from the dip | Source: BTCUSD on TradingView
Over the last few days, Bitcoin has shown some effort to bounce back from the correction, but in the last couple of days, the crypto has only moved rather sideways. If the futures funding rates are anything to go by, the market may be heading towards another correction soon that will wipe out the excess leverage.
South Korean pension fund to invest in Bitcoin ETF: Report
South Korea's public pension fund, the Korean Teachers' Credit Union (KTCU), is reportedly looking to gain exposure to Bitcoin (BTC) via a crypto exchange-traded fund (ETF).
KTCU, one of the largest institutional investors in South Korea, is considering investing in a pure Bitcoin ETF or Bitcoin-linked ETFs in the first half of 2022, local news agency The Korea Economic Daily reported Monday.
According to the report, KTCU is considering investing in several Bitcoin ETF products, including those by South Korean asset management firm Mirae Asset Global Investments. The company launched two ETFs tracking the value of Bitcoin futures via its Canadian subsidiary, Horizons ETFs, in April 2021.
"As there are some well-made cryptocurrency-linked ETF products by asset managers such as Korea's Mirae Asset Global Investments, we plan to invest in the ETF products after consultation with domestic asset managers," an executive at KTCU reportedly said.
The official also mentioned potential investment in a Bitcoin ETF by Mirae Asset's subsidiary, Global X ETFs, which filed for a Bitcoin ETF with the United States Securities and Exchange Commission in July.
According to the report, KTCU is the second-largest institutional investor in South Korea, with $40.2 billion in assets under management. The pension fund has allocated 40% of its investments in alternative assets, 10% domestic and 9% international stocks. KTCU has yet to determine the size and other details of its potential Bitcoin ETF investment.
The news comes amid global pension funds getting increasingly interested in gaining exposure to cryptocurrencies like Bitcoin and major companies in the industry. Last week, the Houston Firefighters' Relief and Retirement Fund reportedly purchased $25 million in Bitcoin and Ether (ETH). Canada's Ontario Teachers' Pension Plan Board participated in a $420-million funding round for major crypto exchange FTX, the firm announced on Thursday.