Google Searches for Crypto Plunge in US. Here's What They Were Swapped Out for
While Americans have soured on crypto, they are now searching for high-risk options trading strategies.
Americans are losing interest in crypto at a rapid pace.
According to data provided by Arbor Data Science, search activity associated with the term "crypto" continues to plunge in the U.S.
Meanwhile, alternatives like "call option" and "bull spread" are rising in popularity, meaning that investor risk appetite is still high.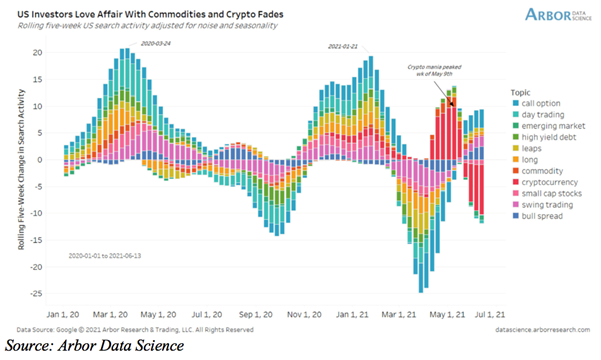 The total crypto market cap is down roughly $1.2 trillion (or 45 percent) from the top.
Apart from crypto, Americans have also soured on commodities. Lumber, for instance, has been taking a beating in recent weeks after a massive rally in May.
Is Elon Musk a Shiba Inu Holder? Tesla CEO Says He Owns These Three Crypto Assets
Tesla CEO and tech mogul Elon Musk says he owns only three crypto assets.
Earlier this month, Tesla CEO Elon Musk tweeted a photo of his Shiba Inu puppy, which sparked speculation about his support for the surging Ethereum-based memecoin. However, when a Twitter user quizzed Musk about his SHIB holdings on Sunday, Musk said he doesn't own any of the Dogecoin (DOGE) competitor.
None— Elon Musk (@elonmusk) October 24, 2021
SHIB is trading at $0.00004275, up a staggering 49,268,197.7% in the past year, according to CoinGecko. Despite Musk's revelation, Shiba Inu is up more than 14% in the past 24 hours.
Musk also revealed he still holds the same three crypto assets that he said he owned in July.
"Out of curiosity, I acquired some ASCII hash strings called 'Bitcoin, Ethereum and DOGE.' That's it.
As I've said before, don't bet the farm on crypto! True value is building products & providing services to your fellow human beings, not money in any form."
The Tesla chief executive also elaborated on why he's been so vocal about supporting Dogecoin (DOGE).
"Lots of people I talked to on the production lines at Tesla or building rockets at SpaceX own DOGE. They aren't financial experts or Silicon Valley technologists.
That's why I decided to support Doge – it felt like the people's crypto."
Musk is currently the wealthiest person in the world with a net worth of $255.2 billion, according to Forbes.
Elon's Tesla May Recommence Accepting Cryptocurrency Soon
Tesla may restart accepting crypto in the future.
Bitcoin trades at a bullish price of over $63,000.
Elon Musk — the CEO of Tesla, also known as the DOGE father, never fails to surprise the crypto world. In detail, 
Indeed, this news brings joy and excitement to the crypto world, especially to all the fans of Elon and Tesla.
We may in the future restart the practice of transacting in cryptocurrencies ("digital assets") for our products and Services.
In the past month, Tesla opened its doors to the crypto payment system where Bitcoin plays a big role. This crypto payment option of Tesla for Bitcoin runs within the month of January to March this year. However, due to environmental issues that involved Bitcoin, Tesla stopped accepting crypto-asset payments. Of course, this scenario frustrated the crypto community.
On the other hand, Elon continues to be one of the most iconic people in the crypto world. Interestingly, Elon and DOGE remain on good terms as the days go by. In Elon's latest tweet, he mentioned DOGE once again on his official Twitter account, an event that awakened the blood of the DOGE army.
*In Dogecoin— Elon Musk (@elonmusk) October 22, 2021
Meanwhile, Bitcoin keeps dominating the crypto world with its overwhelming market cap that amounts to over $1 trillion. It has a 24-hour trading volume of almost $32 billion. At the time of writing, Bitcoin trades at a skyrocketing price of $63,000, a bullish position.
Here's How Crypto Investment Helped Facebook Whistleblower

Frances Haugen, the Facebook whistleblower currently in the headlines revealed she has crypto to thank for her survival during her refuge in Puerto Rico. Haugen is a former Facebook product manager who quit over the social media giant's incompetence to stop misinformation and unethical trade practice.
Haugen also claimed to possess sensitive documents that show Facebook prioritized profits over well being of users. She said,
"Facebook prioritizes profit over the well-being of children and all users."
Facebook's unethical practices are nothing new, and it has been fined on numerous occasions for not putting enough measures to curb Facebook-linked violence in various countries. A recent report also accused Facebook of fueling communal tensions in India leading to the death of 53 people.
New: Internal Facebook documents show its services are used to spread religious hatred in India. Company researchers identified calls to violence that coincided with 2020 riots in Delhi that left 53 dead. @WSJ's Facebook Files latest. With @JeffHorwitz https://t.co/y6wEsw65CW— Newley Purnell (@newley) October 23, 2021
During her recent with Washington Post, Haugen was also asked about her finances and how she managed to remain active post-Facebook exit. Haugen thanked her auspicious crypto investments and said,
"For the foreseeable future, I'm fine, because I did buy crypto at the right time."
She also revealed that the shift to Puerto Rico helped her get in touch with crypto friends that led her to make crypto investments.
Bitcoin and Crypto Remains Primary Choice of Whistleblowers
Haugen is not the first whistleblower who has found a friend in crypto at the right time. The decentralized nature and censorship resistance help crypto become a tool for revolution. During last year's protest in Hong Kong, protestors turned to Bitcoin when the government cut banking facilities for these protestors
Similarly, Edward Snowden, one of the most popular whistleblowers has been seen advocating for Bitcoin time and again. Apart from whistleblowers, Bitcoin has also come to the rescue of financially challenged nations and those suffering due to international trade sanctions.