What's Next for Bitcoin, Ethereum and Cardano? Michaël van de Poppe Analyzes Strength of Crypto Breakout
Crypto analyst and trader Michaël van de Poppe is outlining the crucial price levels for Bitcoin, Ethereum and Cardano as the broader crypto markets begin to flash signs of strength.
Van de Poppe tells his 348,100 Twitter followers that he wants BTC to flip former resistance at $35,000 into support in order to sustain its ascent.
"Bitcoin clearly broke $35,000. Good news! Now, I'd like to see it hold as support in order to continue moving to $38,000.
Preferably even without a retest and just continuation towards those next levels.
Overall -> good signals on the markets."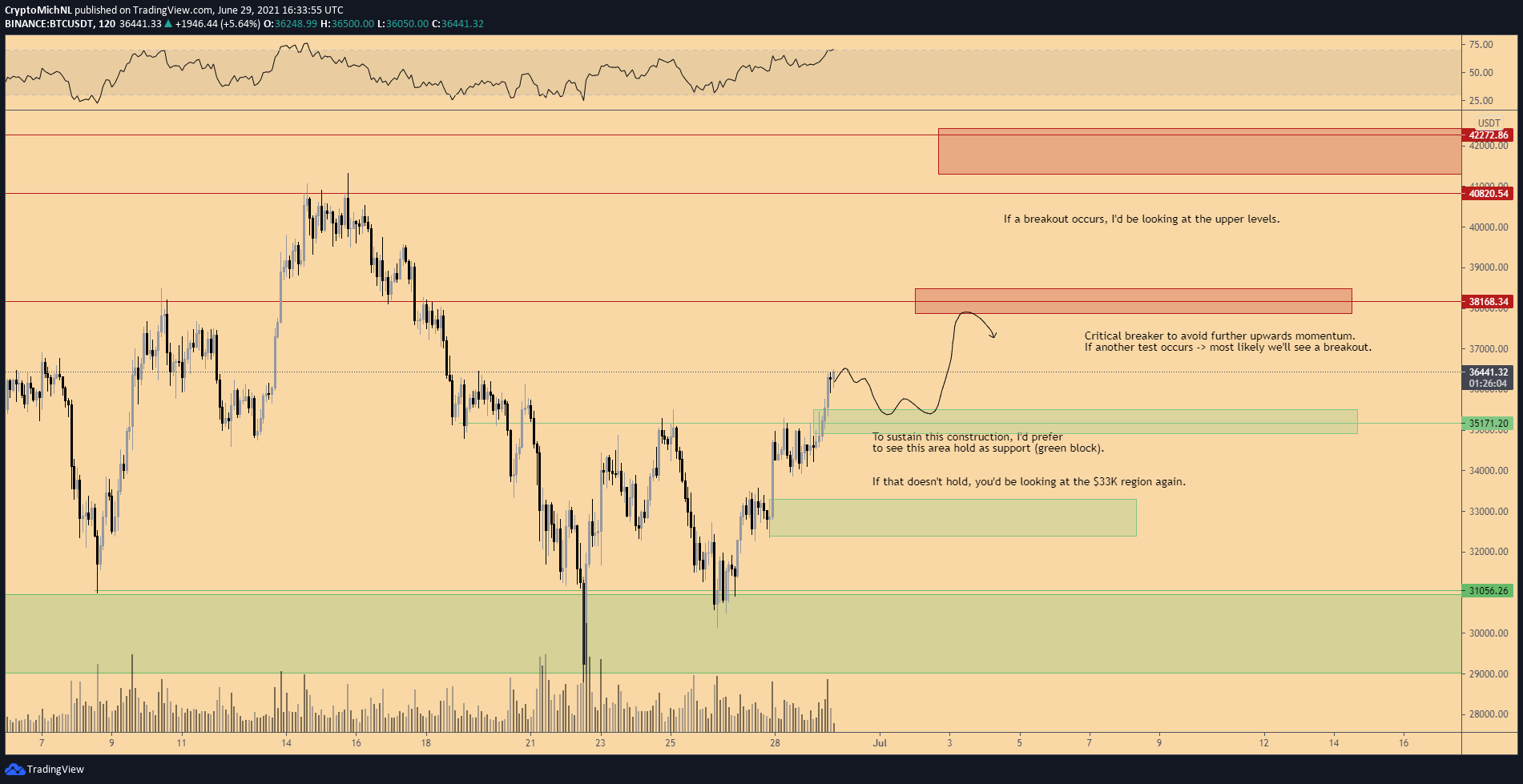 Looking at Ethereum (ETH), the analyst says the leading smart contract platform must take out key resistance at $2,200 for a possible leg up to $3,000.
"Ethereum showing some strength here in which it's currently facing a critical resistance zone. Not an area I'd be looking for longs.
The aggressive play would be some short-term consolidation with support at $1,985-$2,015.
If that happens -> continuation towards a breakout."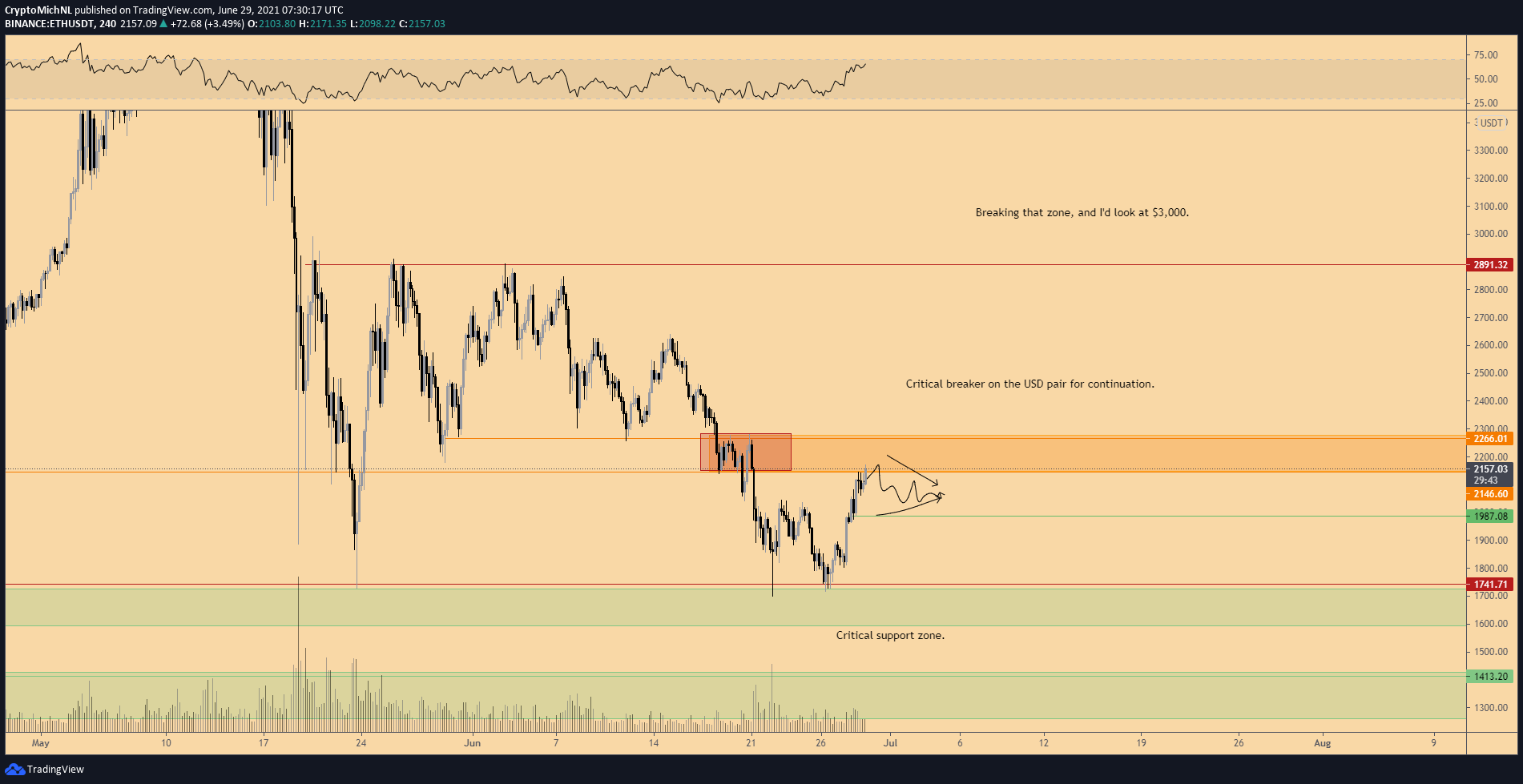 Next up is Cardano (ADA), which the crypto trader says must breach its immediate resistance to ignite a potential 36% rise.
"Cardano remains unchanged at this point as it's still consolidating in a narrow range.
If it breaks above $1.37-1.41, the next zone around $1.60 seems to be next and potentially even $1.85."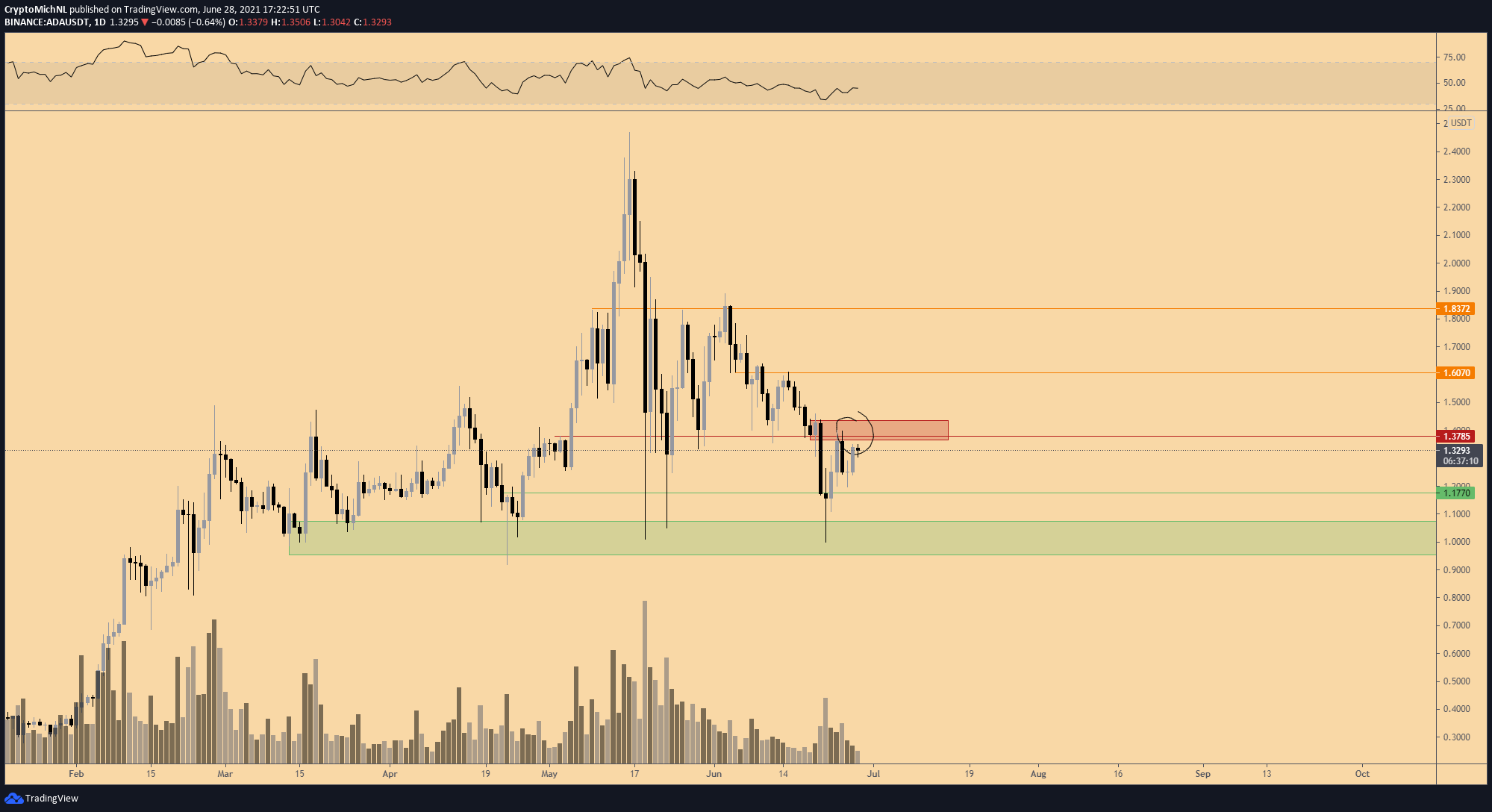 As for the broader altcoin market, Van de Poppe says the total market cap of all altcoins may be carving a bottom around support of $600 billion.
"The total market capitalization of altcoins might be bottomed out here.
However, it has to break through a critical resistance of around $800 billion.
If that breaks, the altcoins market cap can run to $1 trillion again."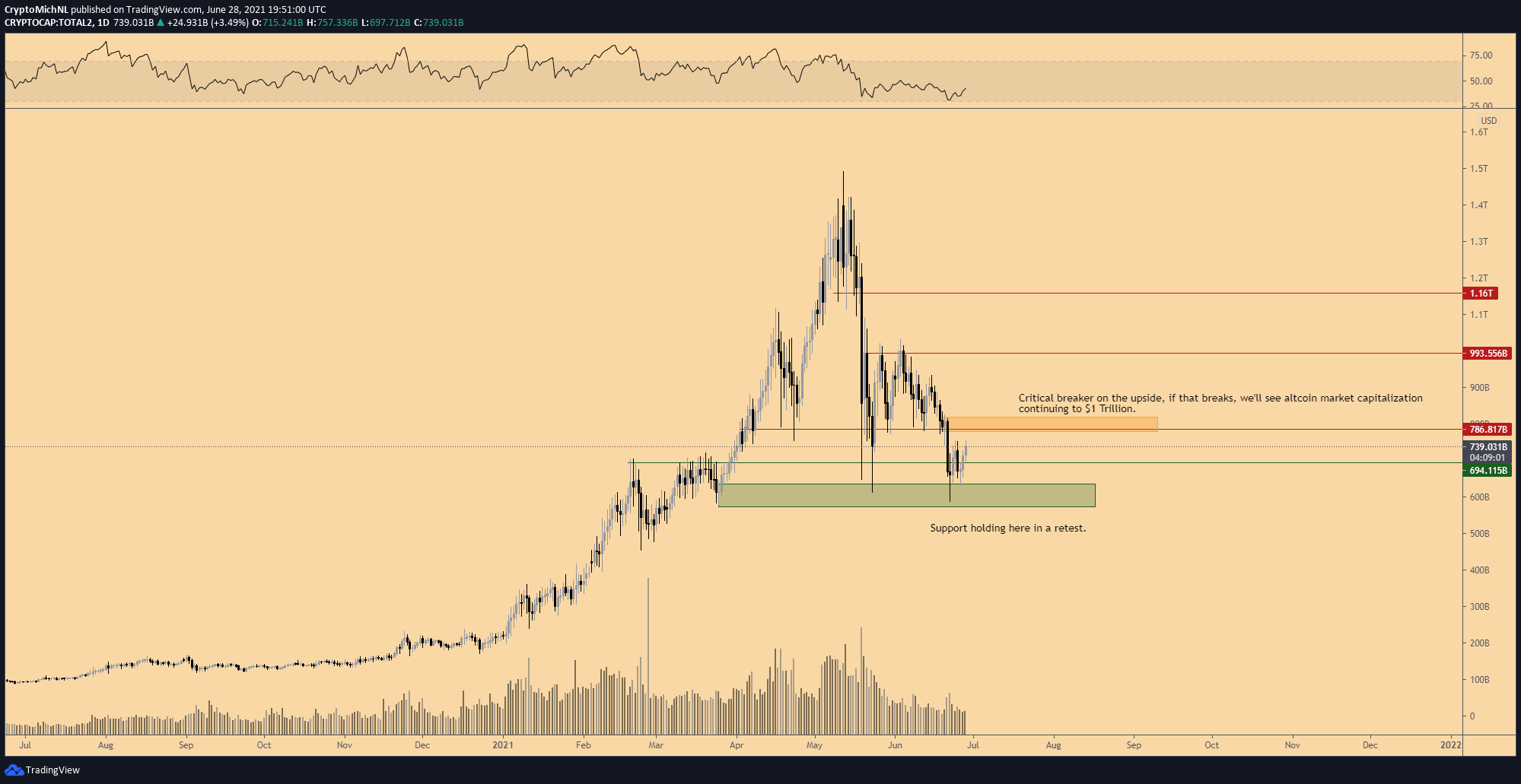 Bitcoin Taps $44K: DeFi Tokens Explode Amid Chinese Regulatory Uncertainty (Market Watch)
The cryptocurrency market cap is up by $150 billion in a day as numerous DeFi coins have exploded by double-digits. Bitcoin stands near $44,000.
After dumping below $41,000, bitcoin initiated an impressive leg up, resulting in tapping $44,000. Tokens from the decentralized finance space have charted even more notable gains in the past 24 hours, including a massive 30% surge from Uniswap.
Bitcoin Gained $3K in Hours
Unlike the previous weekends, this one wasn't uneventful for BTC's price. The cryptocurrency had just come off a bearish Friday in which it dropped by $4,000 in minutes following the latest FUD statement from China.
Bitcoin spent the Saturday aiming to recover most losses, but the bulls drove it as high as $43,000. Sunday, though, started with enhanced volatility once again.
BTC slumped by a few thousand dollars and dropped below $41,000 for the second time in two days. However, as the bears were preparing to take it further south to $40,000, the situation changed.
In just a matter of minutes, bitcoin spiked by roughly $3,000 and neared $44,000. In the following several hours, the asset went further and briefly exceeded the $44,000 mark. As of now, it has retraced slightly and stands just below it.
Bitcoin's market capitalization has gone over $800 billion, while the dominance over the alts has declined to just above 42%.
DeFi Tokens Surge
Most larger-cap altcoins have mimicked BTC's performance since late last week. Ethereum dumped hard yesterday again to below $2,800, but an 11% increase has driven it back to around $3,100.
Binance Coin (8%), Ripple (6%), Solana (9%), Polkadot (7%), Dogecoin (4.5%), Avalanche (8.5%), and Luna (6%) are well in the green. Interestingly, Cardano has gained just a modest 2.5% in a day, despite the multiple new partnerships coming from the project's summit during the weekend.
The most substantial increases are coming from tokens related to the decentralized finance space. Uniswap leads the way with a massive 34% surge in a day. As a result, UNI has neared $25.
PancakeSwap (14%), Aave (16%), The Graph (14%), Compound (17%), SushiSwap (30%), and more follow. This could be related to the latest activities coming from China, as reports suggested that locals are now turning to DeFi products since the country banned cryptocurrency trading – once again.
Ultimately, the cryptocurrency market capitalization has increased by more than $150 billion since yesterday's low, but it's still beneath $2 trillion.
Bitcoin (BTC) Lightning Network Capacity Tops 2,900 BTC, Twitter Can Boost Further

While Bitcoin (BTC) has remained volatile for most of September 2021, the developments taking place with the Bitcoin Lightning network are going strong.
As we know, the Bitcoin Lightning Network is a "layer 2" payments protocol designed atop the Bitcoin blockchain network. There's an exponential growth in the Bitcoin Lightning Network capacity which has now surged past 2,9000 BTC, as per data on Glassnode.
This year of 2021, in particular, has been very strong considering the Bitcoin Lightning Network growth. Since the beginning of 2021, the Lightning Network capacity has surged by 160%, while the number of active nodes and the number of channels have grown nearly by 100%.
As of press time, the number of active nodes on the BTC Lightning Network is 15,697 while the number of active channels has shot past 73,000. On the other hand, some big companies like Twitter are looking forward to taking benefit of these developments.
Twitter Can Boost Lightning Network Use
Last week, Twitter announced the Bitcoin tipping feature making it one of the biggest BTC adoption news by a tech giant. Interestingly, Twitter will be leveraging the Bitcoin Lightning Network to facilitate payments and BTC tipping.
To facilitate its Bitcoin tipping feature, Twitter has partnered with payments application Strike built atop the Bitcoin Lightning Network. The Twitter announcement read:
"People can now seamlessly tip with Bitcoin using Strike – a payments application built on the Bitcoin Lightning Network that allows people to send and receive Bitcoin.

People in the eligible markets will have to sign up for a Strike account and add their Strike username to receive Bitcoin tips over the Lightning Network. You can use any Bitcoin Lightning wallet to send tips to someone's Strike account".
As Bitcoin adoption continues to increase, the Bitcoin Lightning network will play a crucial role in increasing the Bitcoin utility. The participation of such big players will further boost the adoption curve.
Bitcoin Can Become The 21st Century Digital Gold, Says Deutsche Bank's Macro Strategist
While Bitcoin can continue growing to become the "digital gold," Ethereum has the ability to be the "digital silver," according to Marion Laboure.
Marion Laboure – Macro Strategist at Deutsche Bank – believes bitcoin has the potential to become the "digital gold" of this century. However, she expects the cryptocurrency's price to be "ultra-volatile" in the next few years.
Laboure also praised Ethereum's use cases, labeling the asset as the "digital silver."
BTC – The Gold of The Future
According to Marion Laboure – Analyst and Macro Strategist at Deutsche Bank – Bitcoin possesses all the necessary qualities to step in when the world suffers from rising inflation, doubt, and fear due to the COVID-19 pandemic and the governments' actions. As its supply is fixed (there will be no more than 21 million BTCs in existence), she stated that the asset could be a successful choice as a protection against the growing inflation.
The increased control by authorities over the population could be another factor that would make bitcoin attractive to the people. Laboure reminded that in such cases, throughout the years, humankind has turned towards assets that were not under the governments' jurisdiction, such as gold. With that said, the executive believes BTC could become the "21st-century digital gold."
It is worth noting that Deutsche Bank had a different opinion on the matter in the recent past. Last year, a report from the German multinational investment bank stated that bitcoin's high volatility is an obstacle that makes the digital asset not a "reliable source of value."
According to Laboure, though, BTC's enhanced fluctuations would not last forever. The asset remains "risky" as of the moment and could be "ultra-volatile in the foreseeable future" but just like gold, which has also experienced this issue, BTC would eventually overcome it.
While bitcoin is the pioneer in the crypto space and the largest digital asset by market capitalization, Laboure also praised Ethereum's merits. She pointed out that it is more than a cryptocurrency as it offers many applications and use cases such as decentralized finance (DeFi) projects.
In fact, most of the trendy non-fungible tokens (NFTs) are part of the Ethereum blockchain and she noted ETH could be the "digital silver."
Laboure concluded that no other cryptocurrency would become stronger than Bitcoin or Ethereum in the next five years.
Crypto's Obstacles
Deutsche Bank's strategist also spoke about the disadvantages of the cryptocurrency space with lack of regulation being the main one. She sees the industry much more settled once this issue gets solved. The environmental concerns that crypto mining causes are the other big hurdle:
"In one year, Bitcoin uses around the same electricity as the entire population of Pakistan (c.217M people)," she reminded.
This has been a growing concern this year, but the number of companies and parties aiming to solve it has increased exponentially as well. For instance, several leading cryptocurrency exchanges have already launched initiatives that would make them carbon neutral, including FTX, BitMEX, and Gemini.
CBDCs, Cash, And Crypto
Laboure also gave her two cents about central bank digital currencies. She prefers decentralized cryptocurrencies saying that the centralized nature of the CBDCs would not be attractive to society. In any case, she believes both assets together with cash would successfully co-exist in the economic network.
On another note, Deutsche Bank's CIO, Christian Nolting, opined somewhat differently on the matter. Back in May, he said that the impending launch of CBDCs would be a major threat to bitcoin in terms of serving as a currency:
"A widespread introduction of CBDCs accompanied by higher regulation of cryptocurrencies could create a more challenging environment for crypto assets as some of their advantages compared to traditional financial assets would fade in the longer term."