1 billion XRP worth $704 million released into the crypto market
The seventh most valuable crypto by market value recently had 1 billion XRP, unlocked some hours ago from Ripple's escrow wallet.
According to data collated from Whale Alert, a leading crypto analytic tracker, the blockchain behemoth, unlocked a whopping 1 billion XRP worth about $704 million, in two tranches.
🔓 🔓 🔓 🔓 🔓 🔓 🔓 🔓 🔓 🔓 500,000,000 #XRP (352,173,300 USD) unlocked from escrow at Ripple Escrow wallethttps://t.co/G8vcLkMcND

— Whale Alert (@whale_alert) July 1, 2021
The crypto start-up already offers a payments platform for about 2 million users globally for the XRP token and its fully decentralized ledger.
The crypto giant recently appointed a former Mastercard executive, Sendi Young as Managing Director of its European base station in the hope of expanding the company's global financial network platform, popularly referred to as RippleNet, which can be used as the XRP token for its On-Demand Liquidity solution.
The company had earlier set up a strategy where it released 1 billion XRP on a monthly basis for the purpose of funding Ripple's business operations, and to invest in businesses of interest, while the remainder was kept back in escrow accounts.
A cursory look at the implication of such action further reveals more liquidity in the Ripple network, as more crypto traders will now have access to those digital assets.
The crypto asset is popularly known for its payment functionality with the platform offering an open-source platform that was designed to permit quick and cheap transactions.
A deeper look at its price patterns further shows the crypto faces an uphill task breaking the resistance level pegged around at $0.7, though bullish sentiments can help XRP builds stretch to $0.72.
However, the substantial amount of selling pressures at the 200 Simple Moving Average (SMA) on the two-hour chart momentarily paused such a bullish narrative.
The crypto juggernaut was well-positioned to be a competitor to SWIFT, the platform most global banks use for overseas money transfers with an average transaction time of 5 seconds.
XRP Lawsuit: SEC aims to make XRP skip the bull run with an Expert Discovery Extension Appeal

The latest update in the XRP lawsuit saw the SEC file a letter requesting the Court to extend the expert rebuttal report deadline to November 12, 2021, and the expert discovery deadline to January 14, 2022, from the former date of November 12, 2021. The plaintiff noted that the extension will allocate both parties sufficient time to prepare rebuttal reports and depose a minimum of 14 expert witnesses.
Ripple Opposes SEC extension appeal to save XRP from an isolated bear run
While consenting to the extension of the rebuttal report deadline until November 12, Ripple opposes the January 14 deposition deadline to avoid the case from stretching long enough for XRP to entirely miss the bull run. Furthermore, Ripple also intends to file an opposition to this letter motion on October 18, 2021.
The SEC offered a compromise to Ripple, preponing the expert discovery extension to December 22, but the defense has rejected that offer as well. Ripple argues that the extension would "would likely impact the briefing schedule for summary judgment motion[s].", as post-December 10, 2021, the Thanksgiving holidays will commence the holiday season.
SEC supports extension appeal with pending motions
The SEC objects that the case is even less ready for summary judgment motions as expert discovery has commenced with an incomplete factual record. The commission noted that on September 1, 2021, Magistrate Judge Netburn granted the SEC's motion to compel Ripple to produce certain instant messages among its employees, but Ripple has not completed its production of responsive documents and has not provided any timetable by which it will be complete. Along with the incomplete discovery of a granted motion, the plaintiff states that the parties have a total of four pending discovery motions before Magistrate Judge Netburn. The plaintiff claims that even if one motion is granted, the parties will require an additional extension to proceed with the discovery.
"If Magistrate Judge Netburn grants any of the pending motions to compel, at minimum, the parties would need additional time to review and produce the documents at issue…The SEC's proposed extension is fair and reasonable under the circumstances and should be granted for good cause.", stated the SEC.
XLM May Get in Trouble If XRP Deemed a Security: XRP Researcher
A researcher from the XRP community believes that XLM and Stellar may get in trouble should the SEC deem XRP a security
Researcher Leonidaz Hadjiloizou has posted a tweet, in which is asks the opinion of the XRP community about which side in the Ripple-SEC legal battle the company's co-founder and former CTO Jed McCaleb would take, if he were to do it.
According to Hadjiloizou, should the SEC win and XRP is deemed a security, then Jed and his company Stellar which he created as a rival to Ripple will be in for hard times. If the court rules that XRP is a security, then McCaleb broke the law by selling these potentially unregistered securities – 9 billion of them that he received from Ripple as compensation as part of the Settlement Agreement.
What is most likely? Jed testifies as an expert witness for Ripple or the SEC?

PS1:If he believed XRP is a security then he broke the law by selling unregistered securities after the lawsuit was filed.

PS2:XLM might get in trouble if XRP is deemed a security on a technical lvl.— Leonidas (@LeoHadjiloizou) October 16, 2021
Besides, Hadjiloizou says that if XRP is announced a security, then the native token of Jed's Stellar, XLM, may also get in trouble and, perhaps, face similar accusations.
So far, no legal action has been filed by the SEC against Jed McCaleb, even though he co-founded Ripple Labs together with Chris Larsen. The latter and the CEO Brad Garlinghouse, along with Ripple Labs, are the defendants in this legal case of the SEC against Ripple.
Jed has been selling his 9 billion XRP in parts, however, he has not sold any coins since September 1.
Ripple Shifts 33.8 Million to Huobi in Past 2 Weeks, After Allocating 100 Million XRP for It
Ripple fintech firm has sent almost 40 million XRP to Huobi since October began from the 100 million allocated for it in the first place
Data provided by the analytics platform Bithomp that works with XRP transactions, over the past eighteen days, Ripple distributed ledger tech provider has shifted 33,805,080 XRP to the major digital exchange Huobi.
One third of Ripple's 100 million XRP shifted to Huobi
This amount of crypto equals to $38,790,225. The size of weekly transactions has been changing since September 29, when Ripple allocated a whopping 100 million XRP lump to be sent to Huobi in regular transfers – it started as 1,542,780 XRP, continued as 2,309,580. So far, Ripple is moving 1,911,150 XRP lumps to Huobi.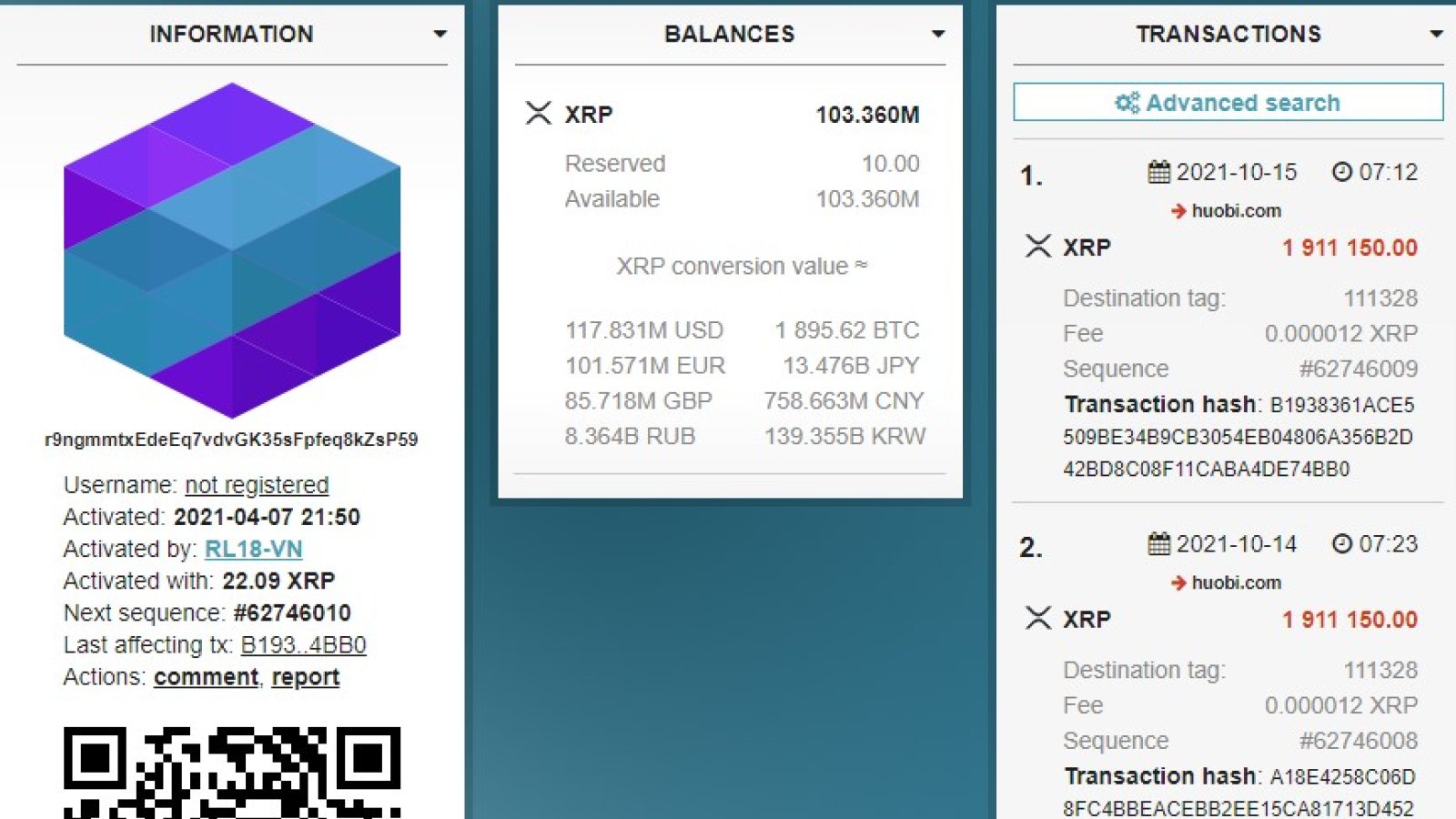 The exchange has recently announced its withdrawal from mainland China and by December 31 it plans to stop crypto trading against CNY.
XRP becomes number one choice for UK retail investors
At the time of writing, the sixth largest cryptocurrency, XRP, is changing hands at $1.15, showing a mild rise of 2.54 percent, as per the data provided by CoinMarketCap.
As reported by U.Today earlier, a recent report by a leading trading platform eToro stated that the majority of retail crypto investors in the UK now prefer XRP as their top asset. Cardano's ADA is the second favorite.
Ripple Labs has recently joined the Digital Pound Foundation to help UK authorities work the CBDC they are developing – digital pound sterling.