Bitcoin [BTC] just recorded worst-performing quarter since 2018
What a ride this has been for Bitcoin [BTC]. Not a great one, to be precise. The price action of the king coin has left investors wary and it looks like more setbacks await in the coming days. 
The recent run-down in the Bitcoin market has resulted in the world's flagship cryptocurrency to lose several key support levels that have now turned to resistance points. Over the past decade, Bitcoin has broken several records. But the latest record-breaking figures are not on the positive side.
Infact, a return of negative 40.25% drove Bitcoin to record its worst-performing quarter since 2018. This was revealed by the crypto-analytic platform, IntoTheBlock, which also stated that the decline terminated a four-quarter winning streak for the crypto-asset that experienced prices rise above $60,000 for the first time in the history of Bitcoin.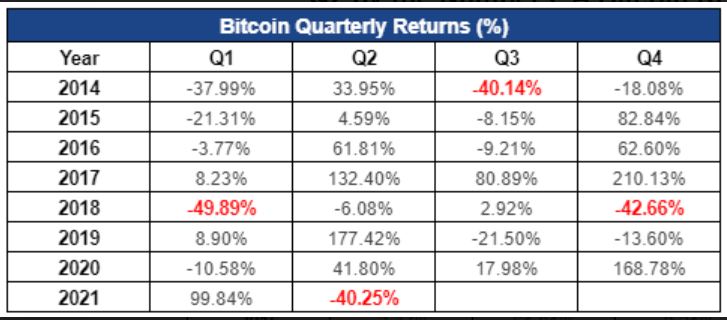 This contradicted its previous cycles when Q2 has historically proved to be a vibrant quarter for Bitcoin. As a matter of fact, six out of eight quarters have recorded positive returns. In the rest of the two quarters, the digital asset did not fall below 6%. As per ITB's graph below, the second quarters of both 2019 and 2020, saw impressive returns of 177.42% and 41.8% respectively.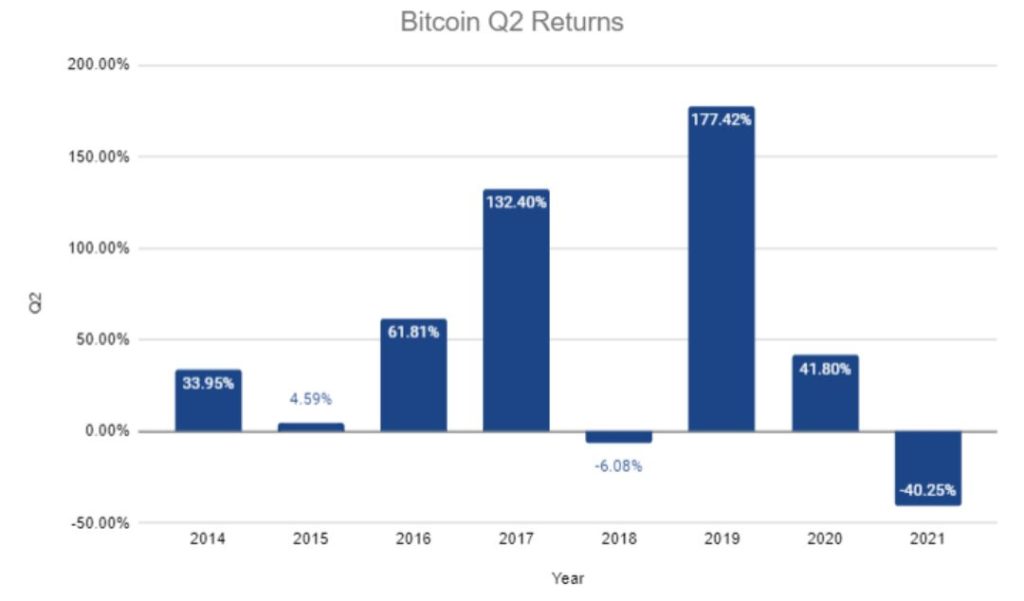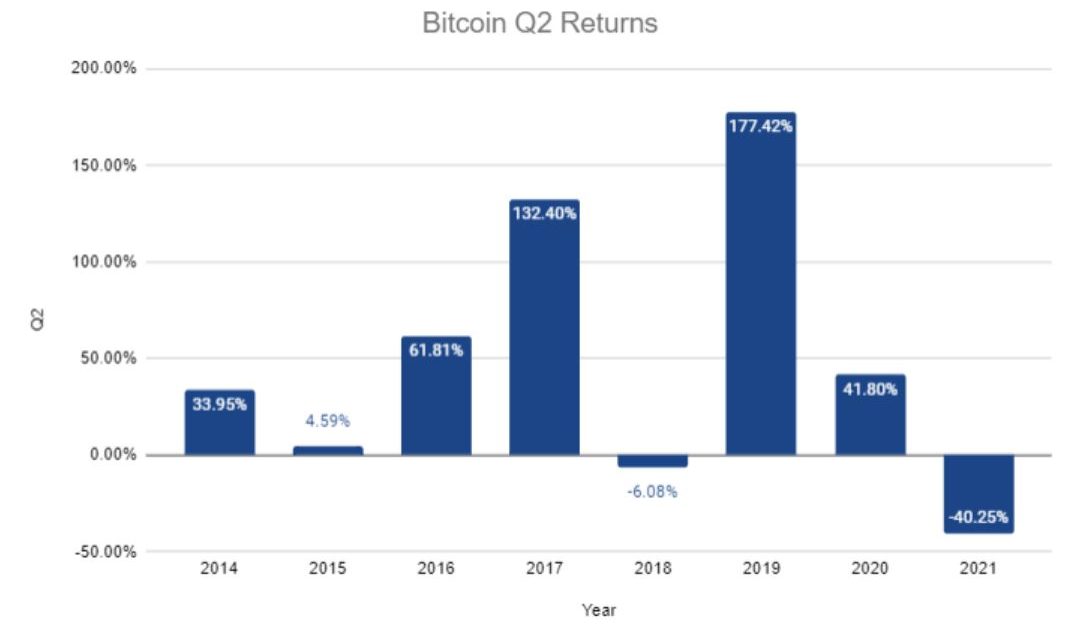 The second quarter actually started on a high note, especially with the much-anticipated Coinbase listing on Nasdaq in April. The hype failed to live up to the expectation and the downfall began. There were several factors at play here, firstly the institutional investor appetite shrank, regulatory concerns followed suit. To make matter worse Elon Musk filled the market FUD after announcing that Tesla would no longer accept BTC payments citing environmental concerns.
One other factor that contributed massively to the fall was China's crackdown on Bitcoin mining. However, according to ITB, this might not be such a bad news after all.
Will the ongoing mining crackdown fall in Bitcoin's favor?
Bitcoin hash rate has reduced by 40%, difficulty was adjusted accordingly. This will go down as one of the sharpest drops in BTC's history. But ITB argues that it is still profitable for BTC miners to mine the cryptocurrency. Here's why-
"Since Bitcoin's price has dropped 6% while the hash rate decreased 40%, it is relatively more profitable to mine now than it was a month ago. This is the case as there is less competition to mine Bitcoin's next block, but nearly the same reward."
One of the main concerns has been mining migration, however, this could actually pave the way for Bitcoin to move towards a "more decentralized and resilient future."
Bitcoin Price Flash Crashes for Second Time in a Month in the US
The price of bitcoin (BTC) on Binance.US, the US-based exchange affiliated with Binance, briefly crashed to as low as USD 8,200 today – a drop of 87% – before recovering again. The crash marks the second time in a month when bitcoin prices in the US have briefly disconnected from the rest of the world. 
Today's flash crash, which was one of the most significant on a major exchange in bitcoin's history, all happened within less than 1 minute, the BTC/USD price chart from Binance.US showed.
Although the flash crash was all over within a minute, the trading volume showed that a significant number of coins did change hands during the crash, indicating that some traders may have been able to fill orders for bitcoin at extremely low prices.
Flash crashes can happen when large market sell orders are sent to exchanges without sufficient liquidity on its order books, for instance, because a large trader accidentally placed the order as a market order instead of a limit order.
Today's flash crash on Binance's US exchange is the second such incident in a month in the US. On September 20, a data feed for crypto prices called Pyth that is used by some of the largest financial institutions on Wall Street showed a 90% crash in the price of bitcoin.
The feed briefly showed bitcoin at a price of USD 5,402. However, a similar price crash was nowhere else to be seen. Two days later, in a report about the incident, Pyth concluded that the abnormally low price was indeed a technical glitch, "caused by the combination of (1) two different Pyth publishers publishing a near-zero price for BTC/USD and (2) the aggregation logic overweighting these publishers' contributions."
Discussing today's incident on Twitter, many traders complained about being forced by US regulations to use exchanges such as Binance.US, which has thin order books and low liquidity compared to the international version of the exchange.
No statement has yet been made from Binance or Binance US regarding today's flash crash.

At 16:11 UTC, BTC trades at USD 63,180 and is down by almost 6% in a day, trimming its weekly gains to 10%.
Mt. Gox Bitcoin Payouts On Horizon After Creditors Approve Plan
The light finally appears to be at the end of the tunnel for the Mt. Gox creditors, who have approved a plan that will let them choose to receive some of the coins they have been waiting years for.
In a translated letter, Nobuaki Kobayashi, the Japanese lawyer and trustee for the now-defunct bitcoin (BTC) exchange, explained that "approximately 99%" of the creditors had voted in favor of an offer that has since been put before a branch of the Tokyo District Court.
A voting process that began back in May this year wrapped up earlier this month.
The court has since confirmed the order, although there was no mention of an exact timescale for the token refunds.
The trustee wrote that an announcement "will be made to rehabilitation creditors on the details of the specific timing, procedures and amount of such repayments."
However, Kobayashi wrote that the process would "finalize" and become "binding" in "approximately one month from" October 20.
The creditors will then be able to file their claims through a website, by filing a proof of rehabilitation claim.
Kobayashi wrote that the trustee "would like to express sincere gratitude to all involved parties for their understanding and support."
The BTC exchange was once the world's biggest, but spectacularly folded in 2014 following a spate of hacking attacks that saw raiders make off with thousands of BTC tokens.
Creditors have been trying to recover their funds ever since, but have been locked in a protracted legal struggle that has rumbled on over the years.
The Fortress Investment Group has previously offered creditors some 80% of claims. But the trustee promised a higher figure, closer to about 90%. The tokens lost in the hacks will likely have to be written off, however, meaning that payouts are going to be a fraction of the original amounts held.
JPMorgan: Inflation Hedge Narrative Propelled Bitcoin's Price to ATH
According to some JPMorgan analysts, bitcoin hit an ATH because people started investing in it as a better hedge against inflation than gold.
Strategists at the financial institution JPMorgan Chase & Co. argued that the reason behind BTC's all-time high price is not the launch of the ProShares Bitcoin Strategy ETF. Instead, concerns about the rising inflation made the digital asset an attractive investment option, and that led to its recent rally.
Gold Failed, BTC Prevailed
The moment, which many people in the cryptocurrency community have been waiting for, finally arrived on October 19th when the ProShares Bitcoin Strategy futures-backed ETF, named BITO, started trading on the New York Stock Exchange. It became the first such product approved in the United States.
During the first day of its launch, it generated massive trading volumes and even became the second-highest traded fund ever. Shortly after, BTC's USD value headed straight north towards a new all-time high at roughly $67,000.
Still, according to JPMorgan strategists, including the managing director Nikolaos Panigirtzoglou, another factor drove bitcoin to that milestone. The specialists indicated that the cryptocurrency had replaced gold as a hedge against inflation in recent months, which had propelled the price north:
"By itself, the launch of BITO is unlikely to trigger a new phase of significantly more fresh capital entering bitcoin. Instead, we believe the perception of bitcoin as a better inflation hedge than gold is the main reason for the current upswing, triggering a shift away from gold ETFs into Bitcoin funds since September."
JPMorgan's team noted that the last couple of weeks were not that successful for the precious metal. Taking a look at a broader period, bitcoin ETF's have significantly outpaced gold ones, as the strategists revealed:
"This flow shift remains intact supporting a bullish outlook for Bitcoin into year-end."
Can BTC Now Change The Stance of The Big Boss?
Jamie Dimon – Chief Executive Officer of JPMorgan – is among the most prominent critics of the leading digital asset. Still, it seems like he has started releasing the tight grip on it.
It all started in 2017 when the top executive called bitcoin a "fraud." Dimon did not stop there and warned that "it's worse than tulip bulbs. It won't end well. Someone is going to get killed." Shortly after, though, he regretted making that comment, and his financial institution became much more accepting of BTC.
Last year, Dimon weighed in on the matter once again. This time he was softer in his comments saying that bitcoin is not his "cup of tea" and that he has no personal interest in it.
A few days ago, the CEO returned to his negative phase, describing BTC as "worthless." Nevertheless, he acknowledged that most of JPMorgan's clients do not share his opinion and show an increasing demand for digital asset services.
With BTC charting a new all-time high, the crypto community is yet to find out whether Dimon will maintain his hostile viewpoint on the matter or rather soften a bit and allow more offerings to his bitcoin-hungry customers.