Ethereum Classic Price Prediction: ETC recovery could lead to 30% advance
Ethereum Classic price is highly resilient as it 94% after the correction between June 21 and June 22.
After this massive uptrend, ETC is likely to retrace to the equilibrium at $47.4.
A breakdown of the support barrier at $46.86 will lead to further downswing and delay the upswing.
Ethereum Classic price experienced a steep pullback after rallying exponentially. The correction seems to be over but might extend to the immediate support barrier. Regardless of a steeper retracement, ETC looks bullish.
Ethereum Classic price to retrace before taking off
Ethereum Classic price rose nearly 95% after a 38% downswing between June 21 and June 22. The resulting upswing pushed ETC from $32.05 to $62.55. However, ETC experienced a 19% downswing after a massive rally, which plateaued at the $50.44 support level. After a brief consolidation here, Ethereum Classic price has climbed 5%, but this move could be a temporary uptrend, which could revert and tag the 50% Fibonacci retracement level at $47.38.
An upswing that stems here could hold the potential to rally 20% and tag the supply level at $57.57. If the bid orders continue to pile up following the breach of the said ceiling, ETC might continue its ascent and retest the range high at $62.55.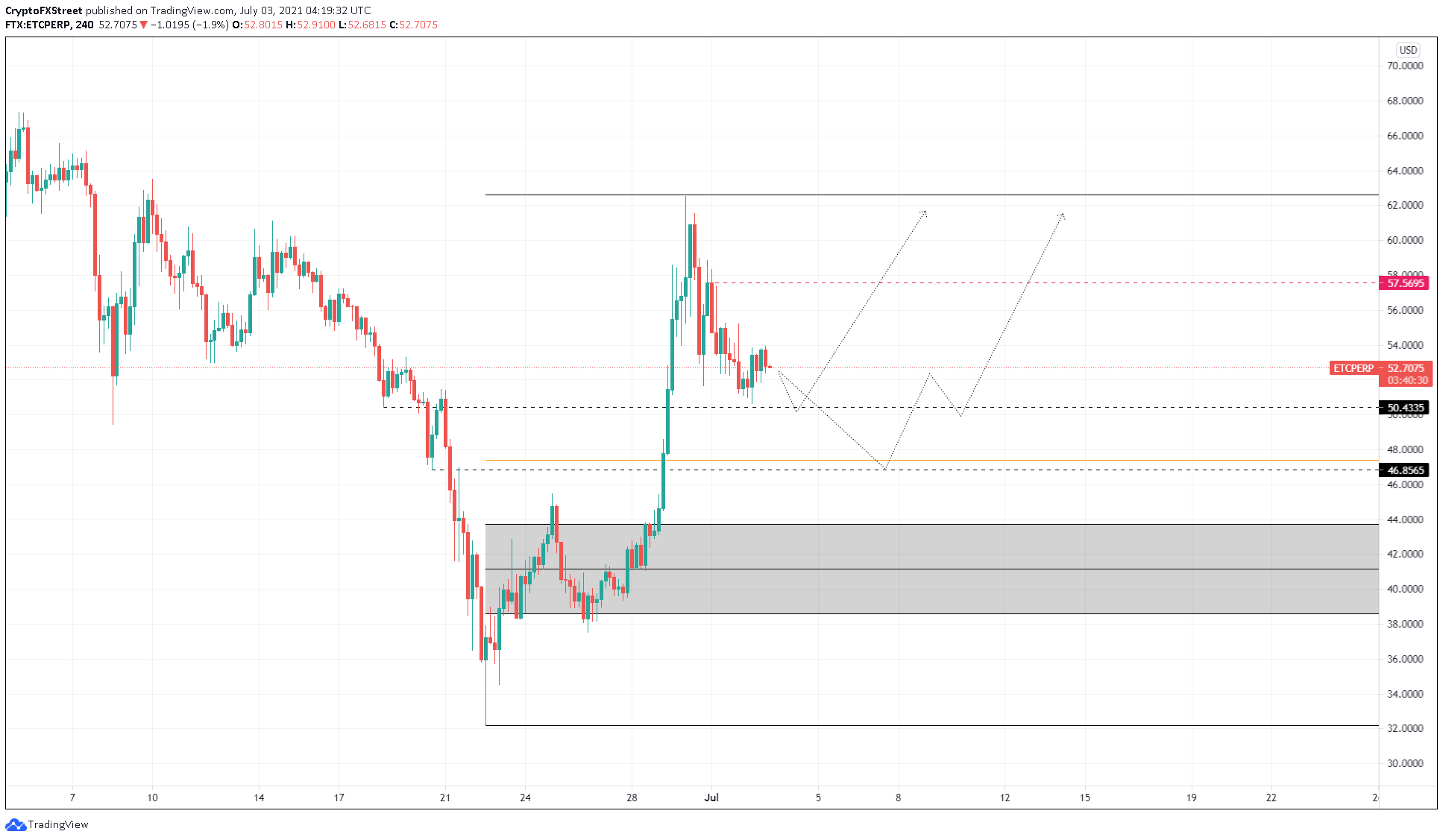 ETC/USDT 4-hour chart
On the other hand, a breakdown of the 50% Fibonacci retracement level at $47.38 will signal that the sellers are fighting back. But a decisive 4-hour candlestick close below the subsequent demand barrier at $46.85 will push Ethereum Classic price in a 'discount zone,' relative to the mid-way point of the range.
Although unlikely, a clear invalidation of the upswing will occur beyond the 79% Fibonacci retracement level at $38.58.}
Sellers hold the aces in Ethereum Classic's market, but it might not be game over
There hasn't been much interest from retail traders in Ethereum Classic's market. As a result, low volatility has kept the price restricted within the channel of $53.8 and $60.6 over the past week and a half. However, ETC has been taking shape within a symmetrical triangle. It presented chances of an incoming price swing.
Considering the current market dynamics, sellers can be expected to tip the scales in their favor, but a bullish argument also seems justifiable. At the time of writing, ETC was valued at $57.7, down by a marginal 0.5% over the last 24 hours.
Ethereum Classic 4-hour Chart
If the price does break below the lower trendline, a 13% decline would be possible towards the $48-mark. A close under $53.5 would confirm such an outcome.
On the other hand, a few of ETC's indicators seemed to disagree with such a prediction. If the triangle functions as a reversal pattern, ETC would eye a 7% hike to 8 August's swing high of $63.4. A close above $59 on relatively stronger volumes would heighten the chances of a bullish prediction.
Reasoning
A look at ETC's On Balance Volume painted a rather concerning picture. Based on its recent trajectory, there has been a dearth of buying pressure in the market, with sellers maintaining an advantage. However, a few other indicators seemed to disagree.
Higher lows were observed on the RSI after it recovered from an overbought reading 10 days ago. The index even managed to climb above 60 recently – A sign that the market was strengthening.
Such a trajectory was also seen on the MACD. The index climbed towards the half-line, although momentum was flat over the past few sessions.
Conclusion
As ETC oscillated within a symmetrical triangle, its indicators flashed mixed signals and a breakout in either direction can be expected at this point. Although chances of a downwards move seemed higher, a bullish outcome cannot be discounted.
Traders should keep an eye on the aforementioned levels to get a better understanding of where ETC is heading.
Ethereum Classic Price Setup Looking Bearish, As Dragged Below Major DMA lines.
Ethereum classic price is struggling near its 50 and 100-day moving average line after a massive selloff from the higher side. The crypto asset at the monthly chart fails to hold its major DMA lines of 20, 50 and 100-Day lines, with a near-average volume line. Whereas the coin slipped below major DMA makes its short term trend bearish but still maintaining above 200-DAM lines.
If the coin manages to hold its 50 and 100-DMA lines with positive volume action, we can soon see a good recovery. Support on the lower side is $52.30 and $47.90, whereas resistance on the higher side is $61.20 and $69.90.
Ethereum classic price at the weekly chart is sideways
Ethereum classic price at the weekly chart is sideways, whereas the technical parameters also project mixed signals. The coin is continuously taking support of the lower support zone, and if the coin manages to hold, we can witness intense buying action. The technical parameters are also favouring sideways motion at the 4-hour time frame with average volume action. Presently, the Ethereum Classic is trading at $57.02 with a flat intraday action of -6.02%, and the volume to market cap ratio is at 0.162 
Relative Strength Index (NEUTRAL): Etherum classic price RSI presently indicates a sideways trend after consolidation over the weekly chart. In contrast, the RSI trades at the neutral zone near the oversold area and now CMP at 36. 
Moving Average Convergence Divergence (MIXED): The daily chart indicates a mixed trend at the 4-hour time frame. At the same time, the buyer's signal line (green) and the seller's line (red) overlaps.
Support levels: $52.30 and $47.90
Resistance levels:$61.20 and $69.90.
Ethereum Classic, Solana, Binance Coin Price Analysis: 05 September
As Bitcoin and Ethereum have consistently remained choppy over the past few days, mixed trading patterns were spotted on certain altcoin movements. A wide number of altcoins were in price consolidation.
Ethereum Classic was trading close to the support level of $67.36,while Binance Coin's resistance stood at $517.20. Solana, over the last 24 hours, lost momentum and fell by 4.7%.
Ethereum Classic (ETC)

Ethereum Classic was in a state of consolidation over the past day. It was trading at $68.60 after noting a decline of 0.6%. At the current level ETC stands notches below its weekly high. The immediate support lay at $67.36 and continued downward movement would drag ETC to $58.09, which is the lowest that Ethereum has traded in about a month. 
Technical charts indicated bearishness in the market. MACD noticed red bars on its histogram, after a bearish crossover. Chaikin Money Flow stood below the half-line for the first time this month, indicating a considerable drop in capital inflows.
Awesome Oscillator flashed red signal bars affirming the same. In the event of Ethereum Classic breaking consolidation on the upside, it might revisit $75.04.
In latest news, Ethereum Classic was afflicted by the Geth exploit due to which Ethereum too had suffered a week ago. 
Solana (SOL)
Solana declined by 4.7% on its chart over the last 24 hours and was priced at $139.30. The altcoin which secured a fresh all-time high yesterday was seen moving closer to the support line of $125.95. A dip below $125.95 could cause SOL to trade at $99.92, a level the altcoin last touched a week back.
MACD displayed red bars on its histograms. Awesome Oscillator also noted red signal bars indicating a bearish price move in the market.
Relative Strength Index, however, still remained bullish at 60. An upturn in prices could propel SOL to retest its immediate resistance of $144.54 and then $158.40.
As Solana secured a fresh all-time high yesterday, it surpassed Dogecoin's market capitalization, and stood at the number 7 position on CoinGecko. 
Binance Coin (BNB)

Binance Coin also recorded a range-bound price movement and rose minorly on its chart. The altcoin was trading at $491.99. Its overhead resistance lay at $517.20. Bollinger Bands remained constricted indicating consolidated price action. The anticipated price range for BNB would be $491.99 and $460.42. 
Green bars on the MACD histogram receded over the past trading sessions. Relative Strength was also nearing the half-line, although, at the time of writing it stood above the 50-mark.
In the event of Binance Coin dipping, its first support level stood at $460.42, which also marks its two-week low price. Failing to sustain over the aforementioned price floor, BNB could aim for $433.54.