A closely-followed analyst and trader is predicting a massive rally for Ethereum amid the prevailing bearish sentiment in the crypto markets.
The pseudonymous analyst known as Credible Crypto tells his 223,500 followers that Ethereum is poised for a strong surge that can potentially take the leading smart contract platform above $3,400.
"All things considered, this makes the most sense to me. I think we see some relief across the board in the coming weeks. Invalidation on a touch of $1,720. ETH"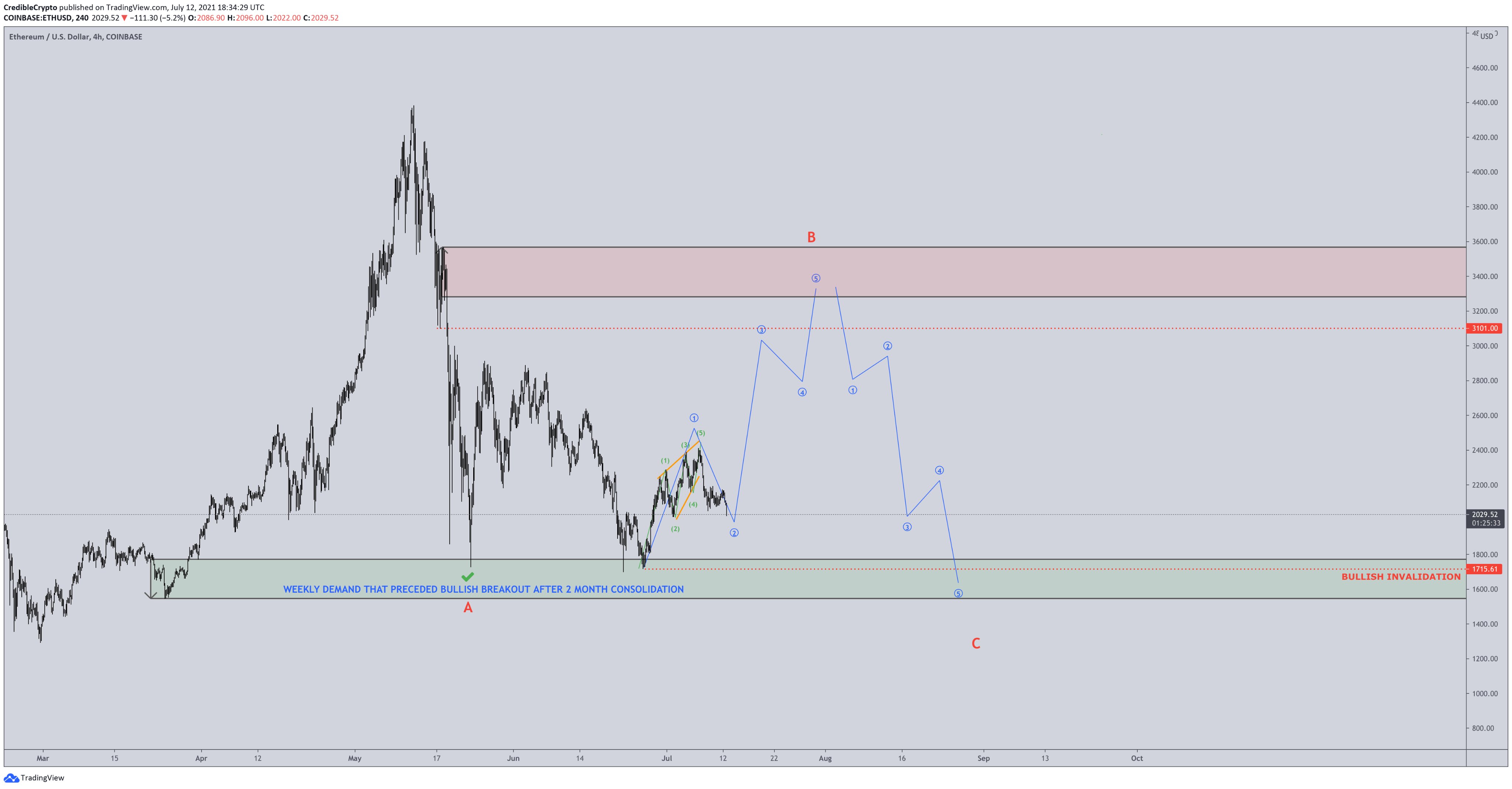 At time of writing, Ethereum is trading at $1,881 and a move up to $3,400 represents gains of over 80%.
While Credible Crypto is bullish on Ethereum in the coming weeks, he believes that after the relief rally, Ethereum will give up all of its gains and more. According to the crypto trader, the sell-off will be a setup for Ethereum and altcoins in general for a bullish reversal.
"ETH and alts make a lower low down after the relief (rally) while BTC puts in a higher low- effectively increasing dominance for the final push up before the reversal."
The trader also emphasizes that in his opinion, the crypto bull market is definitely not over.
"We are in a bull market. This is a correction in the middle of a bull market…
Every bull run has periods of consolidation on the way up. This is necessary and healthy for continued expansion. Each bull cycle has also been lengthening in my opinion. So its natural for this one to take longer than the last and therefore natural to see longer periods of consolidation."
As for Bitcoin, Credible Crypto says he still believes in the long-term potential of the leading cryptocurrency.
"Don't think I've seen so much salt and frustration from bears in my comments since the covid crash in March lol. We know how that turned out. Bitcoin is up 10x off the bear market lows, and the bull run isn't over. Life is good. Chill bears. BTC."