Bitcoin prices [+ 1%] and the altcoin market saw a rebound on Wednesday morning. The total capital of the cryptocurrency market was $ 1.34 trillion at the start of Wednesday and it managed to maintain an important support resistance at $ 1.3 trillion.
This level has proved to be a strong support resistance for the bulls in the battle over the past few weeks and should give hope of upside above these levels.
Bitcoin prices
Bitcoin looked extremely weak and fell below the critical support resistance at $ 33k on Tuesday, only to return above that level on Wednesday afternoon.
Bitcoin's 24-hour range is $ 31,588- $ 33,128 and the 52-week range is $ 9,092- $ 64,374.
The market capitalization of BTC is $ 617 billion and represents 44.2% of the total aggregate capitalization of the cryptocurrency market.
Bitcoin's volatility [-9.52%] has dropped 40% in the past 29 days and is heading straight towards the bottom of its 13.65 range. By this time last summer, volatility was already at the bottom of its range and was starting to develop higher.
So what do traders expect from bitcoin in the short term?
Bitcoin is currently inside a falling wedge on the 4-hour chart at the time of writing – this structure dates back to the end of June. BTC is basically in the middle of this structure's range and could form a legendary bullish gartley pattern.
Investopedia 's interpretation of a bullish gartley is below. The gartley model is a harmonic model based on Fibonacci ratios and retracement.
The chart below from VincePrince shows bitcoin forming a diamond structure locally within a larger diamond macro pattern.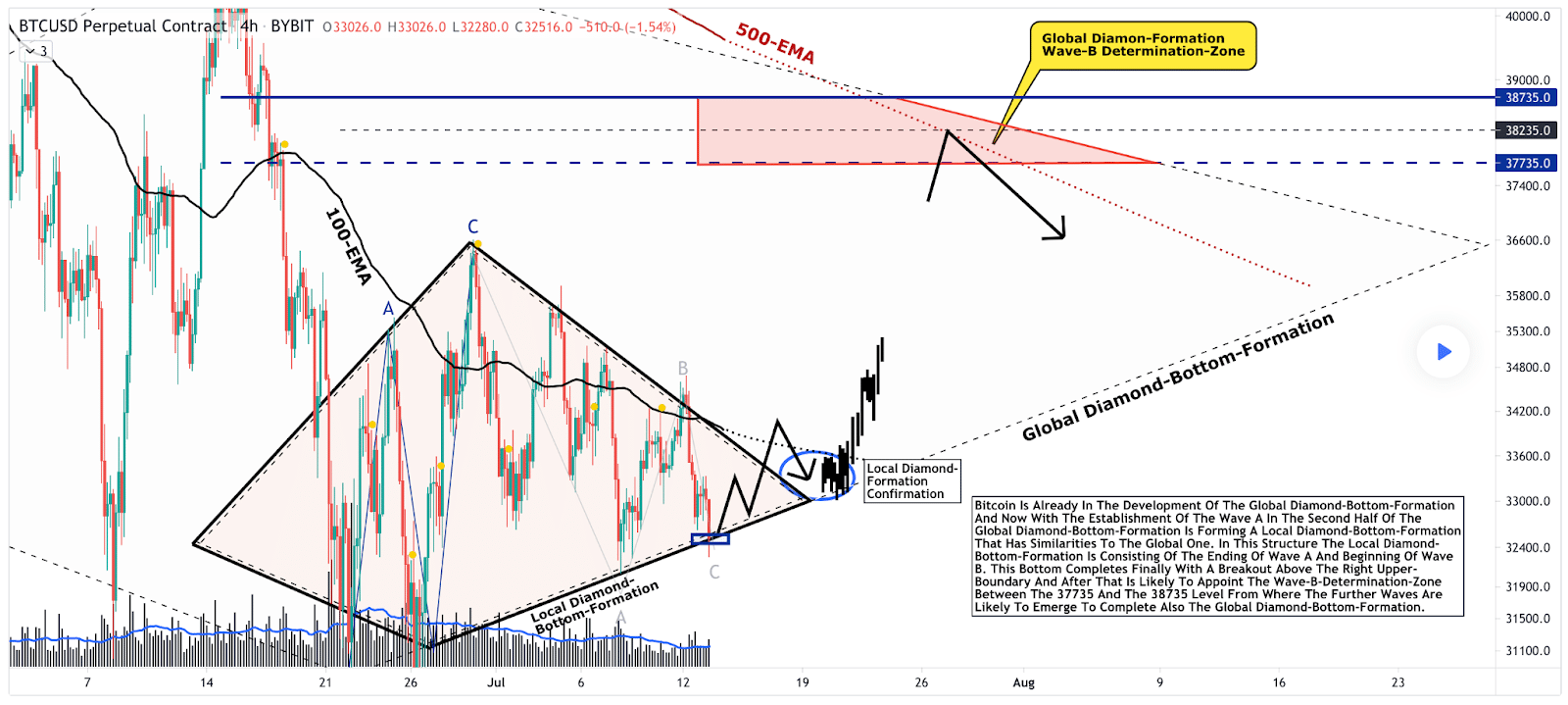 BTC 's Fear and Greed Index reading is 20, down 1 point from yesterday's reading of 21.
BTC closed the daily candle on Wednesday at $ 32,822 for its first green candle since Sunday.
Ethereum prices
Ethereum [+ 3.4%] is back above a major $ 2k level on Wednesday and continues to fight between $ 2k and $ 2.5.
The following 1-hour chart of YMGroup ETH shows Ether colliding with important resistance above $ 2,080.
This interpretation of what is happening shows the bearish outlook drastically worsening below $ 1.820. If bears can push the price below this level for a long period of time, then a longer downtrend could be expected.
Ether's 24-hour range is $ 1,864- $ 2,018 and the 52-week range is $ 230- $ 4,352. The 30-day average price of ETH is $ 2,125.
Ether closed Wednesday's daily candle + 2.7% and also closed green for $ 1,994 for its first green daily close since Sunday.