Why This Crypto Analyst Is Betting Big On the Future of Ethereum (ETH)
Post Elon Musk's comments of owning Ethereum (ETH), the world's second-largest cryptocurrency has surged more than 10% in the last 36 hours. At press time, Ethereum is trading 4.70% up moving above its crucial resistance of $2000.
Although Ethereum has corrected more than 50% from its all-time high, analysts are still positive about its future. Popular crypto analyst Lark Davis explains why he is so optimistic citing multiple bull-case scenarios.
Citing the Ethereum 2.0 upgrade, Davis notes that the so-called "Triple Halving" will be a significant economic event for the asset. Explaining the math behind the prediction, the analyst notes that the daily block rewards paid out to Ethereum (ETH) miners at present are 12,800 ETH. The analyst notes:
"Every day there is 25.6 million dollars a day worth of sell pressure for Ethereum! And because we are in a proof of work system miners are constantly selling, dumping on the market. Why? Because miners run a cash business. We are in a mine and dump economy for ETH".
Ethereum 2.0 Will Bring a fundamental shift
The analyst also notes that the transition to Ethereum 2.0 will fundamentally change Ethereum forever. The Merger between the two blockchains will put an end to the existing Proof-of-Work (PoW) consensus mechanism while adopting the Proof-of-Stake (PoS).
Davis notes that this will be a big transition from a dump economy to a stake and re-stake economy. The Proof-of-Stake (PoS) consensus mechanism encourages investors to hold more and earn more.
Another major aspect the analyst notes is that the PoS transition will cut down emissions by 90%. Thus, the daily block rewards will reduce to 1280 ETH and inflation will also be one-tenth from the existing 4.3% to 0.43%.
Davis also points out the fee-burning EIP-1559 mechanism which will make ether scarce and help to shoot its price north. All these have been coupled with the surge of the Ethereum blockchain activity due to the rising demand for DeFi and NFTs. With all this, Davis arrives at a perfect formula to take the ETH price to the MOON.
90% supply emission drop coming + shift to stake and HODL economy + fee burning + soaring demand = MOON
Ethereum Price On the Brink of Breakout! $11.3k Target Could be Imminent!
The global crypto space is making some serious moves over the last week with 10.8% profits reaching a $2.50 trillion market cap. However, Bitcoin's dominance has risen by 0.66% taking BTC price level to the $62,000 milestone on 15th October 2021. 
Besides, its counterpart Ethereum with top-notch performance surpassed the $3,800 price level with 7.74% gains over the last week. The altcoin on the other hand is showing the potential signs to go hand in hand with Bitcoin.
Analyst Predicts Ethereum to Surge Beyond $11k!
Popular crypto analyst Micheal Van de Poppe made an exciting prediction for the altcoin. He said ETH/USDT trading pair is retesting at a very crucial resistance between $3.8k to $4k, break out could give a rapid boost to the price action. He added altcoin is partially reflecting the footsteps of Bitcoin as it has previously done in 2017. Hence, according to the analyst, the asset could range between $6k and $8.7k in the upcoming bull run.  
#Ethereum approaching an important level and rejected!

What's next for #altcoins?

Check the update here:https://t.co/sYX1lVxPXH— Michaël van de Poppe (@CryptoMichNL) October 15, 2021
He went on to say if the digital coin closes major Fibonacci levels of 3.618 and 4.618 then the asset could take an upswing varying between $11.3k and $14k. Further, addressing Bitcoin's recent bull rally, he manifested that if it continues to rally by 20% more, then Ethereum could follow and leg up by 10%. On the contrary, the analyst mentioned a strong support area for the altcoin between $2.9k and $3.3k. 
Ethereum Breaks Double Top Pattern!
The second-largest crypto-asset experienced a phenomenal increase in the weekly trade volume of 7.03%. At present, the altcoin is in a strong consolidation phase around $3,863. There seems to be a lack of FOMO as the selling pressure is pretty dominant. In a one-hour chart, there are a considerable number of red candles.
If the buyers come forward showing interest in the asset then the asset is anticipated to surpass a major resistance level of $4,042. On the flip side, the asset could fall well below $4,000. A comfortable support zone for the asset could be between $3,500 and $4,000.
On the other hand, the total value in the ETH 2.0 deposit contract recorded an ATH of over $30 trillion. As the upgrade is programmed to launch any time soon. This could act as a major catalyst in the coming days. Hence, the altcoin has the strong potential to reach new highs.
Top Analyst Predicts 200% Boom for Ethereum Over Bitcoin – But Issues Warning to Crypto Traders Considering Altcoin Markets
A widely followed crypto analyst sees a volatile Q4 ahead for altcoins but thinks Ethereum will end the cycle with a massive run against Bitcoin.
Crypto strategist Michaël van de Poppe tells his 443,3000 Twitter followers that it is within the realm of possibilities for Ethereum to rally 200% against Bitcoin (ETH/BTC) in the coming months.
However, he warns that BTC may take over the markets at the expense of altcoins until December. According to the trader, December is historically is the month to buy digital assets other than Bitcoin.
"December is often the best period to buy altcoins.
If history repeats, we might be getting a run of 200% on ETH/BTC towards the ATH (all-time high) region from there, but first, a heavier correction while Bitcoin does well."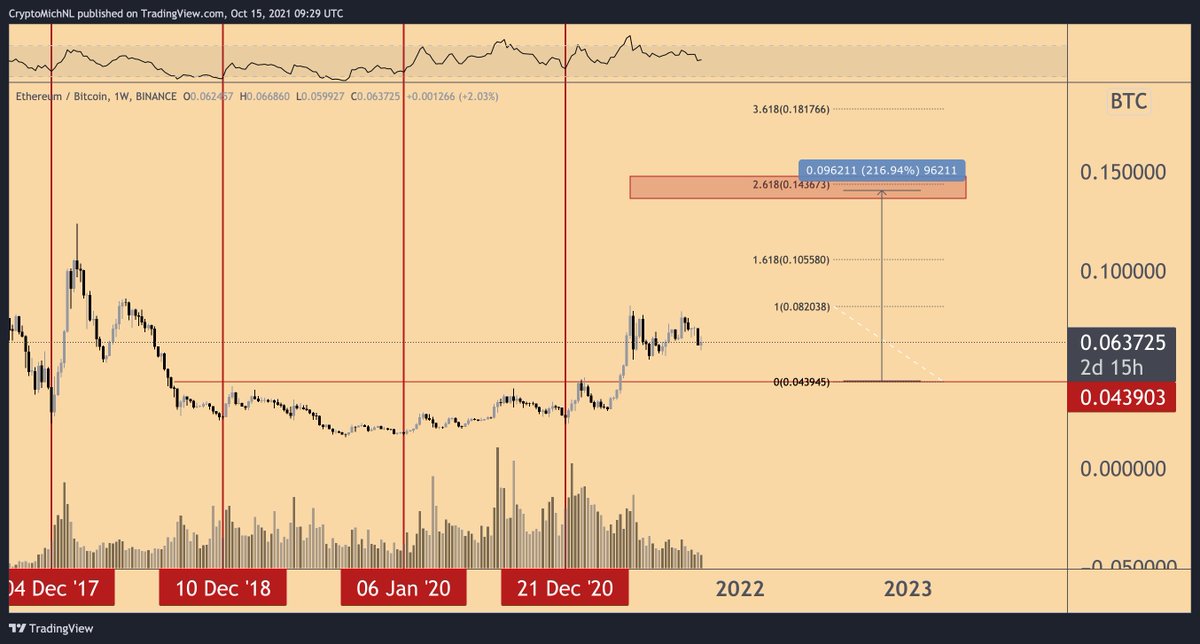 Although Van de Poppe is short-term bearish on altcoins, he believes the digital assets will eventually follow Bitcoin's lead.
Taking a closer look at Bitcoin, Van de Poppe plots the price action of the top crypto asset for the coming weeks.
"We still are not seeing too much strength on the altcoin market. So, it's still not the right time to be in them, and I'm assuming we're still going to see strength on Bitcoin for the coming weeks in the scenario that I've made here in which a test of $70,000 is most likely going to take place within a month from now before we get a final corrective move, retest of the range [$59,405-$61,213] that we've been cracking through before we're going to test a new all-time high region and going to finalize this entire bull cycle."
Massive drop in Ethereum exchange reserves signals imminent supply shock, ETH eyes $8,000
Over 400,000 ETH was pulled out of Coinbase, dropping exchange reserves and driving a supply crisis.
Average Ethereum gas fees stay above $20 due to an increase in pressure from smart contracts on the network's blockchain.
Analysts who are bullish on Ethereum expect ETH price to cross $5000 in an upward climb.
Institutional investors are bullish on Ethereum with rising capital inflow. Ethereum reserves across exchanges have dropped as outflow increases.
Coinbase notes massive Ethereum exchange outflow
Coinbase noted a withdrawal of 400,000 Ethereum tokens, and according to community-driven crypto platform CryptoQuant, it is likely that the outflow was institutional activity. Analysts expect a bullish impact on ETH prices. 
400,000 Ethereum tokens are the equivalent of $1.5 billion, withdrawn from the second-largest cryptocurrency exchange. The exchange outflow indicator is considered a sign of increased outflow and a supply shortage in Ethereum.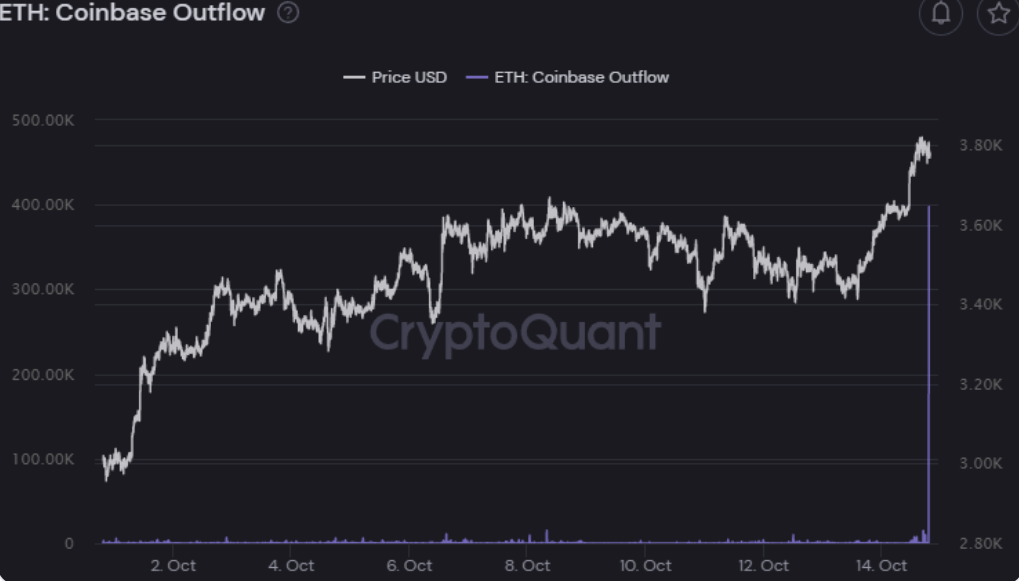 Ethereum Exchange Outflow.
Ethereum has posted over nearly 20% gains in the past two weeks.
Interestingly, there is a spike in whale activity on the Ethereum network. Over $188 million worth of Ethereum was moved between two anonymous cryptocurrency wallets in a single transaction. 
A mysterious whale initiated the transaction, and it was sent to an unknown recipient. The details of the transaction are as follows: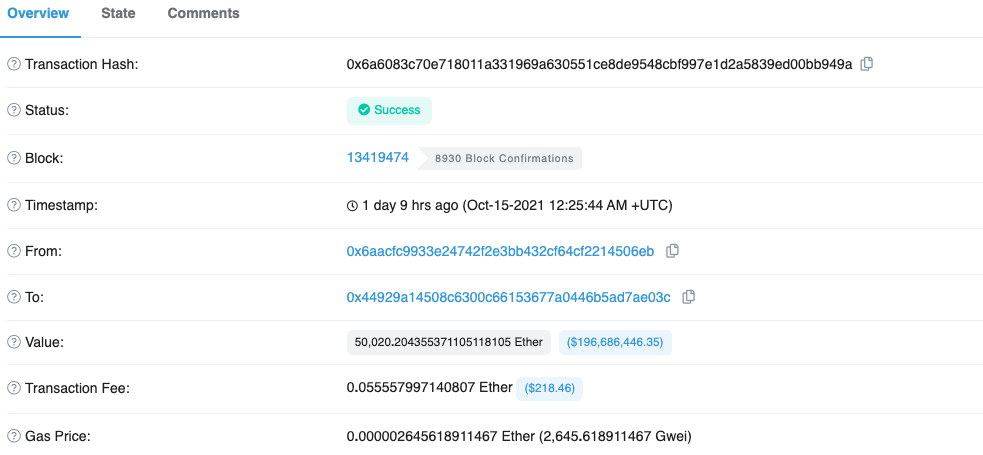 Whale activity on the Ethereum Network.
With news of Bitcoin ETF getting approval by the Securities & Exchange Commission next week, experts are awaiting Ethereum's turn. Analysts are of the opinion that following Bitcoin ETF approval, capital inflow to Ethereum and altcoins will increase.
Pseudonymous cryptocurreny trader and analyst @jroberts3334 has set a target of $8000 for Ethereum for February 2022. 
My target for ETH is 7600/8000 by Feb. The Altair upgrade is coming quickly on Oct 27. The merge of POW/POS and L2 upgrades are coming quicker than people realize – I believe it will coincide nicely with this next leg higher in BTC (after 1 more possible dip).— jrob 🍌₿ Ξ (@jroberts4334) October 14, 2021
Simon Dedick, Managing Partner of Moonrock Capital, is bullish on Ethereum; he tweeted:
$ETH is just a 13% pump away from breaking its previous ATH and entering parabolic price discovery.— Simon Dedic (@scoinaldo) October 16, 2021
FXStreet analysts have evaluated the ETH price trend to analyze where altcoin is headed next. Analysts have set a target of $5200 for ETH price.