Hashdex Announces 100% Bitcoin and Ethereum Backed ETFs
Manager Hashdex announced the launch of 2 ETFs that will have 100% exposure to Bitcoin (BITH11) and Ethereum (ETHE11). The first one will be released on August 5th, while ETHE11 doesn't have an exact date yet. However, the expectation is that it will also be released in August.
Investors have until July 30 to secure the first shares of the Hashdex Nasdaq Bitcoin Reference Price (BITH11).
Big banks enter the offer
XP, Itaú BBA and Banco Genial will be the coordinators of the offer of the new ETF, according to a statement shared by the manager with CriptoFácil. The administration fee will be 1%, while the initial quota price should be around R$ 50.00.
Additionally, Hashdex also signed contracts with 13 institutions to carry out the distribution of BITH11. Are the following:
BTG Pactual;
Guide Investments;
ICAP; Inter DTVM;
Mirae Asset Wealth Management;
DTVM modal;
New Future;
Necton Investments;
Orama;
Brokerage Harvest;
Planner;
Toro Investments;
Tullet Prebon Brazil;
RB Investments.
Unlike HASH11, the manager did not establish a maximum funding limit in this ETF. But the goal is to get closer to the values ​​registered in March. At the time, HASH11 raised BRL 600 million and surpassed by almost three times the initial forecast, which was BRL 250 million.
ETF with ESG footprint
In addition to being 100% BTC-backed, BITH11 is also aligned with the ESG theme. According to Hashdex, the ETF will replicate a fund that seeks to neutralize carbon emissions derived from cryptocurrency mining.
While following the ESG theme, Hashdex will count on the help of the German company Crypto Carbon Ratings Institute (CCRI). This company uses a globally recognized methodology for calculating carbon emissions in blockchain networks.
CCRI will produce annual reports with calculations and estimates on energy consumption and carbon emissions in mining for all BTC acquired by the fund. These data, in turn, will serve as a basis for the ETF to reduce its carbon footprint.
"BTC can do a lot to encourage the use of clean energy. We want to anticipate this movement and, in this way, offer the investor a product that stimulates the asset's sustainable potential", says Roberta Antunes, head of growth at Hashdex.
Also read: Future contracts allow you to bet on Bitcoin difficulty setting
Also Read: Third Largest Bitcoin Whale Buys Nearly 17,000 BTC
Also read: Binance plans US IPO, CEO reveals
Bitcoin Funding Rates Touch Same Level As Early September, More Correction To Come?
Data shows Bitcoin funding rates right now are at the same level as they were in early September. This means the coin may see another flush out similar to how it happened back then.
Bitcoin Funding Rates Float Around Similar Levels To Early September
As per this week's on-chain report from Glassnode, the BTC futures perpetual funding rate of all exchanges is currently at the level similar to what it was back in early September before the crash.
The "funding rates" is an indicator that shows the premium that traders have to pay each other while holding on to their positions in the perpetual swap futures markets.
When the metric has negative values, it means that short traders are paying longs, and that many traders are bearish on Bitcoin right now.
Opposite to that, positive funding rates imply that the overall market sentiment is leaning towards bullish and longs are currently paying shorts to keep their positions.
Now, here is a chart that highlights the trend in the value of the indicator over the last six months: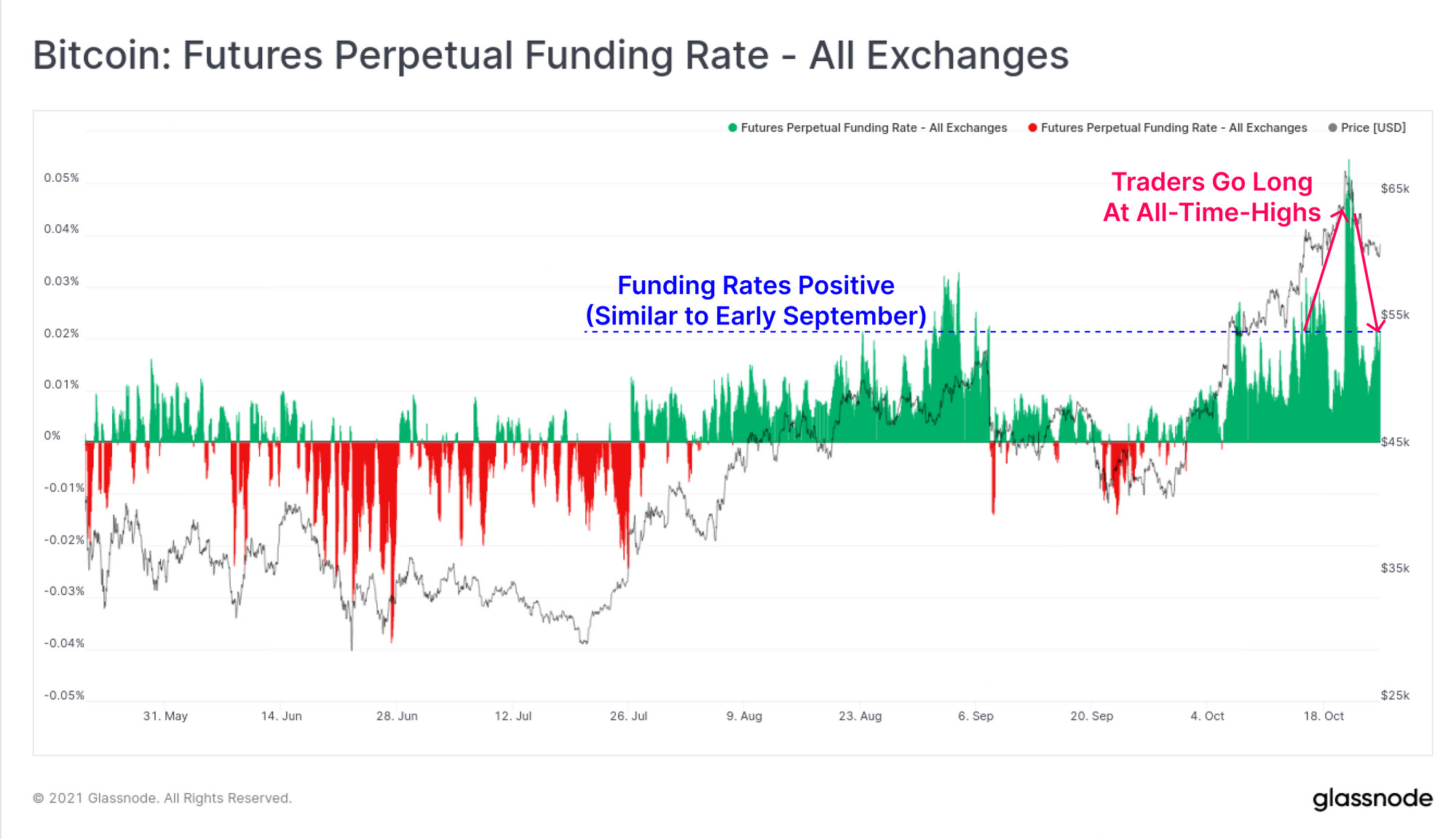 Looks like the metric is currently showing highly positive values | Source: Glassnode's The Week On-Chain, Week 43
As the above graph shows, when Bitcoin made its new all-time high (ATH) some days ago, the indicator reached positive local highs.
This means traders started opening many leveraged long positions so that they don't miss out on the wave of BTC making new ATHs.
However, the price had a correction, which has often been the case during periods of high leverage, and a lot of the excess leverage was flushed out.
Nonetheless, the funding rates are still at similarly high levels right now as in early September. What followed then was the El Salvador crash that took the rates to negative values.
It's possible another correction can take place now in order to flush out more of the currently high leverage in the market. Though it's not a certainty that it will be how it plays out.
BTC Price
At the time of writing, Bitcoin's price floats around $62.5k, down 0.4% in the last seven days. Over the past month, the crypto has gained 44% in value.
The below chart shows the trend in the price of the crypto over the last five days.
BTC's price seems to be recovering somewhat from the dip | Source: BTCUSD on TradingView
Over the last few days, Bitcoin has shown some effort to bounce back from the correction, but in the last couple of days, the crypto has only moved rather sideways. If the futures funding rates are anything to go by, the market may be heading towards another correction soon that will wipe out the excess leverage.
South Korean pension fund to invest in Bitcoin ETF: Report
South Korea's public pension fund, the Korean Teachers' Credit Union (KTCU), is reportedly looking to gain exposure to Bitcoin (BTC) via a crypto exchange-traded fund (ETF).
KTCU, one of the largest institutional investors in South Korea, is considering investing in a pure Bitcoin ETF or Bitcoin-linked ETFs in the first half of 2022, local news agency The Korea Economic Daily reported Monday.
According to the report, KTCU is considering investing in several Bitcoin ETF products, including those by South Korean asset management firm Mirae Asset Global Investments. The company launched two ETFs tracking the value of Bitcoin futures via its Canadian subsidiary, Horizons ETFs, in April 2021.
"As there are some well-made cryptocurrency-linked ETF products by asset managers such as Korea's Mirae Asset Global Investments, we plan to invest in the ETF products after consultation with domestic asset managers," an executive at KTCU reportedly said.
The official also mentioned potential investment in a Bitcoin ETF by Mirae Asset's subsidiary, Global X ETFs, which filed for a Bitcoin ETF with the United States Securities and Exchange Commission in July.
According to the report, KTCU is the second-largest institutional investor in South Korea, with $40.2 billion in assets under management. The pension fund has allocated 40% of its investments in alternative assets, 10% domestic and 9% international stocks. KTCU has yet to determine the size and other details of its potential Bitcoin ETF investment.
The news comes amid global pension funds getting increasingly interested in gaining exposure to cryptocurrencies like Bitcoin and major companies in the industry. Last week, the Houston Firefighters' Relief and Retirement Fund reportedly purchased $25 million in Bitcoin and Ether (ETH). Canada's Ontario Teachers' Pension Plan Board participated in a $420-million funding round for major crypto exchange FTX, the firm announced on Thursday.
Elon Musk warns of 'strong inflationary pressure' as Tesla mulls Bitcoin payments
The world faces "strong inflationary pressure" in the short term, and it may persist, warns the world's richest man.
In a debate about inflation, some of the best-known names in Bitcoin (BTC) voiced unanimous doubts about the state of global monetary policy.
Future of inflation great unknown, says Musk
As even the United States Federal Reserve admits that inflation may be here to stay, the topic has become especially pertinent for Bitcoiners, given the cryptocurrency's intrinsically deflationary characteristics.
For Elon Musk, who remains cool when it comes to Bitcoin as a "magic pill" for fiat currency's ills, inflation is no less of an issue. With over $250 billion in net assets as of this week, potential exposure to devaluating currencies is more of a potential problem than ever.
"I don't know about long-term, but short-term we are seeing strong inflationary pressure," he said in a Twitter debate with Ark Invest CEO Cathie Wood and MicroStrategy CEO Michael Saylor.
All were commenting on a previous tweet from Twitter CEO Jack Dorsey, who described inflation as "happening" and apt to "change everything."
Wood, also a firm BTC supporter, noted that monetary velocity, on the contrary, had been slowing since the 2008 global financial crisis, disguising some of the devaluation impact.
Regardless, when all types of products are taken into account, the true cost of dollar printing far outstrips government claims about how inconsequential inflation really is.
"Inflation is a vector, and it is clearly evident in an array of products, services, & assets not currently measured by CPI or PCE," Saylor wrote.
"Bitcoin is the most practical solution for a consumer, investor, or corporation seeking inflation protection over the long term."
Bitcoin may yet return to Tesla
Musk's Tesla passed $1,000 per share for the first time this week, helping spur a dramatic increase in his net worth.
Related: Tesla hints it may soon resume support for crypto payments
In a filing with the U.S. Securities and Exchange Commission, meanwhile, the company left the door open to accepting Bitcoin for its products in the future.
"During the nine months ended September 30, 2021, we purchased an aggregate of $1.50 billion in bitcoin. In addition, during the three months ended March 31, 2021, we accepted bitcoin as a payment for sales of certain of our products in specified regions, subject to applicable laws, and suspended this practice in May 2021," the 10-Q document reads.
"We may in the future restart the practice of transacting in cryptocurrencies ('digital assets') for our products and services."