Investing In Bitcoin Mining Businesses Is Also A Sign Of Institutional Acceptance
Last quarter, the New Jersey Pension Fund invested heavily in two Bitcoin mining giants. A small step for institutional investors, the move might represent something much bigger. There's a hunger for Bitcoin exposure at the highest levels, but just owning the asset might be too risky or inconvenient for some of those big players. And, until the US government approves the long-awaited Bitcoin ETF, miners provide a much safer target.
According to Coindesk:
The state-managed pension ended June with $3.66 million in Riot Blockchain (NASDAQ: RIOT) and $3.39 million in Marathon Digital Holdings (NASDAQ: MARA), according to disclosure documents.

New Jersey's Common Pension Fund D has $30 billion in total assets for state employees.
The New Jersey Pension Fund's intent is clear, and they put their money where their mouth is. However, is there a reason that explains why they don't want to hold the asset? A legal reason, perhaps? The polemic Michael Saylor explains their rationale in this tweet:
Many institutional investors find publicly traded Bitcoin miners to be attractive investments because they want BTC exposure but prefer to hold securities rather than property due to tax, accounting, & business considerations.
So, there are several reasons besides Bitcoin's volatility. Nevertheless, there's a hunger.
RIOT price chart on Nasdaq | Source: RIOT on TradingView.com
Is Bitcoin Feasible As An Institutional Investment?
Bitcoin is maturing and spreading. The title phrase is the same NewsBTC used three years ago in an article that came to the conclusion that the asset wasn't ready. We said:
In its current state, the market is highly speculative, with a majority of investors looking to make a quick buck. Institutional investors have seen that, and have mostly shied away from opening their wallets for the industry. These investors are looking for long-term returns, securing the trust of consumers over time rather than making a quick buck.
The tables turned. The situation changed. At the present, we are in an era in which some of the more innovative institutions already invested and drove the price to insane all-time highs… only to take their earnings and let it drop again. In any case, Bitcoin is proving its worth as institutional investment. About this situation, NewsBTC said:
These high wealth players with decades of market experience and all kinds of tactics on their side were paramount to driving prices up to $60,000 per coin. Unfortunately, the data above suggests they were also instrumental to the selloff that left retail traders with a bloody aftermath.
What About a Bitcoin ETF? Is That In The Cards?
The only factor left unexplored is the possibility of a Bitcoin ETF in the US. As you should know, every financial institution and their mothers applied, and some of them have already been rejected. NewsBTC quoted Hester Pierce, Securities and Exchange Commission (SEC) Commissioner, who said about the situation:
(Institutions) want access to crypto through a regulated market. It makes sense for us to consider how to do that (…). We've dug ourselves into a little bit of a hole. A lot of people are looking for a way to access the asset class. We waited a long time to approve this kind of product.
Top 3 Price Prediction Bitcoin, Ethereum, XRP: Crypto bulls unfazed by flash crash
Bitcoin price action initially shakes off strong selling pressure, finds buyers at support, then resumes some selling pressure.
Ethereum price action mixed post-all-time high rejection.
XRP price awaits its own bullish breakout and an opportunity to outperform its peers.
Bitcoin price closed more than 5% lower on the Thursday session, but buyers have stepped in to hold the Tenkan-Sen as support. Ethereum price action shows that the recent rejection has caused some indecision. XRP price does not have far to move to initiate a massive bullish breakout.
Bitcoin price continues to find buyers at the Tenkan-Sen
Bitcoin price has shown resilience and conviction since creating new all-time highs. There were broad concerns that due to Ethereum's rejection of new all-time highs, Bitcoin might suffer a robust corrective move below the $60,000 value area. Although the Binance.US exchange did have an anomalous wick that saw Bitcoin return to the $8,000 level –that was the exception. If buyers can maintain the Tenkan-Sen as a primary support zone, then a move to test $70,000 is next.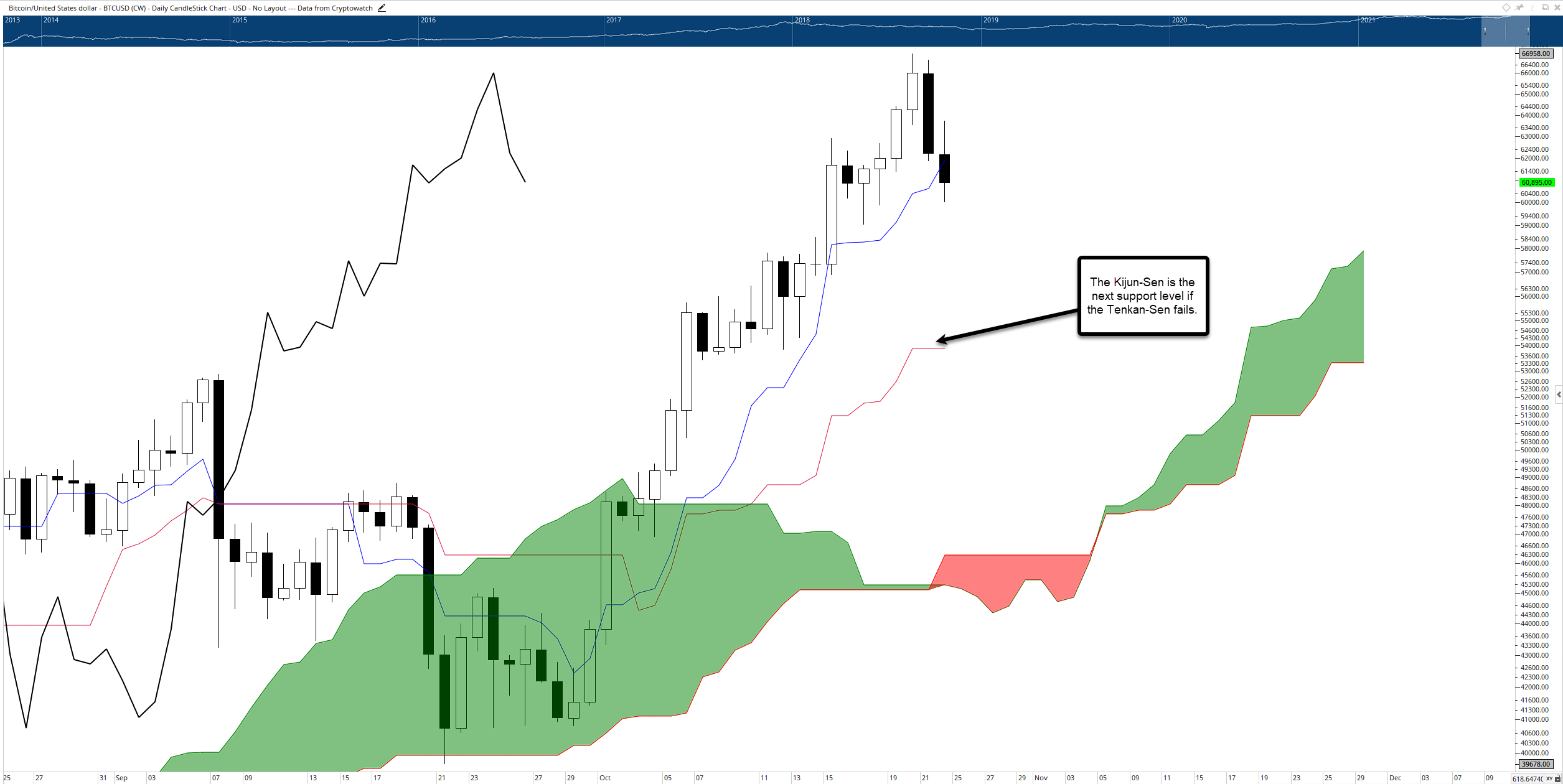 BTC/USD Daily Ichimoku Chart
Market participants should be wary of the weekend. Weekends are notorious for whipsaws in price action and major sell-offs, especially on Sunday. Watch for sustained breaks below the Tenkaan-Sen to test the Kijun-Sen near the $55,000 value area.
Ethereum price may trap short-sellers if bulls push higher
Ethereum price action was almost comical during the Thursday trade session, with sellers preventing Ethereum from making new all-time highs by just $2.70 (depending on the exchange data). Even though Ethereum closed 7% below the Thursday high and 2.5% below the open, buyers at first appeared undeterred. Some weakness and selling pressure have been observed during the New York lunch hour. Like Bitcoin, Ethereum has found buyers near the Tenkan-Sen. If bulls can hold the daily close above the Tenkan-Sen, another test of new all-time highs appears inevitable.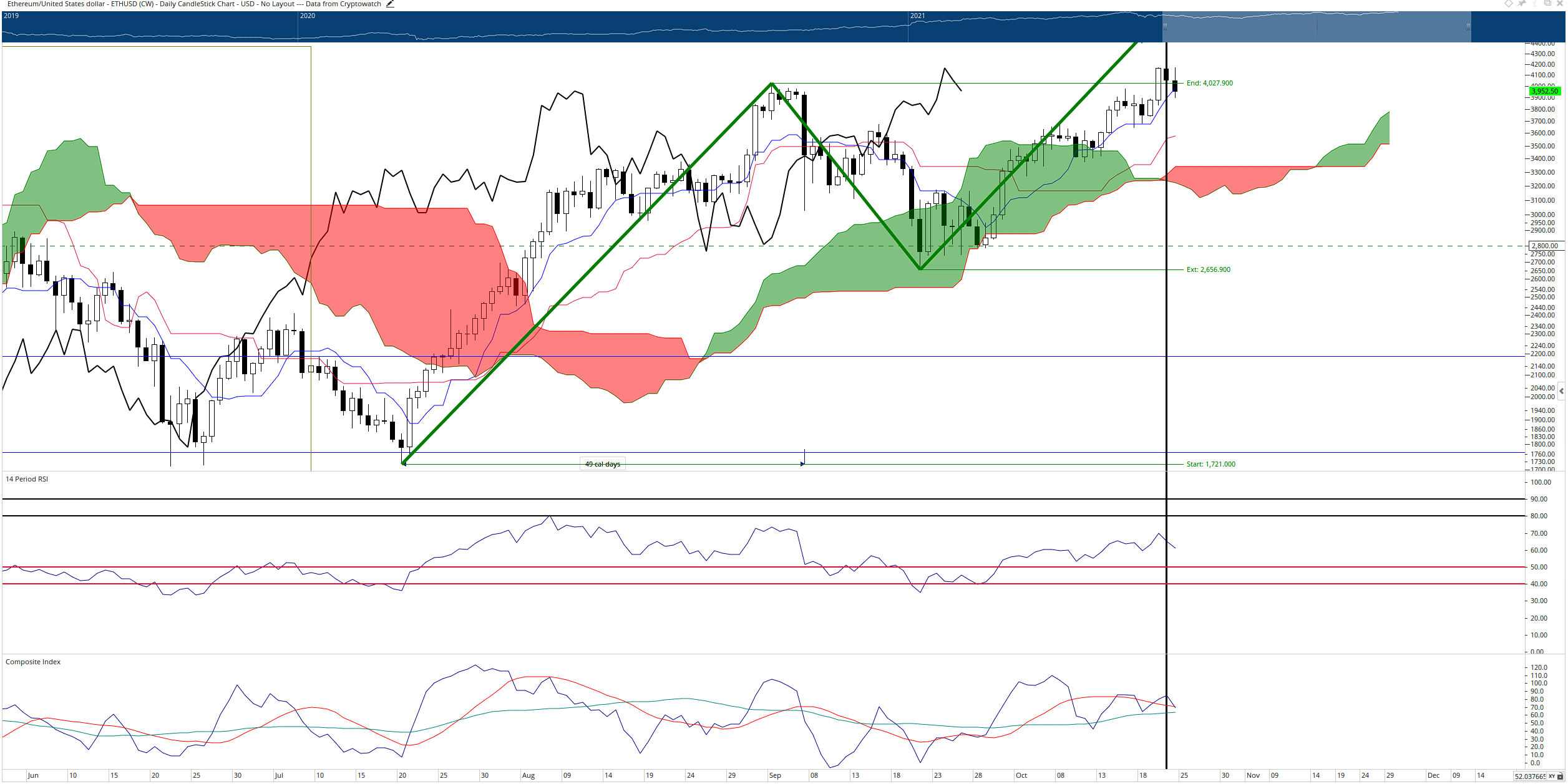 ETH/USD Daily Ichimoku Chart
However, watch for signs of selling pressure as the weekend approaches. The black vertical line represents where the nearest Kumo Twist (when Senkou Span A crosses above or below Senkou Span B) is located. Kumo Twists often mark turning points for markets that have been trending strongly at the time of the Twist. Thus, the upcoming weekend would be a perfect opportunity for short-sellers to push Ethereum price lower to test Kijun-Sen at $3,575 or Senkou Span B  at $3,350.
XRP price action frustrates bulls and bears
XRP price has spent the past two weeks trading in a very constricted trading range. The bodies of the daily candlesticks have been limited to $1.08 on the low side and $1.16 on the high side. From an Ichimoku perspective, XRP has fulfilled all conditions to confirm an Ideal Bullish Ichimoku Breakout – buy buyers need to step in and push Ripple higher. A close at or above $1.17 would likely be sufficient for XRP to begin a 50% upswing towards the $1.60 – $1.70 value area.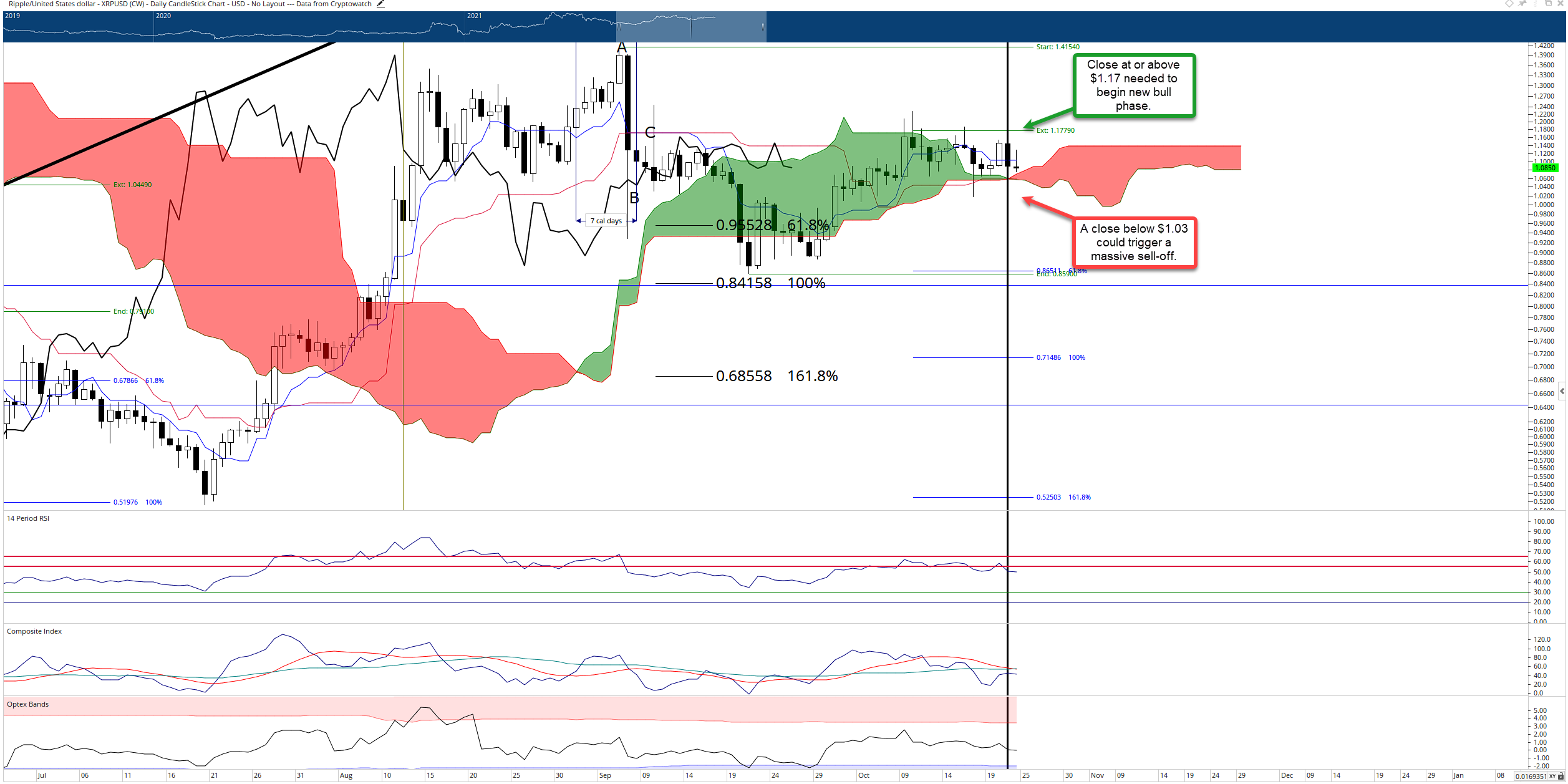 XRP/USD Daily Ichimoku Chart
As the weekend approaches, bulls will want to be cognizant of any strong push south which could cause a daily close below the Cloud. A close at or below $1.03 could be an early warning sign of some imminent selling pressure. If sellers were to push XRP price low enough to cause the Chikou Span to close below the candlesticks ($0.88), then a brand new bear market would likely begin for XRP.
Valkyrie Bitcoin futures-linked ETF launches on Nasdaq, with share prices dropping 3% in first hour
The second Bitcoin (BTC) futures-linked exchange-traded fund in the United States began trading on the Nasdaq, opening at a price of $25.52 per share.
According to the Nasdaq, digital asset manager Valkyrie's Bitcoin Strategy ETF, the second exchange-traded fund allowing U.S. investors direct exposure to cryptocurrency futures, opened at a price of $25.52 per share of BTF before dropping 3.3% to reach $24.66 at the time of publication. The exchange-traded fund is aimed at tracking the value of BTC futures listed on the Chicago Mercantile Exchange, or CME.
"This Bitcoin Strategy ETF is a major leap forward for this asset class," said Valkyrie CEO Leah Wald. "It enables investors to participate in the digital asset markets through a regulated, transparent product that trades on a trusted, reliable exchange and can be bought and sold as easily as any other investment currently available."
The crypto fund on a major stock exchange is the second to launch this week following ProShares' Bitcoin Strategy ETF opening for trading on the New York Stock Exchange on Oct. 19. In less than a week, the fund has reached more than $1 billion in assets under management in addition to approaching the limit on the number of futures contracts allowed under the CME.
The Securities and Exchange Commission first accepted the registration request for Valkyrie's ETF on Oct. 15 shortly after doing the same for shares of ProShares'. The regulatory body still has several crypto ETF applications under consideration, and has only approved ones with exposure linked to BTC futures.
According to data from Cointelegraph Markets Pro, the price of Bitcoin rose above $63,000 for the first time in months following shares of ProShares' ETF opening for trading on Oct. 19, later reaching an all-time high price approaching $67,000. Today, the price dipped more than 3% following markets opening, dropping from $63,449 to as low as $61,437.
Altcoins breakout even as Bitcoin price falls to $60,000
This week we saw bitcoin's price reaching a new all-time high around $67K. This came on the back of the first-ever futures BTC ETF approval.
To say that last week was exciting would be a serious understatement. Bitcoin went on to chart a brand new all-time high at around $67K, we saw the approval of the first-ever futures BTC ETF in the US, a massive flash-crash on BinanceUS, and a correction towards $60K. Let's dive in.
Starting with Bitcoin. The price was trading around $62K last this time last week and even dipped below $60K briefly on Monday. However, the market was propelled higher from then, and this culminated in a new all-time high around $67K on Wednesday. It was a major event for the community – it took BTC exactly 6 months and 6 days to paint a fresh peak.
This came on the wings of some tremendous news. The SEC approved the first-ever futures-backed Bitcoin ETF ticked BITO. On its opening day on Tuesday, the product did over $1 billion in trading volume, making it one of the most successful ETF launches in history. Meanwhile, we also saw a flash-crash on BinanceUS, which took the price for BTC down to around $8.2K in a second before recovering. It also happened on other exchanges but not with such gravity.
Since peaking, though, Bitcoin's price has been wobbly and, perhaps somewhat expectedly, tumbled towards $60K once again. This might be considered a healthy correction, given that there were no real shakeouts in the past few weeks.
Altcoins also followed suit to a certain extent. Solana and Ethereum literally came a couple of dollars away from marking new all-time highs but failed to do so.
It's very exciting to see how the market will follow through. As we recently reported, the overall trend remains bullish, but it's also critical to be very cautious in the short term, as corrections of this kind tend to take place and shake out weak hands.
Market Data
Market Capitalization: $2.644T | 24Volume: $156B | BTC Dominance: 43.7%
BTC: $61,272 (+6.7%) | ETH: $3,987 (+5%) | ADA: $2.15 (-0.9%)
Bitcoin Price Breaks All-Time High Surpassing April's $64.8K Peak. It took Bitcoin's price exactly six months and six days to break its former all-time high set on April 14th, 2021. The price reached around $67K this week, setting a new peak and further validating the continuation of the current bull run.
First Bitcoin Futures ETF Generates $1 Billion in Trade Volume on First Day. The ProShares Bitcoin Strategy ETF, ticked BITO, became one of the most successful ETF products launched on the traditional market ever. This happened as it saw over $1 billion in traded volume on its first day.
I Feel Underinvested in Bitcoin: PayPal Co-Founder Peter Thiel Says. The CoFounder of PayPal and Palantir Technologies, Peter Thiel, said that he feels underinvested in Bitcoin. He also said that BTC's recent all-time high spells bad news for central banks.
FTX Closes $420 Million in Series B-1 Funding: Company Now Valued At $25 Billion. One of the leading cryptocurrency exchanges – FTX – successfully closed a Series B-1 investment round worth $420.69 million. The entire thing was based on pop culture number memes and included exactly 69 investors, including BlackRock.
JPMorgan: Inflation Hedge Narrative Propelled Bitcoin's Price to ATH. According to analysts from the multinational banking giant JP Morgan, BTC reached a new all-time high because people started investing in it as a hedge against inflation.
$2.2T Asset Manager Pimco Is Starting to Trade in Cryptocurrencies, Said CIO. The Chief Investment Officer of the $2.2 trillion asset manager Pimco, Daniel Ivascyn, said that some of the company's hedge funds are already trading securities associated with cryptocurrencies. This comes as a sign that Bitcoin and the industry, in general, are becoming more legitimate in the eyes of institutions.
Charts
This week we have a chart analysis of Ethereum, Ripple, Cardano, Polkadot, and Solana – click here for the full price analysis and overview.