Shiba Inu price has more room to move higher
Shiba Inu price has sliced through a crucial resistance level ranging from $0.00000625 to $0.00000654.
A decisive 12-hour candlestick close above this level will open up the path for an 18% upswing.
If SHIB breaks below the July 20 swing low at $0.00000555, it will invalidate the bullish thesis.
Shiba Inu price broke out of its consolidation phase as it rallied 12% today. This upthrust of buying pressure has also cleared a crucial ceiling that will be flipped to support after a retest. Therefore, investors need to watch out for a bounce from the said demand zone.
Shiba Inu price signals bullish momentum
Shiba Inu price tried breaching through a supply zone ranging from $0.00000625 to $0.00000654 on July 21 but failed. This development led to a consolidation phase that lasted roughly three days.
However, as of July 26, Shiba Inu price saw a massive inflow of capital, which has pushed it up by 9.5% so far. A decisive 12-hour candlestick close above $0.00000654 will confirm the evolution of the supply zone into demand.
Such a move will confirm the presence of buyers and hint at an ascent toward the subsequent resistance levels at $0.00000727 and $0.00000759.
In a highly bullish case, the buying pressure might even catapult the meme coin toward $0.00000811 or the trading range's midpoint at $0.00000870. This uptick would constitute a 26% climb from the current position – $0.00000686.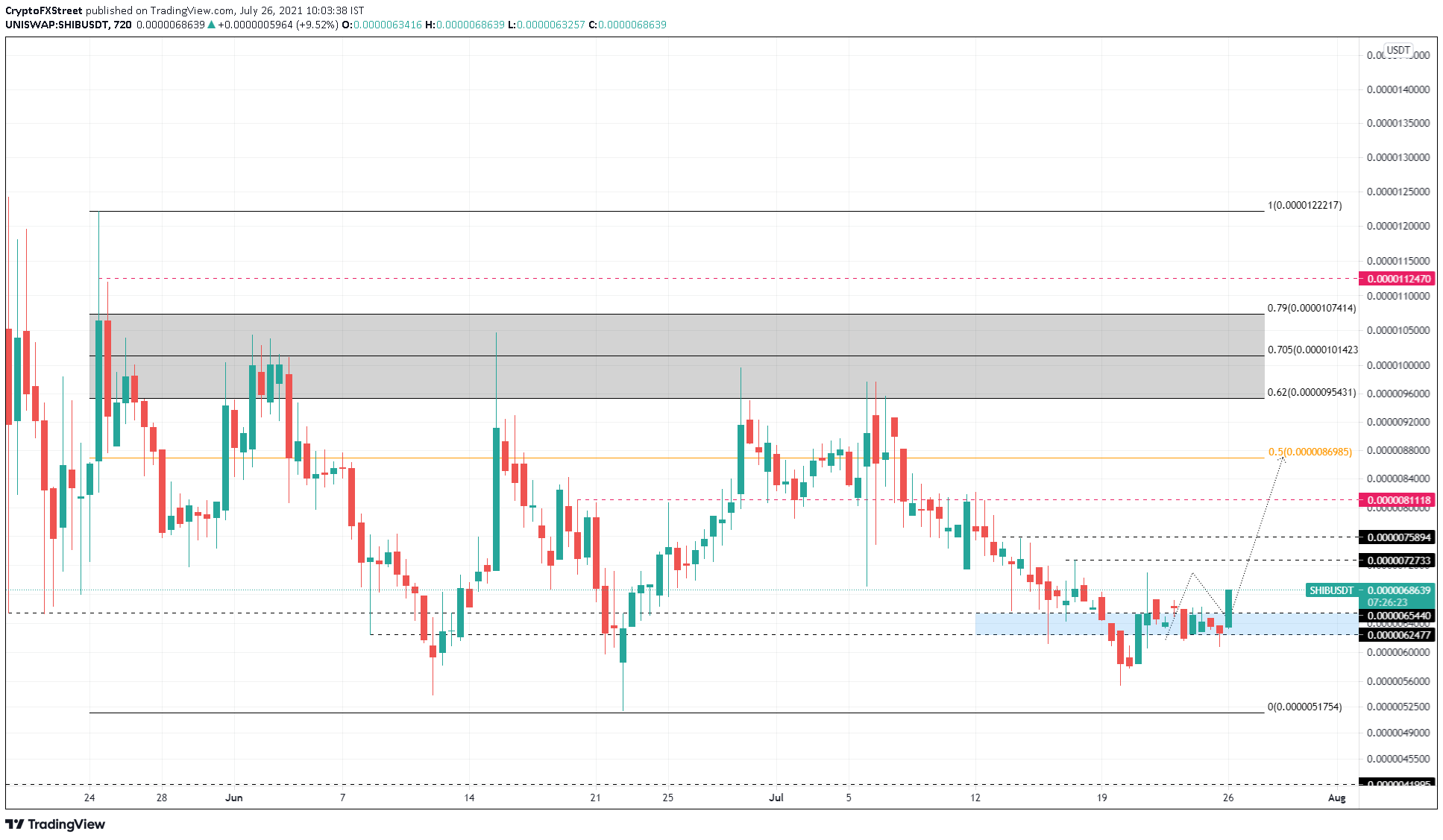 SHIB/USDT 12-hour chart
On the other hand, if the bulls fail to defend the coin from piercing the demand zone ranging from  $0.00000625 to $0.00000654, leading to a decisive 12-hour candlestick below the July 20 swing low at $0.00000555, it will invalidate the optimistic narrative.
Such a move might even trigger selling pressure, pushing Shiba Inu price down to the range low at $0.00000518.
Shib Army Is Rocketing to Mars! SHIB Price May Go 10x From Here!
Shiba Inu is the talk of the town. The meme coin has been running an unprecedented rally on the charts. SHIB Price is leveling up each hour, as of press time. And is conquering newer ATH's at an exponentially faster pace. 
The coin is up by a staggering 96786349.6% since its all-time-low, 11-months ago. It is vital to mention that SHIB's alliance with the aerospace firm could make it an interplanetary currency for colonization.
Shiba Inu Alliance With Nexus Aurora Could Take It to Mars!
SHIB announces new sponsorship with Nexus Aurora, under their alliance. The aerospace team is developing a rover to explore Mars. The alliance aims to foster a better apprehension of how cryptocurrency can create an impact in tech. The aerospace firm has partnered with Shiba Inu to empower crypto in the further development of humanities in space.
Reports suggest that Shytoshi Kusama has made donations of a massive 0.4 billion SHIB. Which equivalents to 414,898,000 SHIB to be precise. The sponsorship will further boost the firm's input towards its space program.
SSAM Rover Sponsorship
The pact seeks 20,000,000 SHIB. And a prominent display of the logo on the SSAM rover prototype would be present. Which will be deployed in the Mars Society test site in Utah. Nexus Aurora further mentions that it holds the potential to hold 1,000,000 SHIB. In wallet for deployment to Mars, as first global planetary currency. 
Nexus Aurora X SHIBA SWAP
The firm seeks 350,000,000 SHIB. The sponsorship includes branding on the future swarm of rovers. The one-year joint operations approximate 350,000,000. With the potential of two open-source collaborative groups working to hit the space.
The aerospace firm enlightens its aim to have Shiba token not only as sponsors. But also to have Nexus Aurora hold and use SHIB to fund the prototyping and development of projects. And further, explore the use of crypto as a currency for interplanetary colonization.
Summing up, SHIB has almost done more trading volume than Solana, Cardano, Dogecoin, and XRP combined. On the other hand, several exchanges are looking forward to promoting SHIB across public platforms. 
While critics believe the market to have gone bizarro of sorts. The market cap of SHIB has surpassed giants such as Nissan, Suzuki Motor, L.G Electronics, amongst others. From the current momentum, we can expect SHIB price to hit its new ATH of around $0.00006. FacebookTwitterLinkedIn
Shiba Inu price to provide buy opportunity before SHIB doubles again
Shiba Inu price is due for a retracement after rallying 113% in less than three days.
The MRI displays a major sell signal, hinting at a correction that could extend 17%.
A bounce off the $0.0000446 support floor will kick-start another 100% advance to $0.0000914.
Shiba Inu price saw a massive up move after it broke out of its consolidation pattern on October 23. This ascent propelled SHIB to a new all-time high. As bulls overextend the rally, however, things need to cool off before another massive rally emerges.  Market participants should anticipate a retracement, therefore.
Shiba Inu price needs to cool down
Shiba Inu price rose 28% on October 27 to set up a new all-time high at $0.0000595. The altcoin markets are seeing a massive sell-off, however, which is reflected in the SHIB price. So far, Shiba Inu price has dropped 10% from the peak, and the Momentum Reversal Indicator has flashed a red 'one' sell signal on the 12-hour chart.
This technical formation forecasts that a one-to-four candlestick correction is likely. Investors need to be prepared for correction, therefore, that will serve as a "buy" opportunity. The support barrier at $0.0000446 is the first level to keep an eye out for. While a bullish reaction here is likely, the SHIB could drop down to $0.0000414. As long as the 12-hour candlestick does not close below $0.00000383, the buying opportunity remains valid.
Assuming Shiba Inu price stays above the said barriers, investors can expect the memecoin to make a healthy comeback and restart its upswing.
In this situation, SHIB will likely make a run at its newly erected all-time high at $0.0000595 and then tag the 161.8% trend-based Fibonacci extension level. If the bullish momentum is similar to the one seen after the breakout of the bullish pennant, investors can expect the Dogecoin killer to lock in on the next level at $0.0000914. This ascent would constitute a 104% gain from $0.0000446 and would essentially double the market value of SHIB tokens.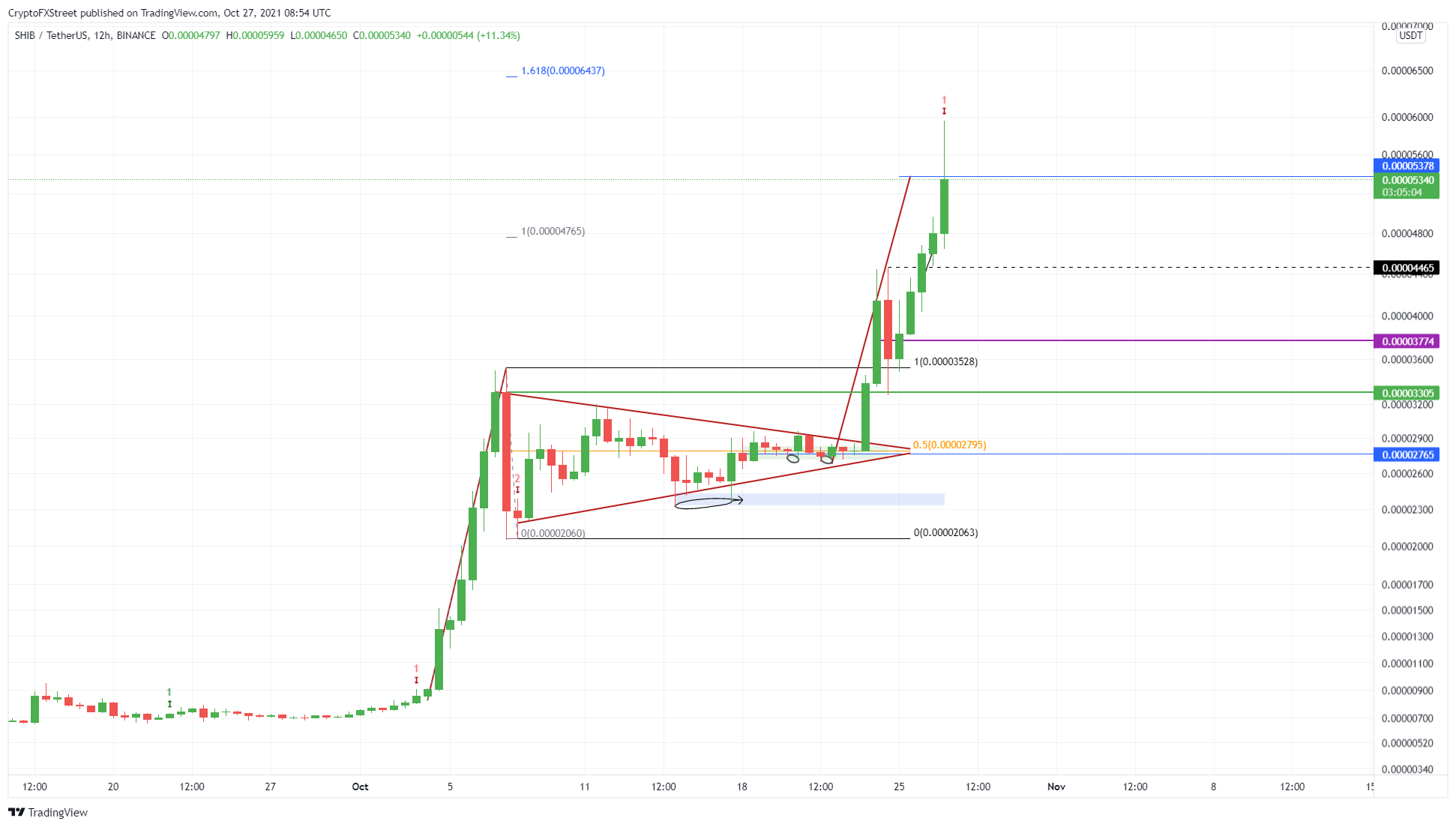 SHIB/USDT 12-hour chart
While a retracement is a boon for long-term holders, short-term holders would not like it if it extended. SHIB needs to stay above $0.0000383, therefore. A decisive 12-hour close below this barrier, however, will suggest that the downswing will extend lower.
In such a situation, investors can expect SHIB to retest the range high at $0.00003528. A breakdown of this barrier, however, will invalidate the bullish thesis.
Shiba Inu Now Valued Higher Than Nissan and LG Electronics as Price Hits Fresh Record Highs
Shiba Inu is now halfway to removing another zero from its price tag, and it has just surpassed Nissan in valuation
The price of Shiba Inu (SHIB) has hit yet another record high of $0.00005364 earlier today, according to CoinGecko data.  
With the cryptocurrency's market cap hitting $21 billion, Shiba Inu is now bigger than Japanese car manufacturer Nissan ( $19.9 billion) and South Korean tech company LG Electronics ($19.88 billion).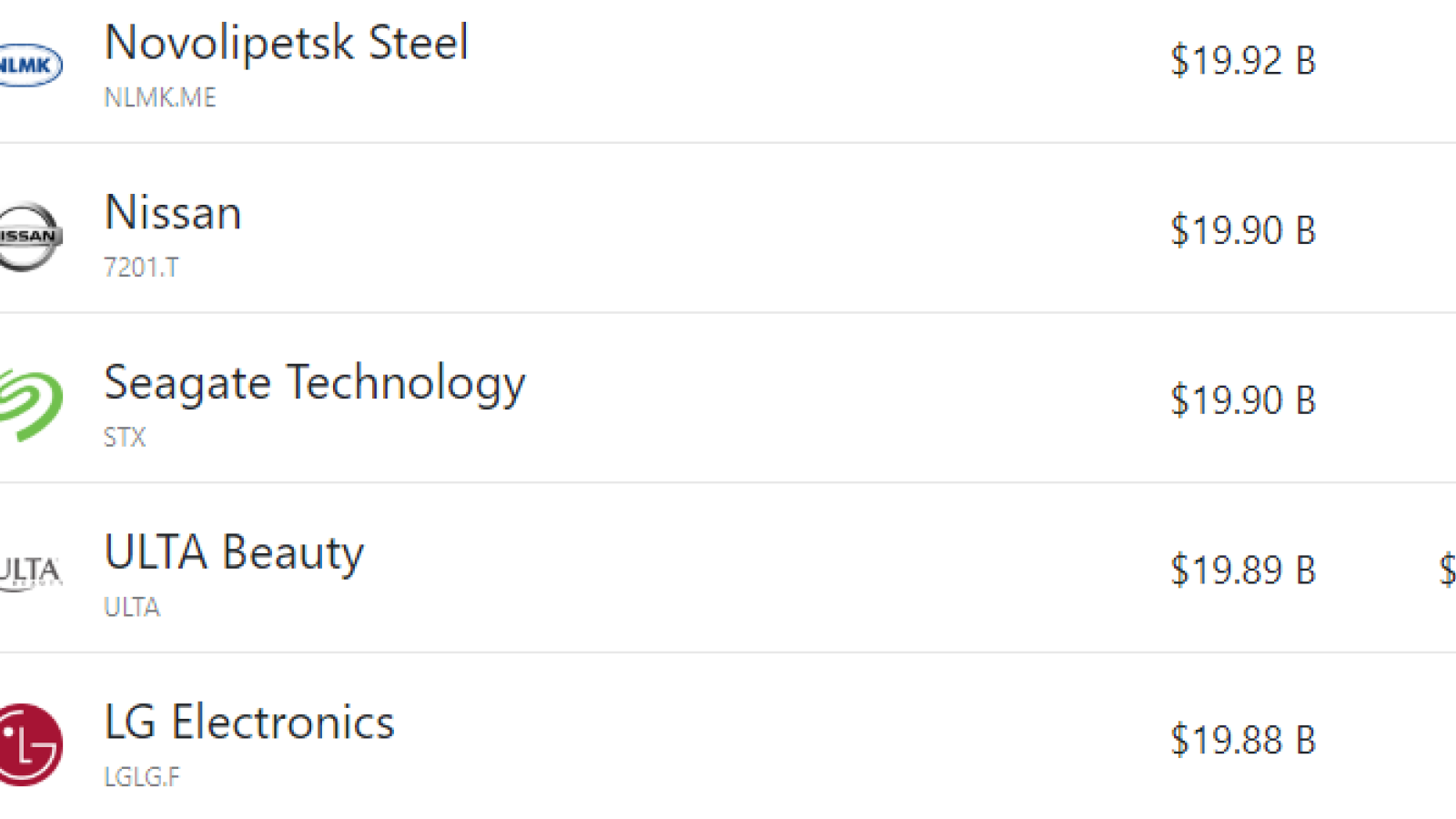 The meme coin is up 87% this week alone, extending its streak of eye-popping gains.  
Robinhood keeps kicking the can down the road
As reported by U.Today, the question about the Shiba Inu listing was the top-voted one ahead of Robinhood's Q3 earnings call. 
Yet, the company failed to set the record straight on the matter despite investors' expectations.
CEO Vlad Tenev said that the trading app was "carefully" evaluating new coins:
We feel very very good about the coins that we're currently listing on our platform and any new coins that we add we want to feel equally, if not more good.
Robinhood's shares plunged more than 8% in after-hours trading after the company revealed that its cryptocurrency-based revenue had tanked by a higher-than-expected 78%.

The online brokerage app made only $51 million with cryptocurrency transactions compared to $233 million during the previous quarter.