Top Analyst Says One Altcoin Ready for 300% Rally, Predicts Spikes in Two More Crypto Assets
Crypto analyst and trader Michaël van de Poppe says one under-the-radar altcoin is poised for a massive surge.
The closely followed analyst tells his 356,000 followers that he's convinced layer-2 scaling platform Celer Network (CELR) is ready for exponential gains in its Bitcoin pair (CELR/BTC).
"I'm still convinced that CELR is ready for a big new move of 300-700%.
Weekly charts on altcoins are looking quite good for a new impulse wave, with CELR and FET as great examples."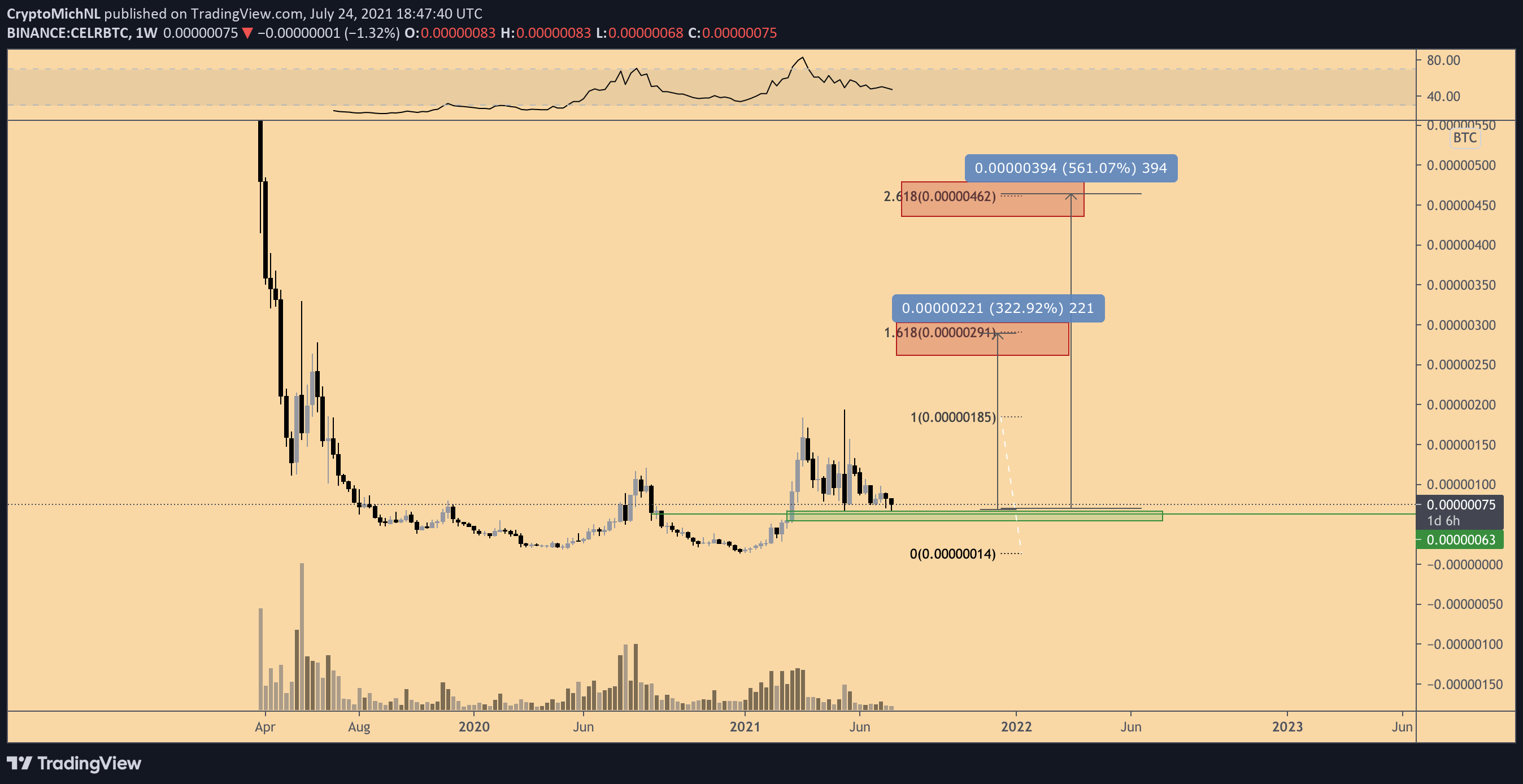 The crypto strategist predicts CELR/BTC can surge to as high as 0.00000462 BTC ($0.18) from its current value of 0.00000077 BTC, worth about $0.02.
The next crypto that Van de Poppe is watching is the leading smart contract platform and second-largest digital asset by market cap Ethereum (ETH). Once Ethereum breaks the critical level of $2,300, says Van de Poppe, $3,000 will then be in play, setting up ETH for a 30% rally.
"Support held for Ethereum once again, so it's approaching the other side of the range and crucial breaker, before a continuation to $3,000 could happen."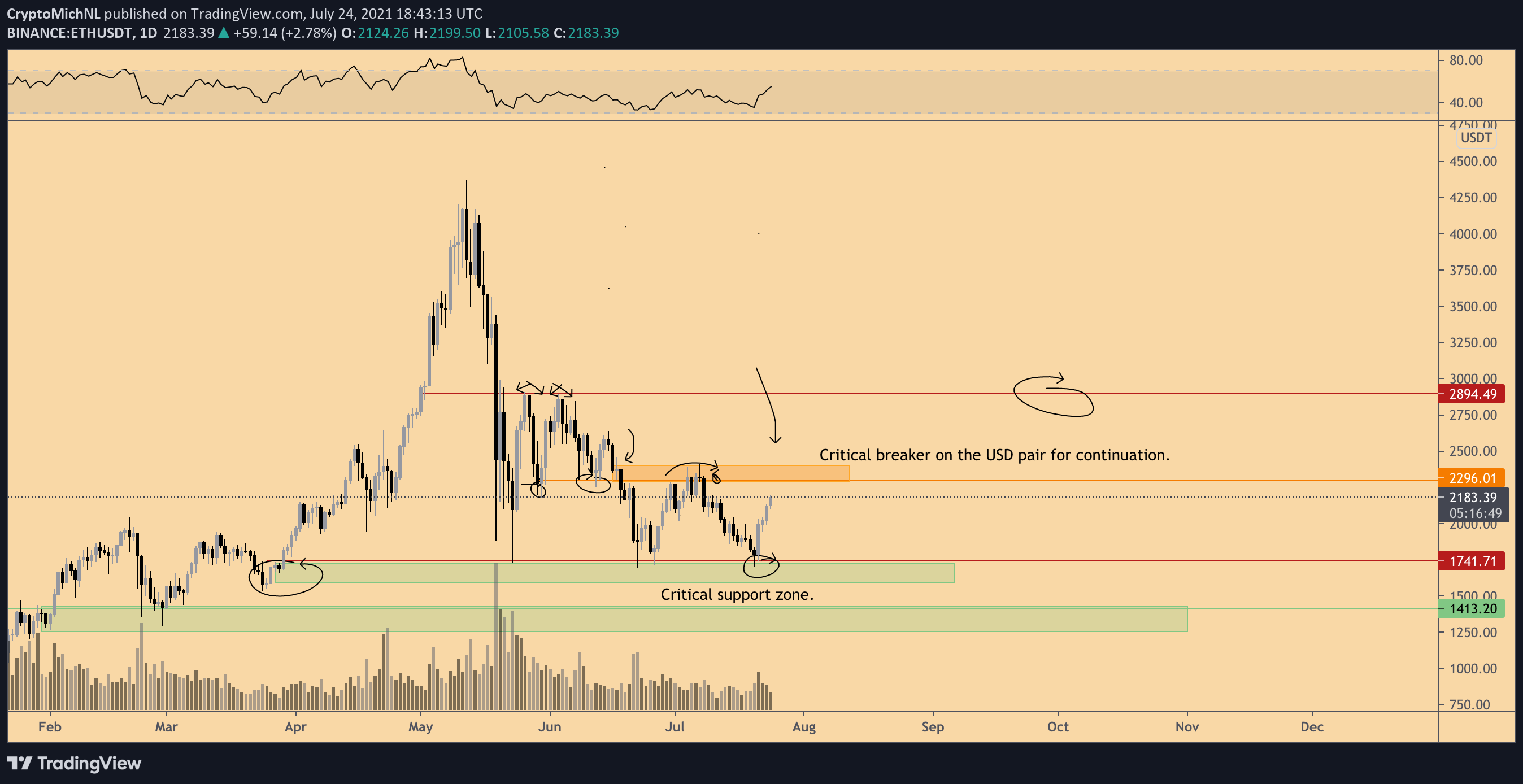 At time of writing, Ethereum is trading at $2,995, according to CoinMarketCap.
Van de Poppe also has his eye on cross-chain decentralized finance (DeFi) lending platform Kava.io (KAVA). According to the analyst, KAVA/BTC could be primed for an 86% run from 0.000125 BTC ($4.78) to 0.00024 BTC ($9.17) as it gears up to take out its immediate resistance.
"KAVA looks ready for continuation to 24,000 sats (0.00024)."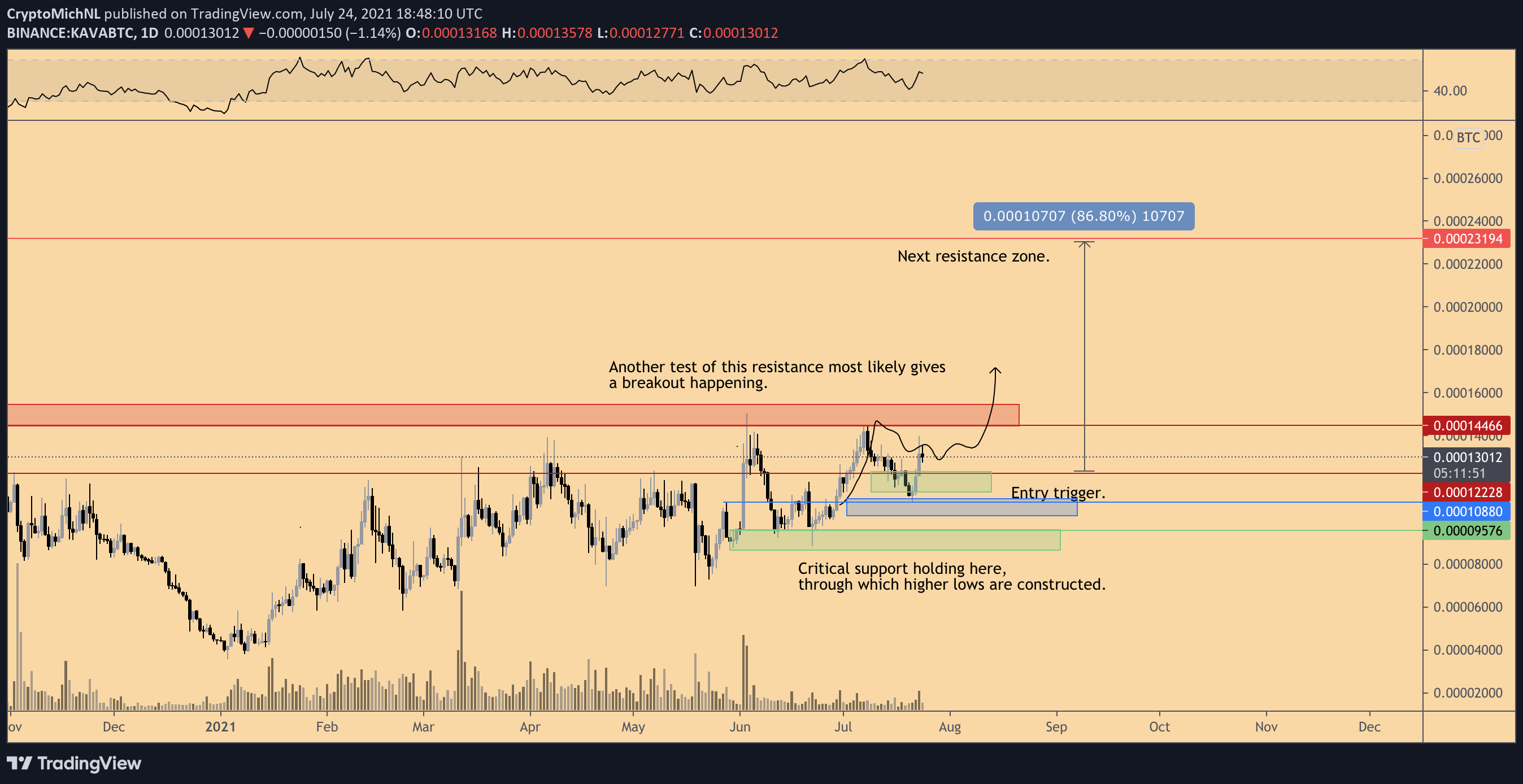 As for Bitcoin, Van de Poppe says he expects BTC to test crucial resistance at $40,000.
"Bitcoin facing the next level of resistance (after this it's $36,000).
Reminder that we're dealing with a weekend pump. Wouldn't be surprised to see a retest happening in green to close the CME gap this coming week.
Overall, very good behavior and still expecting $40,000 overall."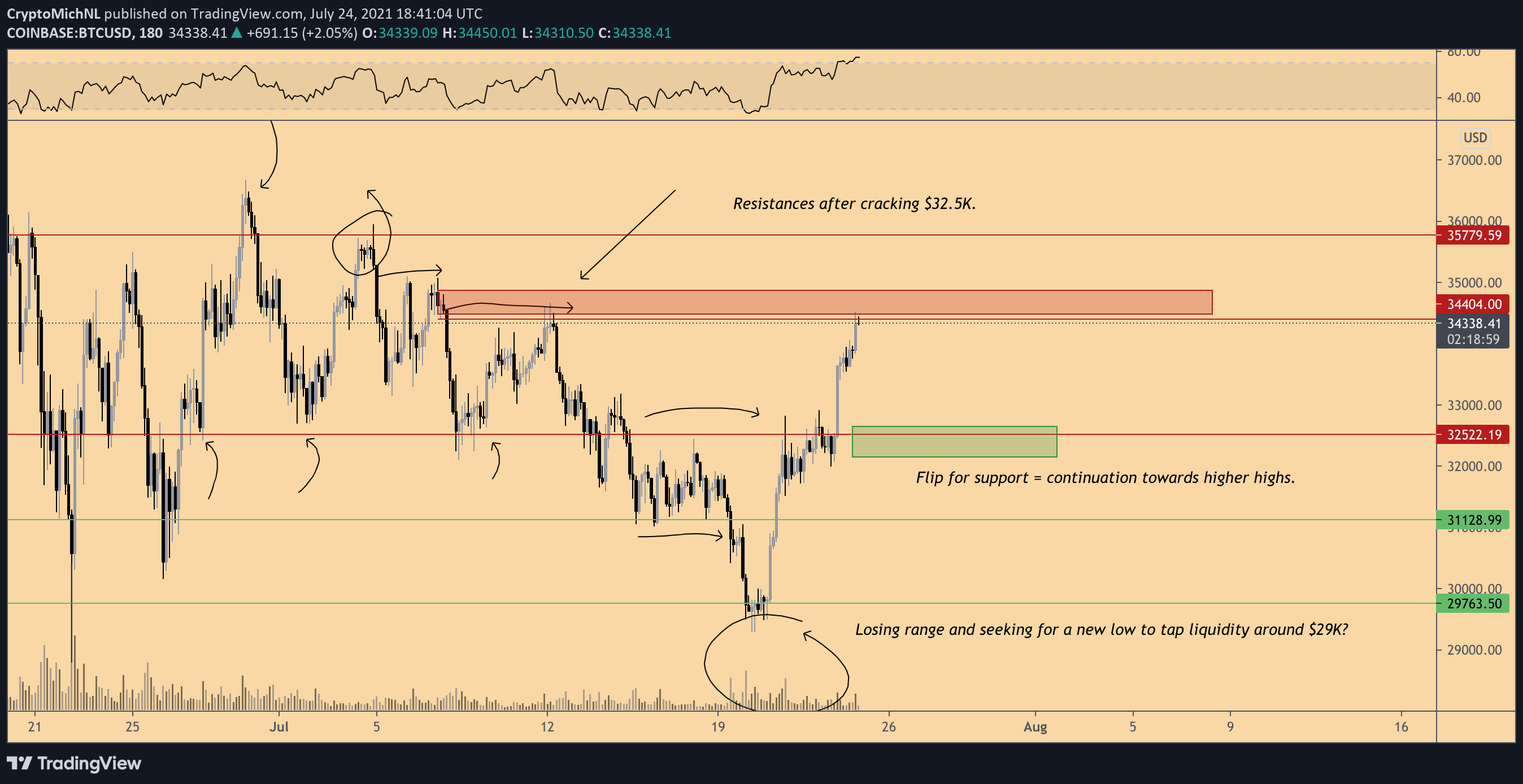 Another Altcoin Scam Teaches Inexperienced Investors & Influencers a Lesson
A fake food delivery platform named Crypto Eats has robbed its users of some USD 500,000 before disappearing off the face of the earth, leaving behind t-shirts and promotional merchandise, and the puzzled participants of its London launch party.
The scam resurfaced among discussions by a number of UK-based TikTok influencers who talked about a new startup poised to compete against giants such as UberEats by enabling its customers to pay with cryptocurrency, as reported by Vice. The fake service's creators promoted it online, created merchandise with its logo, threw a party, and even issued a press release that has since been taken down by some services, but is still available on other websites.
"Rumors are always what keeps the FinTech industry going and competitive. Amongst so many rumors, one is of a new food delivery app in development," the release said. "Crypto Eats, may be soon proud to announce its arrival sooner rather than later, as it aims to be launched in early 2022 or before the end of the Q4 2021."
The press release was written in poor English and possibly translated from another language via a machine translation service, as indicated by statements such as: "the said decentralized food delivery app has been in the developing process since the last year, in order to bridge a food delivery payment system, which can bring in the use of the Cryptocurrencies, as well as the Credit card for the payments."
This, however, was not enough to arouse the suspicion of numerous users who fell for Crypto Eats and believed that the app had raised USD 8m in Series A funding. Shortly after making waves online, the fake service vanished with some USD 500,000 of funds stolen from its users, and it turned out that Crypto Eats founder Wade Philips does not exist.
The scam's outreach to potential users was reinforced by its use of online celebrities such as British TikToker Hstikkytokky.
"The coin is launching on the 17th of October. All I'm saying is use your brains. They've got more money than they know what to do with," hstikkytokky reportedly said. "And if you've got more money than you know what to do with, and you're launching something that's better than other things, it will do well."
"The rug pull is horrendous but those influencers should also be held accountable. If you have 1M people hanging on your every word, then you need to show some responsibility," commented a Redditor who goes by the name of UJ_Reddit.
One Altcoin Will Outperform Solana, Binance Coin, Cardano, Ethereum and Bitcoin This Cycle, Says Popular Crypto Analyst
A widely followed analyst says that one crypto will manage to outperform Bitcoin (BTC) and four big-name altcoins during this bull cycle.
The pseudonymous crypto analyst known as Capo tells his 180,000 Twitter followers that Bitcoin dominance, which is Bitcoin's market cap compared to the rest of the crypto market, looks to be trending higher, but will likely hit a hard resistance at the 50.00 level.
The analyst says that the last time Bitcoin made an all-time high, Bitcoin dominance eventually topped out and plunged, sending altcoins on a new leg up. According to Capo, the same scenario could be around the corner.
"BTC.D update
Not ruling out the move up to 49%-50%
Last time $BTC made a new ATH, dominance kept rising for some days.
Sooner or later it will make new lows. I will hold altcoins until the end of the cycle."

Once capital starts moving into altcoins, the analyst expects Ethereum to massively outperform Bitcoin, noting that its Bitcoin pair (ETH/BTC) is already forming a bullish structure that suggests an all-time high is right around the corner.
"$ETH/BTC
Bouncing hard within a range that looks like reaccumulation. This is a higher low of a bullish structure. I wouldn't bet for the downside.
This is good for the altseason."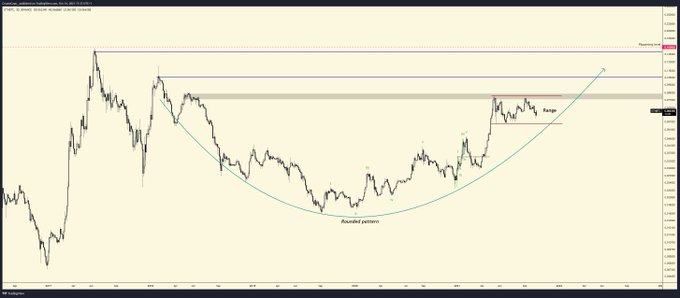 With Ethereum outperforming Bitcoin, Capo next predicts that Cardano (ADA) will outperform ETH, Binance Coin (BNB) outperforming Cardano, and Solana (SOL) outperforming Binance Coin.
The one altcoin that the analyst predicts will outperform them all is smart contract platform Polkadot (DOT).
"Expected performance until end of the cycle:
$DOT > $SOL > $BNB > $ADA > $ETH > $BTC"
Polkadot is currently trading at $40 after a massive recovery from $11 in July, according to CoinGecko.
Ultimately, the closely followed strategist foresees the whole crypto market cycle ending when Bitcoin is trading above the $150,000 level, which is about a 145% move up from current prices.
Billionaire Mark Cuban Identifies Altcoin With 'Most Upside' As Bitcoin Blasts Above $60,000
As Bitcoin shoots above $60,000, business magnate Mark Cuban says one altcoin stands above the rest in terms of investment potential.
In a new interview with CNBC Make It, the billionaire says that Ethereum (ETH) is the best crypto prospect on the market.
"As an investment, I think Ethereum has the most upside."
Cuban, who previously stated that smart contracts on Ethereum's blockchain have revolutionized the cryptocurrency market, believes that the second-largest crypto by market cap is the digital asset which most resembles legal tender.
"I wish I had bought [Ethereum] sooner. I think it's the closest thing we have to a true currency."
Cuban went on to reiterate his position that Bitcoin (BTC) is superior to gold because not only is its supply scarce, but it's easier to transfer, store, trade, and fractionalize. That sentiment is shared by fellow billionaire CEO Chamath Palihapitiya of Social Capital and Virgin Galactic.
Cuban's comments come on the heels of him saying that customers prefer making payments in Dogecoin (DOGE) rather than BTC at his venues because Bitcoin tends to be a highly appreciable asset.
Ethereum is exchanging hands at $3,839 at time of writing, an 11% increase from its seven-day low of $3,431, according to CoinGecko.