93,058 Bitcoin Transferred Over Past Hour by Coinbase and Anonymous Whales
According to recent blockchain-based data, over 93,000 BTC have been shifted in the past hour between anonymous cryptocurrency wallets.
Data shared by Whale Alert cryptocurrency tracking service shows that over the past hour, a whopping 69,058 BTC were moved between wallets with unregistered owners.
A few hours earlier, Coinbase received 24,000 Bitcoins from wallets labeled anonymous as well.
$3.7 billion in Bitcoin on the move
Seven transactions bearing approximately 9,900 to 9,700 each have been detected by the Whale Alert team. That totals 69,052 and amounts to a staggering $2,745,014,065.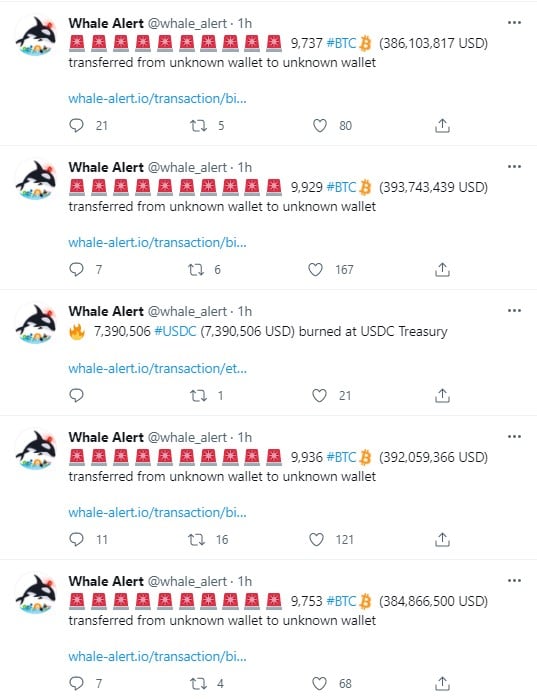 Prior to that, the blockchain tracker spotted two consecutive transactions, carrying 12,000 BTC each and 24,000 in total. That constitutes $953,985,600.
The last two transfers were made around seven hours ago between internal Coinbase wallets.
The overall fiat worth of the Bitcoin transferred is $3,698,999,665.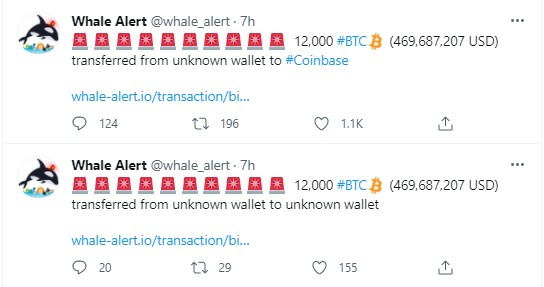 Whales purchase 170,000 BTC in the past six weeks
As reported by U.Today earlier, over the past six weeks cryptocurrency whales (with wallets holding from 100 BTC and 10,000 BTC) have bought a whopping 170,000 Bitcoins, as per the data provided by the CryptoQuant analytics company.
In the last five weeks, the data says, whales have grabbed 130,000 BTC on the dip, and in the past 10 days, they added another 40,000 Bitcoins to their wallets. The 170,000 BTC was worth approximately $6,299,996,000 on Tuesday, July 27, when the article came out.
Bitcoin continues to hold near $40,000
Two days ago, on Monday, the flagship cryptocurrency briefly recaptured the $40,000 level after dropping below $30,000 on July 21, recovering to $32,300 thanks to the B-Word conference between Musk and Dorsey. It traded in that area for about a week.
The surge back to $40,000 took place ahead of the Tesla Q2 earnings report release. Another reason for the rise was the short squeeze faced by the Bitcoin market. Besides, Musk stated that neither he nor Tesla nor SpaceX are going to sell their Bitcoins.
At press time, the largest digital currency by market cap is changing hands at $39,846, according to data provided by CoinMarketCap.
Prominent crypto trader and analyst Michael van de Poppe believes that Bitcoin is looking for a higher low at the moment, so he believes that the correction should not seem strange to market participants.
Bitcoin Drops as China Declares Crypto-Businesses Illegal
China declared that cryptocurrency-related businesses are illegal
Bitcoin, Ether, and stablecoin Tether do not qualify as legal tender in China
BTC drops in price as the announcement went out
Once again, China reiterated its antagonistic stance on Bitcoin and the cryptocurrency industry as a whole.
In an announcement, the People's Bank of China (PBOC) mentioned that BTC, ETH, and USDT are not legal tenders in China. They added that these cannot be used in the currency market.
Additionally, the central bank deemed all crypto-related businesses as illegal. This includes overseas exchanges serving residents within China and derivative transactions.
Following the news, Bitcoin's price fell by almost $2,000 as the news circulated. This has been a common pattern whenever China FUD comes out.
Earlier, China also reiterated its stance on crypto trading and mining while testing the Digital Yuan. According to the PBOC, it will continue releasing regulatory pressure over the crypto trading industry.
Despite the negative news, many analysts remain bullish on Bitcoin and the cryptocurrency industry as a whole. According to analyst Lark Davis, this is not new and will happen again in the future.
In a tweet, Davis mentioned that "The year is 2025, #bitcoin has just corrected from 400k to 250k on China banning BTC fears."
Can Bitcoin Surpass $6,000,000? Ethereum and Polkadot Creator Details Possible Future of Crypto
Early Bitcoin developer and co-founder of Ethereum and Polkadot, Gavin Andresen, is outlining a future where BTC rises to a staggering $6,000,000 per coin.
Gavin Andresen, who took over as Bitcoin's lead maintainer from founder Satoshi Nakamoto in 2011, just published a new blog post detailing how BTC's theoretical evolution could look.
Andresen describes a "possible" scenario where Bitcoin hits a price tag of $6,000,000 by 2061, transaction fees 326x higher than they are now, and the blockchain is used chiefly by whales.
"Imagine: it is the year 2061. The BTC price is six million US dollars – equal to about a million 2021 dollars because of inflation.
Miners are being rewarded 0.006103515625 BTC per block, plus transaction fees of about 5 BTC for 4,000 or so transactions ($7,500 per transaction).
But most BTC transactions don't happen on the BTC network. Most BTC is locked up in multi-signature outputs secured using multiparty computation and mirrored on another chain as 'wrapped' tokens."
In his scifi scenario, Andresen says those who do remain on Bitcoin's network will be incentivized to keep it alive.
"The transactions that do occur on the main BTC network are high-value, mostly between super-whale-size holders…
These whales maintain the BTC network forever. They are the miners and the transaction creators; they don't care how high transaction fees go, because they receive as many fees as they pay."
However, Andresen says that by 2100, even those users would likely leave the blockchain.
"In the year 2100 the whales notice that the mining reward is basically zero… Eventually, there are zero new BTC being produced on the BTC network, and zero BTC circulating on the BTC network. There is nothing left to secure, and the chain stops."
Top Analyst Maps Bitcoin and Cardano Price Trajectories, Warns Best Entry Point for ADA May Be Gone
Top Analyst Maps Bitcoin and Cardano Price Trajectories, Warns Best Entry Point for ADA May Be Gone
Crypto trader Michaël van de Poppe is looking at what's ahead for Bitcoin (BTC) and the smart contract platform Cardano (ADA).
The analyst tells his 420,000 Twitter followers that the best entry point for Cardano may be gone after the asset bounced off a key support level at $1.86.
"If you want to get into Cardano, this was the region where you would want to get into it, and the higher low that might be created.
So based on the daily timeframe, the best entry might be gone, but you're still getting a better entry than the ones who have been buying around $2.80."
Van de Poppe is now looking to see if ADA can turn resistance at the $2.37 level into support.
If the markets correct further, he is keeping an eye on the $2.15 level as a potential buy zone.
"When you're looking at the four-hour time frame, I think you're getting the exact same view as what you have right now on Bitcoin and [Ethereum], actually. So you're going to look for an entry point which is around the fact of $2.15, so anything in this region might be a good entry point if we get a corrective move."
Looking at the Bitcoin pair, van de Poppe thinks that ADA will most likely consolidate briefly after retesting support at its previous all-time high.
"We can see that we've had a beautiful retest of the previous high here too, and therefore some consolidation is most likely going to take place before we're going to have new impulse waves.
So both the USDT and BTC pair are looking for continuation, and I think that's just great, and I think that's just what we want to see with the markets right now."