Cardano price fails to secure momentum, as 2018 high haunts ADA
Cardano price records a significant reversal at the 2018 high, reminding investors of February, March, and April struggles.
50-day simple moving average (SMA) becoming influential again, restricting upside price traction.
ADA symmetrical triangle's upper trend line is a good source of support for any weakness.
Cardano price was firmly rejected at the 2018 high on July 26, emphasizing the importance of the level in securing a renewed and sustainable rally to the all-time high. Unless $1.40 can be broken on a daily closing basis, ADA is far from bullish outcomes.
Cardano price breakout carries no spirit, questioning the viability
On July 26, Cardano price resolved the long-standing symmetrical triangle with a daily close above the upper trend line. It was the culmination of the brief rally that began on July 21 after ADA fooled investors with a bear trap.
Since the breakout, Cardano price has struggled with the 50-day SMA, similar to the failed ADA attempts in mid-June that resulted in a new wave of selling, ending with the June 22 low at $0.98.
The measured move of the symmetrical triangle pattern is close to 63%, signaling a Cardano price target of $2.01, putting ADA less than 30% away from the all-time high of $2.51 printed on May 16.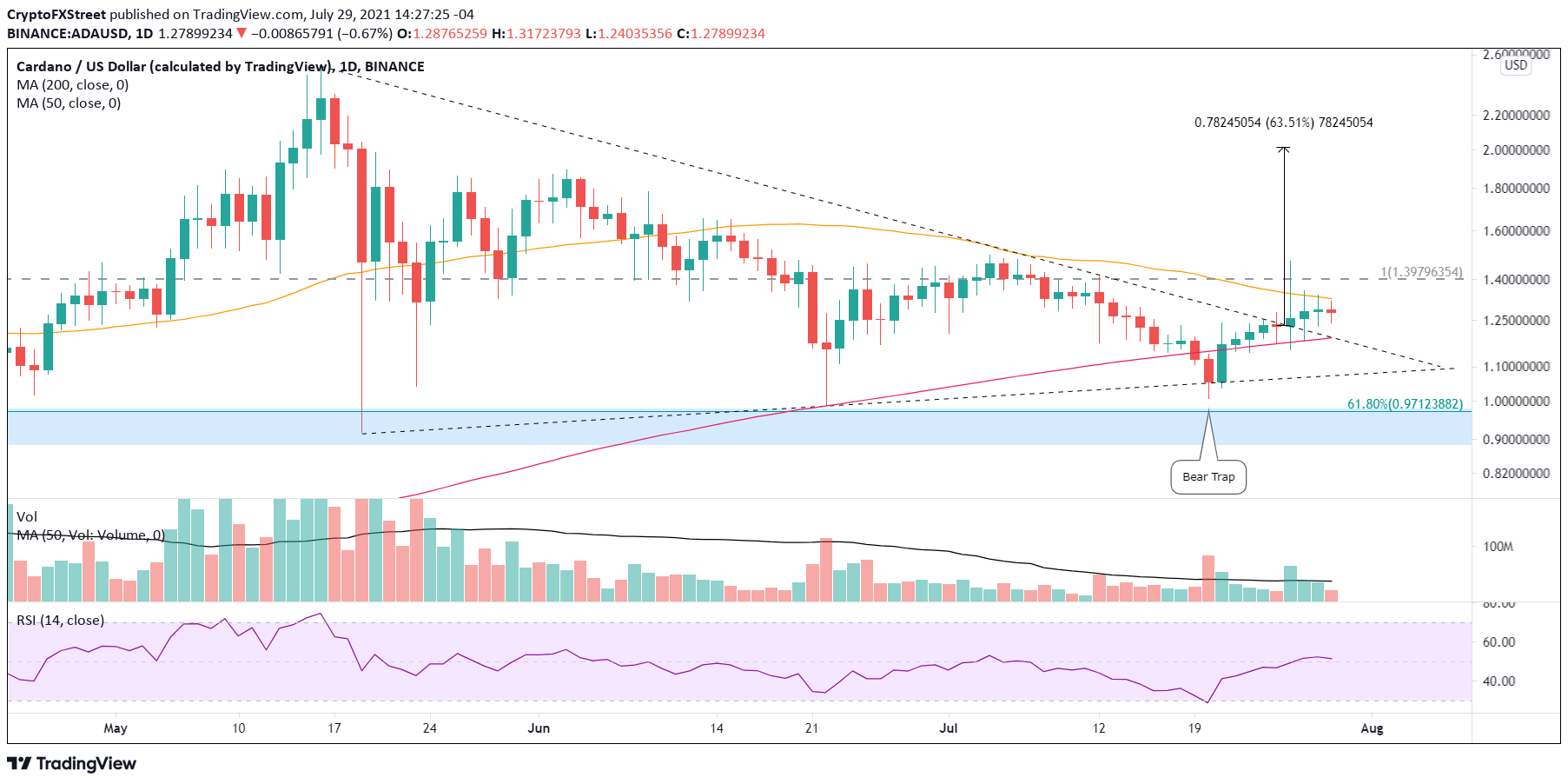 ADA/USD daily chart
From an intraday perspective, Cardano price could be shaping a cup-with-handle pattern that may provide the foundation for a sustainable advance and a successful test of the symmetrical triangle's measured move target of $2.01.
The measured move of the cup-with-handle base is just over 37%, generating an ADA price target of $1.93, very close to the symmetrical triangle price target. Adding to the symmetry of the price structure is that the high of the handle is $1.40, further emphasizing how important the 2018 high is to bullish outcomes for Cardano price.
Thus, if Cardano price can sustain an advance above $1.40, ADA should be primed to target the range of $1.93-$2.01.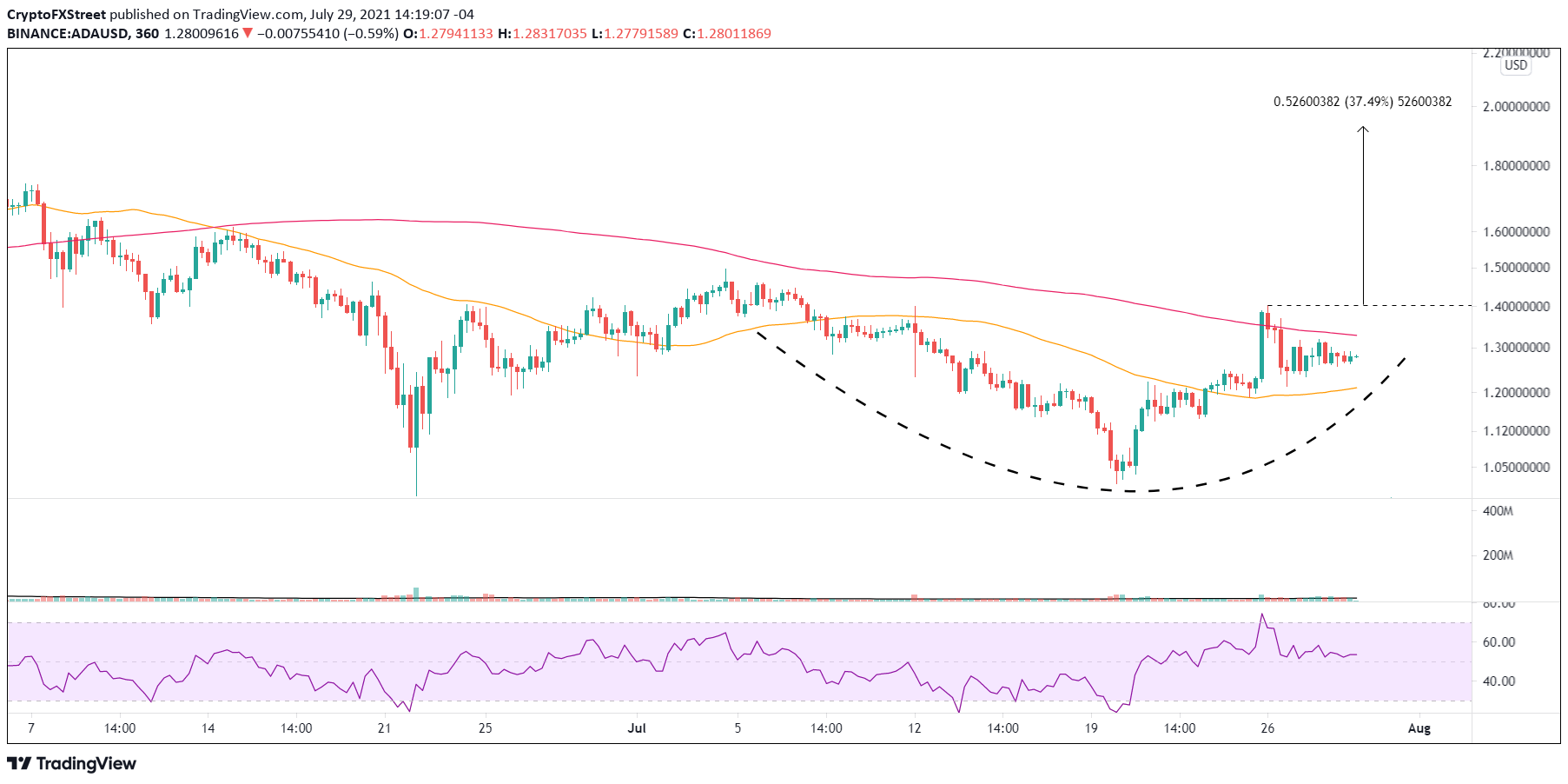 ADA/USD 6-hour chart
On the downside, Cardano price is supported by the confluence of the 200-day SMA at $1.19 with the symmetrical triangle's upper trend line. Any weakness below the moving average will encourage a test of the triangle's lower trend line at $1.07. If there is a collective sell-off in the cryptocurrency complex, ADA may reach the 61.8% retracement of the rally from March 2020 at $0.97.
Based on the price action over the 4-5 days, the Cardano price breakout from the symmetrical triangle does not look viable, but a close above $1.40 would change that statement, triggering the cup-with-handle pattern and swiftly pushing ADA to the $1.93-$2.01 range.
Here, FXStreet's analysts evaluate where ADA could be heading next as it seems bound to breakout.
The World Comes Together on Cardano Summit 2021 from Sydney to Vancouver
Cardano community have to state that from Sydney to Vancouver, via Perth – we're bringing the world together around Cardano for the Summit.
Bringing the Cardano Summit 2021 to VANCOUVER! Celebrate discussing blockchain capabilities and mingling with fellow Cardano Community members.
Regional promotions and calls are viral everywhere on Twitter pages and social media networks:
Calling all Perth based Cardanians. We're hosting the #Cardano Summit Perth event this Sunday, 26 Sep from 2pm-9pm!
Who's in Johannesburg? Have you registered for the Cardano Summit 2021? Only a few days to go and only a few spots available – sign-up now to save a seat.
Join the Cardano Summit 2021in Kumasi to learn about the emerging cryptocurrency revolution, blockchain technology and digital finance.
If you're in or near Accra, Ghana, register for the event below to be part of the Cardano Summit 2021 – the biggest Cardano event ever.
Great lineup of speakers for the Cardano Summit India. SPOs, Projects, DApps, community engagement activities and more.
Cardano Summit 2021 Lagos Nigeria will be held on September 26, 2021. At Eko Hotel and Suites there will be free T-Shirts, Hoodies, and water bottles for early attendees. Stay tuned for further updates or call.
It's going to be the BIGGEST, BADDEST Cardano event there ever was! 40 Community-led events 32 Countries, 60 Community hosts, and 7 Main summit events.
For those who are new, Cardano is an excellent blockchain technology that serves as the face of a secure and sustainable blockchain facilitating ground-breaking use cases.
Cardano focuses on tackling issues faced during blockchain adoption on a large scale. Cardano seeks to reign issues like scalability, interoperability, and sustainability through the development of design principles and engineering best practices.
The world comes together on Cardano. One week from now, IOHK and Cardano teams and the global community will gather for the biggest blockchain event ever for a mix of virtual and live events from around the world.
Initially Cardano was able to deal with 10 transactions per second. However with Hydra Layer 2 scaling arrangement Cardano will be able to handle more than 1,000,000 transactions per second.
Ouroboros a chain-based PoS protocol relies on randomly chosen leaders to approve blocks. Just like other blockchains, the node that adds the next block receives a reward for its efforts.
Cardano is energy efficient, Cardano: 6-gigawatt hours; Bitcoin: 130 terawatt-hours; Ethereum: 50 terawatt-hours.
Community response: Pump Cardano. I am so excited about it.
Following the latest 'non-event,' what next on the price front for Cardano
It has been almost two weeks since Alonzo went live on Cardano's network. The narrative before the hard fork was largely conformist, one that proclaimed ADA's price would soon surge to new heights after its release.
The hard fork, however, turned out to be a 'non-event' and did not impact the token's price much. In fact, in the days that followed the release, ADA's price dropped to as low as $1.98. Ergo, one may argue that ADA, just like the market's other tokens, became a victim of the pessimistic broader market trend.
Well, the same holds true to a certain extent, particularly because ADA's dependency on the market's other cryptos has increased over the last couple of weeks. In fact, it now shares a correlation of 0.78 and 0.74 with Bitcoin and Ethereum, respectively.
Apart from this, the deteriorating state of on-chain metrics has created a cascading effect on the alt's price. So, unless and until the same improves, a price trend reversal seems to be out of the question.
State of the network
Well, inspecting the state of the network would give us a fair idea about the direction in which Cardano is heading. As per data from CardanoScan, the transaction count on the network has been quite stagnant over the last couple of days, despite crossing 111k on 17 September.
This, quite obviously, indicates that not many people have been using Cardano's network of late.
What's more, the average transfer value too has been spending more time towards the lows of late. Notably, the same witnessed a massive spike during the initial few days of September but subjected itself to a freefall right after that. The active address ratio as well, for that matter, has been on the decline. The same fell from 9.17% to 2.45% over the period between 7 to 24 September.
By and large, this implies that users who have been active are merely trying and testing the network at this stage. One can argue then that the Cardano market is devoid of some solid momentum at the moment.
However, there's a silver lining to this scenario too.
All's not lost
As far as Q4 is concerned, a host of launches are already lined up for Cardano. The introduction of Cardax DEX would allow users to trade ADA for other native tokens. Notably, the exchange would have its own utility token – CDX. Further, GREED is also set to launch as one of the blockchain's first tokens.
Additionally, right from Liqwid, an open-source and non-custodial liquidity protocol, to SingularityNET, a platform that lets users create and monetize AI services at scale, several noteworthy projects are set to make use of Cardano's ecosystem in the coming weeks. In effect, a new set of users would be using the blockchain.
Thus, unless and until Cardano's adoption hastens up, a prominent trend reversal seems to be unlikely. In effect, only if the aforementioned future events actually end up contributing to the network's growth, it would make sense to anticipate a direct impact on the altcoin's price.
Thus, it'd be interesting to see if the 'non-event' tradition continues or Cardano successfully frees itself from the shackles of the same.
Cardano Partners with Chainlink to Integrate Oracles for Advanced Smart Contracts
Cardano joins forces with Chainlink to provide extra support for developers building smart contracts by integrating oracles
The Cardano team has just published a blog post, announcing a partnership with Chainlink that will result in integrating Chainlink's oracles. These will help developers build smart contracts for Cardano DeFi apps.
The collaboration was announced during the Cardano Summit today, on September 25.
NEW BLOG: Announced just moments ago at #CardanoSummit2021, our collab with Chainlink Labs gives #DeFi developers #BuildingOnCardano secure access to a wealth of real-world data through Chainlink's decentralized oracle networks @Chainlink @Smart_Contract https://t.co/kOWFpjhtpL— Input Output (@InputOutputHK) September 25, 2021
Cardano teams up with Chainlink
Chainlink's oracle networks supply data to blockchain networks and allow smart contracts to work with results of elections, sports statistics, crypto rates, etc. They can also operate weather data (Chainlink is now working with some fintech companies that are bringing parametric insurance to South Africa) and other types of data as well.
Chainlink oracles help run hybrid smart contracts on any DLT network. Presently, Chainlink secures billions of USD in DeFi apps, gaming apps, platforms related to insurance and other top industries.
Chainlink to power Cardano smart contracts
The integration of these oracles in the Cardano DLT will allow dev teams to supply institutional-grade data provided by Chainlink into their smart contracts. The oracles will support prediction apps that deal with sports data, weather data necessary for parametric insurance apps; they will be applied in the sphere of gaming and digital collectibles, like NFTs, etc, via multiple partnerships.
Founder of IOHK Charles Hoskinson stated that Chainlink oracles are necessary for advanced smart contracts and they will provide real-world data to the Cardano blockchain. He emphasized that Cardano intends to provide developers with best tools for creating solutions that will be of actual use.
Hoskinson believes that Chainlink oracle integration will also provide a perfect foundation for the DeFi ecosystem on Cardano.