Jordan Belfort calls for "massive" crypto regulation to further adoption
Infamous trader Jordan Belfort says crypto industry regulation would drive up mainstream adoption and accelerate crypto prices.
Belfort berates Tether as a scam for hiking Bitcoin prices but maintains a bullish end-of-year outlook for cryptocurrencies.
---
Jordan Belfort, an infamous stockbroker or "The Wolf of Wall Street," has called for "massive" crypto regulation. The American author also attacked the number one stablecoin, Tether, calling it a scam.
"The sooner that massive regulation comes into the market, the better it is for Bitcoin, stablecoins, and everything else," said Belfort.
Additionally, he said that there is nothing to fear with regulators establishing oversight of the crypto market. To make his case, he pointed out the historical precedent of the 1980s junk bond market. Rather than die off, the market only soared as the regulatory regime tamed it. More so, he contended that regulatory action would fend off pump-and-dump scams associated with the asset class.
Everyone said, 'Oh no, the regulators are coming in! [But ultimately] the market got much bigger, so I think it's a good thing,
Notably, Belfort is not alone in his call for increased crypto regulation. US Senator Elizabeth Warren has asserted the need for additional oversight to rid the market of "snake oil salesmen."
Tether and crypto regulation
Belfort commented on recent news of Tether executives being placed under DoJ investigation for bank fraud. He held on to his long-time criticism of the stablecoin, calling it a scam. He even went ahead to say he was "shocked" at the little legal action that had been taken so far.
Up until now, US authorities have been looking into Tether for market manipulation related to the 2017 cryptocurrencies rally. More recently, officials sought to find out if the stablecoin's executives concealed from banks that their transactions involve crypto.
In an interview back in 2018, Belfort said that he had his suspicions of Tether being a "massive fraud." Tether issuances are used to cause an inflationary effect on the price of Bitcoin, he argued. Some experts have drawn the same conclusions as Belfort. Others, however, have differed saying,
[…] issuance behavior can be explained as maintaining a decentralized system of exchange rate pegs and acting as a haven in the digital asset economy.
Furthermore, Belfort, a long-time self-proclaimed crypto bull, criticized the price targets for Bitcoin and Ethereum. The price forecasts are only used to fuel the hype and are detached from the crypto bull case, he pointed out. However, Belfort admitted to owning both assets.
"I think [Bitcoin] has a great chance of being looked at as digital gold," Belfort said.
With that, he gave his price targets according to his market analysis. For Bitcoin, Belfort is anticipating an end-of-year price range of $45,000-$70,000, up from about $39,940 on Thursday. As for Ethereum, Belfort is looking at a range of $3,700-$4,500, up from about $2,300 on Thursday, according to our data.
US Senator Slams SEC Chair Gary Gensler for Regulation-by-Enforcement Approach to Cryptocurrencies
A US Senator is slamming the chairman of the U.S. Securities and Exchange Commission (SEC) for his approach to regulating the digital asset space.
In a new letter addressed to SEC Chair Gary Gensler, Senator Pat Toomey of Pennsylvania says that investors in the new space need clear rules and guidance rather than harsh enforcement and fines.
"For investors to benefit from a fair and competitive marketplace, regulators must proactively provide rules of the road to industry. Unfortunately, the Securities and Exchange Commission (SEC) has instead adopted a strategy of regulation-by-enforcement in this area."
Toomey adds that during the Senate Banking Committee hearing on September 24th, Gensler said that some crypto assets are deemed as commodities while some are considered securities. The US Senator is now asking Gensler to determine what sets these crypto assets apart.
"Please identify the specific characteristics that distinguish a cryptocurrency that is a security from one that has been deemed a commodity."
Toomey also asks whether Gensler and the SEC consider stablecoins like Tether (USDT) and USD Coin (USDC) as securities.
"Is it your contention that such a stablecoin constitutes an 'investment contract' and is, therefore, a security? If so, could you please explain why you believe such a stablecoin would meet the 'expectation of profit' prong of the Howey test?"
The Howey test was established in a Supreme Court case and determines whether certain transactions qualify as investment contracts and are subject to securities laws.
Toomey also says his concerns about the lack of clarity in the regulatory space are shared by others, including big names like SEC Commissioners Hester Peirce and Elad Roisman.
"My concerns about the SEC's lack of regulatory clarity are shared by others, including SEC commissioners. In one recent enforcement action, SEC Commissioners Hester Peirce and Elad Roisman stated they were 'disappointed' by the SEC's failure to explain which digital assets were securities"
The Indian Finance Minister warns regulators about Crypto. Here's what she said

Finance minister Nirmala Sitharaman argued that the government's extra cautious nature towards crypto could be a risky choice that may curb "a futuristic thing". She highlighted that the government is going through rigorous consultations on the issue of cryptocurrencies in India and that they are also considering the Reserve Bank of India's POV.
"This is not an era where you can say I don't care about what's happening, or we don't want to do anything. At the same time, are we yet ready to go the El Salvador way? We have to be sure that a futuristic thing can't be shut out,", Sitharaman told Hindustan Times.
Sitharaman asserted that India's own cryptocurrency is not impossible, as the country's technological and fintech infrastructure holds extreme potential. However, according to the Finance Minister, caution remains key to laying out a foolproof plan to incorporate the decentralized sphere into a nation's economy. Yet, she added that it's only a matter of what is most suitable for the country and that before adopting an anti-crypto stance, they should "think it through"
"We have to evolve something suitable for our systems. India has the strength of the technology; fintech gives us the command over the instrumentalities with which you can play; our economy is full of possibilities. So, we have to be cautious; but we have to think it through.", said Sitharaman.
Crypto Tax in India
Earlier this month, the crypto community of India felt relieved as an ET report claimed that the government might tax crypto transactions and exchanges instead of an absolute ban. However, the taxation of crypto assets won't make it an asset class. The report also contradicts recent comments made by the governor of the Indian Central Bank, Mr. Shaktikanta Das who argued that crypto-asset is a major concern.
"We have major concerns on cryptocurrency, which we have conveyed to the government. With regard to advice to investors, well, central banks don't give any investment advice. It's up to each investor to make his own appraisal, to do his own due diligence and take a very careful call with regard to his own investments.", said Das.News Source
Binance faces allegations of insider trading by US officials as regulatory clampdown continues
US investigations into Binance have now expanded to examining allegations of insider trading and market manipulation.
Authorities believe that the leading crypto exchange may have taken advantage of its customers.
While the CFTC continues to investigate, Binance has responded that it has a "zero-tolerance policy" for insider trading.
Binance continues to face regulatory scrutiny as US officials are looking into potential insider trading and market manipulation. Investigations are digging deeper into whether Binance or its staff have taken advantage of its customers.
CFTC continues to probe deep into Binance
The world's largest cryptocurrency exchange, Binance is facing an inquiry from US officials as they are suspecting that the firm has been involved in insider trading and market manipulation. The review involves the US Commodity Futures Trading Commission (CFTC) investigators, who have been speaking to potential witnesses, according to a Bloomberg report.
The authorities in the US are questioning whether the exchange has exploited access to millions of transactions, including the possibility of the firm trading on customer orders before executing them.
In response to the allegations, a Binance spokesperson told Bloomberg that the exchange has a "zero-tolerance policy" for insider trading and an ethical code to prevent any misconduct that could potentially harm customers or the digital asset industry. The security at Binance has strict guidelines that are set for investigating wrongdoing and holding its employees accountable.
Binance has been faced with increased regulatory pressure across multiple continents, as a growing list of countries are demanding the company to halt services within their borders. Previously, the Justice Department and the Internal Revenue Service in the US have launched investigations into Binance's business with concerns over money laundering and tax evasion.
Currently, Binance has not been confronted with any official action, although the CFTC and Justice Department have been looking closely at the firm for months. There could be some time before the agencies decide whether to press charges against the exchange.
Binance Coin price in danger of a 22% decline
Binance Coin price has formed a symmetrical triangle pattern on the 4-hour chart that started on September 7. While the technical pattern suggests that BNB is met with indecision, the breakout of the support trend line at $398 indicates that the exchange-based coin could be headed for a steep fall.
In fact, the prevailing chart pattern suggests that Binance Coin price is headed for a 22% decline toward $309. Despite the pessimistic outlook, BNB has a few lines of defense before the bearish target is in the offing.
Binance Coin price would discover immediate support at the 50% Fibonacci retracement level at $386. The following line of defense for BNB is at the 38.2% Fibonacci retracement level at $355, then at $325, corresponding to the 27.2% Fibonacci retracement level.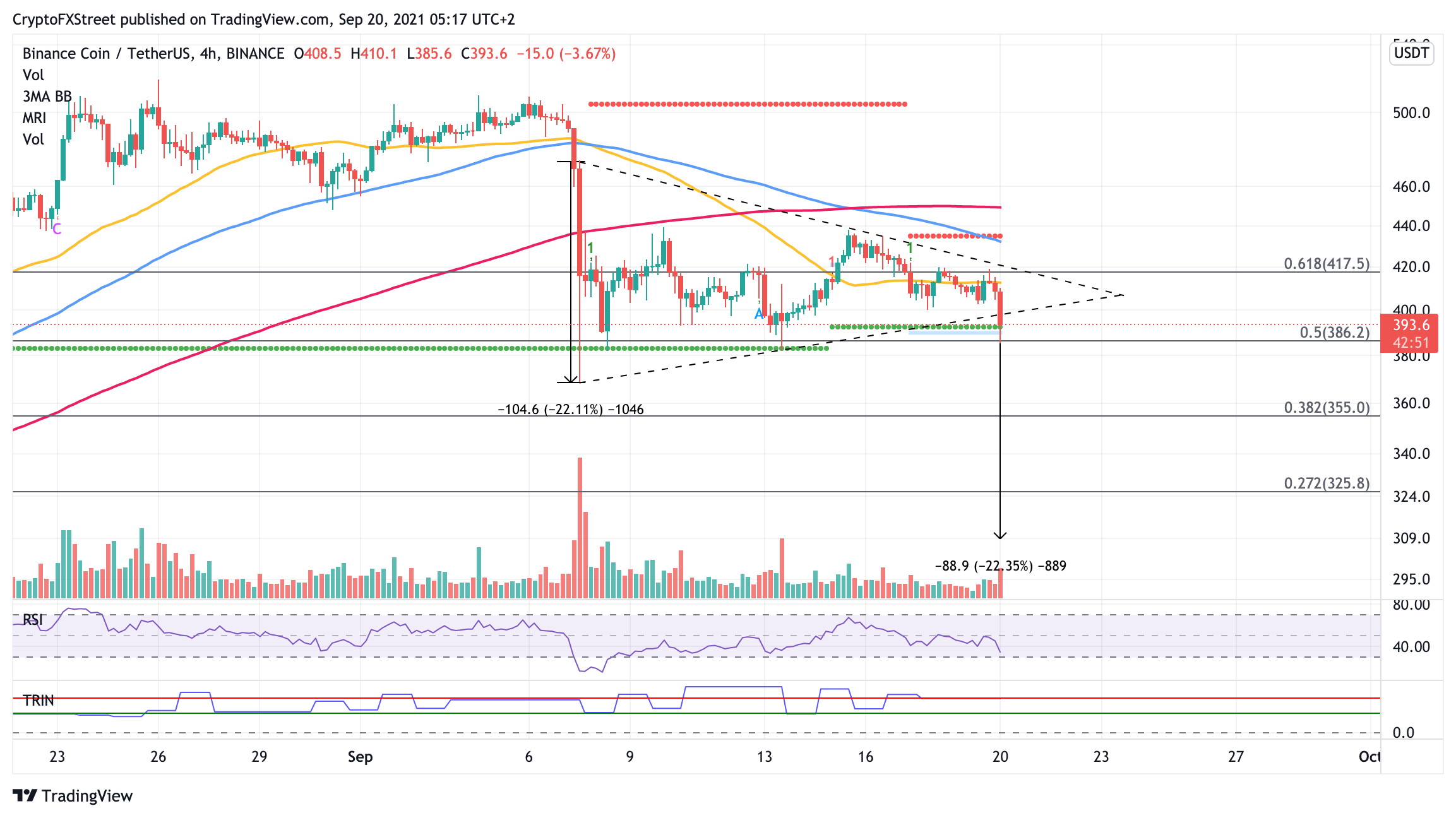 BNB/USDT 4-hour chart
Only a massive spike in selling pressure could see Binance Coin price fall to its bearish target at $309.
BNB must stay above $393, the support level given by the Momentum Reversal Indicator (MRI), to void the pessimistic outlook.
The lower trend line of the triangle would then act as the next level of resistance at $398 before being confronted by the 50 four-hour Simple Moving Average (SMA) at $412.