Ripple CEO Warns Dogecoin Holders
Chris Larsen, the CEO of Ripple (XRP) just got noticed in a podcast for his statements against Dogecoin. According to him, the token, which itself cultivates a certain cult of uselessness, would in fact be dangerous for the crypto landscape. But above all for investors who invest their savings there.
After Jackson Palmer's statements two weeks ago, this new intervention could segment the crypto market even further. Between the pro Dogecoin on one side and the anti on the other.
Dogecoin: A Game of Chance?
Chris Larsen's warning could be in one sentence. According to him, buying Dogecoin would be like playing in the casino.
In a pictorial metaphor, Larsen presents the foundations of the Doge as built on sand. A point of view already shared by a large number of crypto players such as entrepreneur Charles Hoskinson or Barry Silbert, CEO of Digital Currency Group. An element that the founders and aficionados of the Doge do not dispute. They believe it is precisely this uselessness that creates investor value and attachment to the Doge.
For Larsen and for all critics, it also seems very difficult to separate the price of Dogecoin and Elon Musk. The American billionaire, CEO of Tesla and Space X groups is also often highlighted as the number 1 crypto influencer in the world. Through his numerous, sometimes enigmatic tweets, the CEO seems to be making rain and shine on the Doge. The CEO of Ripple believes that the main risk to be held by the Doge would lie on this axis. According to him, Musk could drop his strong support for Dogecoin overnight. As he was able to do with Bitcoin.
To drive the point home, Larsen once again put forward the Proof of Work protocol, heart of the Dogecoin system. A mention that allows you to skillfully introduce, without having to say it, that Dogecoin is not a green crypto.
Dogecoin and Crypto World: The Gap Is Widening
After recent statements from Jackson Palmer, one of the co-founders of Dogecoin, this new episode seems to widen the gap between Dogecoin and other crypto projects even more. An image that the Doge could seek to cultivate even more clearly in the long term. An image that he could also benefit from. By branding itself as crypto versus crypto.
As a reminder, two weeks ago, Palmer threw a stone in the pond when he spoke of the cryptocurrency market. According to him, this market would be "hyper-capitalist"And would contribute to enriching the richest while impoverishing" those who have fallen into the mirage ".
On the side of "pro-Dogecoin", it is also argued that detractors do not grasp the power of the same.
Feedback on the Recent Dogecoin Price
For the past few months, the Doge has been on a slippery slope. With a price which has lost more than 70% compared to its historic highest level. An ATH recorded on May 8 for a price close to 0.73 USD.
The logarithmic graph below shows the evolution of the price of Dogecoin over the last 3 months. With a downtrend clearly visible.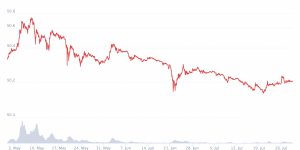 Despite this sharp drop, Dogecoin remains a project firmly anchored in the top 10 of the most important crypto projects. With a capitalization that still exceeds $ 26 billion. For its part, Ripple is in sixth position for a market cap above $ 32 billion.
Good to know : At its peak, Dogecoin's capitalization was around $ 90 billion. Compared to the market of the day, such a capitalization would make the Doge, the third crypto project in the world.
While the trend of the past few days is fairly neutral, this is not all good news for the Doge's supporters. Indeed, Dogecoin has remained rather stable as Bitcoin has seen a significant week of rise. Worrisome when we know the propensity of the most famous crypto to pull the market according to its own evolution.
XRP Has Great Risk-Reward Ratio, With 10x Price Rise Likely: Macro Guru Raoul Pal
Raoul Pal is saying that global payments asset XRP has a great risk-reward ratio despite a lawsuit filed by the U.S. Securities and Exchange Commission (SEC).
In a new interview on Savvy Finance, the CEO of Real Vision and Global Macro Investor shares why he remains bullish on the crypto asset.
"XRP is a great risk-reward. The lawsuit – we've seen every lawsuit, every single one has been fine. Everybody's actually cleared up after the event anyway and these events were a while ago. Bitmex, that's happening, we're going to see all of these, so I think it's going to be a slap on the wrist that it could look like a security, there'll be no admission of guilt on either side, there'll be a payment of a fine and then XRP is free to run."
The former Goldman Sachs executive also identifies factors that will help drive up the price of the coin.
"What's interesting about XRP is there is quite a lot of use cases. Now, I know the bunch of Bitcoin people hate it– it's not decentralized enough, I don't care. Are people using it? Yes, a lot more than most people realize, and what's amazing about this setup is you can't buy on any of the exchanges and it's not in the Bitwise ETF.
"The Bitwise ETF is now a billion of the Bitwise index. The top 10 index is a billion dollars, so the moment XRP is free, they have to buy a few hundred million dollars in it as everybody else can because the exchanges will have it back, so you're setting up for a hell of a nice run if this clears up."
Pal says it is still worth betting on XRP despite the possibility of Ripple losing in its legal battle with regulators.
"Worst case it doesn't? Worst case is, let's say, 50% downside, best case is 10x from here, so I'll take a 50 to 1 risk-reward for the next three to six months."
XRP, Chainlink and This Crypto Project Launching Bitcoin Smart Contracts Are 'About To Go Crazy', Says Altcoin Daily
Altcoin Daily host Austin Arnold is listing three altcoins that he says are "about to go crazy".
In a new video, Austin tells his one million YouTube subscribers that the altcoins in question are Dfinity Foundation's Internet Computer (ICP), the bridge currency XRP, and blockchain oracle network Chainlink (LINK).
Kicking off the list with Internet Computer, Austin says that the crypto project focused on becoming a decentralized global computing platform, is planning to introduce smart contract functionality to Bitcoin.
"Internet Computer smart contracts will gain access to Bitcoin liquidity and Bitcoin will gain powerful new smart contract functionality without the need for insecure and cumbersome trusted bridging services.
So this could be big – a DeFi [Decentralized Finance] ecosystem for Bitcoin is a major industry initiative. It would mean the world's most popular cryptocurrency, Bitcoin, could be used for lending, yield farming, derivatives, liquidity pools and more."
Turning to XRP, Austin says the developer Ripple Labs has encountered a setback in the lawsuit filed against it by the U.S. Securities and Exchange Commission (SEC).
"…Ripple filed a motion back in August 27th requesting information about whether SEC employees had purchased and traded Bitcoin, Ethereum and XRP. The United States Magistrate Judge Sarah Netburn rejected this motion on Tuesday…
…so what this means to you as a potential XRP holder is that Ripple will have to find another way to prove to the SEC that XRP is not a security. That's of course the SEC's point of view. They're the ones that are suing Ripple and the case is heating up."
In the case of Chainlink, Austin says that the blockchain oracle network's recent integration with decentralized cold storage aggregator Coldstack is bullish.
"…big green flag for LINK holders. Here's the reason Chainlink was chosen – because in their [Coldstack] words 'Chainlink is the industry standard in blockchain oracles'."
Austin also quotes Coldstack's CEO Alexander Shishow showering praise on Chainlink.
"In a direct quote from Coldstack CEO… 'There really isn't any substitute for Chainlink – if we want to provide the best data storage solutions for our users, then it makes sense to use the best oracle service provider in the industry.'"
Top Analyst Plots Path Ahead for Cardano and XRP, Says Three Altcoins Are Now Attractive After Dip
Michaël van de Poppe is sharing his updated forecast for two leading altcoins, Cardano (ADA) and XRP.
In his new video, the crypto analyst says that Cardano has hit important price levels, breaching the $1.90 to $2.10 range.
"I'm assuming that Cardano is quite close to being bottomed out at this stage, through which we can expect new impulse waves to be happening."
Van de Poppe next looks at the token's Bitcoin pair (ADA/BTC) and says that there is a possibility that Cardano could see new highs.
"I'm expecting that we're going to have some slight consolidation comparable to the area that we had in April. So some slight consolidation here until we crack resistance, but if we [do], I think we're going to be running with new all-time highs or new highs for Cardano here as well."
The trader also identifies a crucial price level for XRP that could indicate a bullish signal for the crypto market.
"I think that if you want to get into the markets then the chances are here that we're finally getting bottomed out and we are ready for the next impulse wave in the market.
What is the level to crack for XRP? The area around $1.05 is the one that it has to crack through. I'm not assuming that we're going to get it in one go, but I'm assuming that once it breaks through there, I think all coins will be breaking out left and right. But this is a good candle on XRP."
The widely-followed analyst notes that the downturn offers a good opportunity to get into the market, naming Avalanche (AVAX), Solana (SOL), and Fantom (FTM) as the three altcoins to buy during the dip.
"Should you be getting interested in the markets when it's approaching support and when projects are dropping down by about like 35% to 45%? Yes, of course.
When you get towards the support, people will ultimately become quite bearish and they are only expecting further downward momentum. That is the moment that you want to get into the markets."