240 Million XRP Shifted by Ripple and Top Exchanges
Ripple Labs and some leading crypto exchanges have transferred an amount close to 240 million XRP as the coin is trading at the $0.7493 level
Popular crypto tracking service Whale Alert has reported that almost 240 million XRP coins has been wired in the past 12 hours.
Ripple Labs has participated in moving these funds by sending one-fourth of that XRP amount.
Meanwhile, XRP is changing hands at the $0.74 mark, as per CoinMarketCap.
Almost $180 million in XRP on the move
According to data published by the Whale Alert team, over the past 12 hours, several XRP transactions have been conducted, carrying large amounts of the sixth-largest cryptocurrency affiliated with Ripple Labs.
The Ripple blockchain tech provider has itself taken part in these transfers, moving 30 million and then 15 million XRP to its internal wallets: RL18-VN and an anonymous address with Ripple's RL43-EE wallet behind it.
RL18-VN is regularly used by Ripple to send XRP outside the company—to its partners, customers and crypto exchanges to support the coin's liquidity as CEO Brad Garlinghouse has stated several times in the past.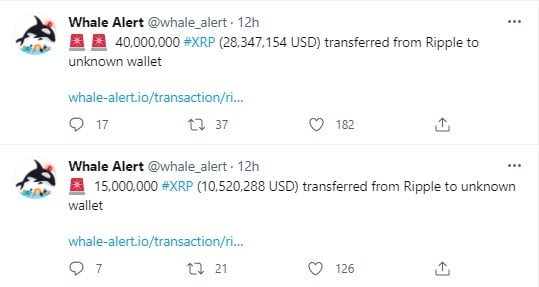 The largest lump was moved by the Bybit exchange to Binance; Bybit wired a staggering 131,507,931 XRP in one stash. This transfer was made around three hours ago.
🚨 🚨 🚨 🚨 🚨 🚨 🚨 🚨 🚨 131,507,931 #XRP (99,105,042 USD) transferred from unknown wallet to unknown wallethttps://t.co/Ox3xas3Ii7

— Whale Alert (@whale_alert) July 30, 2021
Among the smaller transfers were 30 million XRP shifted by the major U.S.-based Bittrex exchange to the Upbit crypto trading venue.
The Gopax platform also sent 23,150,000 XRP two hours ago to Binance. Thus, the world's largest exchange by volume has received 154,657,931 XRP, or $115,712,878.
Ripple opens a new ODL corridor in Japan
As reported by U.Today previously, earlier this week, Ripple spread the word about the start of a new remittance corridor between Japan and the Philippines based on Ripple's On-Demand Liquidity (ODL) product.
The corridor is set up by two subsidiaries of Japanese Ripple partner SBI Group—SBI Remit and SBI VC Trade exchange. On the other end of the corridor is the leading Philippines crypto exchange Coins.ph.
The whole thing is running on RippleNet and ODL—the product formerly known as xRapid, which uses XRP to send remittances between countries and then converts the coin into the local fiat currency.
Ripple is about to release another one billion XRP
Aug. 1 will arrive this weekend, and Ripple Labs will automatically release another one billion XRP coins from escrow. It has been doing so every month since 2018 in an attempt to support the coin's liquidity and cover the company's operational expenses.
Over the past few years, this is what the small part of released XRP has been used for. The rest of the unleashed XRP (800 million, sometimes 900 million coins) are locked back in escrow.
Former U.S. Treasurer Praises XRP While Dismissing Other Cryptocurrencies
Rosie Rios chooses XRP over other cryptocurrencies, but there's a catch
Former U.S. Treasurer Rosie Rios recently typed out some words of praise for XRP's utility.

In her tweet, Rios claims that the Ripple-affiliated digital currency is used for cross-border payments, which she believes sets it apart from other coins that are mainly useful for speculation.

The ex-treasurer, whose name was printed on billions of U.S. dollar banknotes, believes that China's most severe cryptocurrency ban to date is somehow supposed to highlight the difference.
"Rios's words, of course, have to be taken with a significant pinch of salt given that she's currently on Ripple's payroll.
As reported by U.Today, the San Francisco-based company added her to its Board of Directors in early May.
Kraken CEO Jesse Powell took a veiled swipe at Rios and Ripple in response to the recent effort to promote XRP:
If you were wondering where some of these politicians get their ideas. We aren't all on the same team, and we don't all have the same goals. Don't forget that.
In March, Powell opined that XRP started posing a "huge asymmetrical risk" to exchanges after Ripple was sued by the U.S. Securities and Exchange Commission last December.
Ripple Price Analysis: XRP bounces from $0.90, ready for further upside today?
Ripple price analysis is bullish for today.
XRP/USD found support above $0.90 again.
XRP is set to rally high today.
Ripple price analysis is bullish today as another retest of the further downside was met with rejection, indicating an upcoming reversal. Since XRP/USD saw a bullish momentum return this morning, we expect this to continue later today, with the $1 mark likely to be broken again.
The overall market traded mostly in the green over the last 24 hours. The market leader, Bitcoin is up by 6.59 percent, while Ethereum has spiked by 11.6 percent. The rest of the top altcoin follow, with a gain of around 7-9 percent.
Ripple price movement in the last 24 hours: Ripple rallies from $0.90 support again
XRP/USD traded in a range of $0.8948 – $0.9815, indicating a substantial amount of volatility over the last 24 hours. Trading volume has increased by 7.76 percent and totals $3.342 billion, while the total market capitalization trades around $45.13 billion, ranking the coin in 6th place overall.
XRP/USD 4-hour chart: XRP starts to move higher
On the 4-hour chart, we can see the Ripple price action gaining strength this morning, indicating further upside will follow today.
The overall market price action has traded within a strong bearish momentum over the past weeks. After an initial spike lower on the 7th of September, support was found around the $1.05 mark.
Above the support, XRP/USD consolidated for several days until another spike lower was seen on the 20th of September. This time, support was found above $0.85, with some consolidation above $0.90.
Later last week, the support was retested several times, with the last one, seen yesterday, quickly rejecting any further downside, indicating exhaustion for bears. Overall, this Ripple price action development should lead towards further upside later this week.
Ripple Price Analysis: Conclusion
Ripple price analysis is bullish today as a further downside was rejected again yesterday, and bulls have gathered strengths for a small rally this morning. Therefore, we expect to see XRP/USD reach further upside over the next 24 hours.
While waiting for Ripple to move further, read our guides on NFT Games, CoinJar, as well as Bitcoin Memes.
Ripple's Use Case Stand Out While Others Remain Speculative
Ripple and SEC legal talks continue.
XRP provides great cross border payments.
The Securities and Exchange Commission (SEC) and Ripple (XRP) legal talks in the US continue to heat up. As a result, these issues have become one of the most talked-about topics in the crypto world. Recently, the CEO of Ripple, Brad Garlinghouse, insisted that the SEC has provided no clarity in crypto regulation and has lost sight of its mission to protect investors.
Despite this ongoing heated debate between SEC and Ripple, XRP continues to provide global service to all its users. This made Rosie Rios, the 43rd Treasurer of the United States, react in a tweet she posted:
XRP's primary purpose is facilitating cross border payments while other #Cryptos find their value in speculation. China's latest move brings this point home. #Ripple #ripplenet #Bitcoin— Rosie Rios (@RosieRios) September 26, 2021
This tweet posted by Rose Rios on Twitter speaks about the clear use case of XRP. In detail, XRP is one of the digital assets in the crypto world that provides a good use case for cross-border payments. The fast, secured, and low transaction fee is one of the highlights of XRP's blockchain.
However, not all digital assets are like Ripple. Other cryptos use cases remain in speculation. As a result, authorities in other countries can't help but tighten their security against these crypto assets. For instance, China, in the past days, released a statement about its continued crypto ban.
Today, Ripple trades a decent price of $.97 per crypto with a market cap of over $45 billion. In terms of market position, Ripple remains one of the top ten digital assets in the crypto market.