Happy sixth anniversary, Ethereum
Today, July 30, 2021, is the sixth anniversary of Ethereum. 
In fact, block number 0 of the Ethereum blockchain was mined on July 30, 2015, which is exactly six years ago. 
At the time it was in the aftermath of the first big bitcoin bullrun, which ended in December 2013, and above all of the closure of Mt.Gox due to bankruptcy. 
The price of Bitcoin had even dropped below $ 180 in January 2015, after exceeding $ 1,100 between November and December 2013. 
2015 was probably the worst year ever for the entire crypto sector. 
There were very few other cryptocurrencies at the time. In addition to Bitcoin, born in 2009, there were Litecoin (born in 2011), Ripple (2012), Dogecoin (2013), Stellar (2014) and a handful of other cryptocurrencies. 
However, at the time cryptocurrencies were all more or less just means of payment, i.e. currencies used to carry out financial transactions. 
Ethereum and smart contracts
Ethereum then introduced a novelty: smart contracts. 
In reality, "smart contracts" had been talked about for a long time before, however it is only in the 2013 Ethereum whitepaper that their crypto version is formalized. 
In fact, Ethereum was born just as something new and innovative in the narrow crypto landscape of the time, that is basically as a platform to manage smart contracts, rather than as a means of payment. 
The same white paper published by Vitalik Buterin in 2013 begins with a paragraph entitled "A Next-Generation Smart Contract and Decentralized Application Platform". 
In that document, Buterin defines Bitcoin as a "Transition System", as were all the alternative crypto projects existing at the time. Instead, his vision was that of a decidedly different project, that is not of an alternative digital currency because it is decentralized, but of a decentralized digital platform to manage smart contracts. 
In the Ethereum white paper, Buterin cited the Namecoin, Colored coins and Metacoins projects, for example, and then defined Ethereum in this way: 
"Ethereum's intent is to create an alternative protocol for building decentralized applications, providing a different set of trade-offs that we believe will be very useful for a broad class of decentralized applications, with particular emphasis on situations where rapid development times are important. , security for small and rare applications, and the ability of several applications to interact very efficiently. Ethereum does this by building what is essentially the ultimate abstract ground level: a blockchain with a full integrated Turing programming language, which allows anyone to write smart contracts and decentralized applications in which they can create their own arbitrary rules for ownership, formats. of transaction and state transition functions ". 
Two years after the publication of the white paper, the first block of the new Ethereum blockchain was mined. 
Shortly thereafter, the ETH tokens began to be traded on the market, at a price of around $ 2.8, then dropped to below $ 0.5 in the following months. Today ETH is worth over $ 2,200.
Ethereum Price Prediction: ETH bears contemplate a drop to $2450
ETH price is building up downside pressure while clinging to the 200-SMA support.
RSI remains flat below the midline, keeping the sellers cheerful.
A drop towards $2450 remains in the offing if the 200-SMA caves in.
Ethereum, the no.2 widely traded digital asset, remains under pressure for the second straight day, consolidating Friday's steep losses.
ETH price snapped its two-day rebound from monthly lows of $2651, as it got sold-off into the latest Chinese crackdown.
The People's Bank of China (PBOC) on Friday declared all cryptocurrency transactions as illegal, imposing a ban, which saw over $400 million worth of tokens liquidated within 24 hours. Ethereum lost as much as $420 at one point before recovering to $2930.61 at the close.
At the press time, ETH/USD is trading almost unchanged on the day around $2900, having bounced off from daily lows at $2800.
Ethereum price defending 200-SMA but for how long?
Ethereum's 12-hour chart shows that the price is wavering in a narrow range, remaining in close vicinity of the daily troughs, as ETH price is not out of the woods yet.
Having witnessed good two-way volatility recently, ETH price maintains its range play, with the bearish 21-Simple Moving Average (SMA) at $3185 capping the upside.
Meanwhile, the 200-SMA at $2734 continues to offer support to ETH bulls. However, with the Relative Strength Index (RSI) still holding below the midline and bear cross in play, the path of least resistance appears to the downside.
Note that the 21-SMA breached the 100-SMA from above, confirming a bear cross on the said time frame on Thursday.
Once the 200-SMA gives way, a test of the horizontal trendline support at $2450 cannot be ruled out. The $2400 round number would be next on the sellers' radars.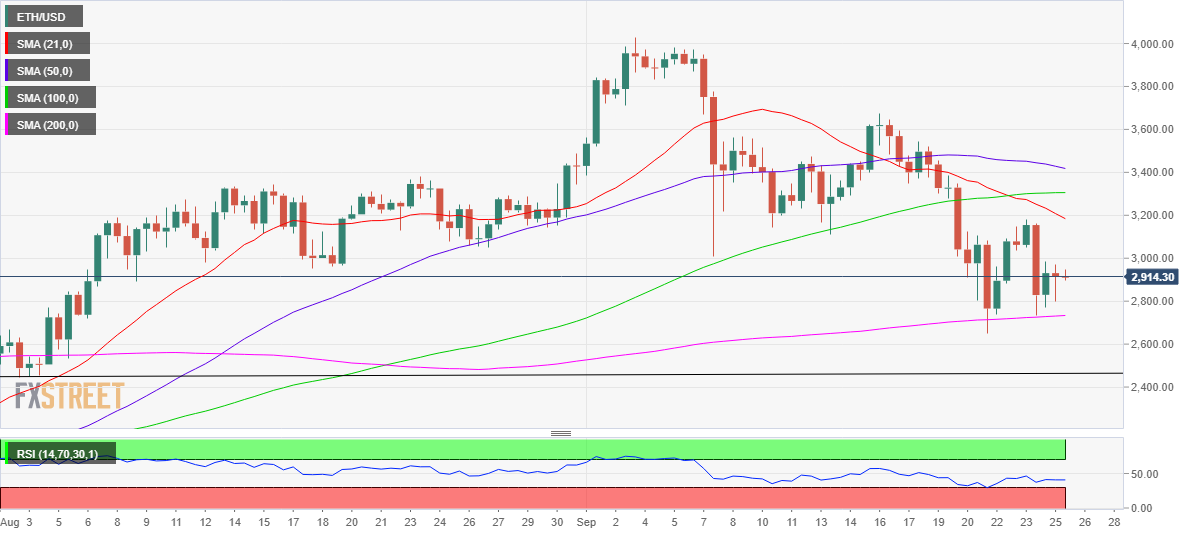 ETH/USD: 12-hour chart
On the upside, immediate resistance is placed at the 21-SMA, above which the horizontal 100-SMA at $3305 will be put to test.
ETH buyers will seek fresh entries above the latter, paving the way towards the downward-pointing 50-SMA at $3418.
ETH Locked in DeFi on Historic Highs: Details
Total number of Ethers utilized in various decentralized finance protocols spiked over 7.3 million
After a massive plunge in TVL, a decentralized finance ecosystem has recovered to observe some breathtaking metrics.
7,830,000 Ethers locked in DeFi
The net number of Ethers locked in various decentralized finance protocols spiked 12% in the past ten days. On Sept. 15, 2021, this indicator bottomed at a two-month low of about 6.95 million Ethers.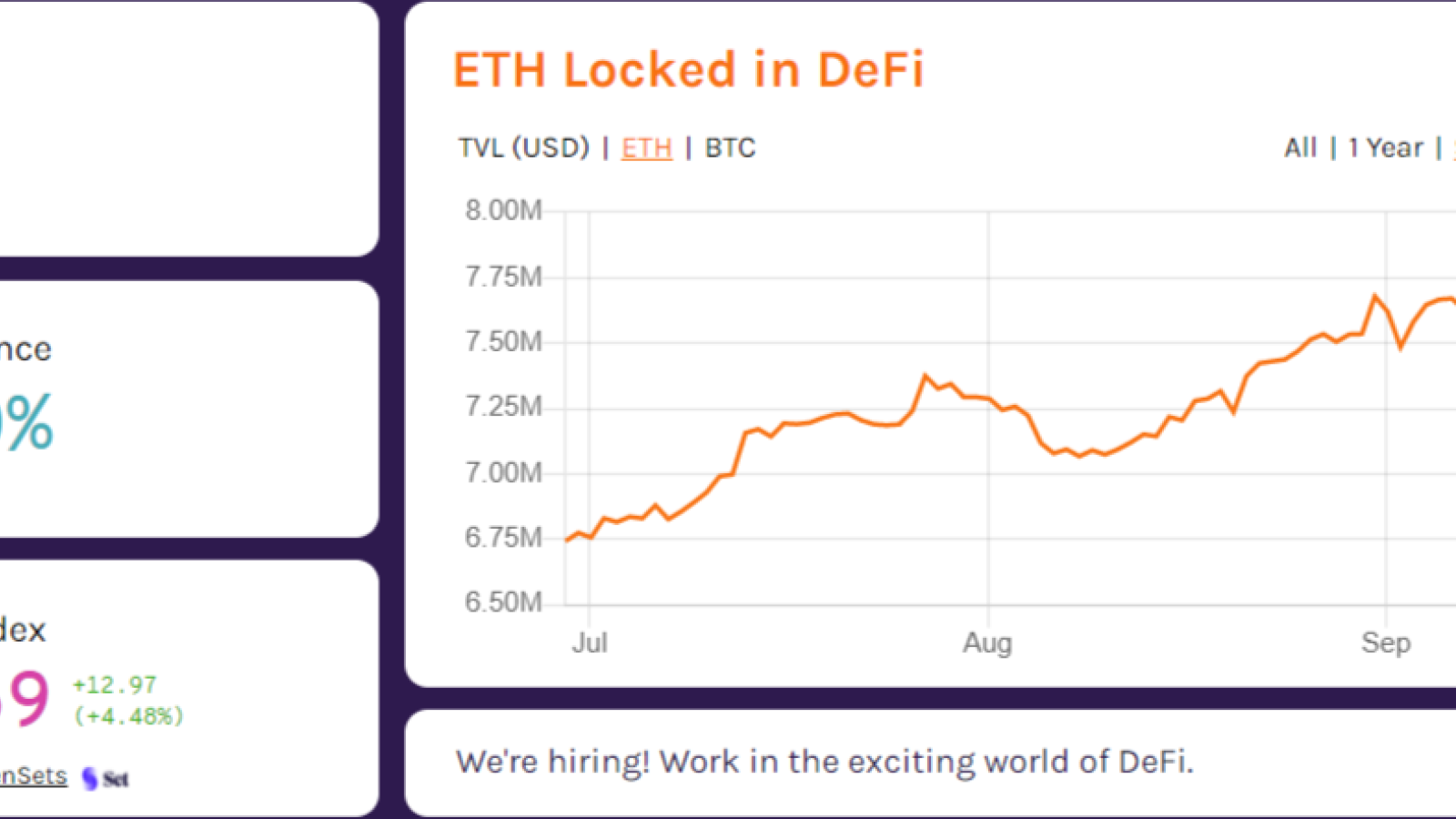 As displayed by mainstream decentralized finances segment tracker DeFi Pulse, the total quantity of Ethers in all indexed protocols nets 7.8 million Ethers.
Aave Finance (AAVE), Compound Finance (COMP), Instadapp, Uniswap (UNI), Curve Finance (CRV) are the most popular protocols in terms of TVL.
The five leading DeFis are responsible for almost 6.9 million Ethers, or 85% of net TVL, tracked by DeFi Pulse.
Yearn.Finance (YFI), Rari Capital (RGT) are on fire
In the last 24 hours, two DeFi protocols, Yearn.Finance (YFI) and Rari Capital (RGT), registered double-digit gains.
At the same time, the Ethereum 2.0 deposit contract targets almost the same numbers. As of Sept. 25, 2021, it has amassed 7.77 million Ethers.
Amid the current Ethereum (ETH) price dip, this massive amount of value is equal to $22.7 billion. To provide context, this sum can be compared to the market capitalization of Telenor, Credit Suisse, Suzuki and Warner Music Group.
Ethereum Network Activity is Stagnant while ETH Price Hovers Below $3k Level!
Ethereum price fell amid a broad selloff in the cryptocurrency market, fueled by fears of a brewing property bubble collapse in China. 
There's a lot of fear and uncertainty in the crypto market right now. With news that China has officially declared all cryptocurrency transactions illegal, the Ethereum price, like the rest of the market, is under attack.
Ethereum Price Analysis:
The Major altcoin has lost 5.76% in the last 24 hours. Although it is now seeking to construct a firm support base at $3000. ETH Price had a tumultuous start, rising to an intraday high of $3,114 in the early morning before reversing course.
To reach the first big resistance level at $3,149, Ethereum would have to break past the $2,942 pivot. Support from the larger market, on the other hand, would be required for Ethereum to reclaim the $3,100 barrier. Unless there is a sustained crypto rally, the first significant resistance level and Friday's high of $3,160.48 will likely act as a ceiling on the upside.
Network Activity is Stagnant
According to Santiment, most speculators are shifting away from Ethereum (ETH) in pursuit of better options with larger returns on investment.
Exchanges are seeing an influx of Ethereum, implying that people are selling their holdings in response to the recent marketwide crypto slump.
Santiment claims that network growth has been static for several months before the price of ETH fell.
This is attributed to growth in other Layer-1 initiatives like Avalanche (AVAX), Fantom (FTM), and Cosmos (ATOM), as well as decreased speculation in the non-fungible token (NFT) market.