MIOTA Price Analysis: IOTA Token Price Retests The Breakout Levels, Another Entry Spot?
The token price exceeds the 50-day Moving Average and continues to rise towards the 200-day Moving Average.
The pair IOTA/BTC trades with a gain of 9.26% at 0.0000222 BTC.
Source – TradingView
IOTA token price has been trending higher as the rise in demand became more and more frequent. As a result, the coin price successfully rose above the resistance level of $0.90.
The coin price has increased by almost 60% since the demand near $0.56 resulted in a bullish rally. However, the most important thing is that the bullish-up move helped boost the price, forming a V-shaped recovery that helped the overall bullishness grow.
The support from the 50-day Moving Average will soon push the price even higher. However, the sloping 100-day MA could generate a bearish signal. Nonetheless, investors are more greedy, which may lead to higher buying pressure.
Investors could see a bullish rally from 30% to 50% if bullish momentum is maintained. However, investors should not be surprised if the price drops dramatically.
The current price of the IOTA Token is $0.8682. The market cap has increased by +9.57% in the past 24 hours. It indicates that the price will continue to grow as it struggles to surpass the resistance trendline.
The coin's intraday trading volume has risen about 240% within the last 24 hours, which signals a rise in investor interest that could cause a Monkey See Monkey Do Uptrend.
Bullish Crossovers In IOTA Token Price 
Source-TradingView
The 4-hour technical Chart reveals that IOTA token prices have experienced an increase in trading volume. It is due both to rising bullish pressure and investors' psychological greed. The current uptrend in token prices has led to a rise in bullish crossovers among EMAs.
The technical analysis of price action suggests that a bearish breakout could have difficulty rising above $1.50. However, if prices fall below the 50-day EMA, the bearish tendency can drop to $0.78 and $0.68.
Relative Strength Index Indicator (bullish) signals bullish momentum once the slope RSI crosses an oversold region.
The ADX signifies a rise in trend momentum when the price is above.
Overall, the trend continues to gain strength, and the underlying bearishness is rising, according to the ADX & RSI.
Conclusion – IOTA Token Price may rise higher after the retest of $0.90, suggesting an uptrend that may shortly result in forming a new higher high above the $1 mark.
Support – $0.78 and $0.68
Resistance – $0.89 and $1
Stellar's XLM won't face the same legal issues in the US as Ripple did
Ripple and XRP are still battling with the SEC nearly a year after the lawsuit was first filed.
Due to the inherent similarities between the target space of XRP and XLM, some speculate that the regulators might target Stellar next.
XRP and XLM prices are both hinting at the possibility of a 100% ascent in the near future.
The United States Securities & Exchange Commission's (SEC) lawsuit against Ripple and XRP has moved from something that was supposed to be quick to a battle of attrition. The SEC served Ripple for selling unregistered securities on December 22, 2020, but the payments company has continued to make progress in the east, where it is welcomed.
While there seems to be no end in sight for this lawsuit, some speculate that Stellar, a strikingly similar cryptocurrency project, could be what the SEC goes after next.
This article takes a look at the differences, similarities and possibilities if the regulators ever turn their sights on stellar Lumens.
Ripple and Stellar: The remittance brothers
Despite the fact that much of its history is shrouded in mystery, Ripple Labs, more commonly known as Ripple, is the company behind XRP. The token is designed as a payments, liquidity sourcing and transaction settlement mechanism that uses the federated Byzantine agreement consensus protocol released in 2012.
Ripple is currently the company that looks after the XRP Ledger and its developments.
Stellar, on the other hand, takes a slightly different approach. It is an open-source, distributed payment network that uses the Stellar Consensus Protocol.
Like XRP, XLM is the native asset of the Stellar blockchain that runs on the federated Byzantine agreement system that was launched in 2015. Unlike Ripple, Stellar Development Foundation (SDF) looks after the development of XLM.
Chris Larsen and Jed McCaleb co-founded Ripple, but McCaleb left to start Stellar due to disagreements in the team. Moreover, both tokens are looking to solve a similar cross-border payments problem and are positioned with the right partners to do the same.
While institutions are actively seeking investment opportunities in the cryptocurrency space, they are cautious due to the fuzzy nature of regulators' stance on digital assets. Bitcoin and Ethereum, for example, are the institutional investors' favorite, because they are deemed commodities. However, XRP, XLM and other cryptocurrencies do not have this distinction, keeping these high net-worth individuals from taking a stake in altcoins.
Let us take a look at some of the key differences between XRP and XLM.
Key differences between Ripple (XRP) and Stellar (XLM)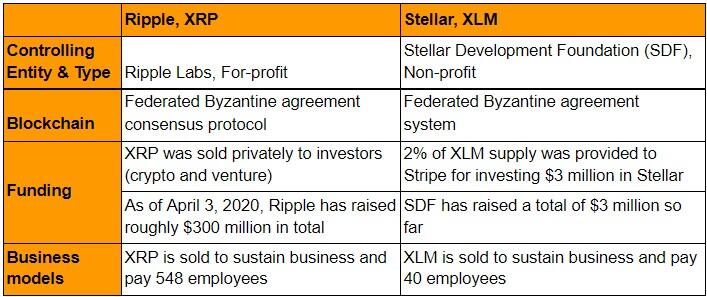 While these differences are stark, what puts Ripple and XRP in trouble and kept Stellar and XLM safe boils down to two things:
The entity responsible for XLM is labeled "non-profit" while Ripple is not. This subtle demarcation is what puts XRP in the regulators' crosshairs.
The New York Department of Financial Services (NYDFS) gave XLM a go-sign to trade on New York exchanges.
In a December 3, 2019 press release, the NYDFS granted Virtual Currency licenses to 24 cryptocurrencies like Bitcoin, Bitcoin Cash, Ether, Ether Classic, LiteCoin and Stellar Lumens.
The announcement added,
The Department's approval of SoFi's virtual currency and money transmitter licenses provides consumers with more choices in a continuously evolving global financial services marketplace.
The press release mentions handing out two licenses – virtual currency and money transmitter licenses – which puts XLM in the safe zone and leaves XRP vulnerable.
The two licenses will allow SoFi Digital Assets to offer its New York Customers the ability to buy and sell virtual currency. The company is authorized to support the virtual currencies Bitcoin, Bitcoin Cash, Ether, Ether Classic, LiteCoin and Stellar Lumens.
While XRP received a BitLicense in 2016, it allowed Ripple to sell XRP for institutional investors or use it for their products like xRapid.
Despite the lawsuit and the ramifications, Ripple seems to be gaining ground. However, nothing is for certain until the case is finalized. The same holds for Stellar and XLM, which is currently away from regulators' prying eyes.
Regardless of the hurdles or developments from both sides, the technical aspects of XRP and XLM look bullish.
XRP price poised to double shortly
XRP price is forming a rounding bottom on a weekly chart that extends to its all-time high of $3.317 in 2018. To complete this technical formation, Ripple needs to rally at least 152%. This move will put XRP price at $2.750. Beyond this point, the remittance token is likely to make a run at the all-time high and run past it to set up a new one.
Using a trend-based Fibonacci extension between the 2020 low at $0.114, April 12 swing high at $1.967 and the June 21 swing low at $0.509 reveals the first target at $8.78. This run-up would constitute a 725% ascent from its current position.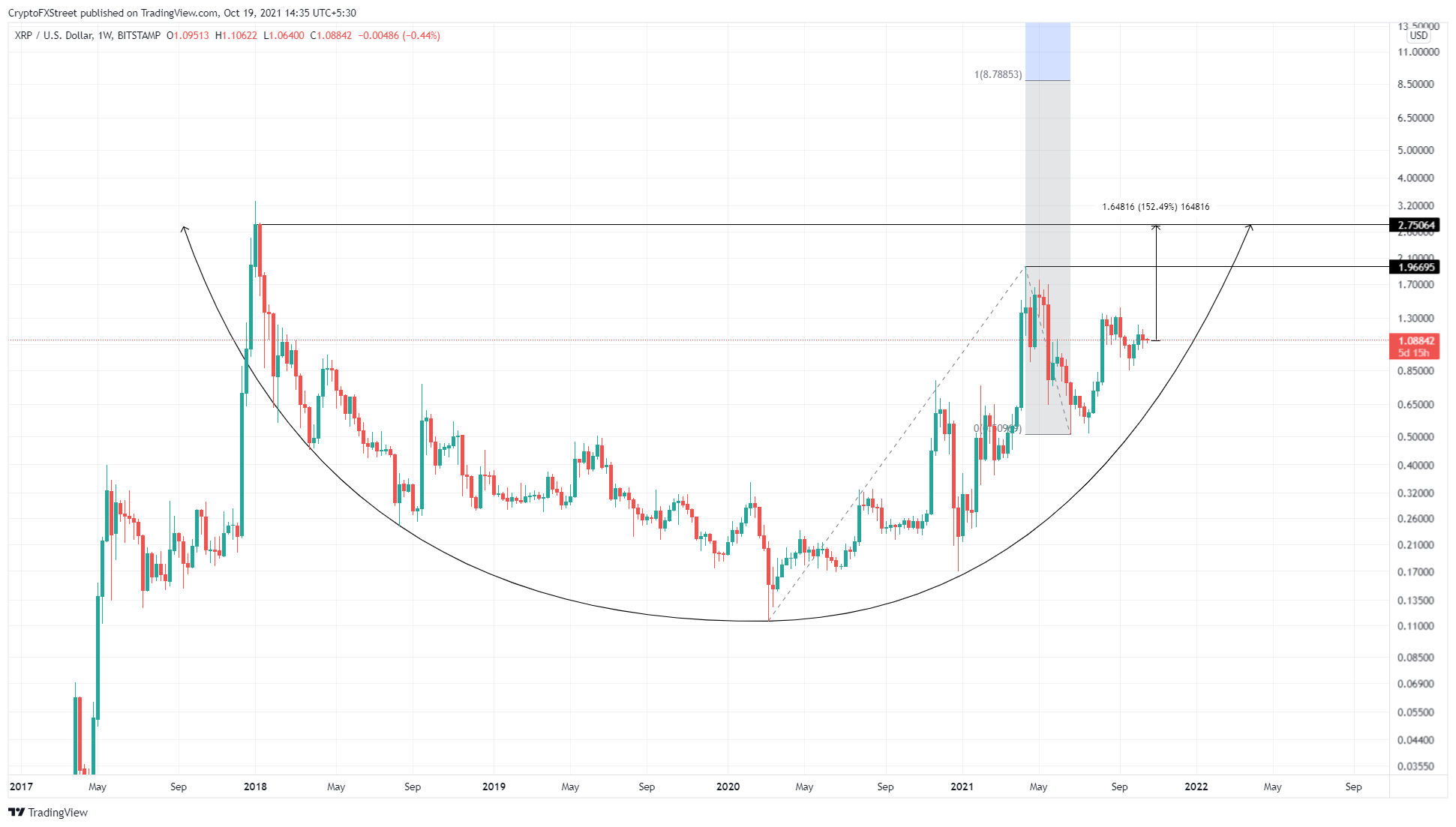 XRP/USD 1-week chart
While things are looking up for XRP price, a breakdown of the uptrend by producing a lower low below the recent swing low at $0.858 will invalidate the optimistic scenario for Ripple.
XLM price remains strong
XLM price also shows a bullish outlook as it forms a cup-and-handle on the weekly chart. This setup contains a rounding bottom known as the cup, often followed by a minor downswing called the handle, hence the namesake cup-and-handle.
This pattern forecasts a 1,830% upswing, obtained by measuring the distance between the right peak and bottom of the cup and adding it to a breakout point.
For XLM price, adding the 1,830% to $0.716 reveals a theoretical target at $13.78.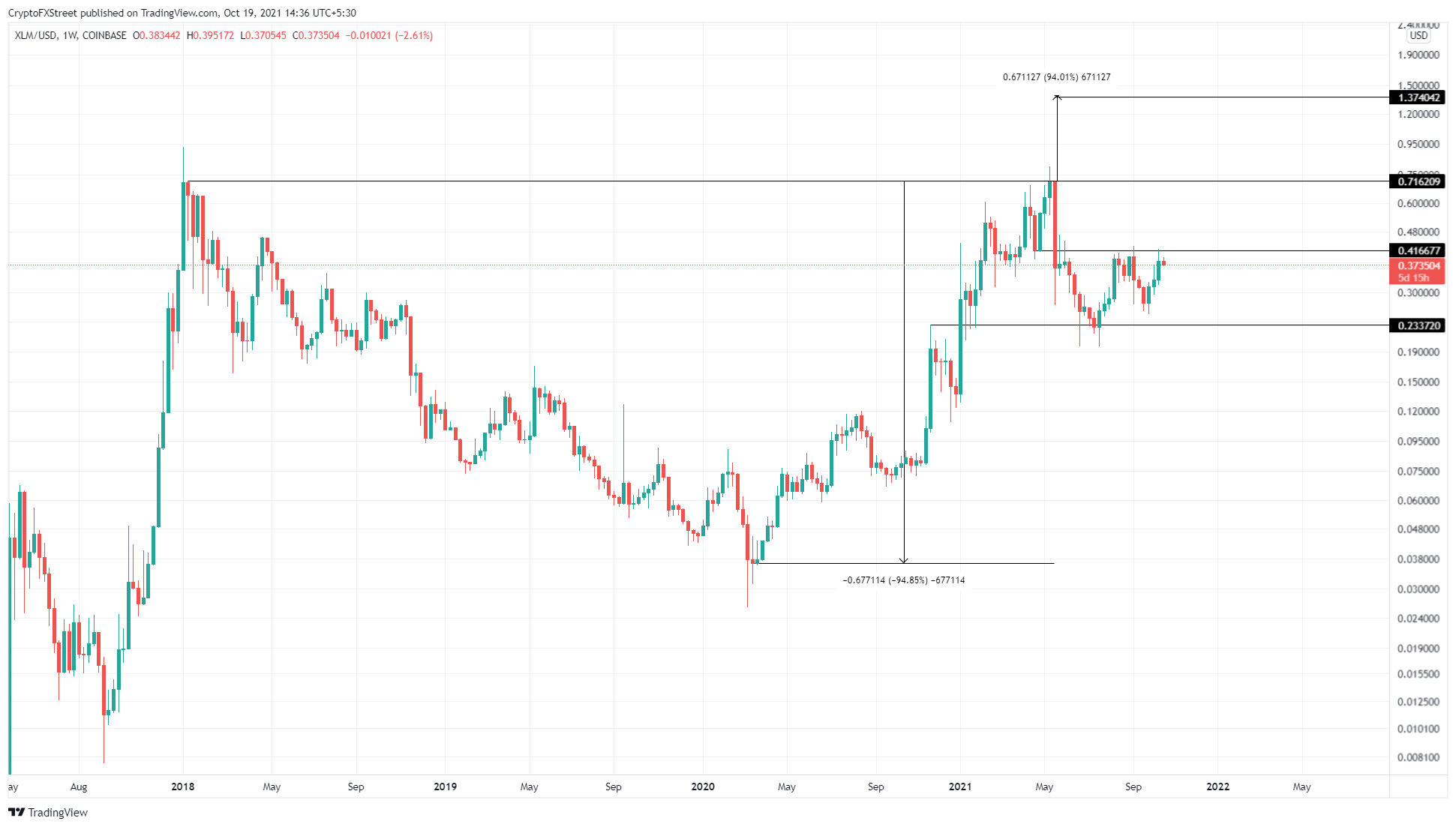 XLM/USD 1-week chart
Regardless of the optimism, if XLM price produces a lower low below $0.234, it will invalidate the bullish thesis and potentially trigger a further descent.
XLM May Get in Trouble If XRP Deemed a Security: XRP Researcher
A researcher from the XRP community believes that XLM and Stellar may get in trouble should the SEC deem XRP a security
Researcher Leonidaz Hadjiloizou has posted a tweet, in which is asks the opinion of the XRP community about which side in the Ripple-SEC legal battle the company's co-founder and former CTO Jed McCaleb would take, if he were to do it.
According to Hadjiloizou, should the SEC win and XRP is deemed a security, then Jed and his company Stellar which he created as a rival to Ripple will be in for hard times. If the court rules that XRP is a security, then McCaleb broke the law by selling these potentially unregistered securities – 9 billion of them that he received from Ripple as compensation as part of the Settlement Agreement.
What is most likely? Jed testifies as an expert witness for Ripple or the SEC?

PS1:If he believed XRP is a security then he broke the law by selling unregistered securities after the lawsuit was filed.

PS2:XLM might get in trouble if XRP is deemed a security on a technical lvl.— Leonidas (@LeoHadjiloizou) October 16, 2021
Besides, Hadjiloizou says that if XRP is announced a security, then the native token of Jed's Stellar, XLM, may also get in trouble and, perhaps, face similar accusations.
So far, no legal action has been filed by the SEC against Jed McCaleb, even though he co-founded Ripple Labs together with Chris Larsen. The latter and the CEO Brad Garlinghouse, along with Ripple Labs, are the defendants in this legal case of the SEC against Ripple.
Jed has been selling his 9 billion XRP in parts, however, he has not sold any coins since September 1.
A New Initiative is Launched by Stellar to Accelerate Blockchain Education
Stellar Development Foundation launched a new initiative with a considerable focus on blockchain education. The new so-called Stellar Next-Gen is focused on helping tomorrow's business leaders and developers.
It's clear that these developers and business leaders will be chosen from those who are interested in blockchain technology and work in the industry. Universities and various education centers will world with SDF in this initiative. The new initiative is toward the goal of SDF to create access to the global financial system for everyone.
Another Opportunity for Blockchain Lovers
Many small teams and junior developers are looking for opportunities to enter the blockchain industry. Many of them have big ideas, and many are looking for some help from experienced teams and companies. Stellar Development Foundation is among the big supporters of new teams and ideas in technology. It has many initiatives and funds for supporting new faces.
The latest announcement from the Foundation is toward this goal, too. Another initiative, this time, focused on blockchain education. Stellar Next-Gen is a new initiative from SDF that works in partnership with universities around the world.
One of the biggest goals of Stellar Next-Gen is to support academic programs and organizations around the world. Some of the examples are Blockchain at Berkeley, University College of London's Centre of Blockchain Technologies, and the National University of Singapore's Fintech Lab. Another goal is focused on underrepresented groups. SDF wants to help communities around the world find easier access to educational material of the blockchain industry. The Foundation sponsors student hackathons to help younger developers.

Creating an inclusive community is among the top priorities of SDF Next-Gen. Denelle Dixon, the CEO and Executive Director of the Stellar Development Foundation, said:
"To build a more inclusive financial system, we have to provide students of all backgrounds the opportunity to learn the ins-and-outs of blockchain technology." They must be empowered to see themselves as part of the solution. This initiative builds on our ongoing work with universities and organizations to make sure the next generation of builders is equipped with the information, tools, and mentorship they need."
The latest initiative from SDF won't be the last program to support new faces in the industry. The Foundation is committed to attracting more developers and ideas to the community, especially the Stellar community. There will be more events and learning programs that are focused on every developer or manager that is interested in blockchain technology.