These Four Charts Show Ethereum's 'Ridiculous Growth' in Six Years: Crypto Veteran Spencer Noon
Crypto veteran Spencer Noon is analyzing what he believes to be the "ridiculous growth" of Ethereum (ETH) over the last six years.
Noon is sharing four charts on ETH with his 71,800 Twitter followers. The first chart indicates that the annual transactions on the ETH network grew from nearly zero in 2015 to over 300 million in 2020. Noon says Ethereum is on track to complete half a billion transactions by the end of 2021.ADVERTISEMENT
"The Ethereum network is on pace to do more than 500 million transactions in 2021."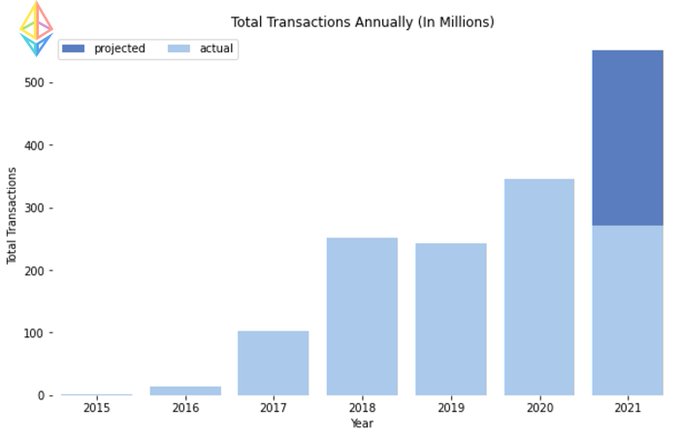 Source: Noon/Twitter
Noon's second chart reflects the amount of gas used to conduct transactions on the Ethereum network. The chart indicates that no transaction fees were collected in 2015, but Noon says that ETH gas will breach 3.50 million ETH – worth roughly $9.13 billion at time of writing – by the end of 2021.
"3.5 million ETH is projected to be used for gas this year."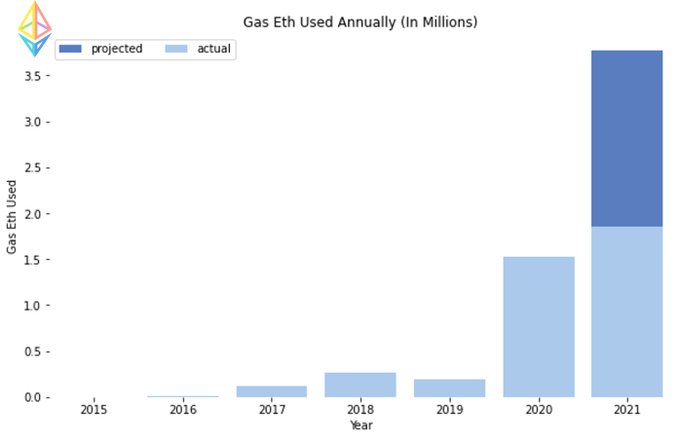 Source: Noon/Twitter
Noon's third chart reflects the growing number of Ethereum users.
"Even with 5 months left in 2021, ETH yearly active addresses is already at all-time highs (~30 million)."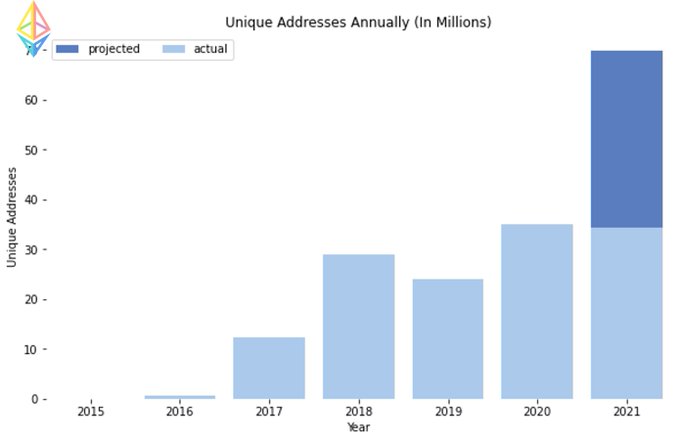 Source: Noon/Twitter
Noon's final chart indicates that the number of smart contracts created on the Ethereum network grew from less than 5 million in 2017 to over 7.5 million in 2019 and then jumped above 15 million in 2020. Noon predicts that Ethereum will hit a new record for deployed contracts by the end of 2021.
"Ethereum is on pace to hit ~50 million smart contracts deployed all-time by the end of this year."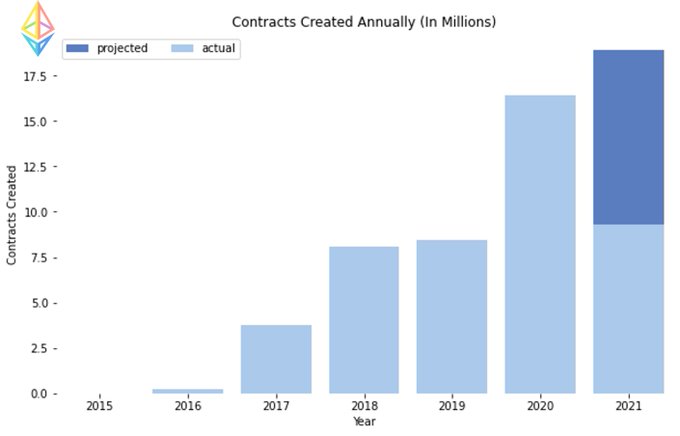 Source: Noon/Twitter
Ethereum Price Forecast: ETH bulls set sights on new record high targeting $6,000
Ethereum price is gearing up for a new all-time high as two significant bullish chart patterns have transpired.
The governing technical patterns present optimistic targets at $6,015 and $6,365.
A daily close above $3,960 would add credence to the bulls' aspirations toward $6,000.
Ethereum price is hovering around a key support level which has previously acted as resistance for ETH, as the bulls catch their breath before the token resumes its rally. As long as the second-largest cryptocurrency by market capitalization holds above $3,960, a 60% surge is still on the radar.
Ethereum price eyes 60% ascent
Ethereum price has printed two major bullish technical patterns on the daily chart, an ascending parallel channel and a cup-and-handle pattern. The former chart pattern indicates that ETH has been consistently reaching higher highs and higher lows since mid-June, presenting an optimistic outlook for the token.
Based on the first prevailing chart pattern, ETH is likely to tag the upper boundary of the channel at $6,015, coinciding with the 161.8% Fibonacci extension level, representing a 48% climb.
The cup-and-handle chart pattern suggests that the projected target for Ethereum price is at $6,365, forecasting a 60% rally. While the two governing technical patterns establish an optimistic outlook for ETH, the token may be confronted by a headwind at its all-time high at $4,369, corresponding to the middle boundary of the parallel channel.
Additional hurdles may emerge at the 127.2% Fibonacci extension level at $5,092, then at the 161.8% Fibonacci extension level at $6,015.
Given the reinforcement of the two optimistic chart patterns presented on the ETH daily chart, retracements for Ethereum price may not be significant even if selling pressure arises.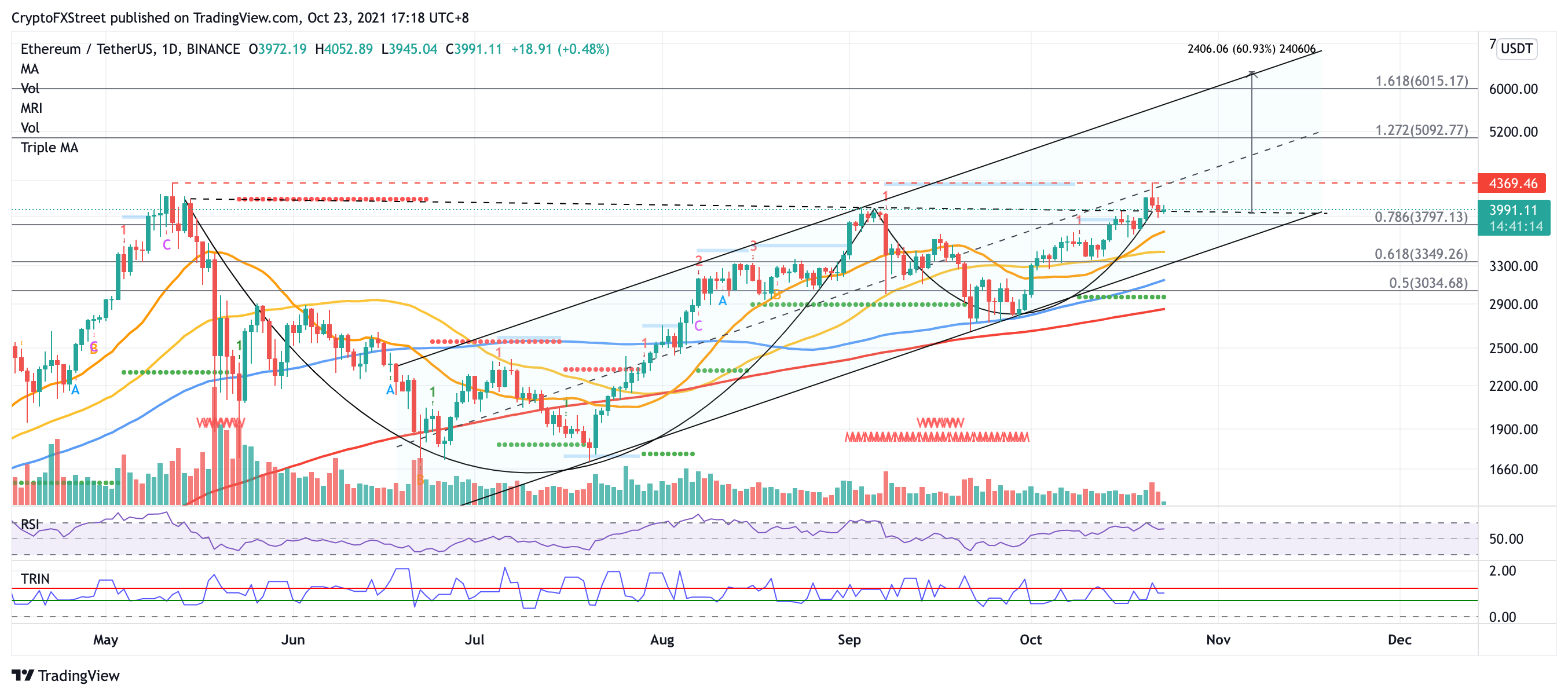 ETH/USDT daily chart
Ethereum price will discover immediate support at the support trend line at $3,960, then at the 78.6% Fibonacci retracement level at $3,797. The following line of defense will emerge at the 21-day Simple Moving Average (SMA) at $3,710, then at the 50-day SMA at $3,453 before eventually dropping toward the lower boundary of the ascending parallel channel at $3,349, which meets the 61.8% Fibonacci retracement level.
If Ethereum price fails to hold above the aforementioned levels of support, the bullish outlook may be voided, prompting ETH to plunge lower toward the 100-day SMA at $3,137.
ETH bulls should aim for a daily close above $3,960 to reinforce commitment for the bullish target to be on the horizon.
Whales hoarding NFTs? 80% of Ethereum NFTs bought by only 17% of Addresses
Around 16 percent of addresses snatched up 80.98 percent of all NFTs on Ethereum between April and September.
Moostream argues that there is still room in the NFT space for 'small investors.'
---
Moonstream, the open-source blockchain analytics platform, has revealed that about 80 percent of all non-fungible tokens (NFTs) on the Ethereum blockchain between April 1 and September 25 were owned by a minority of wallets. According to the October 21 report, four-fifths of NFTs in that time period was owned by 17 percent of wallets.
The reported analysed data from 7,020,950 million NFT transactions on Ethereum in a period of close to six months. It revealed that a significant number (80.98 percent) of NFTs on the blockchain were owned by whales, NFT platforms and exchanges which make up 16.71 percent of all wallets. The rest were distributed amongst the remaining 83.29 percent. This trend seems to follow the Pareto Principle or 80/20 rule as pointed out by one Reddit user. This is a principle that asserts that 80 percent of consequences are as a result of 20 percent of the causes.
It is worth noting that the data used in the report is based exclusively on the Ethereum blockchain and not Layer 2 networks or centralised Application Programming Interfaces (APIs). The report explains this in it's 'Caveats' section.
The Ethereum NFTs dataset is constructed purely from events on the Ethereum blockchain. It does not include any data from Layer 2 networks like Polygon. Nor does it include any data from centralized APIs like the OpenSea API. It does not account for events or data from any non-ERC721 smart contracts associated with these platforms on the Ethereum blockchain. This means that two parties could exchange a positive amount of funds for a transfer off-chain and conduct the transfer on-chain and we would not be able to distinguish the transfer from a gift. It is also possible for a single transaction to involve multiple NFT transfers.
Still early for 'small-time' investors and individuals?
While the unevenness in NFT distribution is glaringly obvious, Moonstream insists that there is still room for participation from small investors.
What this data shows us is that the Ethereum NFT market is open in the sense the vast majority of its participants are small-time purchasers who likely make their purchases manually. There are few barriers to entry for those who wish to participate in this market.
Contrary to what many may believe, purchasing and holding NFTs is relatively easy. Individuals can open a wallet on an NFT marketplace and fund it. After this, they can easily bid on available NFTs. Some popular NFT marketplaces are OpenSea, Rarible and Foundation.
Will Smith's Son, Rapper and Actor Jaden Smith, Posts Mysterious "ETH" Tweet
Jaden Smith joins the crypto-celebrity list with two tweets in a row
The "Icon" author, rapper, Hollywood actor and mega-star, Will Smith's son Jaden Smith, has posted a mysterious "ETH" tweet that followed a "Web3" publication shortly after.
The purpose behind the two tweets has not been disclosed, but it is most likely tied to the rising popularity of the two industries. Previously, Ethereum's price has reached the new ATH, which might have caught the famous rapper's attention.
ETH— Jaden (@jaden) October 22, 2021
Both crypto-related tweets have been warmly welcomed by the audience, collecting approximately 8,000 likes and more than 1,000 retweets on Twitter. In the comment section of the Web3 tweet, Jaden said that he actually owns an NFT just like his industry partner Snoop Dog.
With the rapid price increase of the Bitcoin, DeFi and NFT industries, more celebrities are exploring cryptocurrencies and blockchain technologies. In addition to giving significant investment returns, digital assets technologies may potentially change the banking, finance and art industries in the future.