182.3 million XRP Sent to Jed McCaleb, While Ripple Unlocks Another Billion XRP
Ripple has withdrawn another billion XRP and sent 182-million XRP portion to its former CTO
Whale Alert has reported that, over the past 10 hours, Ripple blockchain tech provider has withdrawn another billion XRP from its escrow account.
The crypto decacorn has also transferred 182.3 million XRP to the wallet that belongs to its co-founder and former CTO Jed McCaleb.
One billion XRP on the move from escrow
Ripple continues its regular programmed releases of one billion XRP stashes. A massive amount of crypto was unlocked around eight hours ago, according to recent tweets published by popular crypto tracker Whale Alert.
The crypto tokens were withdrawn in three portions: 500 million, 400 million and 100 million XRP. The fiat value of the unlocked crypto totals approximately $760 million at the current price of $0.7337.
Nine hundred million from the released amount has been put back in escrow and locked. One hundred million XRP have been sent to the Ripple wallet for further use.
As a rule, part of the released amount (which does not get locked back) is sent to Ripple customers—financial institutions—and crypto exchanges to support XRP liquidity.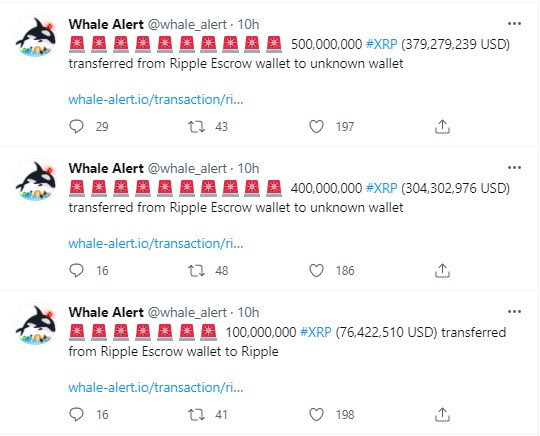 Ripple has been releasing one billion XRP on the first day of the month for several years already.
Ripple co-founder receives 182.3 million XRP
The person who cofounded Ripple Labs, initially known as Opencoin, with Christopher Larsen and was its first chief technology officer, Jed McCaleb, has received another big portion of XRP.
A whopping 182.3 million tokens have been sent to his "tacostand" wallet by Ripple—a regular payment made as part of the settlement agreement between Ripple Labs and McCaleb.
This XRP stash is the equivalent of $138,747,891 in fiat at press time. The transaction was made approximately 10 hours ago, as reported by Whale Alert.
Jed McCaleb has been selling his XRP regularly, sending them to crypto exchanges. The community believes that Jed McCaleb is likely to run out of his XRP holdings by late August or early September.
At the moment, Jed's "tacostand" wallet holds an astounding 682,445,818 XRP, according to blockchain service XRPscan. That is equal to $522,650,542.
🚨 🚨 🚨 🚨 🚨 🚨 🚨 🚨 🚨 🚨 182,370,308 #XRP (138,747,891 USD) transferred from Jed McCaleb Settlement to Jed McCaleb wallethttps://t.co/qu3mprmHV0— Whale Alert (@whale_alert) August 1, 2021
XRP remains in the $0.70 range
The seventh-largest cryptocurrency, XRP, continues trading in the $0.70 range, exchanging hands at $0.7617 as of this writing, according to data provided by the CoinMarketCap platform.
XRP has been unable to recover the $1 price mark after declining below it on May 22. Prior to that, the coin soared to a peak of $1.90 on April 14.
The coin then spent approximately a month moving sideways in the $1.50 range, making temporary dips but remaining above $1.
Since the last week of May, however, XRP has been unable to recover that crucial level.
XRP price on the cusp of massive decline if this critical support level fails to hold
XRP price is sitting above a key support level amid a prevailing downtrend.
If Ripple fails to hold above $1.07, the token may see further decline toward under $1.00.
The governing chart pattern suggests that XRP price could plunge 9% toward $0.97.
XRP price is trapped within a recent downtrend as the momentum has flipped to the downside. Ripple lagged behind while other cryptocurrencies, including Bitcoin and Ethereum, recently witnessed rallies reaching new all-time highs. If the cross-border remittance token fails to hold one crucial foothold, it could continue to edge lower. 
XRP price at risk of 9% decline
XRP price has formed a descending parallel channel pattern on the daily chart since October 9, printing lower highs and lower lows, unable to escape the governing downtrend.
Ripple is in danger of further decline as XRP price is edging closer toward the ascending support trend line that started forming on July 20. 
However, XRP price will be able to discover meaningful support at $1.07, where the 50-day Simple Moving Average (SMA), the ascending support trend line, the middle boundary of the prevailing chart pattern, and the 61.8% Fibonacci retracement level meet. Ripple must hold and close above this level to avoid further losses.
The Arms Index (TRIN), an indicator that gauges overall market sentiment suggests that there is slightly higher selling activity than buying activity. This could indicate that bulls could continue struggling to lift prices higher against the overpowering distribution of the sellers.
If selling pressure continues to rise, XRP price may slice below the ascending support trend line, exposing Ripple to additional downside risk, dropping toward the 200-day SMA at $1.02. The token may find a foothold at the 100-day SMA at $0.99, before dropping toward the bearish target given by the governing chart pattern, at the lower boundary of the parallel channel at $0.97.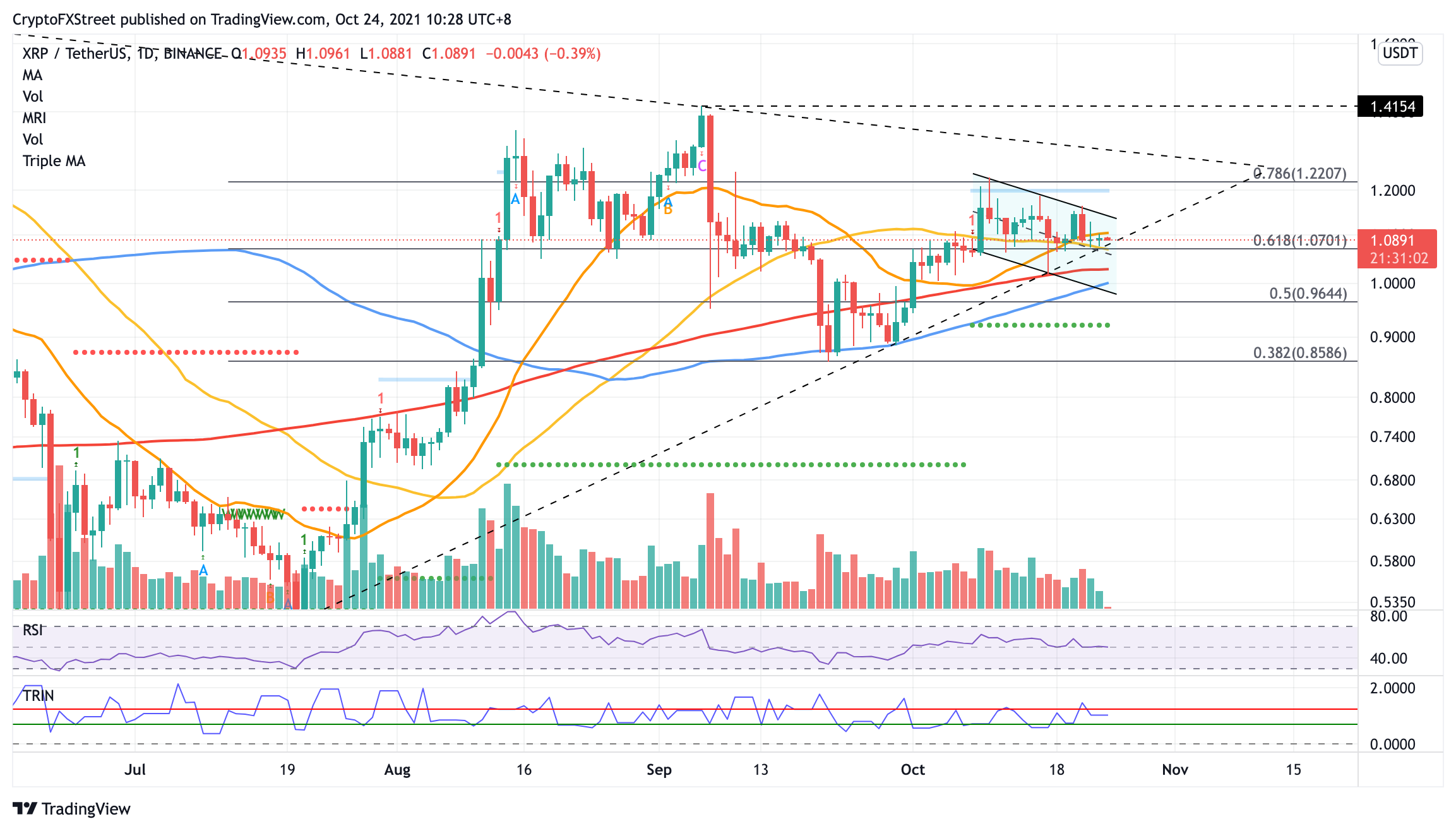 XRP/USDT daily chart
Further bearish sentiment may incentivize XRP price to slide toward the 50% Fibonacci retracement level at $0.96, then to the September 21 low at $0.85, coinciding with the 38.2% Fibonacci retracement level.
If Ripple bulls manage to reverse the period of underperformance, XRP price will meet its first obstacle at the 21-day SMA at $1.10, then at the upper boundary of the parallel channel at $1.13. The following target for buyers is at the 78.6% Fibonacci retracement level at $1.22. However, investors should note that only a close above the 21-day SMA would signal the token's resilience from its recent weakness.
Warren Buffet Massive Backing Into RippleNet Bank
Warren Buffett's entire argument is in favor of Bitcoin.
Brazilian digital bank gets a 500M investment from Buffett investment fund.
Warren Buffett knows about the things that are going on behind the scenes of digital assets. Furthermore, his entire argument in favor of Bitcoin is that he needs to protect his gold investments. But all it boils down to people like Warren Buffett is the money which he is going to invest.
In addition, $60,000 is still holding up strong for Bitcoin. Notably, the BTC dominance has dropped just a little bit at 44.45%. More so, 60,000 is a huge key resistance area for BTC as it will accelerate up to over $74,000 which is the next stop. The main aim for bitcoin is to trade between $80,000 to $100,000.
Youtuber adds, yet to see a major rotation into we have yet to see XRP pop. This comes usually when XRP starts flying which indicates that we are getting close to the end. However, this time I believe it's going to be a little different because we do have that massive multiplier effect coming into play towards the end of the cycle.
When the lawsuit was a ripple and the sec wraps up we have never had this before. In addition, we have the exchanges relisting a lot of money waiting on the sideline wall streets just sitting there waiting. This is because they can finally invest in an asset that is going to have regulatory clarity which is key folks.
Everyone can keep their eyes on Bitcoin at 60K if they do drop down we're going to drop into the 50s. It is not possible to see Bitcoin going any lower. Notably, XRP had a silent week with a very low volume. More so, the triangle is getting narrower each and every day which is a good thing.
Because users know what happens when it gets to that triangle. It is either going to go up or it is going to go down and the market sentiment right now is pointing to us going up.
Even more, as at the beginning of November, we're looking for an XRP breakout. Added to this, it is not possible to get a five to seven trillion-dollar market cap Bitcoin. More so, Ethereum is going to take three trillion of that market cap which has two trillion dollars left. XRP is going to be a legally cleared currency — the first one of its kind.
In addition, XRP has utility behind it which is going to start ramping up the use and volume price plus demand is going to bring the price to a trillion market cap. Moreover, those who keep their XRP on Binance.us hope to get the airdrop for a songbird. Unfortunately, Binance.us will not support this airdrop.
New Bank and Ripple Net Partnership
The new bank is a Latin American NEO bank and the largest financial technology bank in Latin America. Moreover, the company has engineering offices in Berlin, Germany, Argentina, and an office in Mexico City.
June of this year Warren Buffett's Bert Warren Buffett's Berkshire Hathaway has invested 500 million into Brazilian challenging new bank. Therefore, the Brazilian digital bank new bank has announced today that it has received a 500 million investment from Warren Buffett investment fund Berkshire Hathaway.
Moreover, Berkshire Hathaway invested in an extension of the fintech's 400 million series g round announced in January. In addition, Buffett's company also had a stone code a Brazil-based digital firm among its tech investments in the region. This is because users got Warren Buffett dumping 500 million into the new bank which is absolute insanity.
The New bank is a Ripple net member. Specifically, the new bank and Ripple net partnership pretty much came out right around the same time that Warren Buffett was sending funding money to them. What do you think could possibly be going on and then it gets more interesting here.
Ripple Works Through Ripple x NFTs
South Korean exchange Coinone, a Ripple partner, used to run a remittance app called cross and had 22 percent of its shares. This is the second-longest position acquired by game evil, a game developer with the intent to develop blockchain-based products NFTs in games.
More so, the game evil is located in Seoul and la and they largely focus on mobile games. In addition, this is absolutely tremendous so why are they buying up coin ones shares the second largest position of coin one shares to get into mobile gaming and NFTs.
Ripple now works through Ripple x NFTs they're into mobile gaming as well as cross-end partner with Ripple to launch South Korea's blockchain first blockchain-based real-time global payment system. This is a huge listen these NFTs mobile games that are coming to the Ripple ledger to the XRP are going to be a game-changer.
South Korea and Japan are going to lead the way for adoption you have already seen be put together a gaming team which the people who are on their gaming. Squad and gaming are huge if you don't think gaming is a huge thing it is one of the biggest.
It's one of the biggest job opportunities out there for young kids they are getting developing and creating a brand new craft that is taking off all around the world. Users probably don't hear much about it if they were not into gaming.
But if you're into gaming just the slightest bit you would be shocked with all the different tournaments, teams, groups, and competitions that they have going on so bringing blockchain into gaming and getting NFTs into games is going to be a game-changer.
XRP Price Looks Solid, Will There be a Significant Upward Surge?
BTC and ETH both reversed direction as they looked for fundamental support, implying that bears are trying to catch over-leveraged bulls. Despite Ripple's legal battle with US securities regulators, XRP is looking solid. XRP is likely to convert a historic level of resistance into support, paving the stage for a significant surge.
XRP Price Action
On Friday, Ripple's XRP fell 0.03 percent. Ripple's XRP concluded the day at $1.08883 after falling 5.04 percent on Thursday. After a rocky start to the day, Ripple's XRP plummeted to an intraday low of $1.08 in the early afternoon before making a move.
Ripple's XRP soared to a mid-afternoon intraday high of $1.12, breaking above the 38.2 percent FIB of $1.0659 and the first major support level at $1.0609. Ripple's XRP dropped to $1.07 levels after failing to break through the first significant resistance level at $1.1400. Ripple's XRP briefly rose to $1.09 levels late in the day before plunging back into the negative. At the time of writing XRP is trading in red at $1.09.
Ripple vs SEC !! What's Lies Ahead?
Ripple responded to the SEC's letter with an explanation for its privilege allegations as well as a redacted version of the three additional documents requested by the defendants for in-camera review in the XRP litigation. Ripple has asked the court to make these records available to the defence, and he has continued to argue against the plaintiff's "privileged" position.
Once Ripple settles their case, you'll see now only $XRP take off, but the market as well.

That's because we'll finally have some sort of clarity that will be available.

Personal Opinion.

NFA— David Gokhshtein (@davidgokhshtein) October 22, 2021
David Gokhshtein is the founder of the Pac Protocol network and a crypto influencer who often tweets about the crypto world. In the most recent, he discussed the Ripple vs SEC case and how the resolution of the legal struggle between Ripple and the SEC will benefit XRP.
David cited a previous interview with Ripple CEO Brad Garlinghouse, in which he stated that the business will resolve the issue with the US Securities and Exchange Commission (SEC) if the asset class of the Ripple token is clarified.
According to David, if the SEC clarifies whether Ripple's asset class is a security or not, it will also clarify the status of other crypto assets. And the SEC's clarity will function as a stimulus for the XRP and cryptocurrency markets to take off.