Ethereum 2.0 sees ray of hope after multiple delays and internal conflicts
Ethereum price flashed a sell signal, hinting at a correction after a 58% upswing.
The hash rate improves after the mining community faced a debacle.
ETH developers continue to evolve the ecosystem with new ideas and platforms.
Ethereum price showed an excellent bullish outlook as it rallied from the range low to retest a resistance level just below the range high. While this upswing was stellar, it might be coming to an end as the Momentum Reversal Indicator (MRI) flashed a sell signal.
London hard fork and EIP-1559
Perhaps the most promising development in the Ethereum ecosystem is the shift from Proof-of-Work (PoW) to Proof-of-Stake (PoS). The staking of ETH, in particular, has garnered attention from investors, who are staking roughly 50% of their holdings, according to BitStamp exchange's CEO Julian Sawyer.
The ETH 2.0 contract has seen 6.48 million ETH worth $17 billion deposited to it at the time of writing.
Speaking of the interest seen by BitStamp for ETH staking, the CEO stated,
That says a lot. That is not people playing [and saying] 'Oh, I'll just put 1%, 10% over there, I'll put a hundred dollars into this.' That is people being engaged in the product set and the interest rate.
The ETH 2.0 contract's collection shows the interest among users for the upcoming London Hardfork. This upgrade is significant since it proposes two critical improvements to the existing blockchain network.
A shift from PoW to PoS to improve the scalability of the blockchain while retaining security and decentralization.
A paradigm shift in how fees are collected and burned, making ETH a deflationary asset.
According to Ethereum core developer Tim Beiko, the hard fork will go live on August 4 between 13:00 UTC and 17:00 UTC. In other words, it will arrive at the block height of 12,965,000.
The change in the underlying nature of how Ethereum works is crucial since ETH 2.0 will not require energy-intensive mining equipment. However, a major reason this change was promoted was to improve the scalability of the Ethereum blockchain and increase the efficiency of transactions.
Often, Ethereum blockchain would face congestion during peak hype, leading to high gas fees and delayed transactions. The DeFi summer of 2020 was the last time ETH gas fees skyrocketed and inadvertently stopped the massive cycle.
The implementation will consist of five significant proposals, EIP-1559, EIP-3198, EIP-3529, EIP-3541 and EIP-3554.
However, by implementing the Ethereum Improvement Proposal (EIP)-1559, the arbitrary nature of gas will be eliminated. According to EIP-1559, the gas fees will be split, and a part of the fees will be burned, effectively reducing the total fees received by the miners.
While this controversial fee structure created a chasm between the developers, users and miners, things seem to have cooled off as the proposal approaches.
Concerns on the hard fork's schedule
Although the fundamental nature of this upgrade is bullish, there have been plenty of delays from shifting to ETH 2.0. Therefore, the audience is concerned about the upcoming London hard fork, which went live on the Ropsten test network on July 21. However, since its first debut in 2019, things have not gone according to the core developers' plans. 
From pushbacks to delays, this proposal has caused the mining community to oppose it, leaving the Ethereum network open to a 51% attack.
Speaking during a conference in June 2021, Vitalik Buterin stated that the biggest roadblock in the shift from ETH to ETH 2.0 was people-related problems and not technical issues. This statement by the creator of ETH refers to the internal conflicts that have been ongoing for several years.
Despite the launch on the testnet, the hard fork faced a chain split, causing an invalid transaction to be mined into the blockchain. Although the bug was addressed immediately, there is no telling how things might change after the implementation on the mainnet on August 4.
Ethereum price primed for correction
Ethereum price rallied roughly 58% from the range low at $1,700 to nearly $2,700 in under two weeks. This massive upswing was a result of Ether's correlation with Bitcoin. While this run-up was optimistic, bulls might have to take a backseat as the Momentum Reversal Indicator (MRI) flashed a sell signal in the form of a red 'one' candlestick on the 12-hour chart.
This technical formation forecasts a one-to-four candlestick correction for ETH.
The likely targets include the midpoint of the trading range at $2,297 and the $2,271 and $2,174 support levels.
A retracement to $2,174 would indicate a 17% pullback from $2,640. This move would exhaust the selling pressure from investors willing to book profit and provide an opportunity for sidelined investors to hop on the next leg up that propels Ethereum price 33% higher to tag the range high at $2,895.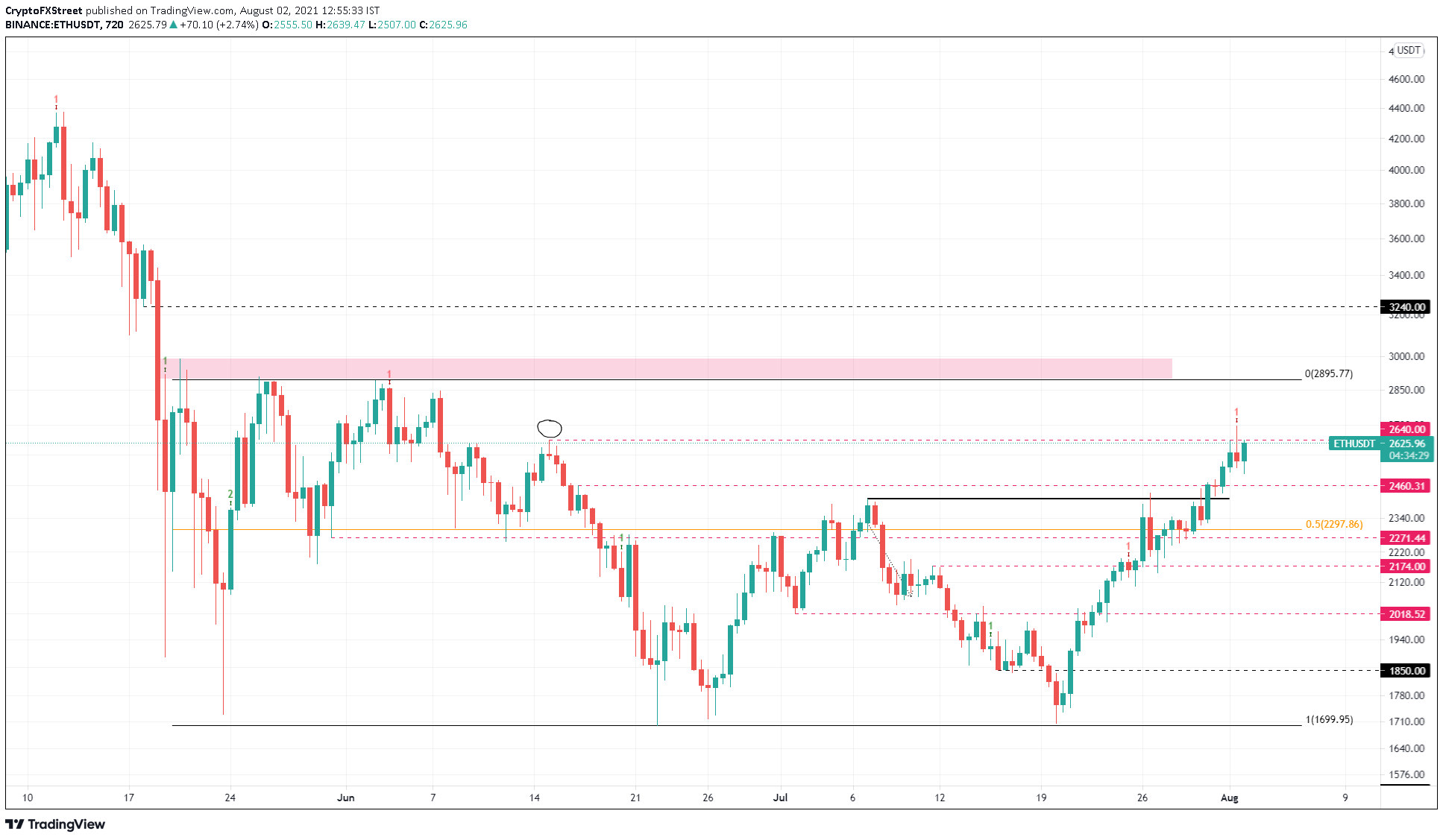 ETH/USDT 12-hour chart
Supporting this pullback scenario is the 365-day Market Value to Realized Value (MVRV) model, which has risen from 0% to 37% in under two weeks. This uptick indicates that 37% of the investors who purchased ETH over the past year are in profit.
Investors might be willing to book profit after this run-up, leading to a pullback.

ETH 365-day MVRV chart
However, adding a tailwind to the overall bullish nature of Ethereum is the supply of ETH on exchanges. This metric shows that despite the recent exponential growth, 520,000 ETH left centralized entities, suggesting that investors are optimistic about Ether's price performance over the short-term future.

ETH supply on exchanges chart
While the pullback followed by a new leg-up seems plausible, investors need to note that a decisive 12-hour candlestick close above $2,640 will indicate a resurgence of buyers, which might lead to a premature restart of a new upswing.
However, a breach of the $2,018 support level will reveal weakness among buyers and will invalidate the bullish thesis. Such a move might even lead to cascading selling pressure that pushes Ethereum price down to the demand barrier at $1,850 or, in a highly bearish case, the range low at $1,700.
https://youtube.com/watch?v=MKOTI3HY_Vo%3Frel%3D0
Here's What Will Trigger the Next Big Ethereum Rally, According to Top Crypto Analyst
A popular crypto trader is predicting what needs to happen for Ethereum's (ETH) price to surge even further.
In the TechnicalRoundup newsletter, the pseudonymous analyst DonAlt says ETH is likely to underperform during a Bitcoin (BTC) breakout but will overperform later if the market rides "a multi-month uptrend."
"As Bitcoin gets sufficiently pumped (very technical term) risk trickles down to lower market cap assets, including Ethereum.
From a technical point of view, the market is in a range between support (low-mid $3000s) and resistance ($4000).
Given the relative strength of the market and the proximity to new all-time highs, a range breakout is more likely than a range breakdown.
Generally, triple tops aren't compelling resistance structures, especially those that form at prior all-time highs."
Ethereum is trading at $4,189 at time of writing, up more than 16% in the past week, according to CoinGecko. The second-biggest crypto asset by market cap hit its all-time high of $4,356 in mid-May.
DonAlt thinks Bitcoin currently offers traders more upside than downside.
"If you long Ethereum and you're right, you'll probably make less money than longing Bitcoin. If you long Ethereum and you're wrong, you'll probably lose more money than longing Bitcoin.
Our conviction on this isn't incredibly high, but the likelihood of a Bitcoin-dominant breakout is one worth considering.
In our view, the time to rotate into Ethereum will come once the breakout dust has settled. A large puke in Ethereum/Bitcoin would be a good time to start looking for punts.
Mars Land NFTs Released on Ethereum, MARS4 Tokens Listed on Bittrex, Sushiswap
Here's how land plot on Mars can be obtained in a new-gen manner through NFT marketplace
Shortly after the release of an eccentric NFT-focused metaverse, the Mars Land project sees its core native utility asset, MARS4, listed by Tier 1 centralized exchange Bittrex and leading DEX SushiSwap (SUSHI).
Here's how NFT instruments allow crypto enthusiasts to purchase land on Mars
The Mars4 team behind Mars Land, a novel digital collectibles project, has modeled a 3D map of Mars' terrain based on the latest NASA data. The total area of Mars' terrain is divided into 99,888 tokenized plots.
Mars4 will be live on @BittrexGlobal in 24 hours‼️🎉

You can already deposit MARS4 tokens HERE 👇https://t.co/MjfjL7pXRX https://t.co/L0j8xBB50P— MARS4_me (@mars4_me) October 20, 2021
Then, the NFTs associated with segments of Mars Land are available for sale as non-fungible tokens. Mars Land NFTs are minted on Ethereum (ETH) blockchain and can be utilized in various digital economic initiatives.
Namely, Mars NFTs can be locked for staking and utilized for liquidity mining; therefore, Mars Land NFTs evolved into a full-stack instrument of passive income for cryptocurrency enthusiasts with various levels of expertise.
Mars Land NFTs are released in batches; 10,000 tokens are listed per epoch. Starting from Epoch 1, 51% of the income generated is redistributed among current NFT holders. By mid-October, there are more than 50,000 NFTs in circulation.
MARS4 listed on CEXes and DEXes: Why is this crucial?
Mars Land adheres to a dual tokenomic design: its architecture includes NFTs and MARS4 dollars. In total, there are four billion MARS4 tokens in circulation.
MARS4 tokens are now available on Bittrex, a veteran centralized cryptocurrency trading ecosystem. Bittrex offers the widest range of assets amidst all CEXes working in the United States.
Also, MARS4 tokens can be purchased on leading Ethereum-based decentralized exchange, SushiSwap (SUSHI). On SushiSwap (SUSHI), MARS4 tokens can be staked as well.
Ethereum Whales with 1 to 10 Million ETH Add 13.9% Coins As Ether Approaches ATH
Large holders of Ethereum have been buying large amounts of Ether on a steady basis since August, an analytics report says
Top Ethereum wallets have been adding Ethereum steadily since August and keep doing so even as the price is approaching the all-time high reached in May.
Top ETH whales buy another 13.9% of Ether
Santiment on-chain data provider has tweeted that Ethereum wallets holding from 1 to 10 million Ethereum have been purchasing massive lumps of Ether in the past three months.
Over this period, they have acquired 13.9% of the Ethereum supply and keep adding more, even though the Ether price has soared to the $4,200 zone, inching closer to surpassing the May all-time high of Ethereum.
🐳 #Ethereum's top addresses have accumulated $ETH steadily since early August, and it's no surprise to see the #2 asset approaching an #AllTimeHigh of its own. In the past 10 weeks, addresses with 1M to 10M $ETH have accumulated 13.9% more to their bags. https://t.co/OUccwGBDKC pic.twitter.com/tJpZiN5B9Y— Santiment (@santimentfeed) October 21, 2021
Non-exchange ETH whales hold 5x more ETH than whales on exchanges
According to a Santiment tweet published earlier in October, the ratio of non-exchange and exchange crypto whales and their ETH holdings now constitutes 5:1.
Crypto whales now hold five times more Ethereum on non-exchange wallets than other whales hold on exchange addresses.
The ETH holdings of the former now total 22.91 million Ethereum compared to only 4.6 million ETH stored on addresses based on crypto exchanges.
Besides, in July, the top 10 Ethereum addresses acquired big amounts of ETH and, back then, they held 20.58% of the second-largest cryptocurrency.
In the meantime, as reported by U.Today earlier, ETH exchange supply has been declining substantially as investors have been withdrawing Ether to cold wallets for long-term storage. This may be one of the main reasons for the growth of the Ethereum price.
Ethereum inches closer to its May peak
On May 12, Ether managed to reach a historic rise, soaring to a $4,362 all-time high. Since then, ETH has dropped twice to the $1,780 low (in June and July). In early August, it surpassed the $3,000 level after the implementation of EIP-1559 (also known as the London hardfork) on Aug. 5.
At the end of last week, Ethereum recovered the $4,000 line and, on Wednesday, it surged to the $4,239 price mark, following Bitcoin hitting an all-time high of $66,930.
Along with the EIP-1559 upgrade, a burning mechanism for Ethereum was rolled out for ETH fees. Since then, large amounts of Ether have been destroyed, which makes the ETH supply smaller and more deflationary, helping its price to rise.
As of Oct. 11, more than 500,000 ETH have been destroyed. Over the past 30 days, around $824 million worth of Ethereum fees have been burned.