India Still Considering Banning Bitcoin and Other Private Cryptocurrencies
India's cryptocurrency ban is still up in the air
A draconian ban on all privately issued cryptocurrencies remains under consideration in India, CNBC TV18 reports.

In a tabled reply, Pankaj Choudhary, the minister of state for finance, said that a decision on whether it would follow the recommendations of a high-ranking government committee created to regulate cryptocurrencies was yet to be made.
Mixed messaging
Back in 2019, an inter-ministerial committee (IMC) suggested imposing a blanket ban on cryptocurrencies of the likes of Bitcoin in its draft report. This includes potential criminal penalties for holding and mining digital currencies.

In March, Reuters reported that India was readying to introduce a law that was in line with the report.

During the same month, Finance Minister Nirmala Sitharaman said that shutting down all cryptocurrencies was not the path India was taking:
My view on this is that of course the Supreme Court had commented on cryptocurrency and while the RBI may take a call on official cryptocurrency but from our side, we are very clear that we are not shutting off all options.
In June, The New Indian Express reported that the government was softening its stance toward cryptocurrencies, adding more confusion to already-mixed messaging.

The Reserve Bank of India—whose ban on cryptocurrency trading was overturned by the Supreme Court in March 2020—stated that it still had major concerns about digital assets in June.
This came after the RBI
e-RUPI is not a digital currency
In the meantime, Prime Minister Narendra Modi announced the launch of e-RUPI, a voucher-based digital payments system, earlier today.

The new payment medium has nothing to do with blockchain, but India's central bank is also working on its own central bank digital currency that will leverage the technology.
Bears Gearing up to Drag Bitcoin Down, This Is How BTC Price Can Defend Itself!
The cryptocurrency market remains vivid lately. While some flourish, others lose out-breath on their run. The market cap of the crypto space at the press time, is down by  1.7%, at $2,718,182,571,073. While the volume for the last 24-hours hovers around ~$166,723,949,932.
The star crypto at press time is trading at $63,624.08. With negative gains of 2.5% for the last 24-hours. While the market capitalization of BTC floats around $1,199,369,171,403. The trading volume for round-the-clock stood at around $44,244,433. The dominance stands at around 44.1%. The coin has been consolidating post-brushing its new ATH at $67,276.79, which was on the 20th of October.
Bitcoin to Lose Its $60,000 Levels?
According to an analyst, BTC grew from $41,000 to $67,000, without any notable corrections. From the chart, BTC price can be seen moving across the rising channel. The star coin had earlier rebounded each time it hit the support levels of the rising channel. However, this time around the coin broke through its support levels. And now holds two probabilities for its price action.
The analyst anticipates the coin to either retest and plummet towards its support levels. Or it might take a dip straight away towards its support level at $59,000. However, the analyst expects BTC to march towards its milestone in the range of $78,000 to $80,000. Following the price correction. But in no terms, it means a bear trap.
Collectively, a price correction seems to be imminent, prior to a major leg-up. As a lot FOMO has also crept in during the uptrend. Which might need correction, for a healthy run in the quarter. Hopefully, the star coin retraces, its path surpassing the expectations.
Top 3 Price Prediction Bitcoin, Ethereum, XRP: Crypto bulls unfazed by flash crash
Bitcoin price action initially shakes off strong selling pressure, finds buyers at support, then resumes some selling pressure.
Ethereum price action mixed post-all-time high rejection.
XRP price awaits its own bullish breakout and an opportunity to outperform its peers.
Bitcoin price closed more than 5% lower on the Thursday session, but buyers have stepped in to hold the Tenkan-Sen as support. Ethereum price action shows that the recent rejection has caused some indecision. XRP price does not have far to move to initiate a massive bullish breakout.
Bitcoin price continues to find buyers at the Tenkan-Sen
Bitcoin price has shown resilience and conviction since creating new all-time highs. There were broad concerns that due to Ethereum's rejection of new all-time highs, Bitcoin might suffer a robust corrective move below the $60,000 value area. Although the Binance.US exchange did have an anomalous wick that saw Bitcoin return to the $8,000 level –that was the exception. If buyers can maintain the Tenkan-Sen as a primary support zone, then a move to test $70,000 is next.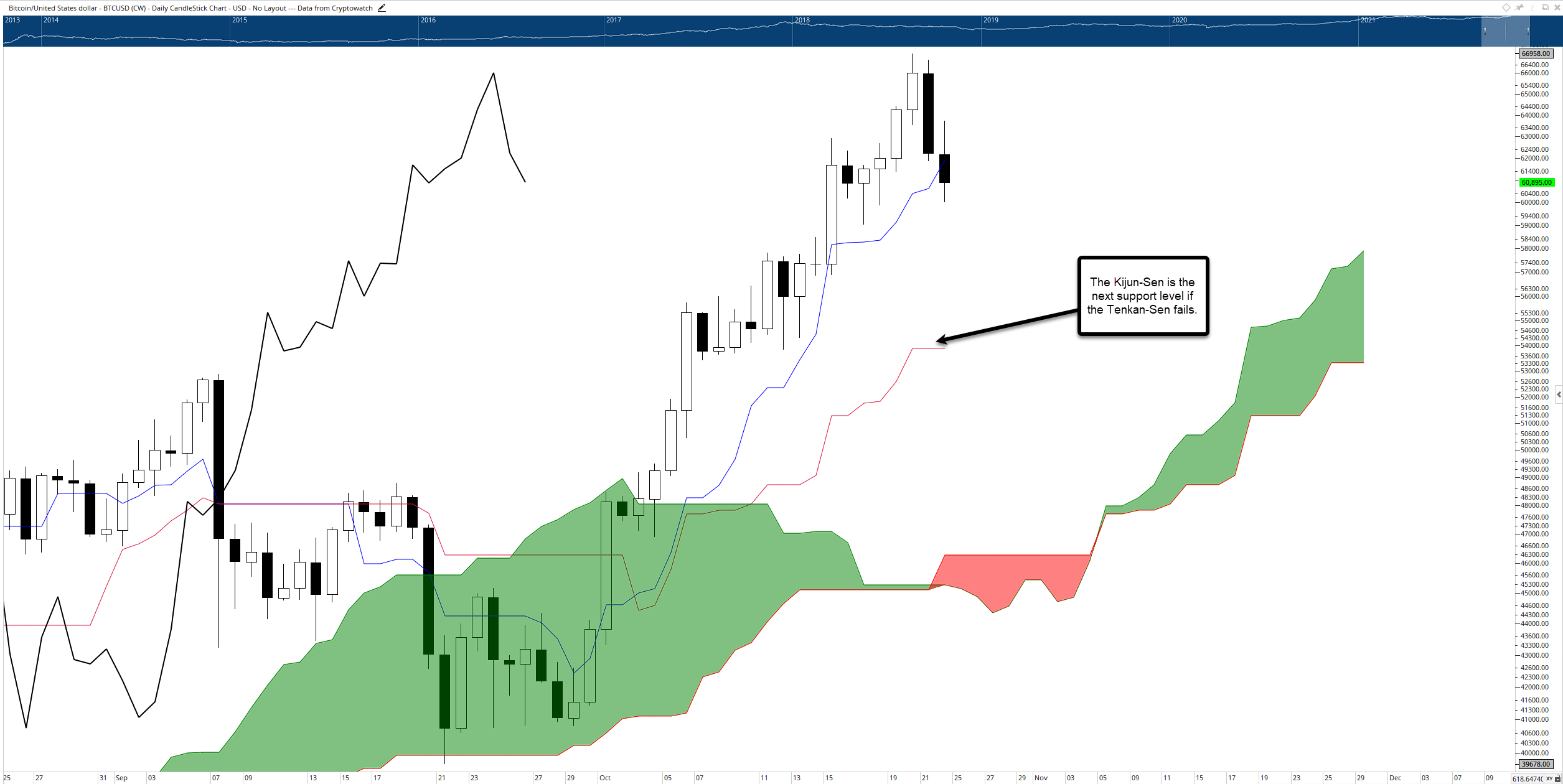 BTC/USD Daily Ichimoku Chart
Market participants should be wary of the weekend. Weekends are notorious for whipsaws in price action and major sell-offs, especially on Sunday. Watch for sustained breaks below the Tenkaan-Sen to test the Kijun-Sen near the $55,000 value area.
Ethereum price may trap short-sellers if bulls push higher
Ethereum price action was almost comical during the Thursday trade session, with sellers preventing Ethereum from making new all-time highs by just $2.70 (depending on the exchange data). Even though Ethereum closed 7% below the Thursday high and 2.5% below the open, buyers at first appeared undeterred. Some weakness and selling pressure have been observed during the New York lunch hour. Like Bitcoin, Ethereum has found buyers near the Tenkan-Sen. If bulls can hold the daily close above the Tenkan-Sen, another test of new all-time highs appears inevitable.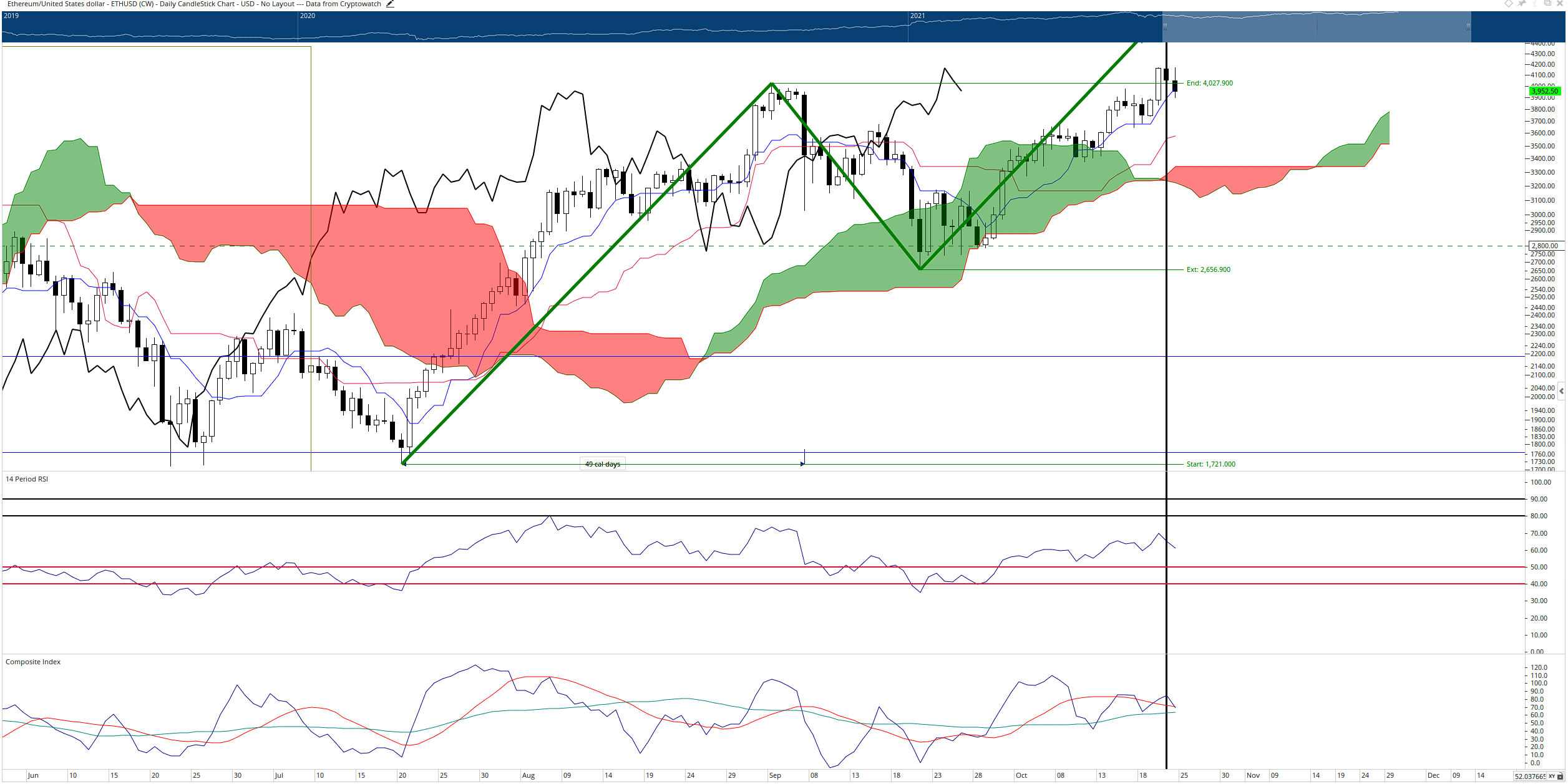 ETH/USD Daily Ichimoku Chart
However, watch for signs of selling pressure as the weekend approaches. The black vertical line represents where the nearest Kumo Twist (when Senkou Span A crosses above or below Senkou Span B) is located. Kumo Twists often mark turning points for markets that have been trending strongly at the time of the Twist. Thus, the upcoming weekend would be a perfect opportunity for short-sellers to push Ethereum price lower to test Kijun-Sen at $3,575 or Senkou Span B  at $3,350.
XRP price action frustrates bulls and bears
XRP price has spent the past two weeks trading in a very constricted trading range. The bodies of the daily candlesticks have been limited to $1.08 on the low side and $1.16 on the high side. From an Ichimoku perspective, XRP has fulfilled all conditions to confirm an Ideal Bullish Ichimoku Breakout – buy buyers need to step in and push Ripple higher. A close at or above $1.17 would likely be sufficient for XRP to begin a 50% upswing towards the $1.60 – $1.70 value area.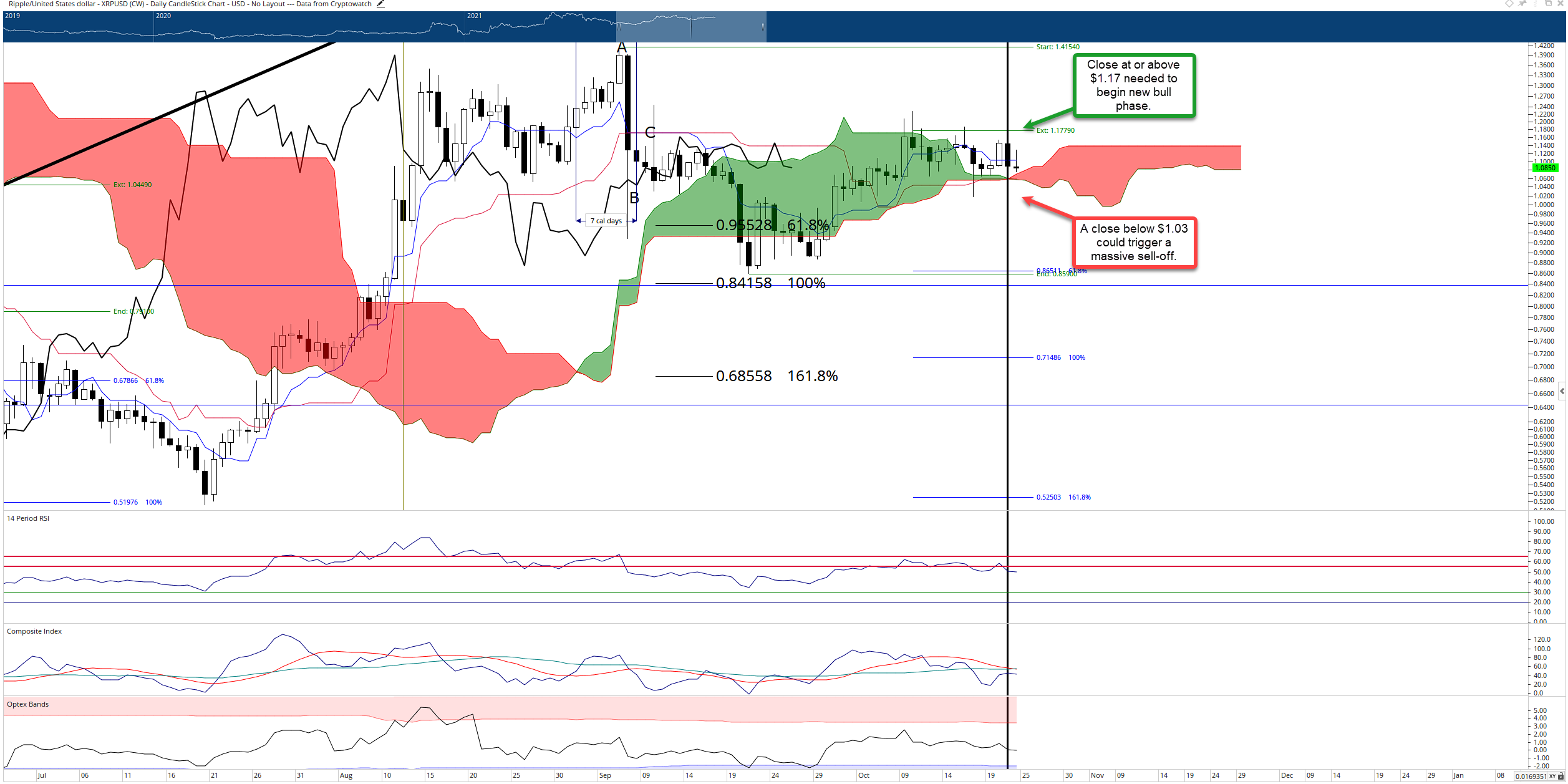 XRP/USD Daily Ichimoku Chart
As the weekend approaches, bulls will want to be cognizant of any strong push south which could cause a daily close below the Cloud. A close at or below $1.03 could be an early warning sign of some imminent selling pressure. If sellers were to push XRP price low enough to cause the Chikou Span to close below the candlesticks ($0.88), then a brand new bear market would likely begin for XRP.
Valkyrie Bitcoin futures-linked ETF launches on Nasdaq, with share prices dropping 3% in first hour
The second Bitcoin (BTC) futures-linked exchange-traded fund in the United States began trading on the Nasdaq, opening at a price of $25.52 per share.
According to the Nasdaq, digital asset manager Valkyrie's Bitcoin Strategy ETF, the second exchange-traded fund allowing U.S. investors direct exposure to cryptocurrency futures, opened at a price of $25.52 per share of BTF before dropping 3.3% to reach $24.66 at the time of publication. The exchange-traded fund is aimed at tracking the value of BTC futures listed on the Chicago Mercantile Exchange, or CME.
"This Bitcoin Strategy ETF is a major leap forward for this asset class," said Valkyrie CEO Leah Wald. "It enables investors to participate in the digital asset markets through a regulated, transparent product that trades on a trusted, reliable exchange and can be bought and sold as easily as any other investment currently available."
The crypto fund on a major stock exchange is the second to launch this week following ProShares' Bitcoin Strategy ETF opening for trading on the New York Stock Exchange on Oct. 19. In less than a week, the fund has reached more than $1 billion in assets under management in addition to approaching the limit on the number of futures contracts allowed under the CME.
The Securities and Exchange Commission first accepted the registration request for Valkyrie's ETF on Oct. 15 shortly after doing the same for shares of ProShares'. The regulatory body still has several crypto ETF applications under consideration, and has only approved ones with exposure linked to BTC futures.
According to data from Cointelegraph Markets Pro, the price of Bitcoin rose above $63,000 for the first time in months following shares of ProShares' ETF opening for trading on Oct. 19, later reaching an all-time high price approaching $67,000. Today, the price dipped more than 3% following markets opening, dropping from $63,449 to as low as $61,437.