NFTs are next for enterprise Ethereum, says ConsenSys founder Joe Lubin
Nonfungible tokens, or NFTs, are known by the mainstream as digital assets that represent real-world objects such as art, music and fashion, among others. Yet, while most of the world may be enamored by the high selling prices of NFTs launched by celebrities, athletes and other famous individuals, nonfungible tokens are starting to pique the interest of corporations for business use cases.
Enterprises embracing NFTs was a point discussed during the Enterprise Ethereum Alliance, or EEA, anniversary event that took place virtually on July 29, 2021. During a keynote session, entitled "The future of Ethereum and Web3," Joe Lubin, CEO and founder of ConsenSys — a blockchain software company — mentioned that "NFTs are doing a tremendous job of getting enterprises excited."
Following the EEA event, Lubin told Cointelegraph that from a broader perspective, NFTs have become a revolution that will transform how the software will be built and delivered:
"We're now moving into a world where we have these nonfungible software objects that have unique identities that can actually accept money, pay money and can participate in governance, either in decentralized autonomous organizations or potentially other kinds of governments that can govern themselves."
As such, Lubin believes that NFTs won't just encapsulate content through digital artwork or music, but that nonfungible tokens will eventually evolve into entire businesses with their own rights.
The future of NFTs for enterprise use
Although Lubin is very much aware that self-governing NFTs will be a profound transformation, he explained that artists and content creators who have launched nonfungible tokens have already demonstrated that this technology is capable of solving common business problems:
"NFTs are enabling artists and content owners to recognize that their intellectual property can have different rights and different rates if they wish. These can then be monetized and sold to different people in really flexible and programmatic ways. It's really about the artist not having to sell their soul to make a living, which is really exciting from the enterprise perspective."
Specifically speaking, Lubin remarked that every media company in the world is thinking about or is already in the process of launching its own NFT platform. To Lubin's point, Media Publishares — publishers of Vogue, Esquire and other major magazines — announced a partnership earlier this year with decentralized ad network Vidy to launch and develop an NFT platform for the fashion, art and music industries.
Media Publishares's nonfungible platform is expected to launch in Q3 of 2021 to enable a virtual environment to showcase digital art, fashion, music and design. The platform will also support the minting, trading and auctioning of NFTs through a tokenized system.
Yet, NFTs are not only poised to disrupt the media industry. Lubin added that traditional financial service sectors shifting toward decentralized finance (DeFi) concepts will also leverage nonfungible tokens. According to Lubin, NFTs are going to be a major part of DeFi going forward since the traditional financial world consists of fungible token shares, deeds and other financial instruments that are uniquely associated with an asset.
This being the case, Lubin explained that a "nonfungible financial world" is a massive opportunity that will likely be centered around automated market makers, stable coin systems and lending/borrowing protocols: "These will look very similar to fungible tokens, but they'll need to be built somewhat uniquely to accommodate nonfungible tokens."
Based on this, it's important to point out that enterprises leveraging a nonfungible financial world will, in turn, solve a major business problem: ensuring that invoices are paid. Dan Burnett, executive director of the Enterprise Ethereum Alliance, told Cointelegraph that just as computers and the internet have helped companies lower costs and increase speeds, Ethereum and blockchain technology are enabling trust for how people will get compensated:
"The whole point of blockchain technology is that we don't need a trusted human for business processes. Organizations can now set things up not only for how people get paid now, but how people can get paid in perpetuity."
Shifting from corporations to community
As enterprises begin to apply nonfungible concepts to traditional business models, Lubin further remarked that this demonstrates a shift from an age of corporations to an age of community: "DeFi protocols are about sharing governance. We are going to eventually organize all our business activities in decentralized autonomous organizations."
Lubin noted that the billion-dollar gaming sector is already demonstrating how NFTs can impact real-world economies. For instance, Lubin mentioned the Ethereum-enabled blockchain project Axie Infinity, which allows players to earn income through nonfungible tokens. In particular, Axie Infinity has had an impact in the Philippines, a region hit hard by the COVID-19 pandemic.
The play-to-earn blockchain-based video game has already allowed several Filipino people to earn NFTs and cryptocurrencies by breeding, battling and trading digital pets called Axies. Lubin explained:
"Many of the 350,000 to 400,000 people that are playing the game are living in the Philippines. They are earning income that's five times what they would be making at minimum wage. They've built a real economy and are building a metaverse with property. This is a phenomenon to watch."
Recent data from Axie World shows that the Axie Infinity virtual environments have a total revenue close to $120 million in July 2021, which is up significantly from the $1.92 million seen at the beginning of this year.
Although impressive, Burnett pointed out that proper regulations are still required in order for nonfungible systems for enterprises to come into fruition: "One of our goals at the EEA is to work with regulators to ensure a proper engagement. This isn't about shutting down the technology or community, but rather about understanding that the world has changed."
While regulations are still underway, Lubin optimistically remarked that "the enterprise herd is already coming to the Ethereum mainnet."
Ethereum Whale Bought 276,592,553,073 SHIB, Is Something Big Coming?
An anonymous Ethereum whale decided to go on SHIB coin shopping.
The whale bought 276,592,553,073 #SHIB tokens ($11,510,207 USD).
Investors seemed highly interested in Shiba Inu since the total value locked (TVL) climbed close to $2 billion in June and July. Recently, an anonymous Ethereum whale decided to go on SHIB coin shopping, buying close to an enormous 276 billion SHIB.
On October 26, a Twitter account by the pseudonym Shiba Inu News tweeted the news first. The user said,
Wow… An Ethereum whale just bought 276,592,553,073 #SHIB tokens ($11,510,207 USD). We haven't seen a whale transaction THIS BIG in quite some time. This is massive and sends a clear signal that He/She knows something is coming.
This move comes after Shiba Inu token had an impressive rally from the last few days, surging by over 340% in the past 7 days and reaching a new all-time high of over $0.000046.
The last time an anonymous whale bought an enormous 6.3 trillion coins, a couple of weeks later, the Shiba Inu (SHIB) token went bullish, hitting a new all-time high. So, the Twitter user said that this latest whale might know that something big is coming that's why he or she bought this much SHIB.
Less Than 48 Hours Until Ethereum Altair Update, But 30% of Nodes Are Not Yet Ready
With Ethereum Altair update coming, users are not being dexterous
Ethereum's main network is getting closer to the new Altair network, which means that the absolute majority of the nodes on the network have to update their clients. According to the Nodewatch service, currently around 30% of nodes remain unsynced.
The new upgrade for Ethereum is aimed purely at validators, and it does not change anything for general coin users. The update affects only the beacon chain consensus mechanism. In addition to users, updates will not have any effect on contracts.
If users act as validators, they will need to download the latest version of their software, which they will be able to find in the table on the Ethereum blog, and restart their nodes as usual.
If node holders decide not to update to the latest version of the software and join the upgraded chain, they will be synced with the old chain after an upgrade on Ethereum occurs. While functioning on the incompatible chain, users will not be able to receive proper rewards and realize them on exchanges.
Validators running on the old network will receive penalties for not participating in the upgraded consensus with respect to the upgraded mainnet.
When the Ethereum community has decided which changes should be made to the network, the change is written by the clients functioning on the network. The changes to the beacon chain protocol go live in a specific epoch (the Altair update goes live at epoch 74240).
Any new nodes with the old ruleset will remain abandoned on the old chain without being able to use new functions, participate in the current network or, in general, utilize the cryptocurrency.
Ethereum killer Solana hits $13.65 billion in TVL as SOL price locks in on $300
Solana price is hovering around $208.76 after a new all-time high at $219.27.
A minor retracement to the $185.30 to $204.44 demand zone is likely before a 16% advance.
The total value locked on the SOL ecosystem hits a record high of $13.65 billion.
Solana price seems to be unaffected by Bitcoin as it set up a new all-time high on October 25, and so did the Total Value Locked (TVL) on the SOL ecosystem. With the altcoin currently retracing to a support zone, investors can expect another leg-up to kick-start a new uptrend.
Solana TVL goes through the roof
Solana has been a buzzing ecosystem with NFT projects, yield aggregators, liquidity mining and more. This massive ecosystem, which is set to rival Ethereum, has reached two new milestones, a new all-time high for Total Value Locked and the market value of SOL hitting a record high.
The top six projects on Solana have more than $1 billion in TVL. Saber leads the pack with $2.06 billion worth of SOL locked in its ecosystem.
Moreover, the Ethereum-killer narrative for Solana seems to be working out well, as plenty of projects have jumped ship. As a result, SOL has rallied a whopping 14,665% in 2021, reflecting the demand for an ETH alternative in the cryptocurrency space.
With Bitcoin slowing down, altcoins, especially Solana and a handful of other DeFi coins, are rallying. Moreover, Ignition saw 5,879 projects sign up for the 4th global hackathon on Solana. The prize pool is hovering around $5.1 million with a grand prize of $75,000 and famous faces in the cryptocurrency ecosystem like FTX founder and CEO Sam Bankman-Fried, Coinshares' CSO Meltem Demirrors, Circle founder and CEO Jeremy Allaire and so on judging these projects.
SOL price prepares for lift-off
Solana price rose 43% from October 19 to October 25 and created a new all-time high at $219.27. This run-up was an explosive one with minor retracements. Therefore, investors can expect SOL to undergo a short-term corrective action before embarking on a new leg-up.
The support area ranging from $185.30 to $204.45 is where the pullback finds a cushion and receives enough buying pressure to reverse its trend. Assuming the reversal occurs here, SOL needs to flip the $216.91 resistance barrier into a support floor. Doing so will allow Solana price to take aim at the new all-time high at $238.67 or the 161.8% Fibonacci extension level.
In a highly bullish case, Solana price could extend its run-up to $301 after a 50% ascent to the 261.8% Fibonacci extension level.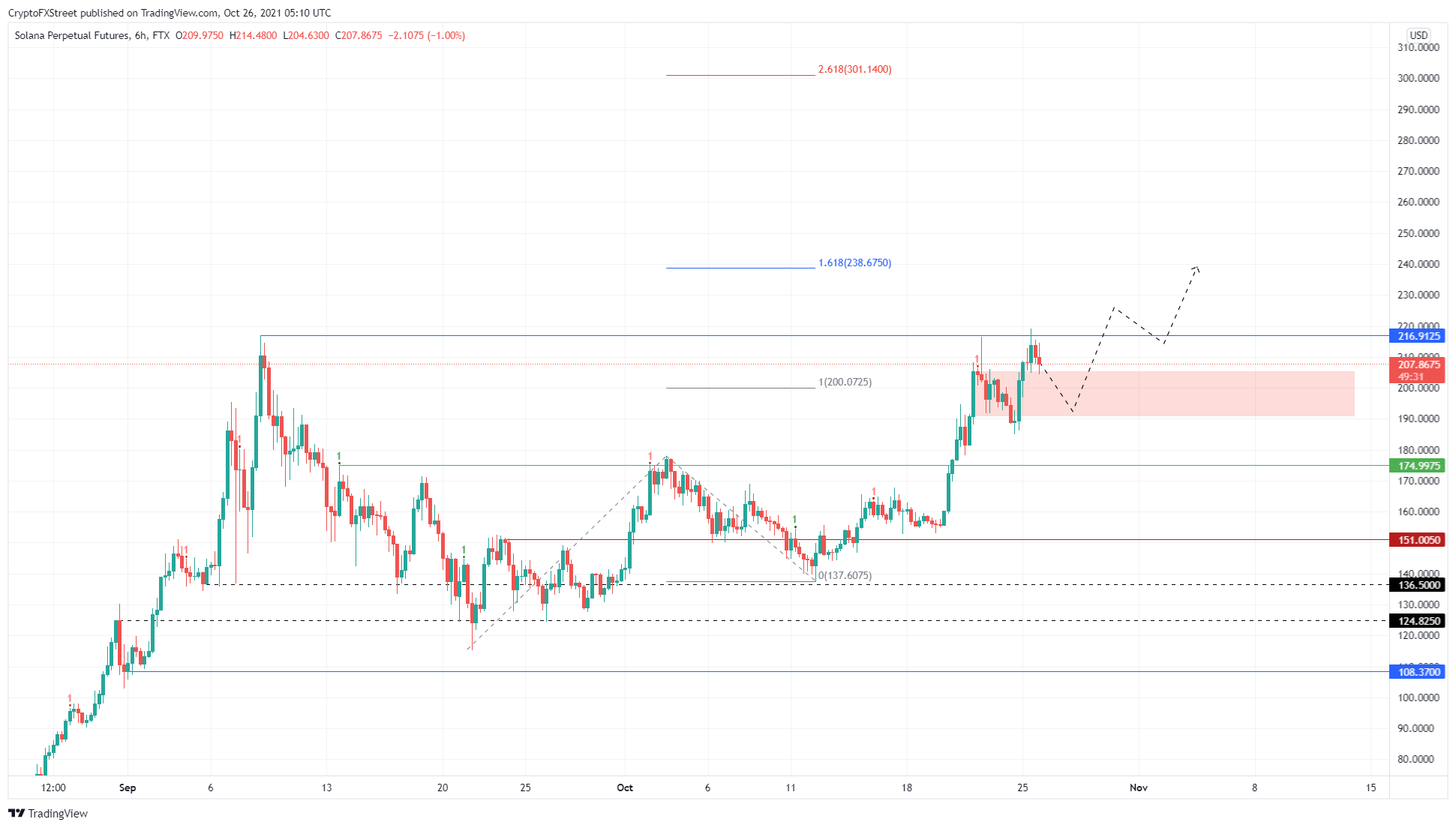 SOL/USDT 6-hour chart
While things are looking good for Solana price, a breakdown of the demand zone ranging from $185.3 to $200.37 will be catastrophic. In this situation, SOL could retrace to the $175 support floor and, in dire cases, $151.05. While this downswing does not invalidate the bullish thesis, it will delay it.