SafeMoon Price Prediction: SAFEMOON drops 27%, but any rebound should be sold
SafeMoon price compression is beginning to release as cryptocurrency resolves the descending triangle to the downside.
SAFEMOON daily Relative Strength Index (RSI) enters oversold territory, potentially limiting the downside in the short term.
Daily volume has not spiked on the weakness over the last four trading sessions, indicating no run for the exits yet.
SafeMoon price shaped a descending triangle pattern since the May collapse, with the May 19 low of $0.00000261 serving as the horizontal support for the triangle. Finally, on July 28, SAFEMOON logged a daily close below the May 19 low, triggering the bearish pattern. Despite the oversold condition on the daily RSI, the outlook for the altcoin is still bearish as the previous price contraction will lead to further price expansion.
SafeMoon price negative deviation from crypto market spells trouble
In July, the tightening of SafeMoon price squeezed the daily Bollinger Bands to the tightest reading since the inception of trading, as measured by the Bollinger Band Width (BBW). The significant SAFEMOON price contraction and the pressure enforced by the declining 20-day simple moving average (SMA) established the basis for a substantial resolution of the descending triangle pattern, with the triangle carrying a bearish bias.
Since the triangle resolution to the downside on July 28, SafeMoon price has dropped 27% at today's low of $0.00000190, but still far from the measured move downside target of $0.00000111. A decline beyond the measured move target would find support at the April descending trend line at $0.00000089, representing a 60% decline from the current price. The level corresponds to price congestion at the beginning of April.
To achieve the bearish targets outlined above, look for panic in volume. Based on the daily volume figures, the 27% decline has not been engineered by a rush for the exits, forging the potential for a rebound as the daily RSI has touched the oversold territory. Thus, for SAFEMOON investors with a shorter-term outlook, it may be advantageous to capture the gains.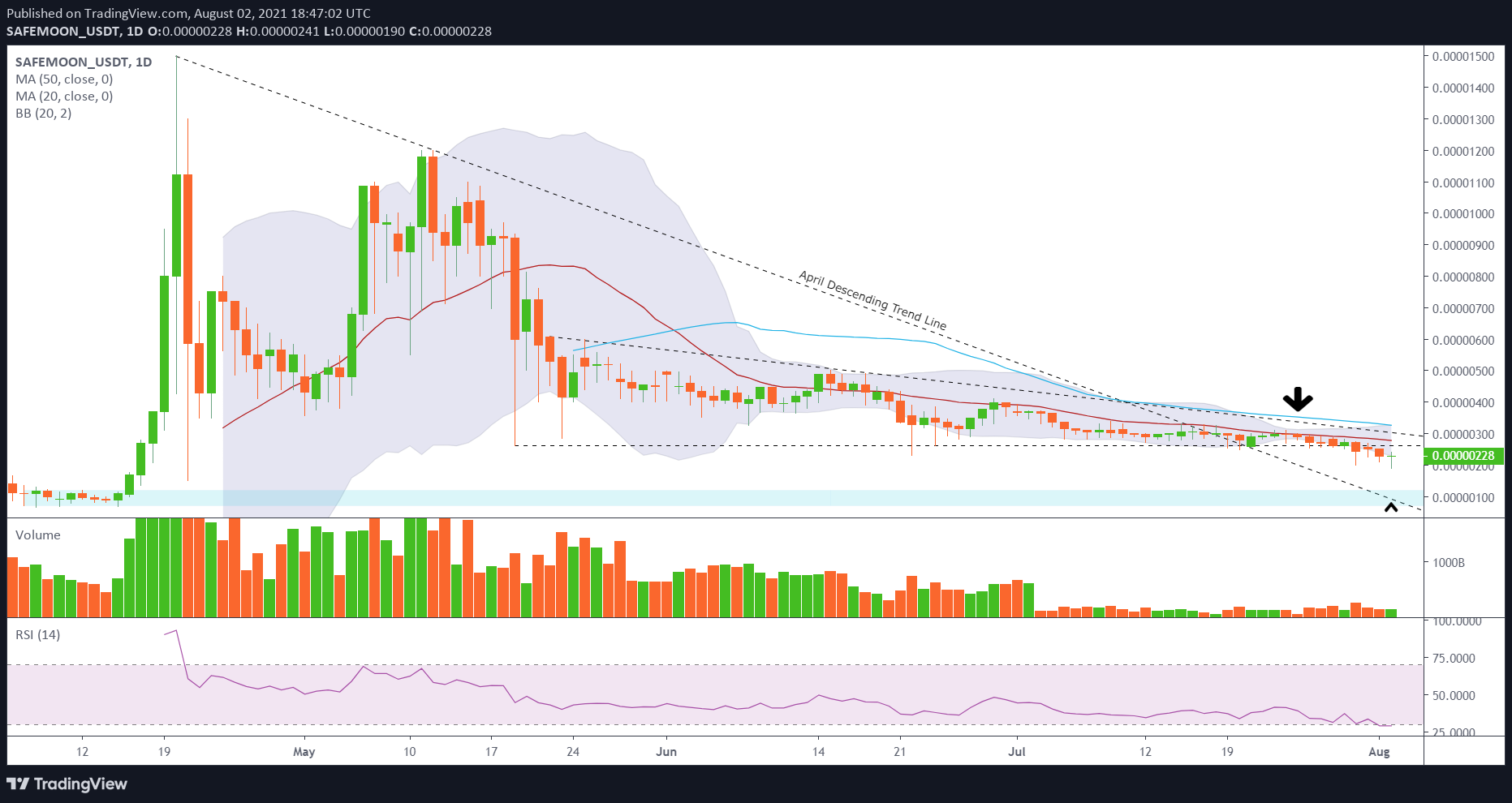 SAFEMOON/USD daily chart
For those investors not participating in the decline, there is no reason to entertain a long position until SafeMoon price recaptures the May 19 low of $0.00000261. Even then, the upside is met with heavy resistance, including the 20-day SMA at $0.00000277, the upper trend line of the descending triangle and the 50-day SMA at $0.00000326.
Overall, the negative deviation of SafeMoon price from the bullish trend in the cryptocurrency complex since July 21 is confirmation that the SAFEMOON outlook remains full of questions and few answers, especially when there is no FOMO to hide the sources of bearish concern. As a result, it may be a signal of more trouble to come.
News Source
Whale buys $225,000 worth of SafeMoon as analyst turn bullish
A new Safemoon wallet update was pushed out last week; the development team has upgraded the wallet with new features.
Safemoon wallet's beta testers consider it easy to use for beginners; recently, the BNB direct buy feature was added.
Within 24 hours of its launch, the Safemoon wallet ranked in the top 25 applications on the AppStore.
The dominance of large wallet investors is less than 15%, which implies Safemoon is accessible to retail traders, unlike DOGE or SHIB.
Safemoon faced severe criticism from traders in the community before the launch of its wallet application. Beta testers have reviewed the wallet and have a bullish outlook on SafeMoon. 
Whales are bullish on SafeMoon with the launch of its wallet
The community-driven DeFi token SafeMoon has recovered from the drop in price that followed the unsuccessful triple launch. Traders expected SafeMoon to deliver a wallet alongside iOS and Android compatible applications.
SafeMoon failed to deliver and revealed that it hit a technical snag in launching all three products at once. Since then, SafeMoon has worked on its wallet app and launched it for beta testers.
The wallet's beta program participants have shared positive reviews, testing features like direct buy for Binance coin. A new update was published by the development team less than a week ago.
John Karony, CEO of SafeMoon, tweeted:
Beta testers of the #SAFEMOONWALLET should have the BNB direct-buy button.

I want to give a special thanks to the team for making sure this gets done. #SAFEMOON is the #Evolution!

P.S. I will be at the Silicon Slopes Summit in Utah.— John Karony (@CptHodl) October 10, 2021
Within 24 hours of the application's launch, it ranked within the top 25 on the application store.
Further, as of October 13, SafeMoon's top 50 whale wallet dominance dropped below 15%. Top 10 and top 25 wallet's dominance has dropped below 20%. 
Altcoins that rank in the top 30 by market capitalization have high whale dominance; SafeMoon is distributed evenly across wallet addresses with different balances and implies less control by whales.
A large wallet investor bought $225,000 worth of SafeMoon, and analysts have turned bullish on the altcoin. Despite a nearly 95% drop from its peak, SafeMoon is posting gains and recovering from the "unsuccessful triple launch" event. 
SafeMoon Wallet Review 2021: Easiest for Beginners
SafeMoon tokens are among the most well-known cryptocurrency tokens created in March 2021 on the Binance Smart Chain blockchain. Earlier this year, SafeMoon's price took the crypto world to new heights. You would be surprised to know that early investors were rewarded with returns of over 20,000%.
Like other popular cryptos, the SafeMoon also proved itself to be real crypto by hitting an all-time high in April and experiencing a drop of over 70%. It's highly volatile and has the attention of crypto investors who believe that the SafeMoon project will be the next big thing.
SafeMoon currently charges almost 10% fee on transactions; 5% is redistributed to SafeMoon token holders. 5% goes to wallets in a different currency.
All you need to know about SafeMoon wallet
Exactly three months after announcing a beta version of its crypto wallet for testing, SaeMoon developers SafeMoon released the wallet on the Google Play store on March 2021. As if on cue, the price of the altcoin asset duly sprung 20% upward in 24 hours, as if headed to the moon.
Well, after the initial excitement, the price of the token slipped down a few days after. Focusing back on the SafeMoon wallet, we can say it was worth the wait. One of the easiest to understand, SafeMoon crypto wallets is considered best for crypto and blockchain beginners.
The SafeMoon wallet is a secure place to store and trade your SafeMoon. Some features include Wyre integration, dark mode, contacts list, hold to cancel, and haptic feedback. The meanings of these terms and their function are available here. You also have the option of using a hardware wallet for safely storing and using your crypto, with more features than competitors and military-grade encryption.
The SafeMoon calculator works so well that it breaks down exactly which tokens you're purchasing and opens the door to the world of decentralized finance for beginners and professionals. Charts are available too for guidance.
It's frustrating when you can't find the crypto you like the most, but this time, it's different. SafeMoon holders can have access to multiple cryptos like Ethereum, SafeMoon, and many popular crypto tokens. You'll find that SafeMoon isn't easy to get or swap—it trades in low volumes compared to other cryptos in the top 100 of market cap—as it's not available on any major exchanges.
SafeMoon wallet has the finest and user-friendly interface that will help you track the markets and make a well-informed decision about your crypto purchase.
Lastly, kindly note that if you transfer SafeMoon into your SafeMoon wallet from a different decentralized wallet, it will cost you a 10% fee for doing so.
So to avoid this fee, you can import your wallet seed phrase. If other third parties involved claim not to charge a fee, then send a test transaction first to reduce the chances of any unforeseen issues with transferring.
Is the wallet safe for SafeMoon holders?
Safety is an essential element that everyone considers before choosing a wallet for digital currency. SafeMoon Wallet is one of the safest digital wallets in the crypto business, which has attracted many crypto users in the last couple of months. It has been quite successful in ensuring its customers that their digital assets are safe with SafeMoon.
SafeMoon wallet is secured with biometric 2-layer security and Google authentication as additional layers of optional security. Plus, like other digital wallets, this one is also well-secured with a wallet password.
The best thing is that whether anyone is new to crypto or a seasoned investor, SafeMoon Wallet is an excellent option to send, receive or swap favorite tokens.
SafeMoon team ensures the safety of SafeMoon tokens
The consensus mechanism used by the Binance Smart Chain is called Proof of Authority. In this mechanism, the block creators are known as validators. These block creators are pre-approved and chosen by Binance.
So, to be approved, they need to confirm their real identities, keep investing money to prove long-term commitment, and be fair and equal to all other candidates. This further makes proof of authority reputation-based by design.
In this particular model, Binance has complete control over the blockchain. They have absolute control over deciding who becomes a validator, and they can remove validators at their discretion.
Plus, all users must trust that Binance will behave in everyone's best interest. So if Binance decides to change any aspects of the chain or ecosystem, it has the power to do so.
How to buy SafeMoon on Trust wallet
It's not much of an issue, but it's also a fact that purchasing SafeMoon is not just a straightforward process.
By following these easy-to-follow, step-by-step instructions, you will have your decentralized tokens quite conveniently. In this guide, PancakeSwap is used as the primary exchange for SafeMoon.
Go to the Google play store and Download the Trust Wallet
Create a new wallet. Read the terms of service and Privacy Policy carefully
Write down the recovery words in a notebook for safekeeping.
You will see 12 recovery words with no sequence, now tap the words in the right order and you would be forwarded to TrustWallet's main page.
Go to "BNB" and click to buy BNB. Write down the amount of money you want to invest in USD
Purchase BNB with a credit or debit card and then wait for the purchase to be processed.
Return back to TrustWallet's main page and you would see some BNB. Tap on BNB, and then click More and hit on "Swap to Smart Chain."
Alternatively, you may buy Safemoon via PancakeSwap in similar steps.
1 Create a Wallet
Download the Safemoon Wallet and follow the steps to make your wallet. Always remember to keep the 12-word seed phrase a secret! Could you not share it with anyone ever? We will never ask you for your seed phrase, ever!
Step 2 Purchase BNB
Temporary notice: Since Wyre has not yet activated BNB: If you imported your wallet, you could buy BSC on your original wallet, and it should show in your Safemoon Wallet.
Click on the "Buy" button at the top of the app, and select Smart Chain (BNB). Continue through with the purchase. This step is not instant and may take a few minutes to complete your transaction. Just be patient!
Step 3 Swap BNB for Safemoon
Click on the swap button at the bottom. Ensure that the slippage is at 12%, that Smart Chain (BNB) is in the top slot, and that Safemoon is in the bottom. Just click swap!
Step 4 HODL!
All that's left now is to HODL and see your balance grow from reflections!
SafeMoon Wallet Pros & Cons
Pros
Swap features
Buy button
Calculator
Wallet Security
Token Charts
Market Trends
Cons
Only Ethereum purchase supported
Limited swap pairs
Charts display erratic
Mobile version only
What are the future predictions for SafeMoon price?
The number of people investing in SafeMoon has risen beyond expectations in the last couple of months. Cryptocurrency community experts seem to be quite optimistic about the SafeMoon price.
After technical analysis, WalletInvestor estimates that the price of a SafeMoon coin will rise to $0.000051 in just one year and will further lead up to $0.000237 in the next five years.
DigitalToken puts its SafeMoon prediction at $0.00000870 between 2021-2022 and $0.00001690 over the next five years.
The number of people investing in SafeMoon has risen beyond expectations in the last couple of months. Well, Don't forget that these are just predictions.
And with a glance at any crypto token price chart, one thing would be pretty straightforward; it is likely to be very highly volatile.
The previous data shows that SafeMoon is among the most volatile token currently available in the market.
However, It would not be wrong to conclude that it's too early to tell what impact SafeMoon's sales tax will have on potential investor appetite.
Is SafeMoon really a good investment?
The stats speak for themselves how significant the potential is; with over 2.4 million holders and almost more than $50 million locked in the liquidity pool, SafeMoon is exactly a Defi project with over $1 billion market capitalization, according to CoinMarketCap.
Even if SafeMoon users desire to achieve some stability through the fees imposed on investors who sell their digital tokens, substantial price uncertainty is still there. Well, depending on their financial situation, Investors could have made both impressive gains and staggering losses. As the digital currency market is considered quite similar to gambling so don't invest your entire life savings in this asset class.
Though the data shows that the rewards gained from the SafeMoon in the cryptocurrency market are exceptional still many experts are concerned about this frequent price fluctuation.
Conclusion
In the real world, Digital currencies are still struggling hard to achieve mainstream financial recognition. The potential to earn financial rewards with SafeMoon is relatively high but not definite.
Secondly, the whole process of buying SafeMoon is quite simple, and with a SafeMoon wallet, your digital asset is well-secured. The most important thing to remember is that SafeMoon is a cryptocurrency that refuses to bow down to central government pressures or be chained in defective and regulatory monetary shackles.
SafeMoon token value will rise next few years and like Dogecoin and other virtual currencies, it will help also make people rich by helping them make insane financial rewards.
SafeMoon price consolidates before another 50% rally
SafeMoon price continued its breakout from the falling wedge and reached its forecasted target at $0.00000182.
Investors can expect SAFEMOON to consolidate before attempting to run for the buy-stop liquidity resting above the $0.00000239 resistance level.
A lower low below $0.00000140 will invalidate the bullish thesis, potentially triggering further descent.
SafeMoon price was traversing a falling wedge pattern since September 6 but broke out of it on September 29. Although the run-up from this point pushed it very close to its theoretical targets, SAFEMOON has another leg-up under its sleeve.
SafeMoon price looks to continue its climb
SafeMoon price set up three lower highs and lower lows since September 6. Drawing trend lines connecting these swing points results in the formation of a falling wedge. This technical formation has a bullish bias and forecasts a 40% upswing to $.00000181, determined by measuring the distance between the first swing high and swing low and adding it to the breakout point.
SafeMoon price broke out on September 29 and came very close to hitting the intended target. Regardless, SAFEMOON is consolidating between $0.00000181 and $0.00000140, anticipating another leg-up.
While this is bullish, SafeMoon price needs to hold above $0.00000140 for the optimistic outlook to come to light. Doing so will allow the altcoin to shatter $0.000000181 and make a run at the buy-stop liquidity resting above the September 4 swing high at $0.00000240. This climb would constitute a 54% ascent from its current position.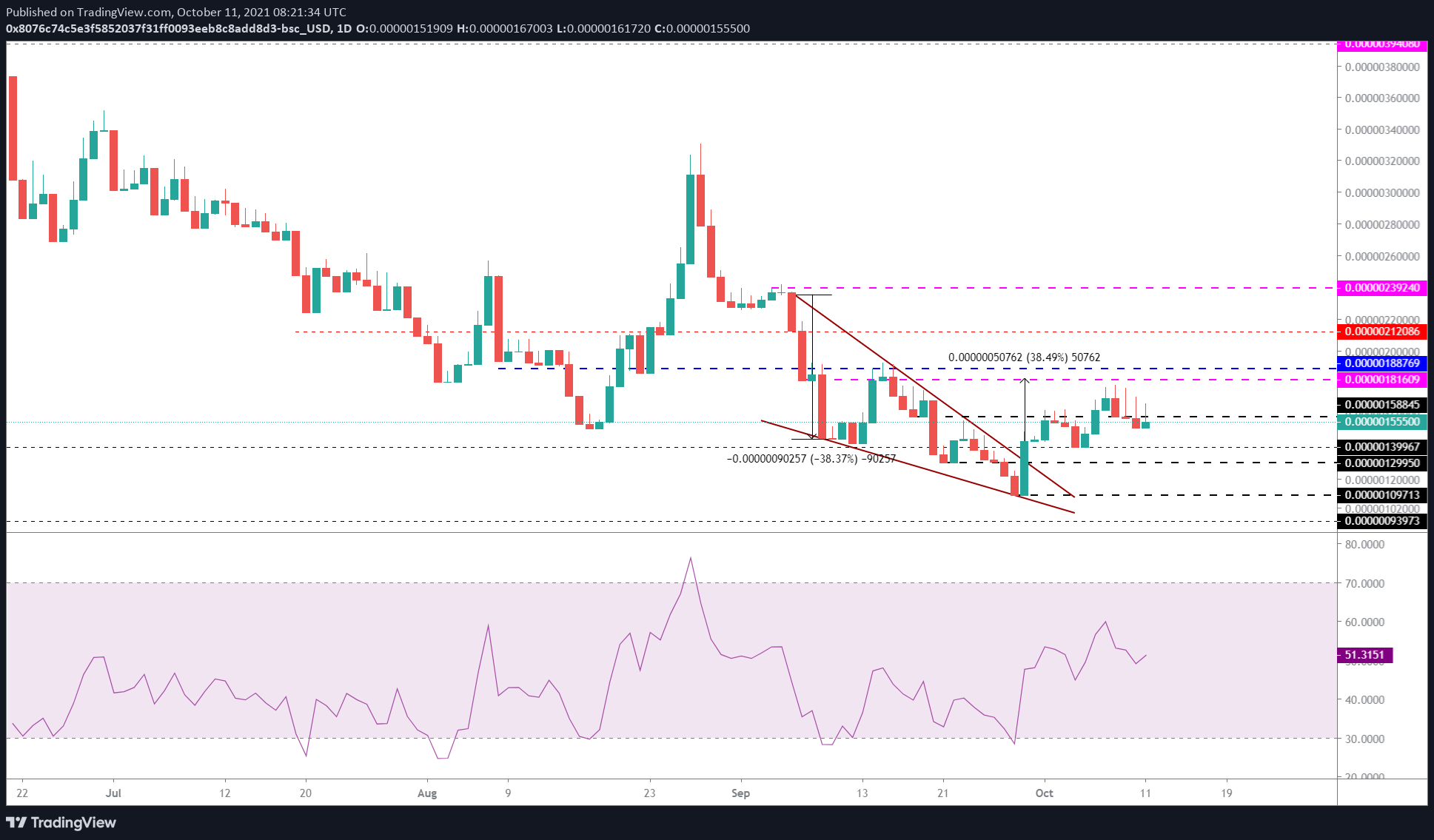 SAFEMOON/USDT 1-day chart
On the other hand, if SafeMoon price slices through the $0.00000140, it will create a lower low below the October 4 swing low, shifting the probability toward the bears. Such a move will invalidate the bullish thesis and could trigger further sell-off to $0.00000130 or $0.00000110.