Shiba Inu price stays put despite eToro listing as ShibaSwap TVL gets 75% haircut
Shiba Inu price continues to move sideways despite recent eToro listing.
The consolidation parries as ShibaSwap DEX sheds 75% of its total value locked in less than 20 days.
A breakdown of the range low at $0.00000518 might invalidate the bullish thesis and trigger a 20% descent.
Shiba Inu price seems to be suspended in time as it consolidates between two crucial demand barriers. Typically, previous bounces around these levels have resulted in a bullish reaction, but a breakdown could lead to a steep descent.
A hype-less meme coin
Shiba Inu, like Dogecoin or Baby Doge, is a dog-themed cryptocurrency that is driven mainly by the retail hype. However, recent events lead one to believe that the frenzy or FOMO around SHIB has vanished.
The listing on eToro, an Israeli exchange, failed to prop up the Shiba Inu price, indicating that investors are disinclined to invest in the dog-themed cryptocurrency despite the recent bullish move.
SHIB is live on eToro as $SHIBxM. 🎉 pic.twitter.com/Kemo6zZHgK— eToro US (@eToroUS) July 29, 2021
Interestingly, the ShibaSwap DEX that went live on July 6 seems to be lacking as its total value locked (TVL) declined by 75% over the past month from $1.5 billion to $356 million as of this writing.
Both these events paint a bearish picture, at least in terms of the retail interest. The social volume metric shows a steady decline over the past three months from 1,044 to 321, representing a 70% plummet.

SHIB social volume chart
Shiba Inu price awaits a trigger
Shiba Inu price has been trudging around the $0.00000625 and $0.00000654 support levels for nearly 20 days, showing a balanced pressure from buyers and sellers. The bounces from these barriers have often led to massive spikes in buying activity that pushed SHIB to retest either the trading range's midpoint at $0.00000870 or the high probability resistance levels ranging from $0.00000954 to $0.0000107.
Although undecided at the moment, investors can expect an eventual upswing that slices through the $0.00000727 and $0.00000811 resistance levels to tag $0.00000870.
If the bullish momentum persists, Shiba Inu price might tag $0.00000954, roughly 50% upswing from the current position – $0.00000637.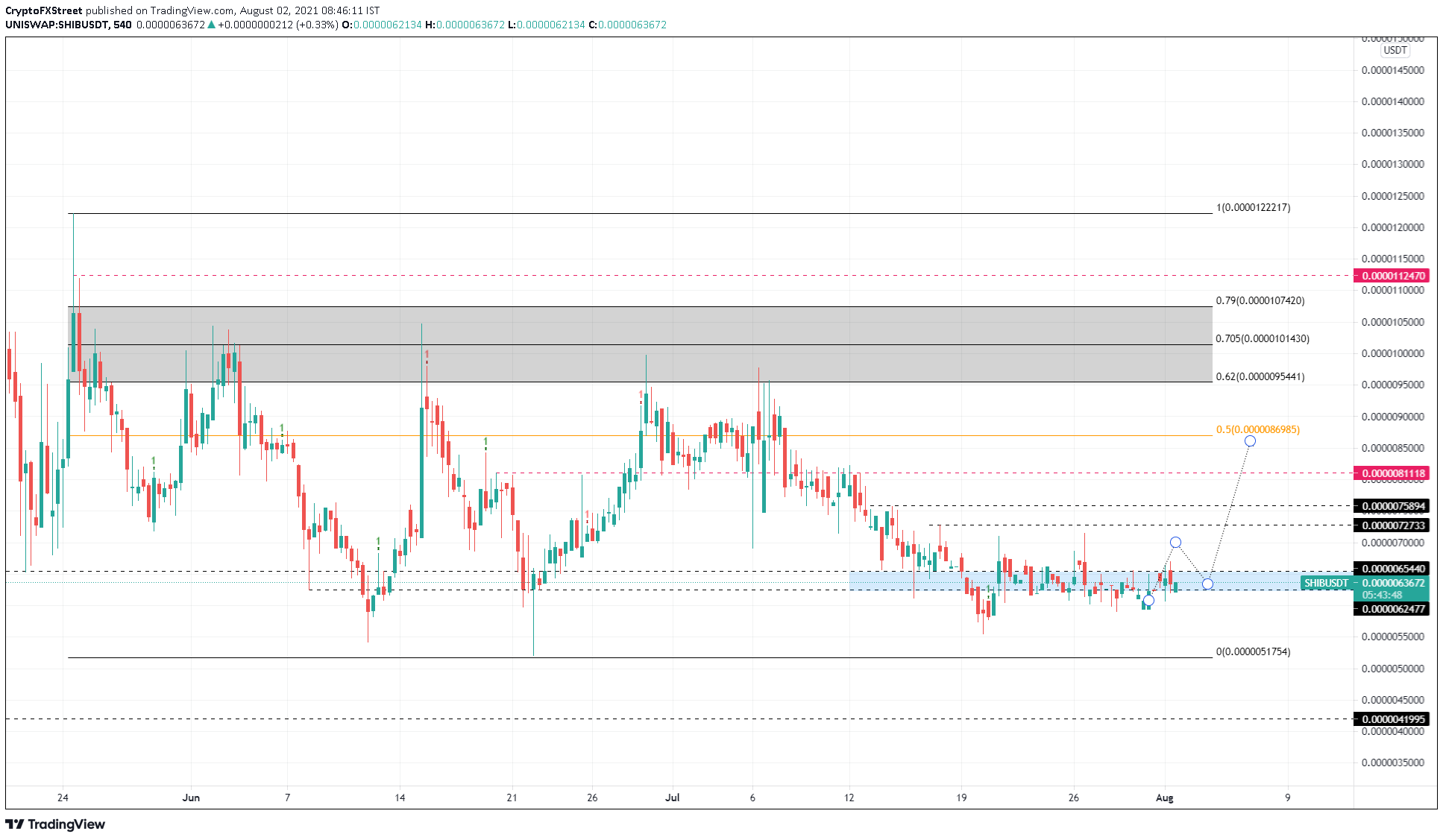 SHIB/USDT 9-hour chart
While the optimistic scenario seems logical, a breakdown of the range low at $0.00000518 will invalidate the bullish thesis explained above. Such a move might further trigger a 20% sell-off to the $0.00000420 support level.
https://youtube.com/watch?v=_4pkAqdk1n8%3Frel%3D0
Once SHIB Regains $0.00003, It May Reach New ATH: Candidate for US Senate 2022 Shannon Bray
U.S. politician Shannon Bray joins the Shiba Inu army, wants to push SHIB back to $0.00003 and higher
Looks like the SHIB community has got itself a new powerful member: U.S. politician Shannon Bray.
Politician from Libertarian party touts SHIB
Candidate for U.S. Senate 2022 Shannon Bray has published a tweet about the Shiba Inu meme cryptocurrency, saying that once it recaptures the $0.00003 zone, it may reach a new all-time high soon after with little resistance.
Bray has urged the SHIB army to "make some noise" to drive the coin to close Friday with an over 20% rise.
Bray is a Senate candidate from the Libertarian Party. He has worked in the spheres of software development, information security and management.
I changed my Twitter background. It's time to kick $shib back into the 30's.

Come on #SHIBARMY … Make some noise. Let's close Friday over 20%.

Once we break the 30s again, we should have little resistance for a new ATH. pic.twitter.com/pt6yAm7Bsu— Shannon Bray (@ShannonBrayNC) October 22, 2021
Another influencer tweeting Shiba Inu picture
Elon Musk is not the only crypto influencer who likes tweeting pictures of Shiba Inu dogs. David Gokhshtein has now followed Musk's example, posting a picture of the dog breed that inspired the first Dogecoin and then SHIB and FLOKI as well.
Gokhshtein has been holding Dogecoin and recently tweeted that he had gotten into SHIB and FLOKI too.
Who dis? pic.twitter.com/huItClDp0B— David Gokhshtein (@davidgokhshtein) October 21, 2021
Will SHIB go to $0.01 soon?
Recently, SHIB has been listed by Robinhood app's rival, Public, and it is now accepted by real estate agency Candoli Propiedades based in Argentina. Besides, the coin has been added by two crypto exchanges—India-based ZebPay and Turkish BtcTurk, both the oldest and biggest platforms in their countries.
The community is expecting Robinhood app to list SHIB as well one of these days, hoping that it would push the price as high as $0.01.
Robinhood CEO Dodges Question About Shiba Inu Listing
Robinhood CEO Vladimir Tenev says that he has heard the Shiba Inu community
Robinhood CEO Vladimir Tenev addressed a swirl of rumors surrounding Shiba Inu during his Oct. 21 appearance on CNBC's "Mad Money."
When Jim Cramer, the host of the show, asked whether or not the leading online trading app was intending to list the canine meme token, Teven said that he had heard a lot of people in that community. 

Yet, he seemingly dodged the question and refused either to confirm or deny that the listing is indeed going to happen, prompting even more speculation. 
"Safety first"
After an awkward pause, Tenev went on to mention that Robinhood only offers seven coins and stressed that the company prioritizes safety:
I think it goes back to safety first. We are not generally going to be the first to add any new asset. We wanna make sure that it goes through a stringent set of criteria.
As reported by U.Today, Robinhood competitor Public.com added support for Shiba Inu earlier this month. 
Coinbase, America's premiere crypto exchange, added support for SHIB in September.
285 000 signatures
In the meantime, a Change.org petition to post the Shiba Inu cryptocurrency on Robinhood has now surpassed 285,000 signatures. 
Tenev's recent comment comes after the online brokerage denied making an announcement about listing SHIB, debunking Twitter rumors.
With that being said, Robinhood didn't explicitly state that it wasn't intending to list Shiba Inu in the future. 
Traders swap Dogecoin for Shiba Inu on rumors of Robinhood listing
Social investing app Public.com lists SHIB for members with crypto access; the platform is yet to launch crypto wallets.
Brazil's largest cryptocurrency exchange Novadax added SHIB to its fiat-crypto market.
All staking and liquidity mining stablecoin rewards on SHIB will now be distributed through BONE, saving Shiba Inu holders the gas fees paid in Ethereum to claim rewards.
Development of Shibarium and Shiboshi games is underway; launch is expected within a few months.
Shiba Inu coin reached over a million new traders through its listing on Novadax, Public.com and CoinFLEX. A crypto exchange offered traders "Flip DOGE for SHIB" and exchanged Dogecoins for Shiba Inu tokens.
Rumors of Robinhood listing, analysts predict SHIB recovery
Public.com, a social investing app, recently listed the Shiba Inu coin for members who have opted in for cryptocurrency access on the platform. The social app added cryptocurrencies to its list of offerings on October 7. The platform has over a million traders on its app. 
Brazilian traders now access SHIB through the country's largest cryptocurrency exchange, Novadax's fiat-crypto market. Traders on the exchange can buy SHIB using Brazilian Real on Novadax. 
Great news for the #ShibArmy in #Brazil, where the biggest exchange in the country now allows to trade Brazilian Reais (BRL) for $SHIB. https://t.co/WZ4FttnIC0#Crypto #SHIBA— Shib (@Shibtoken) October 20, 2021
ChangeNOW, a non-custodial cryptocurrency exchange platform, recently offered its traders the option to "Flip DOGE for SHIB," effectively exchanging their Dogecoin holdings for Shiba Inu coin. Traders availed this service to accumulate more SHIB tokens ahead of the rumored listing on the zero-commission exchange platform, Robinhood.
An anonymous source close to the exchange revealed that Robinhood had taken notice of the social media support for SHIB, and the platform plans to list SHIB soon.
Shytoshi Kusama, the leader of all Shiba Inu ecosystem projects, recently shared an update on the trifecta SHIB, LEASH and BONE. Kusama addressed SHIB holders' issue with ETH gas fee payment in claiming staking and liquidity rewards. All rewards in stablecoins will now be distributed through BONE.
Kusama confirmed that Shibarium and Shiboshi game development is underway, and there are plans to launch the products in the upcoming months.
Pseudonymous cryptocurrency analyst @army_shiba is bullish on SHIB price. The analyst set a target of $0.00004161 and $0.00005201. 
$SHIB CHART! 🔥

📈 It is forming a bullish triangle for around ten days. It accumulates in .2479 (support) and .3519 (resistance) channel!

Once it breaks the resistance, targets will be .4161 and .5201! 🔥 pic.twitter.com/VUhlu55AdW— $SHIB KNIGHT (@army_shiba) October 22, 2021
FXStreet analysts have evaluated the SHIB price trend and predicted that Shiba Inu has one obstacle to overcome before the Dogecoin-killer hits $0.00006.